When I was in high school, I had dreams of moving to a major city — New York, specifically — and transitioning from a teenager to a young adult amidst the tumultuousness; the energy and the romance of a place like Brooklyn, Williamsburg, or Manhattan. Neighborhoods of which I was only vaguely familiar, but also felt very passionately about experiencing. There was something so appealing about punctuating the beginning of a new chapter in my life with a change of scenery, and essentially, for about four years after high school, you could consider my bags metaphorically packed.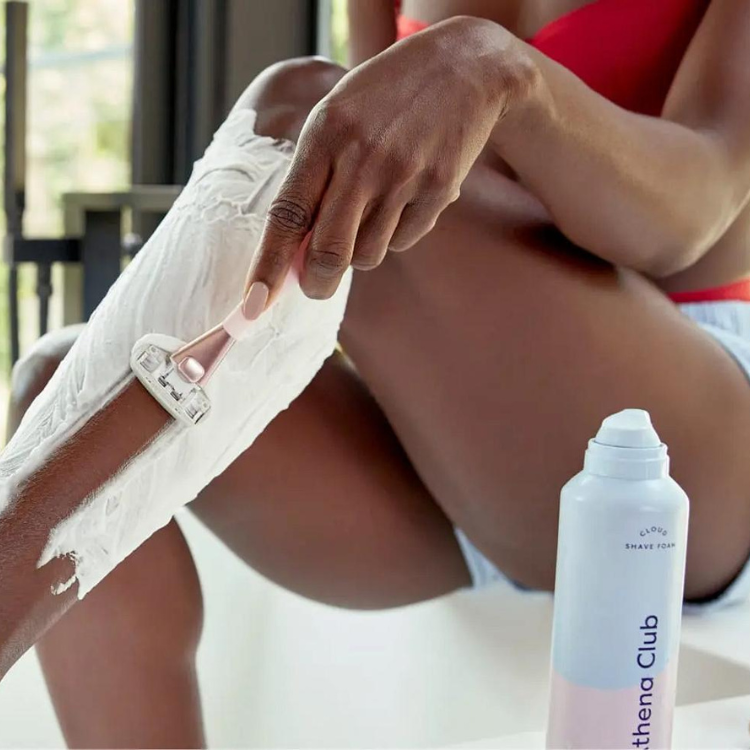 "This razor gave me the silkiest, smoothest shave I've ever had! I never get any cuts or scrapes, even on those hard-to-shave places."
Sadly, though, I did not make it out to New York during that time. Once the reality of my general inexperience as an adult set in, along with the reality of the astronomical finances it would take, the move just didn't feel right, and I opted to stay in my hometown and finish college. 
While, ultimately, I now feel like that decision was the right one, I have always felt a slight twinge of remorse — or maybe FOMO — for what may have been, who I may have met, or whom I may have felt more free to become had I moved to a big city. That's not to say however, that I didn't get my act together eventually. Just last year, I decided to make the move from my hometown in Michigan to Chicago. And, while I think my age, my full-time job, and my relationship status might give me a different perspective than the one I would have gotten in my days as a broke, single young person on the cusp of adulthood, this list of equal-parts romantic and practical lessons comprise all that I have learned after one year of living in a big city. 
1. You Really Can Be Whoever You Want to Be
It seems like such a cliché to head off this list with a corny adage like "you can be whoever you want to be," but it's shockingly true, and probably not for the reason you think. When I first moved here, I anticipated that the sheer number of individuals living in the city would allow me to feel more comfortable branching out and being myself. The truth is, you only need to live in Chicago or New York for a short period of time to realize that no one really pays any attention to what you're wearing, how you've styled your hair, or the type of bag you're carrying, because everyone is busy. That's it. So feel free to fly under the radar and embrace whatever style you want to rock and whatever person you want to be! 
2. Your Style Will Change
I envisioned — somewhat unrealistically, I'll admit — that when I moved to a big city, my wardrobe and my style would magically transform à la Andy's makeover scene in The Devil Wears Prada. In fact, if anything, living in Chicago, walking everywhere, and being in the elements more than I ever was back home made me realize that there just isn't as much room in one's closet for four-inch stilettos as the movies would lead you to believe. 
Instead, my wardrobe — and, by extension, my style — has transformed to make room for pieces that are equal parts function and aesthetic: investing in pieces that can hold up against the elements; ditching barely-there, peep-toe sandals with a skinny heel for shoes with more structure and a block heel; investing in a winter coat made from quality materials as opposed to stocking up on trendy coats for a bargain. My style may not have transformed the way I thought it would when I first moved to the city, but learning to see clothing and creating a wardrobe from a new perspective has helped me understand what style really means to me.
While I still appreciate the women that go the extra mile to look put together, rock heels and still walk to work everyday, my fuse for impractical clothing has shortened significantly now that I walk everywhere. High heels, blouses with an awkward fit, and tops that require uncomfortable undergarments are no long part of my formula for creating a stylish wardrobe, and that has allowed me to feel more free to wear what is going to effectively get me from point A to B. For example, embracing fashionable sneakers and pairing that with a very feminine skirt, or opting for quality leggings — instead of trousers — that can be worn in a work setting along with business casual accessories. Style is so much more than being uncomfortable and I honestly didn't realize that until I was forced to walk a mile in my favorite heels.
3. Weather Apps Become Your Best Friend
Something that I do more now than I ever did when I was living in my hometown is check the weather first thing in the morning. Whether it's 90 degrees and sunny, 60 degrees and rainy, or — a nightmare — -23 degrees, the weather has a much bigger impact on my day than it did when I was tooling around town in a car. After a year in River North, relying exclusively on public transportation, the need to dress for the day's weather and leave behind the non-essentials is a very necessary art to master. I knew before moving here that the weather would play a larger role in my day than it ever had before, but I wasn't prepared for the stranded feeling you get when you're trapped inside your office building with no umbrella and are five blocks from the L. It only takes a few packing mishaps and poor outfit choices before you realize how important it is to stay on top of the ever-changing weather before you head out the door.
4. You Become a Master of Single Trips
In that same vein, mastering the art of the "single trip" made my days so much more efficient and cut down on the amount of money I spent between renting Divvy bikes or jumping on and off the L to run errands. When you live in a city without a car and you're within walking distance — or a short L ride — of grocery stores, pharmacies, dry cleaners, tailors, etc., figuring out how to effectively finish your errands while carrying everything over the shortest distance possible can be the difference between an afternoon of unproductive rushing around and a few hours with a clear, objective in mind.
When I lived in my hometown and had my own car, I never realized how much easier it was to do errands freely. If I forgot something at the grocery store, I could just jump in my car, go back, and grab it. If I needed to drop something off at the dry cleaner, I had the option to do it before or after picking up groceries because I wouldn't need to carry both. Weather also never played a role into whether or not I could pick up clothes from the tailor on Saturday morning or pick up a bottle of wine for a party in the evening. But when you commute on foot, or rely on public transportation, all of these factors influence the practicality of the task and if you can learn to do as much as possible in a single trip, you'll save yourself a lot of time in the city.
5. Delivery Fees are Absolutely Worth It
However, when you finally do get home and unload your bag of groceries, dry cleaning, purse, kick off your shoes, and hang up your coat, there is nothing worse than realizing you forgot something. Instead of packing up again, delivery services for things like alcohol, smaller groceries for entertaining, or a box of produce can make a huge difference in your day and even help you save money in the long run. So, fear not, if after the first year of schlepping your errands by foot you're still forgetting an item here or there, there's nothing quite as convenient as a delivery. 
6. You Can Leave Behind What You Don't Need
In general, moving gives you the excuse to reevaluate your "stuff." However, when your move also inevitably means losing square footage and storage, or living up a couple flights of stairs, packing comes down to a matter of necessity — and that can be refreshing!
When my partner and I moved into our apartment in Chicago, we suddenly realized that we were working with vastly less space in the kitchen (the kitchen, why is it always the kitchen?) than we were used to back home. After a day of taking inventory of our kitchen stuff, we decided what we needed for cooking, storing, prepping, and eating our food and got rid of the rest. Cut to a year later and our weeknight cooking routine has been streamlined thanks in part to our non-nonsense approach to organization. 
This truth also applies to the less-tangible things in our lives that no longer serve us. When I moved away, I felt I had given myself permission to let go of or create significant distance between myself and some of the negative memories I associated with the town I was from. True, you can follow this adage and move anywhere while doing so — it doesn't necessarily have to be a big city — but the sense of anonymity that came with a city the size of Chicago helped me move on more quickly and re-prioritize what is important to me now. 
7. Your Bad Days May Feel Like Your Worst
Moving to a big city exposes you and forces you to confront your biggest weaknesses every time you step out the door, and on those days when you're feeling particularly vulnerable, the likelihood that you will be exposed to one of your triggers is pretty much inevitable when in the company of two million people. For me, when I'm feeling anxious or my day just isn't going my way, being in a crowd in the Loop during rush hour can make whatever small annoyances I was experiencing throughout the day feel magnified times 10. Have I cried on the L? Oh yeah. Does crying in public feel worse than crying privately in your car? You bet! But when you become accustomed to finding a respite of calm in a setting as hectic as a city, you can literally find it anywhere. 
8. But Your Good Days Will Feel Like Your Best
And then there are those good days; the days when the city's energy is fueling you. The days when you can look up and see beautiful, ornate skyscrapers and also blue sky and you can't help but smile and think about all of the "what ifs" that you have overcome by moving here. After one year of living in Chicago, there are still days when I catch a glimpse of that same high I experienced when I would visit the city as a teenager and the rush of excitement and synergy feels like a current. When you're having a good day, there is no other place on earth that matches the flutter in your heart quite like a vibrant city.