The world of finance is often stereotyped as being male-dominated, intense, and challenging. While the last two are certainly true, women like Kari Reston have leveled the finance playing field. Kari, who owes her start in banking to a connection formed at a career fair, used her non-finance background in Political Science and Family Studies, an interest in Human Resource Management, and a willingness to absorb all things finance to climb up the ranks at Standard Chartered Bank. She commanded several roles—she started in Global HR Strategy, was promoted to Global Head of Diversity, and finally became the Head of Talent in the Americas and West. Did we mention she did all this before the age of 30?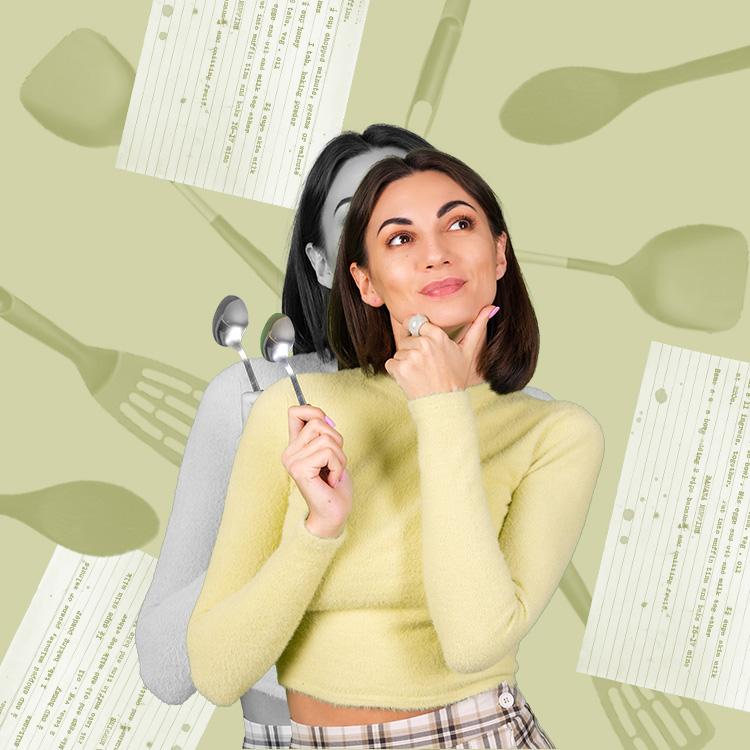 high in protein, good for gut health, and anti-inflammatory? yes, please!
After nearly a decade in banking and multiple promotions later, Kari decided to leave the that world behind and use her experiences working in HR to found Boredom to Boardroom—a resource for young professionals looking to learn the ins and outs of advancing in the corporate world. With Boredom to Boardroom, Kari provides young professionals the tools needed to score that second round interview at a big-name company or amp up a resume with limited work experience. She's essentially helping young professionals take on the corporate world head on and set themselves up for success, and we think it's pretty admirable that such an accomplished young woman with unparalleled experience is devoting her time and effort into a cause that helps young professionals land that unbelievably important first job.
When Kari isn't busy being CEO of Boredom to Boardroom or consulting with clients, she's a devoted wife and mom to a young daughter, so we think Kari's musings on how to balance work obligations and home life will really resonate with many of you Everygirls. It certainly did with us. "I think the key is setting goals and priorities and then staying focused on that. If it's not one of your top priorities, you might need to let it go and accept things aren't going to be perfect." So if you're looking for more advice on managing work expectations and your personal life or you're dreaming about starting your own company, then read on and be inspired by Kari Reston.
Name: Kari Reston
Age: 32
Location: Boston, MA
Current Title/Company: Founder and CEO, Boredom to Boardroom
Educational Background: MSc in International Employment Relations and Human Resource Management, London School of Economics and BA in Political Science and Family Studies, University of British Columbia
What was your first job out of college, and how did you land it?
I joined an emerging markets bank straight out of college. This was as big a surprise to me and everyone else because it was a company that I'd never heard of, and I had no plans to go into banking. However, I met great people there and liked the international nature of their work.
I had actually already accepted an offer to join another company after graduating but met someone from the bank at a career fair. I stayed in touch with her after the event, came in to discuss potential summer work, and the rest is history. There was no job advertised. Had there been, I probably wouldn't have got it as others had a lot more experience than I did. What I had, though, was a connection. That was when I learned relationships are worth their weight in gold.
You actually studied Political Science and Family Studies in college. How has that degree influenced your career choices and/or helped you career-wise? You also went on to obtain your Master's in International Employment Relations and Human Resource Management. What prompted you to go after your Master's degree? Did that degree advance your career? If so, how?
Yes! I did a double major focused on two social sciences, which is considered career suicide in many places! Unfortunately, too many people—both candidates and employers—make the mistake of thinking that your career should be directly related to what you studied in college. I gained a lot from my BA—I learned how to write papers, how to make a compelling argument, how to make sense of complicated information, and even how to negotiate. But nine out of ten people will tell you that they learned to do their job at work, not at college.
I moved to London to do my Masters program right after graduating, so that I could learn more about business and set myself up for a more global career. Even though I studied something seemingly practical, we actually spent more time discussing really academic topics (like Marx' views on unemployment, neoliberal employment policies in the 80s, etc.). The Masters degree opened my eyes to new opportunities. It gave me good external credibility, and it was a signal to employers that I was serious about HR. At one of my program's career fairs, it was also where I connected with the company I'd come to spend the next eight years.
Before you started Boredom to Boardroom, you spent 8 working at Standard Chartered Bank in positions ranging from Analyst to Business Planning Manager to Regional Head of Talent. Could you take us through your journey at Standard Chartered Bank?
In eight years at Standard Chartered Bank, I took on seven roles across three continents. It was a fantastic whirlwind. My first few roles were in a Global HR Strategy-type group. I focused on Diversity and Inclusion, Employee Engagement, Communications—lots of what's considered the fun stuff in HR. I started working directly for very senior people early on, so in retrospect, this is what really propelled my career.
Three years in, I found myself working for the Group Chief Executive. I was writing speeches on everything from why Seoul would be the next banking center of the world to advances around HIV education in Africa. I also worked on press releases, sponsorships, government relations, and high profile events.
After getting this unique view of the Bank and the daily ins and outs of a CEO's role, I went back to my passion—diversity, inclusion, and talent development. I became Global Head of Diversity and built up an amazing team based out of Singapore. I often said I had the best role in the company, and I was probably 10-20 years younger than any of my peers at other companies. After three plus years and a move to New York so that I could be back in North America, I became Head of Talent for North and South America and later the West (Europe, Africa, the Middle East and Pakistan).
What did each position require of you on a daily basis? Did you ever go through the "burn out" that happens to many young professionals in banking?
Across all of the different roles I held, there were definitely some common themes. I spent the vast majority of my time on communications—writing a proposal for a new program to try to get others on board, keeping stakeholders up to date on progress of key initiatives, preparing and giving speeches and presentations to share externally, and developing relationships with external partners. A lot of time was also spent on making sure things materialize. It's easy to convey a request and ask someone to do something. It's also usually easy enough to get them to say yes, but making it actually happen can be another story and so a focus on execution and really getting stuff done was always critical for me.
Last year, I made the difficult decision to leave Standard Chartered Bank. It wasn't that I burnt out, but I felt that I was nearing the end of a great upward trajectory. I didn't want the pace of challenge, learning, opportunity, and exposure to slow; yet it would be very hard for me to have continued at the same pace that I did for the previous eight years.
I also knew that I would regret it if I never took the chance at running my own company. I definitely believe that when you're older, you'll regret what you didn't do, not what you did.
Banking is often stereotyped as being a cutthroat industry that favors men over women, so what drew you to working in International Banking? Did you find the stereotype to be true while working at SCB? Did you feel as though you had to prove your worth in a male-dominated field?
Regardless of what industry you work in, I think we all have experiences when we're 'insiders' and then also when we're 'outsiders'. This could be related to gender or a whole host of other reasons. When you're having one of those 'outsider' moments, I think you need to really push yourself to engage in the group. It's easy to take a step back when you're with a bunch of old men discussing some sport you're not interested in or, even worse, one you don't understand (um, cricket anyone?). But staying quiet and disengaging doesn't help your cause. This goes both ways. I've seen some very uncomfortable men at dinners with many women where the subject of conversation is designer bags!
I often found myself in situations that made me uncomfortable, but these were great opportunities at the same time. I remember in my first year, I was invited to a special dinner that was for the Asia CEOs on my first trip to Singapore. As a 25-year-old Canadian girl, I definitely was not an Asian CEO! I was one of maybe three women in the room, closer in age to most of their kids, and clearly wasn't Asian! That night, I was asked to stand up and give a speech—entirely unprepared and on the spot. Of course this seemed like a nightmare in the moment, but it's times like these that I now look back at fondly!
Your work with Standard Chartered Bank has taken you to places like London, Singapore, and New York. How did you handle such extensive traveling and making a home for yourself in each new city?
I lived in Vancouver and then made the move to London, Singapore, New York, and now Boston. Each move gets a little easier, but you also have to go into it expecting it to be difficult. Getting a bank account, figuring out local transport, understanding the cultural nuances (even in New York!)…all of these things take time and are typically harder than you think they'll be.
Finding a few people who've done it already can also make a big difference. You can draw upon their experience—good and bad—to speed up your time to settle in. Living abroad is an amazing experience, and even when you might not love it, you'll be glad you took the chance when you look back.
What characteristics would you say are most important for someone to have in order to succeed in banking?
First of all, I think drive is key. You have to have the ambition and appetite otherwise there are too many barriers that'll stop you along the way. Secondly, you need thick skin—not just in terms of the characters you sometimes deal with within your company but also externally. Banking isn't something that is particularly embraced at the moment, and some people find it a bit tough when they devote 70 (or more) hours a week of their lives to something that many people don't support.
After 8 years with SCB, you founded a new business, Boredom to Boardroom, which is a platform for young professionals that offers career advice and help when it comes to making it in the corporate world. What prompted you to start this business? What steps did you take, both personally and financially, to start this company?
I entered the job market at a good time, but it's become a lot harder for new graduates with little or no 'real' work experience to find great jobs. And even when they're employed, a lot of people struggle with so many aspects of corporate life—promotions, raises, bosses, colleagues, and office politics. The issue is that no one teaches you how to effectively find work and then really succeed once you're there. Everyone is typically left to fend for themselves, but a missed opportunity early on can make a huge difference to your career. I created Boredom to Boardroom to help young people who are both un and under-employed. It's for ambitious people who want to put their educations to use, who want challenging, rewarding work, and who want careers they can be proud of, not just jobs.
In many ways, my whole career has been building towards this business. I've seen things from the company perspective—why some people are hired and some aren't, why some have careers that are fast-tracked and others don't. Now I'm taking this kind of 'insider' information and putting it to use to help young people succeed.
How does Boredom to Boardroom help these young professionals? Is it through consulting or networking or partnerships with corporate businesses? What is the end goal with each young client you interact with?
In the first year, I did some organizational training but mostly worked with select individuals one on one. Each client's goal is different. Some were getting interviews at top companies (think Google, Goldman Sachs, etc.) but wanted help as they weren't getting offers. Others were getting degrees from top schools (Columbia, Yale, etc.) but weren't getting enough interviews. Then, I coached people who wanted help negotiating pay raises, who wanted to move from one city to another, who didn't get along with their bosses—all kinds of fun stuff.
After phase one, I stopped taking on new clients so that I could focus my time and energy on a few signature online training programs that include presentations, video, templates, etc. One I'm really excited about is called the Boardroom Accelerator Program, and it's for college students who are looking to get great internships that will really jumpstart their careers. We're covering everything from maximizing a resume when you don't have 'real' experience to how to get an interview where there's no internship opportunity advertised.
As CEO of the company, what are your daily tasks? Do you keep to a particular schedule or is everyday different for you?
Every day is different. The great thing about having your own company is how you can have a great new idea at breakfast, implement by lunch, and watch the results start to come in by dinner. I try to enjoy the flexibility that's unique to running your own business. Instead of forcing myself to do things I think I should do, I spend my time on activities that I feel excited about. That's the way I tend to get the best results anyway, and I feel strongly about playing to strengths.
You started Boredom to Boardroom in 2013, so your company is still fairly young. What steps have you taken to promote company growth? Do you network with other female driven companies or use social media as a marketing tool?
I tell people the honest truth on what works, what doesn't, exactly what to say, and how to play the game. I think because of this unique style, I was really fortunate that my site was picked as one of the top 100 sites for your career on Forbes. I've also done a lot of writing and have been featured on publications like Mashable, Business Insider, etc. I don't spend too much time on social media as that can be a full time job in itself, but I have made some great connections on Twitter.
Where do you hope to see yourself and your company in 5 years?
Our mission is for Boredom to Boardroom to be the destination for young people when it comes to their careers. I know we've helped dozens of people change their lives, but we're now scaling up so that we can play an integral role for not just hundreds but thousands of young job seekers.
I think the key is setting goals and priorities and then staying focused on that. If it's not one of your top priorities, you might need to let it go and accept things aren't going to be perfect.
Not only are you Founder and CEO of Boredom To Boardroom, but you're also a wife and a mom. How do you balance your work life and your personal life? Can you offer any advice to other working moms out there who might be harboring that "mommy guilt" that many working moms experience?
My daughter just turned one so she definitely keeps me busy. Sometimes I'm not sure which is more demanding—her or the business! But having that busy-ness in my life keeps me very focused. If I only have three hours one day to get something done, I'm going to get it done in three hours. No question! The temptation to relax, be on social media, and get a coffee is definitely tempered by the finite time that I have for work.
As for guilt, it's easy to feel like you're never doing enough—whether it's at home or at work. I think the key is setting goals and priorities and then staying focused on that. If it's not one of your top priorities, you might need to let it go and accept things aren't going to be perfect. One of my mantras I try to follow is to start before you're ready. I used to have perfectionist tendencies, but now I know done is better than perfect.
What advice do you have for girls looking to start a career in banking or hope to create their own company in the future?
As for a career in banking, get really specific about what you want to do. It's a huge field with very different roles so you need to understand the different kinds of banks that exist, the different departments within banks, and the different skills people need to do these roles. Too often, people say they want to do finance or banking. It just shows that the person doesn't have an understanding of the field.
If you want to start your own company in the future, start building the skills now that will help you later on. That might be web design, it might be content marketing, or it might be contract terms. Get started now and you'll make the transition a lot easier later on.
What advice would you give to your 23-year-old self?
Take risks. This is the time in your life that you have time, energy, options, and little responsibility, so try things out. Also, tell people what you want at work. If they don't know, they can't help you get there. Don't wait to be asked or assume they know you want to head up a big project or that you feel you deserve a promotion. The worst they can say is no, and at least they then know your expectations. Finally, don't sweat the small stuff. At 23, it's all small stuff!
Kari Reston is The Everygirl…
What are some of your favorite things to do in Boston? Favorite spots?
I love all the great day trips that you can do in New England. We go to places like Concord, Cape Cod, and Kennebunkport. In Boston, I like to stroll around Beacon Hill and check out the seafood restaurants. Island Creek Oyster Bar is probably my favorite. Get the biscuits!
What is your go-to coffee order?
Starbucks' Awake Tea Misto. It's half tea, half steamed milk. And while they don't have it on the menu, they all know what it is.
Dream vacation?
I want to go back to Victoria Falls in Zambia. I went in 2011 for work, and it was amazing. I'm planning to go back in the next few years once my daughter's a little older. Where else can you sit by the pool, watch the river leading into the falls, and have zebras roaming freely around you?
If you could have lunch with any woman, who would it be and what would you order?
I am a big fan of Marie Forleo, who created a multimillion-dollar socially conscious empire from scratch. As for lunch? Hands down my favorite restaurant is Eleven Madison Park in New York for a splurge once in a blue moon. It's a 16 course set menu, so I figure that would help maximize my time with her!