If you've ever seen my Instagram, you already know I live for a good DIY superfood latte. Why would I wait in line, spend $4.45, and drink more sugar and calories than necessary when I could make a latte that's packed with superfoods and is frothier and more delicious than a generic coffee shop's cup of coffee?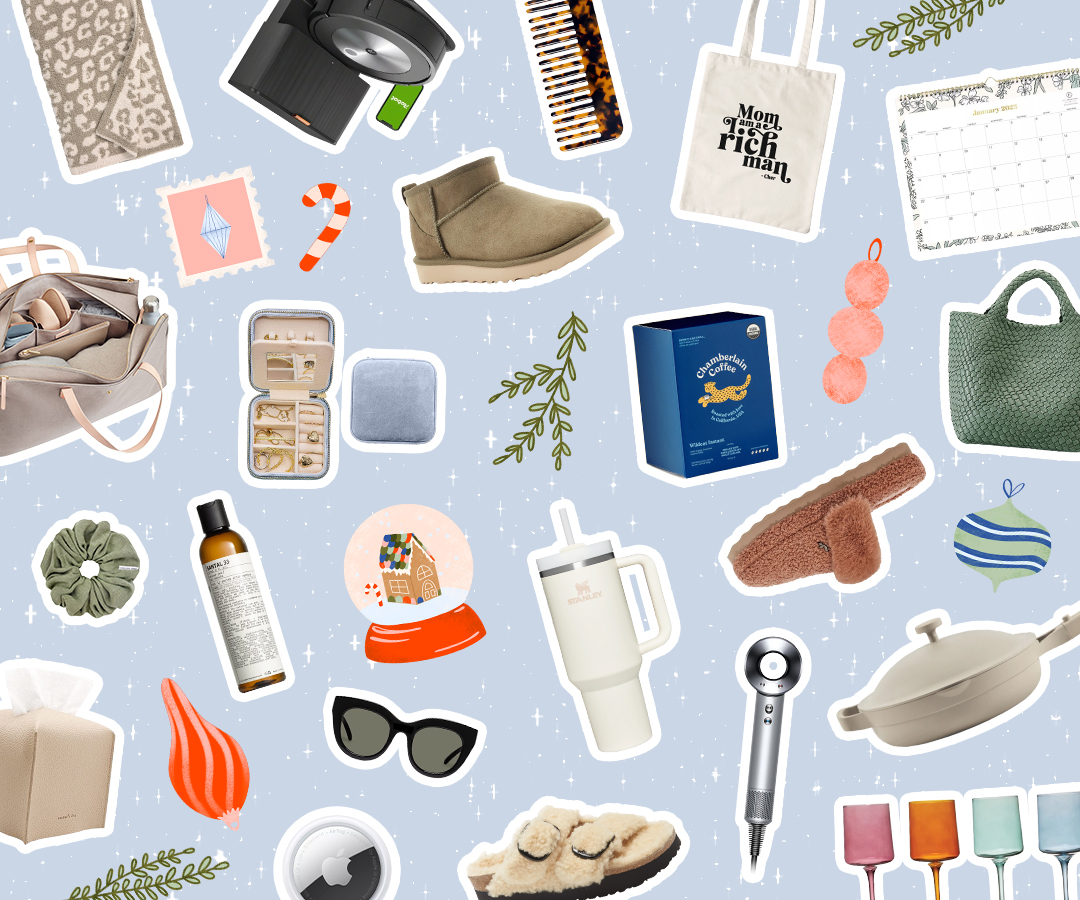 With hundreds of thoughtful gifts, you're sure to find something for everyone on your list!
Here's my secret: a blender or frother (more on that below), a really good cup of homemade coffee (I'm not a coffee snob so don't @ me on this rec, but I love this one), and Further Food whole food supplements. I found Further Food a few months ago and have been using their products every day since. Instead of adding multiple different ingredients to fit superfoods into my diet (ain't nobody got time or $$ for that), Further Food combines it all for me. All of their products are expert-formulated, contain the highest quality ingredients, and are third-party tested, meaning you're only getting the very best (your body and your latte deserve it!).
One to two scoops of Further Food means an extra boost to help you achieve your health goals, whether it's reducing inflammation, healing your gut, or getting that skin glow. By combining collagen peptides, adaptogens, and other anti-inflammatory superfoods, these Further Food blends are quite literally your one-stop-shop to a healthier you and an even more delicious cup of coffee. Plus, Further Food is one of the only mission-driven women-owned and operated supplement companies in the country. Is that on brand or what!?
If you couldn't tell, I could go on and on about Further Food, so I'll stop before I talk myself into making my third latte of the day. Whether you're a coffee addict or much prefer matcha, below are my favorite recipes for the most delicious and health-packed lattes you'll ever have (or make!). Bonus tip: to be a legit barista, you've got to froth your milk. Try a handheld frother, the milk frother we use in our office, or blend in a Nutribullet.
Get 15% off Further Food products with code EVERYGIRL
My Favorite Superfood Latte Recipes
Collagen Latte
2 scoops Further Food Collagen Peptides (completely tasteless and dissolves easily into hot coffee. Health bonus: it's good for strengthening your skin, hair, nails, bones, joints, and improving gut health.)
1 cup coffee
1/2 cup frothed almond milk (or other milk of choice)
Further Food
8,000 mg of hydrolyzed collagen peptides powder per serving.
Matcha Latte
1 scoop Further Food Superfood Matcha (my favorite matcha of all time – it boosts metabolism, is an antioxidant powerhouse, and provides a full-body detox in every sip. How is this possible? Because it's not just antioxidant-rich matcha. It's also packed with wheatgrass, ashwagandha, and cordyceps mushrooms for major health benefits.)
1 tsp coconut oil
1 cup hot water or coconut milk (for extra creaminess)
Further Food
Organic matcha plus brain boosting superfoods, cordyceps mushroom and ashwagandha. Promotes sustained energy and alertness without the jitters.
Peppermint Mocha
2 scoops Further Food Chocolate Collagen Plus Reishi Mushroom (Reishi mushroom is immunity-boosting, so it's perfect for the winter, and it also boosts your mood. Plus, the chocolate mixture tastes divine.)
1 shot of espresso
1 cup of frothed almond milk (or other milk of choice)
A dash of peppermint oil
A sprinkle of cinnamon to top
Further Food
Expert developed blend of our best selling collagen peptides, decadent dark chocolate & mood-boosting reishi mushroom.
Vanilla Beauty Latte
2 scoops Further Food Vanilla Collagen Plus Beauty Mushroom ("Beauty mushroom," AKA tremella mushroom, is more effective and powerful than hyaluronic acid when it comes to boosting skin elasticity, increasing hydration, and locking in moisture.)
1 shot of espresso
1 cup frothed milk of choice
1 tsp vanilla extract
Further Food
Collagen Peptides + Tremella Mushroom = 2x the BEAUTY benefits. Promotes flawless radiant skin, keeps skin hydrated & increases skin elasticity, naturally.
Golden Milk Latte (AKA Christmas in a Cup)
1 scoop Further Food Superfood Turmeric (This anti-inflammatory mixture is boosted with cinnamon, cardamom, ginger, boswellia, and even more superfoods to also aid in digestion and banish bloat.)
1 tsp coconut oil
1 tsp honey or stevia
1 cup hot water or almond milk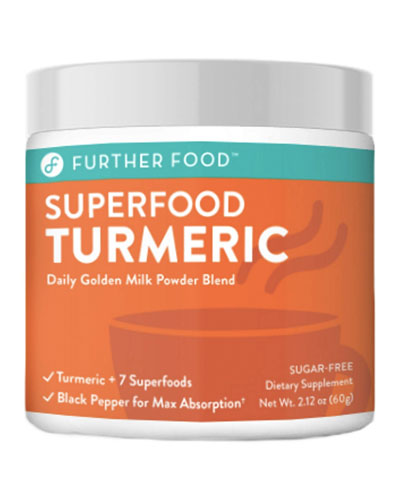 Further Food
Organic turmeric boosted with 7 superfoods & adaptogens.
Promotes daily anti-inflammatory support.
This post was sponsored by Further Food but all of the opinions within are those of The Everygirl Media Group editorial board.