There aren't many people who can say they went from maxing out credit cards to opening a business to being featured in The New York Times to becoming reality TV stars and best-selling authors, but sisters Katherine Kallinis Berman and Sophie Kallinis LaMontagne can. Katherine, 34, and Sophie, 35, made a risky move—they gave up their stable jobs in fashion and finance at the height of the recession to pursue their childhood dream—opening a bakery. And in 2008, the sister duo opened Georgetown Cupcake.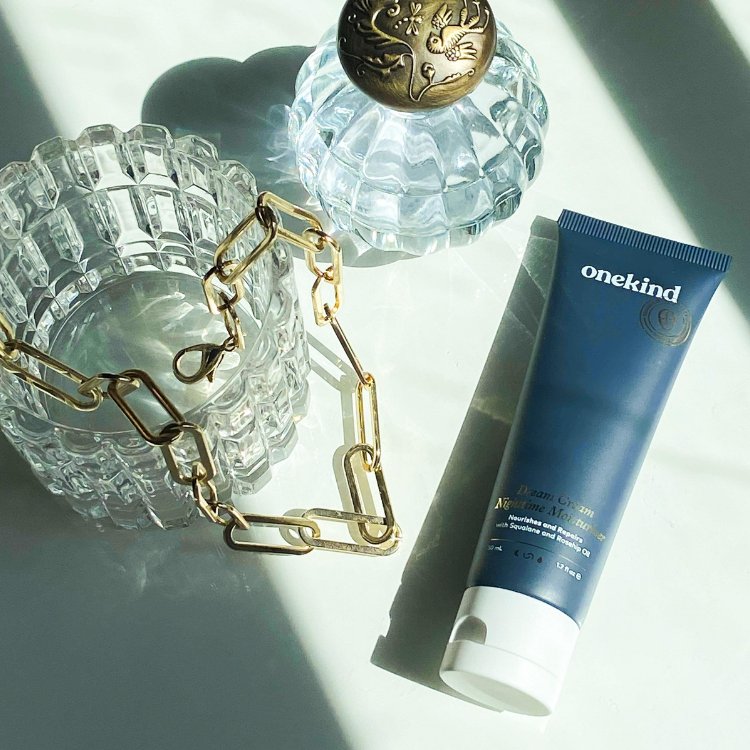 you just pay shipping—use code EVERYGIRL to get yours today!
"We are completely focused on doing what we do in the best possible way and giving 110% each day." That unparalleled work ethic, obsession for doing the best, and creating the best, baked-from-scratch cupcakes boosted their business from a single brick-and-mortar shop in DC to many shops across the country, a TV show on TLC, and best-selling cookbooks. Through all their hard work, Sophie and Katherine have built a recognizable brand from the ground up in just a few short years.
Katherine and Sophie are exceptional role models for young women out there—they show us that we shouldn't settle for "what if?" Today, they share with the Everygirl the story of how they swapped the corporate world for cupcakes and remind us that success can definitely be sweet.
Name: Katherine Kallinis Berman
Age: 34
Title/Company: Sister-Owner of Georgetown Cupcake and Star of TLC's DC Cupcakes.
Educational background: Bachelor of Arts in Politics, Marymount University
Name: Sophie Kallinis LaMontagne
Age: 35
Title/Company: Sister-Owner of Georgetown Cupcake and Star of TLC's DC Cupcakes.
Educational Background: Bachelor of Arts in Molecular Biology, Princeton University
What was your first job out of college and how did you land that position?
Katherine: I was an assistant to the Vice President at the Carnegie Endowment for International Peace. I was a Politics Major and very interested in working at a think tank in Washington D.C.
Sophie: I was an associate at a consulting firm in Washington DC. I was recruited by the firm out of college.
What were each of you doing prior to opening up Georgetown Cupcake? At what point in your previous careers did you realize that it was time to make a change?
Sophie: Katherine was working in fashion and I was on the investment team at a venture capital firm. We were both really happy with our jobs but always had a dream of opening a bakery together as young girls. We decided to take the plunge and quit our jobs to fulfill our life long dream because we didn't want to wonder "What if?" for the rest of our lives.
Tell us a little bit about the process of starting the business.  Did you work with investors or take out business loans? If so, can you share a bit about that process, and what others should be prepared for if they decide to go that route? Were there any unforeseen costs that you would advise other budding entrepreneurs to be mindful of?
Katherine: We started our business during the height of the recession and it was impossible for us to secure any financing. We ended up maxing out our personal credit cards and using our life savings to get it off the ground. We don't like to advise others to do the same because it was quite scary. If you do decide to go that route you need to make sure that you are comfortable with that level of personal and professional risk. Sophie and I both had a candid conversation about what would happen if things did not work out and we were both ok starting over again.
Sophie: There are always going to be unforeseen costs when starting your own business. The general rule is that things will take twice as long and cost twice as much than you think they will. As long as you build a buffer into your cash flow projections, you should be able to handle any of the unforeseen costs that will surely come your way.
What qualities do you look for when hiring someone? What qualities do you believe set you apart and helped you when starting your own business?
Katherine: We look for passionate individuals when hiring. Sophie and I have obsessive personalities. All entrepreneurs are obsessive about their passion and are perfectionists. That has set us apart and helped us in getting to where we are today.
As business partners and sisters, how did you go about dividing up business responsibilities? What have you learned about business partnerships (especially with family) that you wish you would have known from the beginning?
Sophie: We do everything together and don't divide and conquer. For us, that approach works best. It's not typical by any means though. Working with your family is very complex in so many different ways. The lines between family and business are often blurred and when you are an entrepreneur, you don't ever "shut it off". You are living your business 24-7, and for us, there is no divide between business and personal time.
Do you have any advice for other business partners out there?
Sophie: We say this at the beginning of every episode of our show "It's not going to be easy." Those words are very true. Entrepreneurship is definitely not for the faint of heart. I always say running your own business is like running a marathon…that never ends. You need to have a business partner who is going to be able to make it the distance with you.
With so much competition in the cupcake bakery industry these days, how have you set Georgetown Cupcake apart from the rest?
Katherine: We are completely focused on doing what we do in the best possible way and giving 110% each day. We strive to provide the best-in-class product and best-in-class experience for our customers. That's what makes our customers so passionate about Georgetown Cupcake and keeps them coming back. We have an unwavering obsession with being "best-in-class" in our industry.
What advice would you give to other entrepreneurs who are trying to set their businesses apart from competitors in the same industry?
Katherine: You really need to focus on what you are doing, not what others are doing, and make sure you are providing your customers with a best-in-class product and best-in-class experience.  It's all about laser-like focus and not getting distracted with what others are doing.
Between landing a hit television show on TLC, and becoming best-selling authors of The Cupcake Diaries and Sweet Celebrations, your brand exemplifies the potential for young businesses who are just starting out. Did you know from the beginning that you would eventually want to expand to television and books, or did your business plan change along the way?
Sophie: One thing that you learn when you are an entrepreneur is that when you first have an idea, your original business plan will go out the window as soon as you start. Your path will change many times over the course of your business' lifetime and the best entrepreneurs are those who are able to adapt to those kinds of changes.
Can you tell us a bit about how Georgetown Cupcake received these opportunities, and offer any advice to others looking to grow their brand in a similar way?
Sophie: Our television show came about from a producer who walked into our bakery one day and experienced the chaos firsthand and saw the potential there for a great television show. Before we knew it, we were filming the first season of DC Cupcakes. We're very grateful for the opportunity to share our entrepreneurial journey with others through our show and our books. Nothing can really prepare you for these kinds of experiences—you just have to go with the flow! Being flexible is critical.
Sinceopening Georgetown Cupcake in 2008, you've expanded into additional locations in New York City, Boston, Los Angeles, and Maryland. When did you know that your business was ready for expansion?
Sophie: Even in our first year in business in Georgetown, we had people coming to our bakery from all over.  We got a rave review from Frank Bruni from The New York Times and from that point on, we had tons of New Yorkers ordering cupcakes from us—and having them shipped and delivered to New York.  We shipped our cupcakes nationwide and we had enough of a demand in New York, Boston, and Los Angeles to make us decide to open brick-and-mortar locations in each of these cities.
What advice would you give to others who are questioning if expanding their business is right for them?
Sophie: You need to analyze the data. We had data showing us where we were shipping our cupcakes across the United States. We saw where the demand was, and we let this information guide our expansion plans.
How did you learn the ins and outs of running a business? Budgeting, filing taxes, marketing, web development, store planning, etc.?
Katherine: When you are an entrepreneur, you pretty much learn to do everything because you have to do everything. You learn everything on the job. There's no textbook that can ever prepare you for all the in's and out's of running your own business.
How have you handled the marketing/PR for Georgetown Cupcake since you began? Based on your experience, are marketing and PR services something you would advise other entrepreneurs to outsource, or keep in house?
Katherine: We outsourced our PR roughly a year into our business. It has been extremely helpful to us and we've been fortunate to work with an amazing team who share Georgetown Cupcake's vision. It's a personal decision for each company—whether to hire somebody in-house or outsource—or do a combination of both.
Describe your typical work schedule. How do you maintain a work/life balance?
Sophie: There is absolutely no typical work schedule when you are an entrepreneur. Every single day is different. When you decide to become an entrepreneur, you are in effect, deciding to give up the "work/life balance" to some extent—and need to be able to live with a certain level of chaos in your life. Every day presents a different kind of challenge, and the challenges change as your business expands. If you are the kind of person who likes predictability, entrepreneurship is not for you. Every day is like a roller coaster ride!
Best moment of your career so far?
Katherine: "Operation Cupcake". For the past three years, we've worked with the Chairman of the Joint Chiefs of Staff to donate 10,000 cupcakes each year to our troops stationed overseas. The letters and emails we receive back from the troops are truly heartwarming. It's a reminder of why we started this business. It's amazing to think about how something as small as a cupcake could have such an impact.
What is one piece of advice you would offer your 23-year-old self?
Sophie: Don't stress. Don't give up on your dream. Embrace the uncertainty. Enjoy the journey.
anna mathias jackie saffert kate ignatowski