Here at The Everygirl, we understand the nature of busy women. You barely have time to eat breakfast in the morning, let alone spend the day surfing the web. That's why this week, we're sharing some of our favorite articles on pop culture, design, and more.
If finding out your dad is Colin Firth and also British royalty doesn't pan out, this is a sound option.
From Cazzie: "The tone is somewhat realistic. It's all from Remi's hypersensitive perspective where she only hears the absolute worst, and if she doesn't hear it, she imagines it." #relatable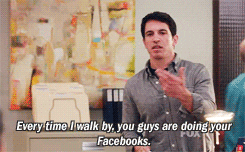 Yeah, I just don't need Facebook reading my thoughts through my skin, thanks though.
Bring on the butterfly clips.
I'd just like to always be holding a puppy, please and thank you.
https://www.instagram.com/p/BTCyhnxDoeA/
We need more body-positive role models for women.
That feeling when you're caught daydreaming at work 🙂 (via @UmmRKSZ ) #mediawatch pic.twitter.com/lRkTbpygfo

— Media Watch (@ABCmediawatch) April 9, 2017
This is me, reacting to basically everything in life.
Riz Ahmed, though, ace choice. P.S., I love when celebrities write love letters to each other. It's all the sweet.
Go, go, go and watch right now.