It seems the words fall and pumpkin have become synonymous with the change of seasons. Leaves display their finest colors, the weather gets a bit chiller, football weekends ensue, and pumpkin everything explodes across the web, social media, food shelves and, of course, our tables. It's a seasonal party for our taste buds, to say the least. Adding that touch of pumpkin seems to make everything just that much better.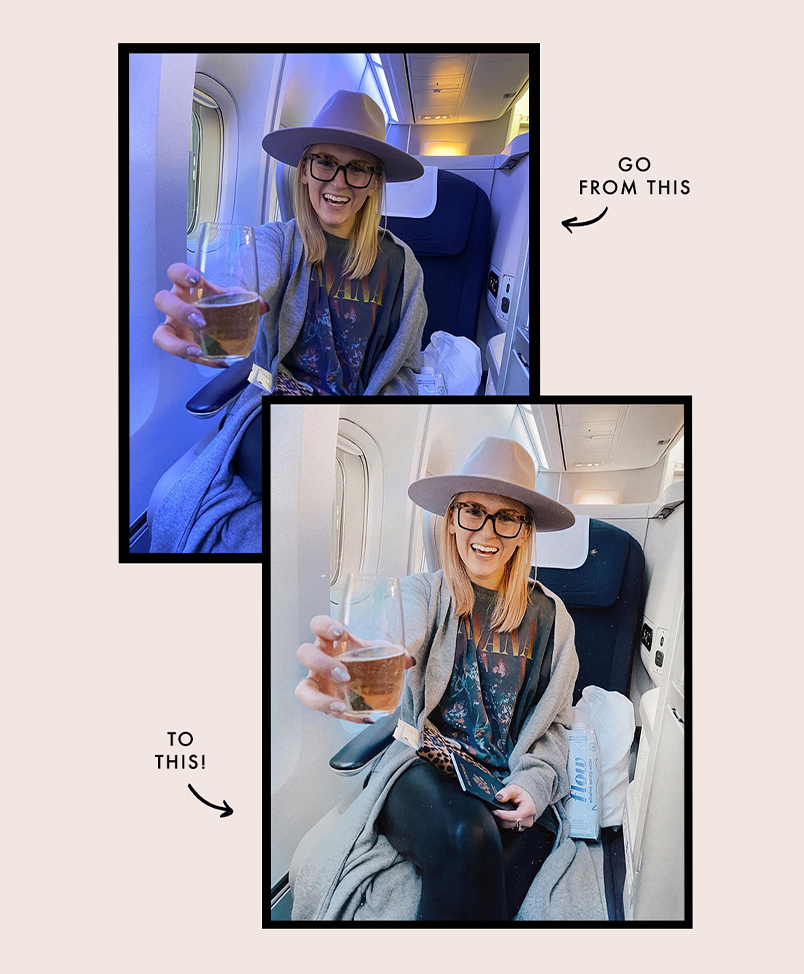 Want to style, shoot, and edit your photos perfectly every time?
We're sharing our secrets to photo editing in our all-new online course, Mastering Photo Editing On Your Phone. Enrollment closes on Thursday, so grab your spot now!
However, when you have an allergy or are trying to abstain from gluten, this season can be a bit tricky. I found a few easy pumpkin recipes to make sure the gluten free girl can still enjoy this delightful and delicious season.
Three Gluten Free/Guilt Free Pumpkin Recipes:

Pumpkin Chili

Recipe and image via Julia's Album
This bowl of chili is perfect after a long day of work or shared with friends over football.
Serves: 4-6
Ingredients:
1 tablespoon olive oil
1 large onion, chopped
4 garlic cloves, minced
1 cup pumpkin puree (from the can or homemade)
1 cup canned tomatoes
1 cup vegetable stock or water
1 can black beans (15 oz, 425 g)
1/2 can garbanzo beans (7.5 oz, 212 g) or white beans
1 tablespoon cumin powder (start with half the amount, and add more, to taste)
2 tablespoons chili powder (start with 1 tablespoon, reduce or add more, depending on taste and also on how spicy chili powder is)
salt and pepper
Directions:
In a large pot or skillet, cook chopped onion and minced garlic in olive oil for about 5 minutes on medium heat until soft.
Add pumpkin, canned tomatoes (chop them up into smaller chunks), vegetable stock (or water), black beans and garbanzo beans. Add half the cumin and half the chili powder, stir everything well, and season with salt and pepper. Taste your chili, season some more with salt and pepper if needed. Add the remaining cumin (or more) and remaining chili powder (or more), if desired. Bring to boil, make sure to stir all ingredients well together to combine flavors and spices. Reduce to simmer and cook for 20 minutes on simmer.
Serve in soup bowls, garnished with chopped green onion.
Pumpkin, Carrot and Sweet Potato Soup

Recipe and image via Southern In Law
I don't think there's a better way to welcome fall then with a bowl of hot soup and a touch of pumpkin for flavor.
Serves: 4-6 Servings
Instructions:
600g butternut pumpkin/squash, peeled and cut into cubes
250g/3 medium carrots, peeled and cut into cubes
300g/1 medium sweet potato, peeled and cut into cubes
2 cloves garlic, crushed
1-2 tsp garlic and herb salt
3 cups water or stock (if you can have it – be sure it's GF if necessary)
1 tbsp each chopped basil and parsley.
If your soup is too thin: 1 tbsp cornstarch, dissolved in 1 tbsp water
Directions:
Place all of your ingredients into a medium-large saucepan over a medium-high heat. Bring to the boil and cover, reducing to a simmer.
Simmer until veggies have softened and then blend, adding the cornstarch and returning the soup to the saucepan to heat and thicken as needed.
Just before serving, stir through your fresh herbs and season to taste.
Serve hot, garnished with a dollop of Greek yogurt or cream or additional fresh herbs if desired.
Pumpkin Pie Smoothie

Recipe and image via Hot for Food
Watching your health, yet still crave the flavor of pumpkin after a morning workout? Try this!
Serves: 1 Large Serving
Ingredients:
1 cup almond milk
1 frozen banana
1/2 cup pure pumpkin puree
1 teaspoon fresh ginger
2 pitted medjool dates
2 tablespoon hemp seeds
1 tablespoon maple syrup
1 teaspoon cinnamon
1/4 teaspoon nutmeg
1/4 teaspoon all spice
1 cup ice cubes
Directions:
Blend all ingredients until smooth – add almond milk to thin to the consistency you want. Garnish with a dash of cinnamon or nutmeg, and enjoy!
Three Savory Gluten Free Pumpkin Recipes:

Baked Pumpkin Spice Donuts

Recipe and image via Against All Grain
It can be challenging to find a gluten free coffee shop treat yet alone anything pumpkin flavored, so why not make your own this fall.
Serves: 8 – 10
Ingredients:
5 large eggs
½ cup coconut milk
½ cup pure maple syrup
½ cup pumpkin puree (I used organic canned—if you use fresh make sure to get all of the excess liquid out of it)
¼ cup coconut oil
1 teaspoon vanilla extract
¾ cup blanched almond flour
½ cup coconut flour
1 teaspoon baking soda
1 teaspoon ground cinnamon
½ teaspoon ground nutmeg
½ teaspoon ground ginger
¼ teaspoon ground cloves
¼ teaspoon ground cardamom
¼ teaspoon sea salt
*You could also substitute 2 teaspoons pumpkin pie spice for the spices listed
*SCD – use honey in place of the maple for the entire recipe
Dark Chocolate Glaze:
¼ cup dark chocolate, chopped and melted
1½ teaspoons coconut oil, melted
1 teaspoon raw honey
Maple Vanilla with Bacon Sprinkles (SCD legal):
1 tablespoon raw cacao butter, chopped
2 teaspoons palm shortening
2½ teaspoons cold maple syrup
½ teaspoon vanilla extract
¼ teaspoon ground cinnamon
1 piece of bacon, fried crisp and finely chopped
Directions:
Preheat oven to 350 degrees F and oil the insides of your doughnut pan really well. I find palm shortening works best.
Place the eggs, coconut milk, pumpkin, maple, coconut oil and vanilla in a blender and blend until frothy, about 15 seconds.
Add the dry ingredients, blend on low for 10 seconds and on high for about 20 seconds.
*Lower powered blenders make take a little longer and may also require a few stops and scraping down the sides.
Pour the batter into the pan, filling each cavity 2/3 of the way full and bake for 20 minutes. Let them cool for 10 minutes before removing the doughnuts from the pan and cool on a cooling rack.
Repeat with your leftover batter.
To Frost
Chocolate: Whisk all of the ingredients in a shallow bowl until smooth. Dip the top of each doughnut in the chocolate then gently rotate the doughnut to let the excess glaze drip off. Turn right-side up and place back on the cooling rack. Let set for 5 minutes, then refrigerate for 15 minutes until the glaze has hardened.
Maple Vanilla: Melt the cacao butter over a double broiler filled with 1-inch of water. Once it has completely melted, remove it from the heat and whisk in the palm shortening. Add the cold maple syrup and vanilla and whisk until smooth. Dip the doughnuts one at a time, rotating it gently to allow the excess glaze to drip off. Place right-side up on a cooling rack and sprinkle with bacon bits. Allow to sit at room temperature for 5 minutes, place in the refrigerator for 15-20 minutes until the glaze has hardened.
Flourless Pumpkin Chocolate Chip Cookies

Recipe and image via Chelsea's Messy Apron
We all love a good chocolate chip cookie, but when we add pumpkin and eliminate the gluten it's the perfect fall snack.
Serving: 12 muffins
Ingredients:
1/2 cup canned pumpkin (not pumpkin pie filling)
2 tablespoons honey
1 large egg
1/2 teaspoon vanilla extract
2 tablespoons brown sugar
1/2 teaspoon cinnamon
1/2 teaspoon pumpkin pie spice
1 teaspoon baking soda
Pinch of salt
1 cup oat flour (oats that have been blended)
1/2 cup dark chocolate chips (or milk, semi-sweet, or nuts)
1/4 cup chocolate chunks, optional
Directions:
In a bowl, beat together the pumpkin, honey, egg, and vanilla extract. Beat in the brown sugar.
In another bowl, stir together the cinnamon, pumpkin pie spice, baking soda, salt, and oat flour.
Oat flour is just old-fashioned or quick oats that have been blended in a blender or food processor until they are at a flour consistency. **Make sure to measure the oat flour AFTER blending the oats and not before **
Combine the wet and dry and mix until just combined. Do not over stir.
Stir in the chocolate chips.
Chill the dough for 30 minutes and then preheat the oven to 350 degrees F.
Using a cookie scoop, scoop out the dough onto a cookie sheet.
Press the chocolate chunks (and extra chocolate chips if desired) into the tops of these cookies and bake for 6-8 minutes.
These cookies taste best (in my opinion) a little under-baked—they are soft, chewy, and brimming with chocolate!
Notes: Make sure to use certified gluten-free oats.
Gluten Free Pumpkin Cornbread

Recipe and image via Recipe Girl
This savory pumpkin cornbread is a great complement alongside the pumpkin chili and/or soup listed above.
Serving: 1 loaf
Ingredients:
1/4 cup + 1 tablespoon brown rice flour
1/4 cup + 1 tablespoon white rice flour
3 tablespoons tapioca (starch) flour
3 tablespoons sweet rice flour
1 tablespoon baking powder
1 teaspoon salt
1/2 teaspoon ground cinnamon
1/4 teaspoon ground nutmeg
1 cup cornmeal (gluten free)
2 large eggs
1 cup pure (unsweetened) pumpkin puree
2/3 cup packed light brown sugar
1/4 cup canola oil
1 tablespoon molasses
Directions:
Preheat oven to 400 degrees F. Spray an 8 or 9-inch square pan with nonstick spray.
Sift flours, baking powder, salt and spices into a large mixing bowl. Whisk in the cornmeal.
In a separate bowl, beat eggs lightly. Whisk in pumpkin, brown sugar, oil and molasses.
Make a well in the dry mixture. Add pumpkin mixture and stir the batter with a few quick strokes to incorporate the dry into the wet. Stir just until blended (don't over-mix, or it could result in a tougher bread).
Pour the batter into the prepared pan. Bake for 25 to 30 minutes, or until the cornbread is browned and the surface has a slightly springy feel. A toothpick inserted in the center should come out clean. (Check at 25 minutes, and add additional minutes, as necessary).