Even though we've been reinforced to believe so, professional growth isn't necessarily linear. No one is better evidence of this than Grace Emery, Account Executive at the Tech PR Firm Highwire Public Relations. Upon a friend's recommendation, Grace decided to pursue technology PR, and despite having experience in public relations for healthcare and lifestyle companies, she had to start from scratch—as an intern. While most of us would deem becoming an intern after being in the workforce for years as taking a step back in one's career, Grace accepted it, learned from it, and wowed her bosses by going above and beyond for them. In just three short months of working as an intern, she proved herself indispensable and became a full-time employee. Fifteen months later, Grace's hard work and dedication to her new company paid off—she was promoted to Account Executive. Did we mention that she has accomplished all this at just 25?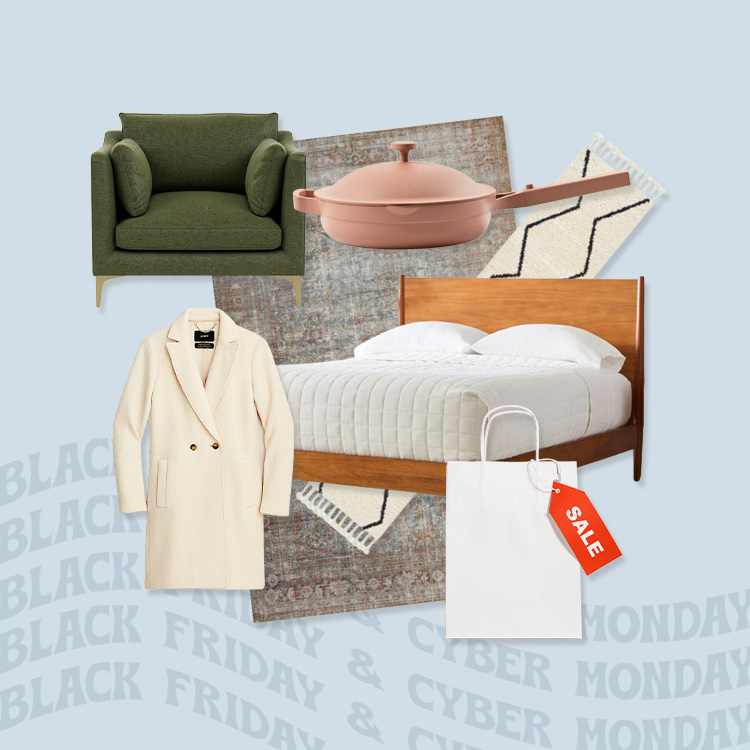 we combed the internet for the best OMG-CANNOT-MISS deals
While it was all Grace who got her to where she is today, she is remarkably humble about excelling at her company in such a short time. She is quick to thank her mentor for guiding her and giving her the confidence to tackle every challenge that came her way, which can be hard in such an intimidating field. Grace even credits her first job out of college, working at a brewery in Maine, as teaching her patience and the ability to stay positive, both valuable assets that she utilizes everyday when working with clients.
We decided to feature Grace today not only because she exemplifies the Everygirl attitude of working hard at your job, no matter what title you have or what position you're in, but also because she lives a very Everygirl life. Even though she has quite the impressive job and resides in one of America's most luxe towns, San Francisco, she finds little ways to save, like making coffee at home, bringing homemade lunches, and opting to live with roommates to keep rent costs down. She's also ready to dish out advice we think every young woman should live by, "stop caring so much about what other people think! It's frankly the silliest waste of time." Grace certainly is a girl after our hearts, so today, read on about this tech PR maven with the humblest demeanor and biggest personality. We're sure you'll feel inspired by her less-than-typical rise to the top!
Full name: Grace Emery
Age: 25
Current title/company: Account Executive, Highwire Public Relations
Educational background: B.A. in Politics, Whitman College
What was your first job out of college and how did you land that position?
A brewery on an island off the coast of Maine. Random, yes, but amazing! As wonderful as my parents are, when I moved back home after college I was pretty miserable. I had no idea what I wanted to do or where I wanted to live; I had the freedom of applying for jobs anywhere I wanted, but the reality was overwhelming. One of my sorority sisters had moved back home as well, and one day she sent an email to all of us. If we wanted to move to Maine, her parents owned a brewery and would love some seasonal help. I bought a plane ticket about three hours later and moved across the country that weekend. Unquestionably the most impulsive thing I've ever done, this was a truly amazing summer. You really can't beat living in the middle of a National Park, hiking up a mountain every morning and talking about beer all day!
Many college graduates are in first jobs that aren't necessarily where they see themselves for the long haul. What lessons did you learn while working at the brewery that you were able to take into your future positions?
The brewery was in a very touristy seasonal town, where cruise ships would dock and unload thousands of passengers (often thousands of tired, hungry and cranky passengers). I had worked in retail before and I think that's an experience everyone should have at some point in her life. It's a HUGE lesson in patience. Now that I'm with an agency and working in client relations, a lot of that previous experience translates. You may think you're right or not have the patience for one more request, but sometimes it's not about you. You need to be the solution and the face of positivity for someone else—your clients and your colleagues look to you for a reason. It's about getting it right and doing a great job for the sake of doing good work. Plus as a bonus of my summer of beer, I secretly love that I can hold my own in a conversation about beer and surprise people with entirely too many details on IBUs and the differences between an ale and a lager.
After receiving your B.A. in Politics from Whitman College, when and how did you discover your passion for Public Relations?
I'll fully admit I had a bad (unfair) impression of PR. I envisioned a blond wearing stilettos and a pencil skirt talking about celebrities. I attended a proudly nerdy and academic liberal arts college; no one majored in communications or PR. We majored in things like Anthropology and Sociology.
When I first moved to San Francisco and was looking for a job, I was interested in the field of public health and took an internship with a healthcare company in their communications department. I had no idea it would be such an amazing introduction to PR, and I was truly impressed with the brilliant and driven people I worked with. After that internship, I moved on to another job in public health, and ultimately to a lifestyle and hospitality PR agency. While it was fun to pitch food and restaurants, it was the side of PR I had feared: it felt a little shallow. I wasn't challenged and I even ended up working a door with clipboard in hand!
A friend introduced me to someone working in technology PR—a field I hadn't even considered. The second I interviewed at Highwire, I knew tech was the right fit. PR, I discovered, really can be challenging, demanding and full of incredibly smart people. There are amazing women in the technology field, but there's still a big disparity, as evidenced by the establishment of "code academies" just for girls or the push for female enrollment in STEM programs. I'm not a coder, but I am surrounded by women who can talk all day about enterprise cloud adoption trends, DDoS attacks and network security, the rise of the app economy, and serve as a go-to resource for some of the top Silicon Valley venture capital firms and technology companies.
You began your time at Highwire PR as an intern just a year and a half ago. Were you hesitant to take an internship after college? How long were you an intern before you were hired on as a full-time employee?
When I interviewed at Highwire, I had already been working and out of school for two years, so I'll admit that taking an intern position felt like a huge step back. But I knew absolutely nothing about tech at the time and looking back, I'm glad I started as an intern. It gave me a broader introduction to tech and working at a fast-paced agency. Because of my previous work experience, I was able to be hired on as a full-time employee in just under 3 months.
Be indispensable, be your own advocate, and show how much you want it.
What advice do you have to other college graduates who are hoping to turn their internship into full-time employment?
Be indispensable, be your own advocate, and show how much you want it. I remember my mentor said something along the lines of "you're smart and talented, but so is EVERYONE here. You need to stand out". Sort of terrifying, but also motivating. Don't just do what you're asked to do—go above and beyond and show your colleagues and your bosses that they really need you. Find a mentor you can go to for regular feedback, and don't be afraid to be your own biggest fan. Make a list of your accomplishments and successes and request meetings with the higher-ups. Sure they're busy, but not too busy to hear about how you're helping make their business even greater. Once they see that, they can't let you go!
Public Relations firms see hundreds of applications and resumes on a regular basis. What would you say can set an applicant apart in the interview/hiring process? Is there anything you went out of your way to communicate to the hiring team when you were interviewing at Highwire?
It's true that it's about who you know—so creating a network is key! I've asked for informational interviews, and am delighted when recent grads come to me. My internship at Highwire was more or less a 3-month interview. In that time I made it clear I was passionate about the business and saw myself building a career here. Do your research on the agency's clients and ask questions! Some of my favorite questions I get asked when I interview potential candidates are about what the most challenging parts are, what the culture is like, and what kind of opportunities there are for communication and collaboration across the agency.
In eighteen months, you've been promoted from intern to account associate to account executive. What do you attribute to your fast success at the firm?
Highwire places a big focus on mentors and managers. My mentor was an amazing guide when I first started out, and her advice to be my own advocate really stayed with me. I like being challenged and staying busy, so if I see a project I want to take on, I've learned to just ask for that project!
What obstacles have you faced during your career and how were you able to overcome them?
Before Highwire, I had some jobs that were less than amazing. Tough bosses, no room for growth—yet I felt I had to stay there for the sake of my resume and because the job market was just so tough. It's terrifying to quit a job, but I learned that if it's really not a good fit, it's not worth it to stay miserable.
Find little ways to save. I make my coffee and lunch at home, hit up happy hours, and even got rid of my car!
Tell us a bit about living in San Francisco! As one of the most expensive cities in the country, what advice can you give to those who are moving to the Bay Area and just starting out in their careers?
Rents are crazy, yes, but amazing restaurants, parks, and weather help me justify spending a ridiculous portion of my paycheck on an apartment. My advice? Find a roommate (or four!), and as Suzie Orman of me as this may sound, find little ways to save. I make my coffee and lunch at home, hit up happy hours, and even got rid of my car! Every neighborhood in this city has its own charm; don't neglect to look at some of the seemingly further-out but less-expensive parts of the city.
Describe your typical work schedule. What's does a day look like in the life of Grace Emery?
I get in around nine, and immediately check email. With emails to and from reporters, clients, or the Chicago office, a big part of my day is keeping on top of the hundreds of emails I get all day. Mornings are then spent pitching: whether it's checking in with a reporter on a pending article, trying to catch one on the phone to talk through a story idea, or researching the best person at Bloomberg to contact with a healthcare angle, a big part of the day is media relations.
The day is peppered with client calls, writing press releases or bylines, and impromptu brainstorming meetings in our drink-type-themed conference rooms (Shaken, Stirred and my favorite: Chaser). One of my favorite things about this job is that it forces me to stay on top of the news (outside of The Skimm – which I love!), so I spend a good part of the afternoon keeping an eye on Google news and twitter.
Then, of course, it's not a full week at Highwire without some type of champagne toast. We work hard, but the agency celebrates a collaborative culture and a little fun too. Bi-weekly "wine o'clock" is a great chance to breathe a little and catch up with people I don't see every day, and it seems we always have a promotion or engagement to celebrate!
The most important thing to me is that I continue to stay happy, look forward to going to work in the morning and stay challenged.
In what ways would you still like to see your career evolve in the next five years?
I used to obsess over having a five-year-plan, but now I'm a little more relaxed. The most important thing to me is that I continue to stay happy, look forward to going to work in the morning and stay challenged. Nothing is more motivating than working toward a new goal or mastering a new skill.
Best moment of your career so far?
Feeling that I've finally found a fit. It's an amazing feeling to both enjoy what I do and know that I'm good at it. Tech PR is a good fit for my skills—I love writing, planning things out to a ridiculously detailed extent, and brainstorming creative angles. But it's also given me such a great new set of skills and continues to challenge me every day. I used to be pretty shy and passive, and PR has helped me find my voice.
What advice would you give to your 23-year-old self?
No job is a waste of your time, even if it doesn't seem like the perfect fit for your career path at the time. Don't have any regrets: you learn something from every experience, even if what you learn is that you shouldn't stay miserable just for the sake of your resume. Don't be so afraid to quit! Also, advice I should KEEP giving myself: stop caring so much about what other people think! It's frankly the silliest waste of time.
Grace Emery is The Everygirl
Must-read magazine of the moment?
I work in tech PR so I should probably say that print journalism is dying! I'm obsessed with exploring the city, so I follow a handful of blogs like EaterSF, 7×7, and the Bold Italic for my daily dose of San Francisco culture and restaurant tips. I'm also pretty excited Domino is back!
Perfect date night in San Francisco?
Always dinner and a long walk; there are simply way too many amazing restaurants in San Francisco. My boyfriend and I recently went to Coqueta for cocktails and Spanish tapas. It's right on the water and afterward we went for a walk down a pier off the embarcadero to watch the Bay Lights (a new art installation on the Bay Bridge). For a day date, you can't beat a Saturday morning at the Ferry Building farmers market, or a Bloody Mary at Zeitgeist in the mission district.
Go-to work uniform?
Skinnies, some type of button-up, a statement necklace, and comfy heels or cute flats. I own entirely way too many chambray shirts.
If you could have lunch with any woman, who would it be and what would you order?
Hilary Clinton—I'd be so star-struck! I'd get truffle grilled cheese and tomato soup.
Aidan or Big?
Big. But Harry is seriously my dream guy!