Spend five minutes perusing the virtual pages of lifestyle blog A Diary of Lovely, and we guarantee you'll be itching to ring up the author and meet her for a cup of coffee and a chat. She's Barcelona-born but has spent the past six years nestled in central London with her boyfriend. It's in their two-story flat that she chronicles her inspirations online: from cozy European interiors to features on fellow bloggers to her popular Sunday style posts, Helena's blog is everything girl and all things pretty. Her taste is charming and relatable, and anyone who's met her can attest she actually is as friendly as her blog would suggest.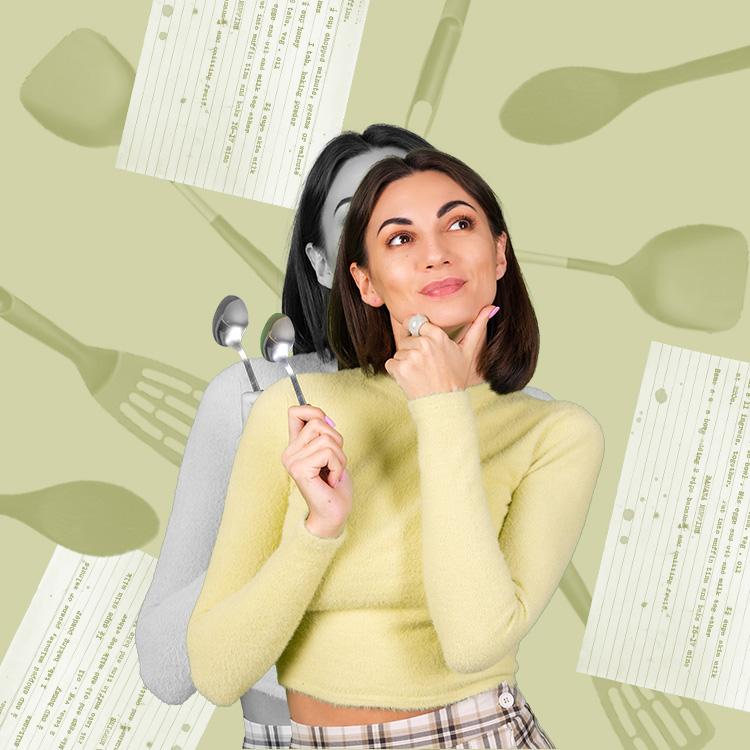 high in protein, good for gut health, and anti-inflammatory? yes, please!
It came as no surprise her home is as pleasant and eclectic as she is, so we were absolutely thrilled when she agreed to share the first-ever tour with Everygirl readers. From Ikea pieces to colorful kitchen accents and Etsy art, Helena's flat offers chic (and affordable!) inspiration for everyone—whether you're on this side of the pond or hers.
Full name: Helena del Rio
Age: 30
Blog: A Diary of Lovely
Current title/company: Affiliate Marketing Manager at wiggle.co.uk
Educational background: Bachelor of Arts in Law and Masters of Arts in International Relations
Can you share your story with us? What cities have you lived in? When and why did you start your blog? A bit about your day job?
I have lived in London for almost six years. I came for a year, and I'm still here! I'm originally from Barcelona, born to a Greek mom and a Catalan dad. Most of my life has been spent in Barcelona with some small intervals in Athens (about 4 years).
I started blogging 2.5 years ago as a way to classify and store images and inspiration, then I lost my job and it became my life-saving hobby (literally! I owe much of my then sanity  to blogging!). Since then a lot has happened, a couple of jobs have come and gone, but I'm still blogging daily and loving it. I now work at wiggle.co.uk –  a cycling, running and triathlon online store – and do part of their online marketing. I love being able to work in online marketing and in such a thriving company.
How long have you lived in your apartment? Do you live there alone? Rent/own?
My boyfriend and I have been renting our flat for three years now. We live in a very large residential complex in central London called Barbican.
What was the decorating process like? Do you tend to shop for vintage/used pieces or purchase new?
I'm going to be very cliche and say it's a work in process and to be honest on much of a decorating process was involved at all. I tend to just buy things I like and put them all together. We had some big pieces from our previous place, the sofa, and the dining table, and other big sofa comes with the flat. So all I have done is put everything together. I don't have a style or anything like that. I would like to, but I love way too many things to have one predefined style. So I just buy what I like and if it goes good if it doesn't well.. too bad really.
You know, people keep saying that London is great for vintage shopping, etc. I don't know where that is but it is not in central London. I know there a some places where you can get used furniture and work on it, but it's more hassle than anything and good vintage furniture is very expensive. Plus I'm not very DIY, I made (painted really!) two Ikea hacks, and that was pretty massive for me!
I love Ebay for small things, like brass figures, the old glass carafe, and smaller decorative things.
Tell us about your neighborhood and how you decided to settle there in London. Do you see yourself staying there long or moving to a different part of town (or different city!)?
The flat is in the Barbican, a large residential complex in the borders of the City (as in the financial heart of London). It was built after the Second WWW in what was a completely bombarded area and the idea was to create a residential oasis for City workers. There' are about 2000 flats and is a mass of concrete with private gardens and a big Arts Center in the middle.
People have a love or hate relationship with the complex. Normal people tend to hate it (it's the concrete and the fact that Brits love houses and not flats!) architects and artists tend to love it (for its design). We are in between. It's a great location to live, my boyfriend's office is a 5-minute walk and mine about 25 minutes away so all in all we can't complain.
It's a great location, very safe, and with some great local amenities. Farringdon on one side has a plethora of restaurants, bars and cafes, Islington is just a stones throw away, with all the good stuff  Angel has to offer and on the other side we have Spitafileds with all the East London buzz. We are definitely lucky to be able to live here: within a 20-minute walk there's pretty much everything a young couple could wish for.
What advice do you have for a girl in the process of decorating their apartment?
Be patient, read blogs and have a clear mind. As a blogger, my senses are overloaded with beauty and that can be tough. I see beauty… No scratch that. I see beyond gorgeous homes and think, Hey why isn't mine like that? I try to keep a perspective and a distance between my world and the blog world.
What would I recommend beside that? Buy things you really love, but don't necessarily get stuck with the idea they have to mean something, because let's be honest that jar you want to buy probably doesn't mean anything, it's pretty and you just want it. Check prices and places. I always double check prices, and I'm sure that either at Amazon or somewhere else it will be cheaper. I love a good bargain so make sure you research, check and re check. I also love all the discount website, like Achica, Dalani and Brand Alley (Gilt likes in the US)
Favorite budget-friendly sources for home goods, both online and in London?
Ebay and Amazon for good priced home products and accessories. Also great for vintage decorative items. I love Anthropologie but I think it's overpriced, their sale is great though so definitely worth checking! I bought all my bedding and cushions on sale there. Graham and Green is my dream home shop! Everything is stunning! Drop dead gorgeous!