In between collecting every Fraser fir scented candle we can afford and singing along to Idina Menzel's holiday album, it's no surprise that we're in good spirits this holiday season. But who can blame us? We can't get enough of the glittering lights that decorate the streets and the comforting feeling that comes with spending time with our loved ones.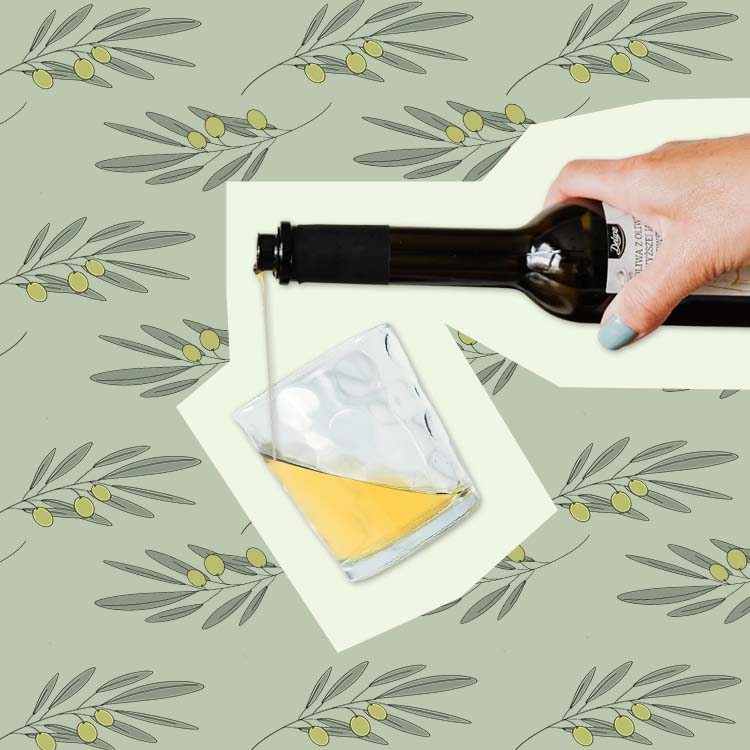 we love olive oil, but this seems a bit too far... or is it?
Naturally, we plan to take full advantage of this season – by doing as many holiday activities as possible. If you're looking for some new traditions (or an excuse to finally create a door wreath – it's an art, we know), read further for our bucket list and for what makes this season the most wonderful time of the year!
1. Make a family recipe and give half to a friend or neighbor who might need a pick me up
Cooking feels so therapeutic and welcoming in the fall and winter, doesn't it? Break out that old family recipe that goes back generations and try your hand at it. Package it up nicely with a special note and deliver it! We recommend including in the note why you're thankful for that person in your life.
2. Run and/or walk in a 5K Turkey Trot or other seasonal run
Whether you're the type of person who's running off that third slice of ham or the type who's sleeping it off, make an effort to participate in a local, seasonal run this year. Instead of fearing the potential weight gain from those holiday recipes, switch up your typical activity and make it a physical one. From an annual neighborhood run to the infamous Turkey Trot, take some time out from the holiday feasts and show the world what you have on the track.
3. Make homemade hot chocolate
Of course we couldn't make this list without mentioning some form of chocolate. There's a delicacy that goes into homemade food and making your own hot chocolate won't disappoint. Besides the fact that chocolate is the key ingredient (to life), this is a great way to upgrade your skill set in the kitchen and your appreciation for a hot drink near the fireplace.
4. Drive around and look at lights
The beauty of the world is all around us and it definitely starts with the shimmering lights hanging on the rooftops of the homes around you. To really explore what the holidays have to offer, get in your car and get ready to be inspired by the continuous strings of lights that have their own theme and purpose.
5. Give back to your local community
As much as the holidays are for appreciating loved ones, they're also a chance to reach out and help those who aren't as fortunate. Choose your form of volunteering–from donating toys to a toy drive to sending a care package to a specific family, your willingness to reach out to strangers will not only help them with their lives, but make you feel humbled for yours.
6. Attend a holiday play, symphony, or ballet
Break out your favorite black dress and velvet heel ensemble for a night out on the town with dinner and a show in mind — check out a local holiday play or splurge on tickets to The Nutcracker. As an elegant date night idea, this sophisticated approach to enjoying the cold breeze of winter air will have your long jacket complimented and your mind cultured.
7. Put a tree in your bedroom
…and fall asleep with its glowing lights on. Tell us it doesn't take you back to childhood! Mini trees, real or faux, are available at most stores for less than $30 and you won't believe the cheeriness this will add to your holidays falling asleep and waking up to a twinkling tree every day. Ornaments not even necessary on a tiny tree (of course, they don't hurt either)!
8. Purchase a sentimental ornament
It seems like so many people have an ornament that marks an important moment in their lives–maybe it's an anniversary date, a memento from a trip, or their child's first holiday. Regardless of what you choose yours to be, take time in your decision and pride in placing it at the top of your tree.
9. Go ice skating or sledding
An ice skating rink or a frozen lake? Take your pick. Nonetheless, you'll have fun simply holding the hand of the person you're with and sliding through this season in the most (hopefully) graceful way possible. Precarious balance or a fear of tiny, sharp objects? Opt for the childhood classic instead: sledding! It doesn't matter if you've gone numerous times or only once, any activity that lets you bundle up in mittens and a cute headband is one we want to be a part of.
10. Watch a classic Christmas movie
Think White Christmas, the original Miracle on 34th Street, It's a Wonderful Life. The black and white patina will charm your socks off — plus, there's something so magical about revisiting a true classic during the most classically magical time of the year.
11. Send holiday cards (or at least, send a couple)
Holiday cards are so. much. fun. From cutesy, to silly, to charming — any way you go, holiday cards are something you can treasure for seasons to come. Plus, you'll be helping everyone you know decorate their fridge — holiday style.
12. Plan a gift-wrapping date with a friend
Wrapping gifts can be seriously fun — just add your favorite holiday movies (or playlist), a few friends, and some killer red wine. BOOM. It's a party. Plus, gift wrap just keeps get cuter every year.
13. Hang stockings (with or without a mantel) and stuff them!
Hanging stockings is one of those holiday traditions of yore that has stood the test of time. This year, make it a point to have stockings for your whole household (pets included, obv) and actually stuff those babies with all manner of cute stocking stuffers — from candy, to extra phone cords, to tchotchkes. Plus, making your own with dollar store felt is SUPER FUN.
14. Grab some friends, bundle on up, and go caroling
The perfect excuse to wear that new hat and scarf set you bought. Remember: the more people, the less your signing voice actually matters. Hell, this is Christmas, belt it out even if you're totally off-key. It's the spirit of the thing.
15. Go holiday shopping… in a real store
Shopping online is amazing and all (delivery, marry me), but actually getting dressed, grabbing a peppermint mocha, and hitting all your favorite stores decked out in their holiday finest is the perfect way to spend a December afternoon. Bonus: lots of stores offer complimentary gift wrapping. Your holiday to-do list just got shorter.
16. Set out a dish of holiday candy (and try not to eat it all in one sitting)
Another great excuse to buy all the candy! If you're not too stuffed from over-imbibing on Halloween KitKats, grab all the chocolate turkeys and candy canes you can find, and set them in a dish near your living room–just like grandma did. The holidays never tasted so good.
What's on your holiday bucket list this year? Tell us in the comments below!