Sure, it's the season of giving, but it's also the season of a lot of events. You got your office party, a family fête, that Santa Crawl you bought tickets for, and maybe an ice skating date or two coming up in the next few weeks. We get it; your calendar is packed, your wallet is probably angry with you, and you're pretty stressed. But – not to go all Cindy Lou Who on you – the holidays are about being with the people you love.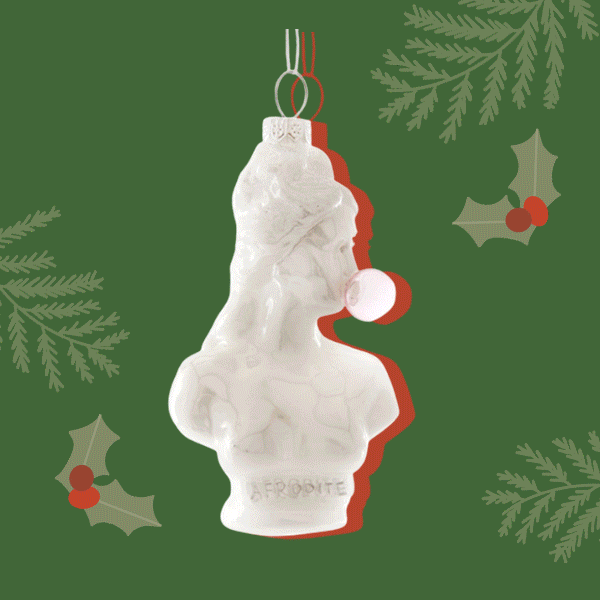 Whether you prefer your tree to be a masterpiece or a beautiful array of memories, there's something for everyone at Carlyle Avenue's ornament shop. Don't miss their expertly curated collection!
In order to actually enjoy your holiday season, why not stay at home, invite over your best friends, and have fun get together with simple touches that make hosting go off without a hitch! We're calling it – a Holiday Girls' Night In is going to be the event of the season. Hosting doesn't have to be stressful or expensive, either. We're showing you how to make every detail perfect, while spending as little money and effort as possible. Trust us, the only thing you'll have to worry about is which ugly Christmas sweater you should wear.
Start with the essentials: snacks n' bubbly
No need for concocting elaborate punch recipes ahead of time; a few bottles of La Marca Prosecco are simple and elegant. Your guests will feel special and festive sipping on bubbly, and it requires absolutely zero prep (and the bottles are beautiful for display too – win, win).
With food, remember simplicity is the goal. A delicious and impressive spread doesn't have to require a lot of effort or money. Our go-to is a cheeseboard because it's a crowd pleaser (who doesn't love cheese!?) and is easy to DIY. Plus, rich cheeses and salty meats (think prosciutto and thin-sliced salami) pair perfectly with the crisp lemon, apple, and grapefruit notes in La Marca Prosecco. This way, you don't have to be a pairing pro to get a flawless combination of flavors. Ready to make your cheeseboard? We did all the hard work for you with our "Build the Ultimate Cheeseboard Guide." Make it holiday-appropriate with flavors of the season like rosemary sprigs or dried cranberries.
A couple different bite-size appetizers are the perfect accompaniment (you can use frozen versions if you have more important things to do before the party than cook), and bowls of different snacks like Christmas cookies, olives, cranberries, or peppermint bark are elegant and festive (but a piece of cake for you to put together – pun intended!).
Set the mood with festive favorites
Obviously you want to include all the classics (impromptu "All I Want for Christmas is You" karaoke, anyone?), but you also want good background music that feels cozy, festive, and doesn't take center stage. Try our playlist with the perfect mix of holiday classics and wintry favorites for background tunes that will get the party going (like Buddy the Elf says, "the best way to spread Christmas cheer is singing loud for all to hear…" we'll just let Mariah Carey and Dean Martin do the singing on this one).
Organize a casual gift exchange to ensure everyone leaves with a lil something
A gift exchange is a holiday party go-to for a reason; everyone is involved in gifting for the party, so you don't have to spend more $ or put in any more effort. Plus, it's fun for your guests – everyone loves giving! Whether your style is more Secret Santa (assigned ahead of time) or White Elephant (can be humorous or use a price limit), have your guests bring a small gift to be exchanged and opened at the party. You can also try a themed gift exchange (like gift cards, lingerie, books, or food items) to be more specific and inspire your guests to get creative.
Glitz up your space for peak cheer
You don't have to turn your home into a winter wonderland in order to have effective, festive, and gorgeous decor for your holiday Girls' Night In. Instead of going all out in reds and greens, keep it elegant with a few select pieces of greenery and incorporate white accents. You can also add metallics if you want to make it more glamorous (gold or silver twinkle lights do the trick).
A couple wreaths hung around the room and a few sprigs of winter greenery placed in a vase turn your home decor into a holiday soirée. If you can fit a tree, opt for a smaller version and go fake if you want to keep it simple (no shame in your game!). Twinkly lights and a set of matching ornaments are all you need to turn the tree into a gorgeous focal point.
Don't forget party favors! Not only are they a sweet and thoughtful gift for guests to take home, but when set out, they add to the atmosphere. We love giving out mini bottles of La Marca Prosecco because they don't require any gift wrapping (they're already pretty enough!), and feel more special and thoughtful than your typical party favor (wouldn't you rather have prosecco than peppermint bark!?).
Have a few games up your sleeve to help the night flow
Having a planned activity or two ahead of time ensures that the party keeps going and everyone is having fun, but also works as an ice breaker if you have guests from different groups that do not know each other. Get your guests in the spirit with a classic party game — if you need inspiration, try our list of our favorite games for game night. We always leave time for a game (or three) at our annual holiday office party… they are SO much fun and a great way to break the ice between different friend groups.
This post was sponsored by La Marca Prosecco but all of the opinions within are those of The Everygirl Media Group editorial board.