I purchased my first pair of Vans Old Skool sneakers in the summer of 2016. When I threw $60 down on them at my local mall, I was unaware that I was making one of the best decisions of my life. At the time, they were just a replacement for my white Adidas sneakers that got absolutely trashed at a country music festival, but time and time again, I found myself reaching for them to top off any and every outfit that I could. My black Vans have become as established in my daily routine as vitamins. What can I say? I'm a creature of habit.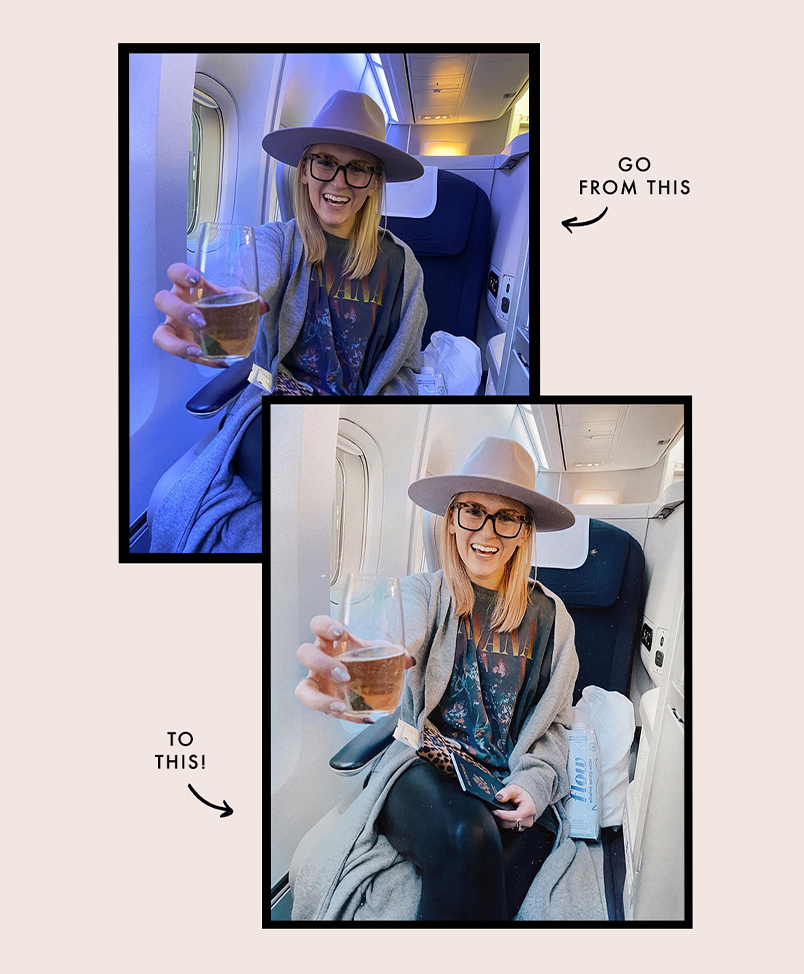 Want to style, shoot, and edit your photos perfectly every time?
We're sharing our secrets to photo editing in our all-new online course, Mastering Photo Editing On Your Phone. Enrollment closes on Thursday, so grab your spot now!
When I find something that I love, I'm a loyal fan. I return to it again and again, finding comfort and joy in the known like I would a childhood friend. Hence why I've watched The Office an alarming five times through. Like the seemingly insignificant purchase of my go-to sneakers, I didn't expect Netflix's new limited series Hollywood to impact my life as much as it did. I had so many feelings after finishing all seven episodes that I basically begged our editorial director to let me share my love for it with the world. So, to absolutely no one's surprise, I'm watching it a second time through. Here are the five reasons I'm rewatching which also serve as the five reasons you need to get on it ASAP:
1. Ryan. F******. Murphy.
If you don't know who he is, allow me to offer you a quick introduction. Ryan Murphy is an absolute legend whose creative genius has brought us a lot of works that you've probably already seen, or at the very least, heard of. Between writing, editing, and producing, he's been involved in so many fan-favorites including but not limited to The Politician, The Assassination of Gianni Versace, The People vs. O.J. Simpson, American Horror Story, Scream Queens, and Glee.
Ryan Murphy is insanely talented and his work creating and executive producing Hollywood (alongside Ian Brennan and others) is no exception. Time has labeled him "The New King of Television" and after viewing masterpiece after masterpiece, it feels impossible to disagree. Murphy has an affinity for bringing marginalized groups to the forefront of our TV screens and stated in a recent interview to Time, "If you're not writing about women or gender or race, you're not writing." Also, his very limited Twitter account and this specific tweet speak to me on a personal level:
David Corenswet has movie star hair. That it's. That's the tweet. #HollywoodNetflix

— Ryan Murphy (@MrRPMurphy) May 4, 2020
2. To hang out with my friends (Hollywood's star-studded cast)
Speaking of David Corenswet… dear lord. I'm putting it into the universe that I simply wouldn't mind for a minute if that beautiful man, who plays Jack Castello in the series, slid into my DMs. While I have a soft spot for Castello's boyish charm, I will also manifest that any interaction from any of the other cast members is highly welcomed. I do this thing where I watch a show, get highly invested, and pretend that the cast members are all my best friends—but wow, this crew hit home. Dare I say, I consider them family at this point.
The casting and chemistry between members of this show is so absolutely on-point that I truly don't know where to begin. I want to marry Jack. I want to work with Raymond. I want to have a brainstorming session with Archie while sipping on champagne. I want to eat lunch and gossip with Camille. I want a GNO with Claire. I want to hug Rock. I want to be Avis. That woman could accidentally hit me with her car and I would thank her.
I would like to mention that while I probably wouldn't get along well IRL with Henry Willson (a power-hungry talent agent who uses less than ethical ways to get what he wants), I will give Jim Parsons a much-deserved standing ovation. Parsons played Henry so scarily well that it made me completely forget that he played Sheldon of Big Bang Theory.
3. To feel all of the feels
This show made me beam, laugh, cry, feel the warm and fuzzies, and want to do backflips (note: I cannot do backflips). It made me want to be a better person and a better advocate. The story embraces diversity in the setting of the golden age and takes an up-close and personal look into issues of sexual abuse and power, racism, sexism, and homophobia. It's a tragic yet hopeful reminder of how far we've come but how far we still have to go.
4. To live out my 1940s Hollywood dreams
30 seconds into this series, I was hooked based on fantasy alone. Sure, there was a lot wrong about post-WWII that probably wouldn't be my cup of tea, but damn, was the facade of old Hollywood absolutely glamorous. The styling on the show served up some major fashion inspo and made me long for a seemingly simpler and romantic time where correspondence was a hand-written letter and not a "u up?" text from your local f***boy. So, yes, I'll be hosting a 1940s Hollywood-inspired theme party post isolation, and you're invited.
5. To re-experience the historical rewrite so many deserved
Ryan Murphy's vision of an alternate 1940s Hollywood that embraced diversity is realized in this seven-episode series and, while based on true events, is not the story that America experienced. Yes, characters like Rock Hudson, Anna May Wong, Hattie McDaniel, and Henry Willson existed, but their stories are very much altered. For instance, Hudson was a huge star backed by the tormented and tormenting Henry Willson, but in real life, he hid his gay identity to preserve his career for decades. Murphy curated a version of Hollywood that was a lot more progressive and hopeful than the reality experienced by so many, and by doing so, he provided marginalized actors and actresses the historical rewrite that they deserved. In Hollywood, actors aren't just making a movie. They're making history. And it's the history that so many minorities were denied.