Resourceful, creative, and passionate are a few words to describe Tyler Karu. This interior designer turned house flipper used the mess of the economy to her advantage when she co-founded Landing Design & Development. Her firm specializes in real estate redevelopment, and Tyler is the guiding light through the remodel process, as well as new construction projects.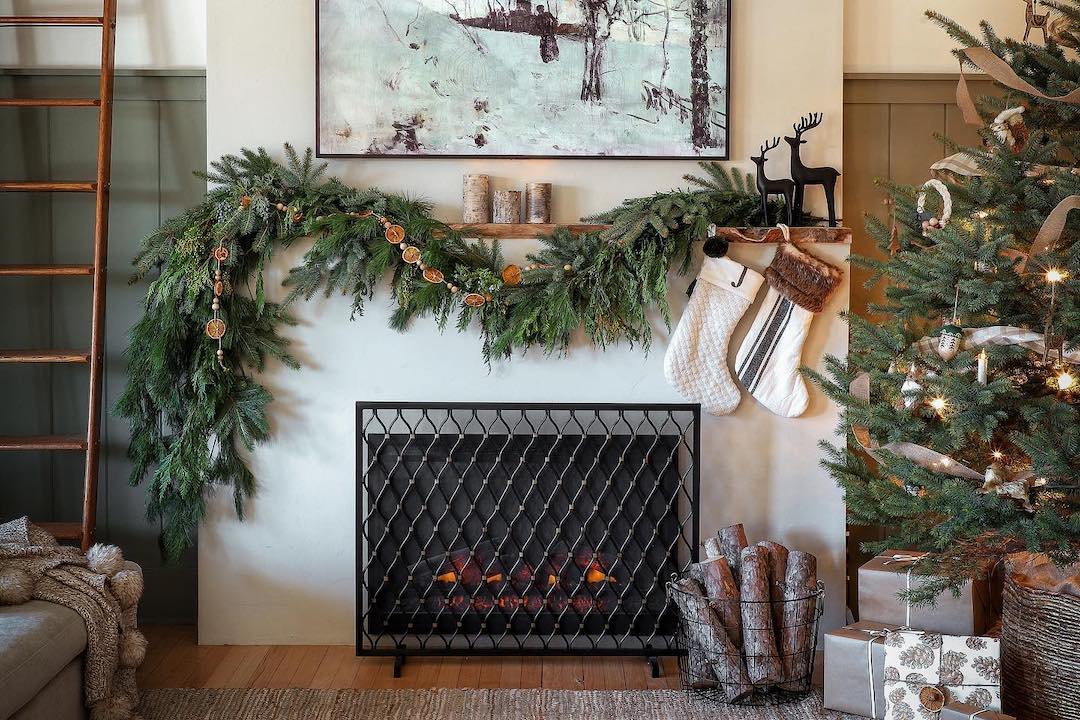 there's still time to deck your halls
"Because of the financial crisis, I knew I couldn't make a living as a designer, so I segued into construction," Tyler explained. She bought the cheapest homes on the market; her first house was the same price as a used car. Ingenuity coupled with hard work, Tyler turned shacks into chalets. Her aesthetic and lived-in design quality can be seen on the coast of Maine, where this successful entrepreneur gives homes a second chance.
Full Name: Tyler Karu
Age: 30
Current Title/Company: Principle, Landing Design & Development
Educational Background: B.A. in English from The George Washington University
Year you started your business: 2008
What was your first job out of school and how did you land it?
My first job out of college was at a PR firm. I landed the job through the help of a family friend, who was familiar with the company. It was a small firm that represented a lot of non-profits, and while I loved the firm and the guys who ran it, I knew I needed to go in a more creative direction. I decided to go back to school to study interior design.
What made you go from a literature background to studying interior design? What attracted you to interior design in the first place?
Studying literature in college was the easy way out for me. Reading and writing were the only two academic pursuits that didn't make me cringe. Design is in my blood. We moved a lot growing up and my parents built or remodeled all of their homes, when they were married and when they were divorced.
You went to interior design school in New York City. What was it like to live there? Any challenges? What advice would you give to someone moving to New York?
I loved living in New York and miss it all the time. It was challenging to not get wrapped up in the excitement of the city, and in the end, it's why I ended up moving back to Maine. My advice would be to carve out your own niche in the city and focus. Creating your own world in New York as a young person is about the most exciting opportunity one could have. Don't forget to be grateful for it.
When you moved back to your home state of Maine in the middle of the recession, how did you re-purpose your design skills?
When I moved backed to Maine, I quickly realized I wanted to be my own boss. Because of the financial crisis, I knew I couldn't make a living as a designer, so I segued into construction. I bought the cheapest homes on the market and started flipping them. I knew very little about construction, but was fortunate to have friends, family and contractors who helped me learn. Even on a very limited budget, I felt certain I didn't have to sacrifice aesthetics and good design.
What advice would you give someone going through something similar—that is, having to re-purpose their skills when the poor economy dictates career decisions?
My advice would be to get help and be confident. I asked for help every step of the way. I worked with people who were excited to try something new at a time when everyone else was pretty miserable and afraid for the future. I proposed the idea of making the economic circumstances work in our favor. We were a pretty young and ambitious group and we were willing to work on less than glamorous projects because at least we were working.
Flipping a house is a big undertaking. What went into making the decision to flip houses for a living? Who helped you?
I decided to flip homes because the value of real estate became so low, and I knew that window would close quickly and the price of homes would go back up at some point. Maybe I was overly confident, but it seemed like a can't-lose situation. Even if I broke even, at least I was working. Both of my parents helped and advised throughout the process, as did my friend and business partner, Matt. We started this business together. I flip the homes, and he finds and sells them for me. We are a very efficient team, with a 15-year friendship to back it up.
Describe the first house you flipped. What went into it? What surprised you about what it takes to flip a house?
The first house I flipped was TINY! I basically purchased it for the same price as a used car. I had no clue what I was doing, but I knew the people I worked with were hungry to succeed and excited to work. I realized that these projects are a collaboration and that the contractors have ideas that I might not have thought of that will inevitably benefit the project. The level of communication and teamwork surprised me, but the house turned out beautifully and Matt sold it before it even hit the market. I will always think back fondly on that time, and remember how naïve and excited we were.
You still do some designing. Tell us about your aesthetic. Does where you live affect your work?
My aesthetic is very comfortable and lived-in, but also clean and refreshing. Living in Maine has changed the way I design. There is a strong movement toward living sustainably. In Maine, more than any other place I've lived, I see people living consciously. I try to used salvaged materials as much as I can and try to repurpose clients' belongings as well. It promotes the lived-in quality I am usually drawn to. Things in people's homes can look as though they might have a history that doesn't include sitting on a shelf at a box store.
What would you say to someone contemplating entering this industry?
The construction industry is not the easiest for a young woman to navigate. My advice would be to be as honest as possible about what you expect from people and communicate well with your contractors. Work with people you truly respect, who respect you in return.
Tell us about your home renovation. What advice would you give to someone who needs a consultant to redesign his or her home?
The renovations of my own homes are a never ending process of me trying to find a place for all of the things I am drawn to. My own space is always evolving, more for the sake of an experiment than anything else. When I have a bold idea for a client, I like to have already implemented it elsewhere, so that I have a foundation for the idea. My advice for someone looking for a consultant is to find someone who can hone in on your aesthetic and help you streamline what your style is.
What are the three things you consider most paramount when creating a new space either for yourself or someone else?
1) I encourage clients to take inventory of their things and get rid of all the nonessentials. I try to promote a clutter and knick-knack free environment. 2) People should live in a space with items that are important to them, family heirlooms, art, or photography. 3) Mixing styles and design periods can be done with an experienced hand. Allow your designer to source you a vintage or antique piece. It will elevate the aesthetic of the space. Sadly, I have a hard time convincing some clients of this.
What other designers or house flippers do you admire? Why do you look up to them?
I don't personally know many house flippers and I hesitate to say I admire the ones I see on television. We all know how real reality TV can be. As for designers, I look up to people like Thomas O'Brien, Jessica Helgerson, and Todd Nickey and Amy Kehoe. Each one has a style that resonates with me. Their work is recognizable, thoughtful and not the least bit fussy.
Outside of home design, where do your influences come from?
Living on the water in Maine, I am influenced by nature and nautical history. A lot of my ideas are grounded in the study of American History. It's important to know why specific design styles came to be.
What advice would you give to your 23-year-old self?
Work harder and pay closer attention the details.