A well-executed gallery wall as seen in any number of beautiful rooms on Pinterest is almost as difficult to recreate as say… a mason jar terrarium or that tufted upholstered headboard. What starts as a fun and exciting idea to spruce up your living room can quickly turn into a costly mess and about five hundred holes in the wall. Fortunately, this is not our first gallery wall rodeo (as seen here, here, here, here, and here), so we've put together a list of tips to keep in mind when creating your next gallery.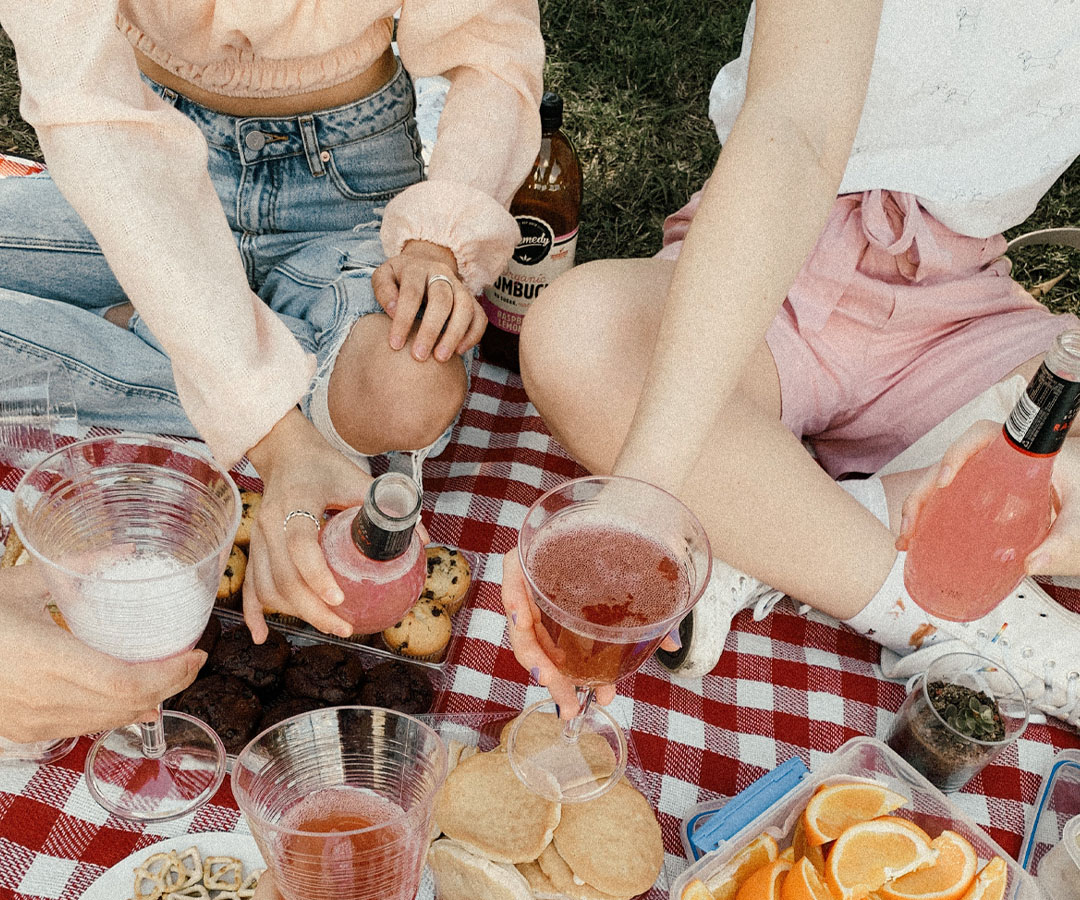 CURRENTLY TRENDING IN /
LIVING
your complete summer shopping guide
With the help of Minted, one of our go-to sites for an always evolving selection of artwork sourced from independent artists, we created what we like to call a collage gallery wall. The difference between a collage and a symmetrical grid gallery wall is that there appears to be no real order to where the frames are placed. The pieces do not need to be hung up in a perfect line or spaced a certain number of inches apart–which in our opinion, makes it WAY easier than the geometric alternative.
The most important thing to remember with a collage is variance in size, medium, subject–everything! This isn't a series of 5×7 black and white family photos or 16×20 botanical prints that will align to create the perfect grid. You're attempting to hang half a dozen different pieces of art together to create a cohesive grouping, a challenge that we've seen go wrong time and time again. Here's how to make sure it ends up looking cohesive…
TIPS TO MAKING A GALLERY WALL COHESIVE:
SUBJECT: The first thing to think about is the subject of the art in your gallery wall. The images don't all have to be about one thing, but there should be a theme to it. For example, the look we created has kind of a relaxed, outdoorsy kind of vibe to it with the animals, naturescapes, and muted watercolor prints.
COLOR: Sticking to certain color palette is one of the easiest ways to create cohesion in a gallery wall. Whether it's bright colors, muted colors, blues and greys, black and whites, choose a colorway and stick with it. We obviously went with a toned down palette of beige, grey, and blush.
MEDIUM: I always recommend incorporating a mix of different mediums when creating a gallery wall: photography, drawing, painting, object art, etc. Even if it's a print of a painting or drawing, the variance of shape and texture helps draw your eye around the gallery to each individual piece instead of just seeing the collection as a group then looking away.
FRAMING: Just like with incorporating different mediums, we always recommend doing a mix of frames. Because you are working with different pieces of art, the odds that the same frame is best for each piece is unlikely. The color, size and texture of a frame is as much a part of the art as the art itself. It can completely alter how a piece looks, making it more bold or more subdued. It can also call out certain aspects and colors within the art–say if you want the warm tones of a painting to stand out, you'd want to frame in a warm brown or gold frame. Similarly, if you have a darker piece of art, a white frame will brighten it. Minted's wide selection of frames and prices made this process very easy.
SIZE: Lastly, the size of the art you choose makes a big difference. To create a collage gallery wall, mix different size art. It shouldn't be half a dozen 8×10 frames. You want bigger (think 16×20 or larger) and smaller (11×14 or smaller) so the pieces can fit together like a puzzle. You need less larger pieces since they'll take up more room. So if you have six pieces of art, we recommend 2 large and 4 small.
SHOP THE GALLERY WALL:
clockwise from top left: What Lies Ahead, Mission Street, Birds on a Wire, Visionary 2, Joshua Tree, Form, Weathered, In the Wind
Once you've chosen your art, lay it out on the floor to arrange the different pieces together like a puzzle, take a photo on your phone to refer to. You'll see in the next few photos this is not exactly how the collage ended up looking on the wall–the bottom two pieces in particular ended up being lower–but it guides you when once you start hammering into the wall.
When it's time to start hanging the gallery wall, we suggest starting at the bottom of the arrangement at either one side or the center, and simply building off of it. Don't worry if you mess up and are off by an inch or two. Any gallery wall you've seen in our homes had at least a dozen extra holes in the walls. It will end up being hidden by the frame, and when the time comes, patching with spackle and painting over is a super easy repair.
As far as spacing goes, we always say closer is better. There shouldn't be more than 3-4 inches between frames! This is one of the biggest mistakes we see over and over again. People have too few pieces or too small of frames, and they try to fill the entire area above a sofa with six 8×10 frames, so they space them a foot or more apart. Well, it is no longer a grouping than a bunch of random photos hung awkwardly on the wall. Remember: cohesion and grouping are the names of the game. Place your art close together!
Tada! Simple enough, right?
We've curated two other looks from Minted's vast selection–one that's a bright, graphic, and bold, and another that has more of a dreamy summer theme to it.
LOOK #2

Shop the Bold Gallery Wall: Falling Leaves, Baby Boston, Tangerine, Gesture, Looking Good, Sum Total
LOOK #3

SHOP THE DREAMY GALLERY WALL:
Pining for Pineapple, Going for a Swim, LA Sky, Golden Palm Tree, Awning Stripes 2, By Dawns Early Light
GIVEAWAY:
Minted is helping two lucky winners get started on their own gallery wall by giveaway each $400 in credit!
ENTER HERE:
DEADLINE:
Sign up via Rafflecopter by midnight on Wednesday, September 30. Winner will be announced on Thursday!