Clothing affects my confidence. It's not like I'm unconfident without a good outfit, per se, but a killer shoe and a dress I love can help me feel like I'm going to nail an interview or dazzle a social scene. Even if you're not like me and don't see a connection between your clothes and confidence, looking into how what we wear affects who we are might be important.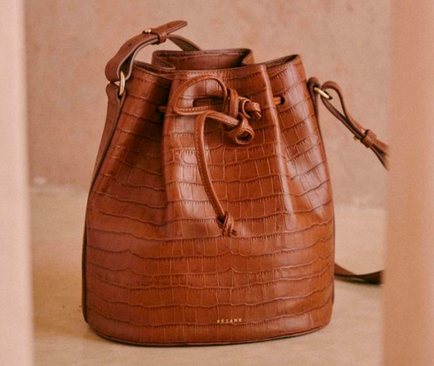 With a smooth, crocodile embossed leather exterior, the ability to style as a shoulder bag or a crossbody, and a design bound to turn heads, this bag will be an absolute hit. Use code THEEVERYGIRL22 for a free gift with purchase!
In a study published in Journal of Experimental Social Psychology, medical students who wore lab coats that they were told belonged to doctors performed better on tests than those who wore street clothes or were told the (same) coats belonged to artists. You might be thinking what does this have to do with me? — maybe you already crushed it through med school without doctors' lab coats, or maybe you failed out of freshman year Chemistry. The details, of course, do not matter, as this is essentially a psychological explanation of "dressing the part."
There is a direct correlation between what we wear and what we think of our potential. You might've heard the saying, "dress for the job you want, not the job you have." Well if it's confidence we seek (and don't we all?), then why not dress the part? You can use style as one of the many tools to boost your self-confidence. So when you find yourself looking through your closet to get dressed in the morning, far from any sort of lab coats, here are some tips to help you dress for your most confident self.
Learn how to dress for your body.
Source: Gabi Fresh
And I mean really learn. Know what denim style looks best on you, what fabric is most flattering, what skirt length is better for your figure, what elongates you best if you're petite, or what bra size actually fits (we've all been there).
Embrace your favorite features.
Source: Harper's Bazaar
What are your favorite parts of your body? Do you love your long legs, your height, your curves? Find outfits that play up and flatter these features, and mask the features you dislike, to show off what you want people to see, and hide what you don't.
Know what colors look best on you.
Source: Stylecaster
The right colors can make your hair color radiant, your eyes pop, and your skin glow. The wrong colors can make you look sallow, washed out, or even tired. Resort to this guide for finding the right colors for you, or take this quiz to identify your undertones (which dictate everything from which hair colors look best on you to whether you should be wearing gold or silver jewelry).
Think about a time when you felt good in an outfit.
Source: InStyle
Try to remember an occasion when you felt great in what you wore. Maybe it was a sundress at a summer wedding or a fitted blazer at a board meeting. Think about why you felt good in that. Was it a flattering neckline? Did you like the length? Was it the fabric or the color? Remember what it was that made you feel good about that outfit, and implement that aspect into the rest of your wardrobe. If you liked the halter neckline of the sundress, don't try to force yourself into a strapless dress for a fancy occasion. Opt for an evening gown with the halter neckline that made you feel good before, and you're bound to feel good again.
Define your style
Source: Man Repeller
The most important secret for confidence is simply to be true to yourself and appreciate your uniqueness. This is the case for dressing as well. Instead of attempting to emulate what's trendy or someone else's style, know what you like, both on yourself and on other people. Finding a signature style will help you make every outfit you wear personal, so that you feel confident showing the world (or your boss or friend) who you are.
Bottom line, your first concern when getting dressed should be to empower yourself. Impressing others is just a byproduct.
Which of these do you find most important in cultivating your confidence? What are your confidence style tips?