If faced with the task of paring down our wardrobe to its fundamental core, we'd confidently place bets on easy tees and classic denim being the remaining two finalists receiving single-stemmed roses.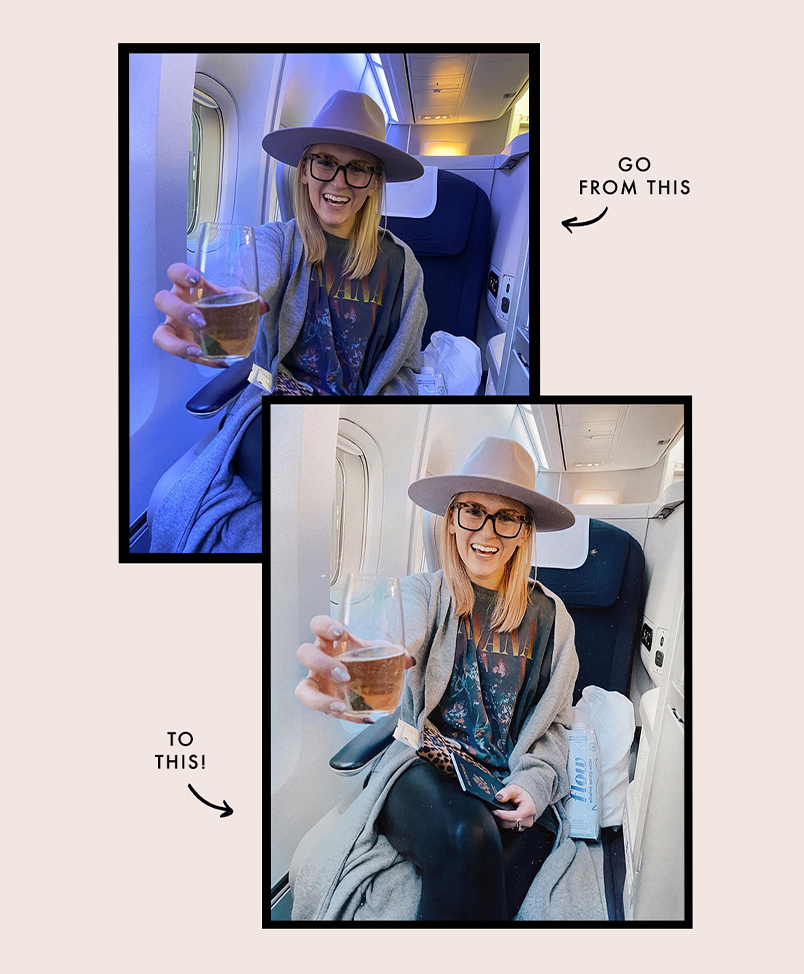 Want to style, shoot, and edit your photos perfectly every time?
We're sharing our secrets to photo editing in our all-new online course, Mastering Photo Editing On Your Phone. Enrollment closes on Thursday, so grab your spot now!
Both look good on paper. Neither is pretentious. Both are mellow and enjoy relaxing, but can toughen up for a hike through the woods or to clock in weekend chores. Yet, both still pair well with fancier components: Put a T-shirt with a blazer or cuffed jeans with pointed heels, and sparks will fly to the tune of Frank Sinatra. Really, what's not to like?
A final, heart wrenching elimination challenge is practically an impossible feat, so we asked wardrobe stylist Melanie Pace to return to The Everygirl—you may remember her career feature here or her last styling feature here—and help style elevated looks featuring each item for the ultimate showdown.
The T-Shirt
GET HER LOOK: t-shirt | skirt | heels (similar) | clutch (red color available in stores) | hat (similar) | necklace | rings | bracelet | cuff | sunglasses (similar)
To elevate her coquettish graphic tee, Melanie needed something more dressy and feminine in order to "mix two elements."
While shopping, she spotted this white midi skirt—a style of clothing she usually steers clear of due to her 5-foot-tall frame. But the faux leather skirt was too difficult to pass up (especially since it can easily transition to fall with its more durable material). Plus, by adding a pair of fun, printed heels to the mix, she elongates her legs and makes it work.
The Denim Shorts
GET HER LOOK: denim shorts | button-down shirt | necklace | rings | bag (light color available in stores) | shoes (sold out) | cuff | sunglasses
Denim is a staple in Melanie's wardrobe, including jean shorts throughout the summertime. If the destination is appropriate for heels, adding a little height via a pair of not-too-tall heels works again to her advantage.
Another major wardrobe staple? The simple white button-down. Melanie prefers to wear hers with a little front tuck to show off her waistline. That way—as she puts it—she's wearing the shirt, and it doesn't look like it's wearing her! And as proven by both looks, Melanie isn't afraid of going bold with stacking and mixing assorted jewelry.
Though we'd hate to make you choose, it's a competition: What's your number one essential item—the T-shirt or a pair of denim (shorts or pants)? How do you dress them up?
This post was sponsored by Old Navy. Check out Old Navy's latest fashion lineup in store or online at oldnavy.com.