In the era contouring and strobing, we're liable to forget about one of our best beauty tools–good ol' fashioned blush. Sure, the perfect highlighter can give our look a modern edge, and a killer brow game can beautifully frame our features—but nothing gives us a youthful glow quite like blush.
A well-chosen blush is the secret to looking fresh-faced and well-rested.
A well-chosen blush is the secret to looking fresh-faced and well-rested (even if you're running on five hours of sleep and lattes). Blush gives us that I've-been-drinking-green-juice radiance, and it only takes seconds to apply.
Like bronzer, blush restores color to our complexion after we've applied full-coverage foundation–and its effect is customizable. Depending on your application technique, blush can bestow you with an innocent flush or an air of classic sophistication. Indeed, regardless of your skin tone and color, having the right blush is like having a secret weapon in your beauty kit.
Here's how to pick the right formula and texture for your complexion–plus application tips!
Finding the Right Blush Formula
Long gone are the days of stealing your mom's one blush in her makeup kit. We now have a multitude of blush options that yield different results. Dewy shine? Slight glow? To keep you from feeling overwhelmed at the options, we're breaking down the 3 most common forms and what you can expect from each.
Powder Blush
Perfect for: Everyday wear as well as occasions when you'd like a more dramatic look. Powder blush is very buildable and can be layered with other powder blushes for a customized color.
Insider tip: Powder with a slight sheen tends to be the most flattering. For an irridescent powder blush, try Too Faced Sweethearts Perfect Flush.
How to apply: Use a brush that's small enough to allow for precision blending (like Real Techniques Blush Brush). Apply powder blush over a layer of translucent setting powder to prevent the blush from sticking to oily areas of the skin and looking patchy.
Cream Blush
Perfect for: Natural looks and daytime wear. Cream blush is also very forgiving, so you don't have to be a makeup pro to make it look lovely!
Insider tip: Cream blush is the most moisturizing blush formula, so it's best suited for dry and mature skin types.
How to apply: Apply with clean fingertips to moisturized, unpowdered skin (preferably over foundation to avoid emphasizing any blemishes or uneven skintone). For a dewy cream blush, check out Pür Cosmetics Cream Blush.
Cheek Stain
Perfect for: Creating a youthful lit-from-within glow when worn under sheer foundation.
Insider tip: Cheek stains typically avoid slipping on the surface of the skin, making them ideal for oily skin types.
How to apply: Apply a few dots to the apples of the cheeks and the cheekbones, and blend with clean fingertips. Blend quickly before the blush sets. Try Tarte Cheek Stain for a long-lasting cheek stain.
Finding the Right Blush Color
You may have heard that the right blush color is the one that most closely resembles your natural flush, and while this is a good starting point, there's fortunately a little more room for experimentation when it comes to blush color. The following are just a few general color guidelines tailored to your skintone.
Fair Complexions
Source: @kathleenlights
If you have a fair complexion, you probably have a neutral or pink-based undertone. Opt for blush with a cool tone like a blue-based pink or a more neutral color like a dusty rose.
Light Complexions
Source: A Charm Offensive
Light complexions typically have a yellow-based or neutral undertone. Dusty peach and light coppery pink blush complement this skintone.
Medium Complexions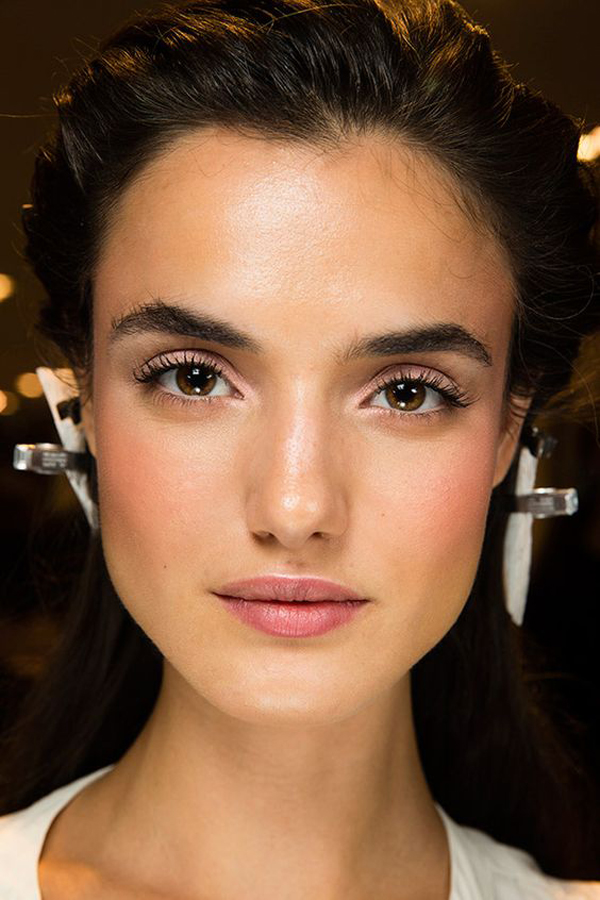 Source: Vogue España
Medium complexions tan easily, so you may want to change your blush depending on the season. Generally speaking, seek out warm shades like apricot and peach.
Olive Complexions
Source: Top Inspired
Olive complexions have a yellow-green undertone and tan easily. The best blushes for olive complexions include pinks and peaches with an earthy tone.
Caramel Complexions
Source: Madame Noire
If you have a caramel complexion, your skin has yelllow-understones and is warm. Orange-based and deep peach blushes will bring out the natural warmth in your skin.
Golden Dark Complexions
Source: Miss Whoever You Are
If you have a golden dark complexion, try bold, warm shades like brick, deep coral, and bronze. These will complement your yellow and warm undertones.
Deep Complexions
Source: Fontana Beauty Vibes
Deep complexions are dark with a cool or neutral tone. Blushes in sensuous berry shades best suit this complexion.
Do you have a blush product that you swear by? Share it in the comments below.