At just 25 years old, calligrapher Molly Jacques' illustrative work has already been featured in the holy grail of the wedding industry, Martha Stewart Weddings. Managing to invoke emotion with her hand-lettered creations adorned with whimsically scripted calligraphy, Molly's romantic works have taken the wedding world by storm. Best known for her handwritten works of art, Molly expanded her brand—Molly Jacques Illustration—beyond the world of calligraphy and into other illustrative outlets including font design, calligraphy workshops, and an online store filled with customized pieces.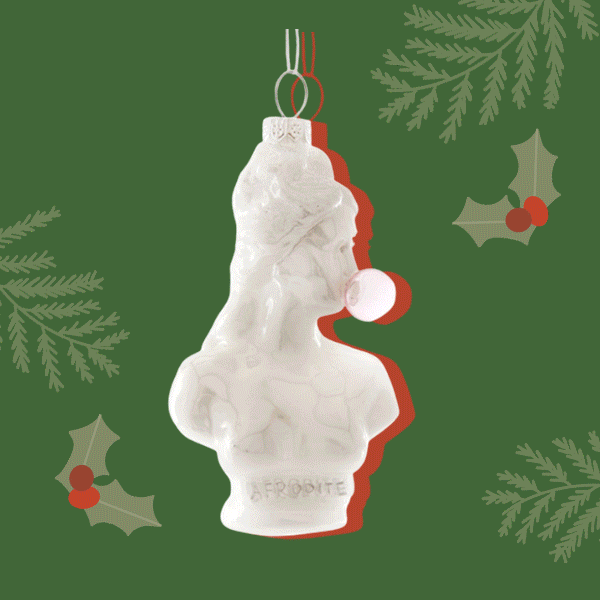 Whether you prefer your tree to be a masterpiece or a beautiful array of memories, there's something for everyone at Carlyle Avenue's ornament shop. Don't miss their expertly curated collection!
From an early age, drawing was a passion of Molly's—since then she's turned that love into a budding career. Right out of college, she worked at a stationery store in L.A. where she discovered the beauty of combining calligraphy and stationery. As she perfected her newfound skill, she realized the art was a mere extension of the design and illustration she studied in art school.
From working at a stationery store to opening her freelance illustration company in her native Michigan, Molly is an inspiration for all creatives after building her illustrative empire in a matter of a few short years. She is proof that with a lot of hard work, business skills, and creative curiosity, your passion can turn into a successful career. Curious to see a sample of Molly's work? Check out The Everygirl's one year anniversary invitation—her pretty script transformed our invitation into a delightful work of art!
Full name: Molly Jacques
Age: 25
Current title/Company: Molly Jacques Illustration
Educational background: Bachelor of Fine Arts from College for Creative Studies in Detroit, Michigan
Take us on a quick career bio. How did working at Sugar Paper influence the work you do today? What was the biggest lesson you learned while working there?
My illustration career started way back in elementary school when I learned of my love for drawing. My parents were super supportive, so I just went with it. From that point on, I made art for fun and took whatever illustration jobs I could get along the way. Years passed and eventually I went on to study illustration at College for Creative Studies. There, I obtained the skills I needed in the work force in addition to my BFA. Although I was working as an illustrator on and off throughout college, I consider working at Sugar Paper to be the real start of my career as a creative freelancer. I was never exposed to the world of stationery + calligraphy until I started working there, and it really changed my outlook on what is actually considered to be illustration. The biggest lesson I learned while working at Sugar Paper was how important it is to treat not only your clients, but all people with respect and empathy. Not so much a creative technique, but a life practice that makes all the difference.
How does the art of calligraphy differ from what you learned in art school?
Because of the strong emphasis on technique, composition, and harmony, the art of calligraphy was a natural progression from the illustration skills that I learned in art school. That being said, I never had any formal training in calligraphy or hand lettering while studying at CCS. One school-taught skill that I use all the time with transferring my calligraphy into digital form is the use of Adobe Illustrator. My digital art teacher was pretty strict when it came to properly using the pen tool—and for that I'm thankful.
When did you decide that you wanted to take that art further and begin your own business?
I didn't decide to take the full plunge into the freelance world until roughly one year ago. After moving back to Michigan from Los Angeles, I needed to find a job quickly. I started networking with some of the local wedding vendors and kept hearing that there was a major lack in local calligraphy. Soon enough, I started getting consistent calligraphy work and the job stuck! Over the past year, my business has grown exponentially and I'm now blessed to be creating hand lettering and calligraphy for some of the best stationery companies out there.
Your work is regularly featured in big-time wedding sources like Style Me Pretty and Martha Stewart Weddings. When you first began your business, how did you gain exposure for your brand?
When I first started getting my name out there, it took quite a few hours in front of the computer each day and lots of envelope samples being shipped out of my mailbox. I've put a tremendous amount of time into connecting with other business owners + stationers in the wedding industry in addition to reaching out to fellow artists with similar interests. For me, the hard work and long hours practicing my craft really paid off. Once my work started being seen across social networks, it gained great exposure for my brand. Moreover, as I'm entering into the new year, I'm looking forward to broadening my audience even more!
You are most known for your amazing wedding calligraphy work, but tell us how your business extends beyond the wedding world. When did you first begin your online shop?
Most of my work definitely is wedding related, but I also run an online store—selling hand lettering art, customized stamps, and other fun products. My shop has been open for almost two years now and it's been an amazingly fun extension of my brand. In addition to my online store, I also teach calligraphy workshops throughout Michigan, which has been another side project that I'm falling in love with!
In the past five years, the online business world has grown so much! Can you tell us a little about the process you went through to start up your online business (business plan, website design, media exposure, etc.)?
Starting my online business was the first real step for me. I started out small—customizing my blogger account to fit my brand, and then slowly built things out from there. As time went on and I started to gain exposure, I updated my blog + website to meet the needs of my clients and online followers. Eventually, I added on my online store and it gave my clients an even better user experience. Even though I don't label myself a web designer, I did design my website, blog, online store, and all social media.
How does designing for your online shop differ than your custom work? What is the biggest seller in your store?
Designing for my online store is driven by my personal brand aesthetic. When browsing through the products, you'll notice that I stick to a specific color palette and style for everything. I strive for creativity, yet always stay true to my brand identity. For my custom freelance lettering, I'm driven by the client's needs paired with my general, distinctive lettering styles. This means that I can branch out in a variety of ways to create something truly unique for the client.
Out of all of my products, my custom return address stamps are hands down the best seller! They are perfect for wedding gifts and are so special because they've been handwritten.
You've recently partnered with font designer Dathan Boardman to create Great Lakes Lettering. How has the creative process behind constructing these fonts differ from hand writing calligraphy? What made you want to partner with Dathan to create fonts?
Dathan and I decided to parter up after he reached out to me asking if I'd be interested in bringing some of my scripts to a font format. He's worked with some amazing calligraphers in the past and I was beyond excited to try something new with my hand lettering. We both are skilled in specific areas (him in font design and me in lettering), and thought it only best to pool our talents together. At this point, we've released two fonts through our company Great Lakes Lettering: Frosted and Saint Agnes. Both fonts are styles that are inspired by lettering I use throughout my illustrations and designs and I'm excited to see how the general public decides to use them.
The creative process on my end is very similar to any other type of hand lettering that I do. To begin a new font, I take plenty of time to sketch in order to come up with a certain style or feel that takes on the personality I'd like to show in the font. Once I tackle the style and each character gesture + size, I'll ink everything up and make the artwork presentable. At this point, I'll send my inked drawings to Dathan for him to start piecing a working font together. This process will go back and forth for a while as the flow of the font (especially on connecting scripts) and all the small details are crucial in making a typeface take on a hand-written feel.
Tell us about your vision as a designer. Where do you draw inspiration from for your beautiful designs? How would you describe your "design style" on your finished products? How has that design evolved as you've grown your business?
My vision as a designer is to create images that stir an emotion within the viewer. That can be done in many ways, but I think that receiving a handwritten note adorned with beautiful calligraphy stirs up emotions like nothing else can. It's something tangible and heart felt, a far cry from the digital world we live in.
I'm inspired by so many things in life. When I first started practicing calligraphy, I pulled a huge amount of inspiration from fellow calligraphers that I admired. Now, almost all of my true inspirations come from experiences. For example, there's nothing like walking into a Michigan forest right after a snow storm (something we know to well this year!). The simplicity of color, light, and harmony after a snow storm is something that I try to capture with my calligraphy. A snowy day is bright and simple, yet romantic. Snow can be harsh white on dark, wet leaves or it can lightly dance across a pale plain. I think that I strive for those things in my design style throughout my products, my personal work, and my custom work.
As a young entrepreneur, what was the most difficult part of starting your own business?
The most difficult part of starting my business was money. Starting out, my husband and I had very little money, so I had to be creative with how I promoted myself and sold products. For example, when my online store launched, everything was made to order. This is great option for anyone looking to start up an online store but has a lack in funds to stock up on products. Luckily enough, most of my products are custom so I didn't even need to buy in bulk.
You said money was the most difficult part of starting your own business. For so many young women wanting to start their own company, initial capital is their biggest potential roadblock. How did you budget your finances as you were starting your company? What advice can you give to potential business-owners as they create their budgets—what items can they save money on, and when should they absolutely splurge while starting up?
Budgeting is so important when starting up a business. For me, I tried to save on things that I could do myself. For example, instead of hiring a web designer, I figured out how to build and design my own website. I'm still running my business 100% on my own which saves me money, but can sometimes cut into billable hours. Now that things are busy, I could really use an extra helping hand with emails and packing + shipping orders.
And so, that brings me to items to splurge on—if you're lacking a specific skill set that could be remedied by hiring help, do it! Don't let your web design and branding suffer because you're not a super designer. It's worth the extra money to have a beautiful brand, especially if your business in primarily online.
All that being said, the best way to secure a proper budget is to have a bit of money saved up before you fully invest into a new business. That could mean saving money each month at your day job, or getting funded by kickstarter or investors. Before taking the plunge, plan out how much you'll need to start your business and roughly how long it will be before you make a profit.
What is the most important lesson you've learned while starting Molly Jacques Illustration? What advice can you give other girls wanting to begin their own business?
The most important lesson I've learned while starting my business is how important it is to have a life outside one's work. In the past, there have been days where I didn't even leave the studio once! As a freelancer it can get a little lonely sometimes, especially if one doesn't make the effort to connect with others in the outside world. To any girl wanting to begin a business, I have a few pieces of advice:
•Get really really good at what you do—you'll only grow with practice of your craft.
•Educate yourself on the basics of business.
•Truly understand what you're selling and who you're selling it to.
•Reach out and ask questions of those you look up to.
•Be Confident. Be Patient.
When did you first feel like you had "made it" and your business was a success?
I felt like I "made it" when I was able to start booking out jobs months in advance. When I first started out, it took a while to gain momentum, but things are going so quickly now that at times it's important to stop, take a break, and just chill out.
You have a blog that features your beautiful creations, and are also active on Instagram and Twitter. How do you think social media has affected your business?
Just to give you an idea of how important social media is to my business, roughly 90% of my clients have told me they found my work through Pinterest or Instagram. Social media can be a bit overwhelming at times, but it's a great way to interact with your potential clients. Not to mention, a great way to meet fellow creatives.
I try to update my blog, Twitter, Instagram, and Pinterest as often as I can and continuously check what type of content is deemed most popular by my followers. Moreover I strive to keep the content that I post relevant, new, and engaging.
What is your career highlight, thus far?
Launching Frosted. Font design is such an unexpected turn in my career and I'm beyond excited to see where it goes from here…
In five years, where do you see your business?
I'd love to be teaching calligraphy workshops consistently in addition to kicking butt with more fun freelance lettering.
What advice would you give to your 23-year-old self?
23 wasn't that long ago, but I'd tell myself to stay confident, patient, gentle, and true to yourself. Don't be scared of success or failure alike. Always put your best into everything that you do.