Creativity is all about taking chances; NYC interior designer Jana Bek is the perfect example of one resourceful and visionary woman when it comes to heeding her creative mind. It was just three short years ago that Jana's love for home furnishings married with her painting talent for brushstrokes, inspiring her latest business endeavor.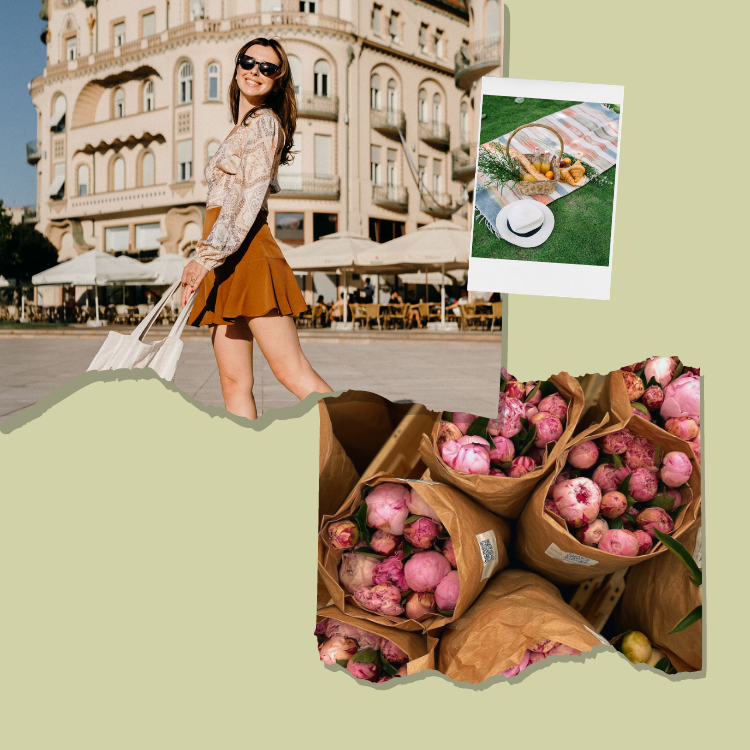 read this if you're in your saving era this summer
To our delight, Jana has released an expanding line of home décor products, the first of which are her hand-painted brushstroke lamps that lend the perfect balance of playful color (customizable!) with sophistication and a modern aesthetic. With a limited budget for marketing her products, Jana turned to Instagram to get the word out to potential clients and fellow designers. Judging by her 12k followers (and counting), we think she's onto something.
We would be doing Jana a disservice if we didn't mention that she also has her own E-design business, which is spirited by her enthusiasm for working with a variety of styles and budgets from coast to coast. From eager college intern (at Macy's Merchandising Group) to design assistant for Caitlin Wilson, and now dedicated and musing entrepreneur, Jana Bek is living proof of the success that manifests when determination and a tireless work ethic meet the fireworks of a sharp-witted idea.
Name: Jana Bek
Age: 29
Current title/company: Founder + Designer/Jana Bek Design
Education: University of Michigan undergraduate; Associates Degree from Parsons School of Design
Year you started Jana Bek Design: 2012
What was your first job out of college, and how did you land it?
It was working as a product development assistant for Macy's Merchandising Group in NY. I completely stalked them! University of Michigan has internship and career fairs and I would always go to their booth, email follow up questions and thank you's. I was also in a business fraternity (I know so cool); members had interned there so I would get as much information from them as I could (and I asked them to put in a good word for me. I had interned at Cosmopolitan magazine and at Target headquarters in Minneapolis while in college; I think Macy's was impressed with my retail background, recent internships, and tenacity.
Is there a specific experience you have had professionally that helps you in your work today? What advice do you have for young entrepreneurs?
In hindsight my career path gave me an amazing array of experience in the five key areas I needed to launch my business:
Product development and Merchandising for Macy's, Henri Bendel
Buying for Home Décor at One Kings Lane
Design for Caitlin Wilson (of Caitlin Wilson Design)
Importance of a fantastic customer (and vendor) service at each
My role at each of these companies required a very entrepreneurial and self-starter attitude. I'll speak to my time at Caitlin Wilson Textiles because at the time of her launch it was just her and I; that experience sparked my desire to go out on my own and the confidence to do it. With my product development and merchandising background, Caitlin hired me to help her with the launch of her textile line. Simultaneously, she taught me everything she knew about interior design. At the time Caitlin was balancing her design work, launch of the product line, and being a mom! She has the most can do attitude and energy; her mentorship is invaluable to me. She definitely taught me best practices in streamlining the design process and helping with the design projects gave me the confidence to work with clients. I will say that when I launched my own business, it probably took six months to feel sure of myself and comfortable working with clients. I've also learned if an issue arises I tackle it straightaway – it's better to resolve it and move on.
As an interior designer, you specialize in E-design. Why did you choose this service as opposed to focusing on traditional design?
I was introduced to E-Design by Caitlin Wilson. I loved the concept because it lets me work with a wide array of styles – the vibe of my California client's is totally different than my that of the East Coasters. Also, I'm delighted that it allows me to design for clients of any budget. I do traditional design as well but due to word of mouth and repeat clients the majority of my work is E-Design. 90% of my portfolio are spaces I've done through E-Design, but getting after photos is tricky! In one day my photographer and I drove from New York to Philadelphia to photograph two client's homes, drove back that night, and the next morning we photographed a New York client's apartment. You have to be super scrappy and hustle when you own your own business!
You recently launched a collection of handpainted brushstroke lamps. Very cool! Tell us how about your idea process.
Three years ago I had purchased a pair of vintage lamps and they were not a good color – a pale bismal pink. I was so inspired by the brushstroke walls in Kelly Wearstler's home entry – I thought, I'm going to paint my lamps in a similar way. I hand painted them with deep fuchsia brushstrokes and when I shared photos with clients and on social media, I got such an amazing response! I felt confident there was a market for these in the world of home décor. With my interior design experience I often found clients were apprehensive to add color or pattern into their rooms and my brushstroke lamps would be a way to add both in a beautiful and easy way. With my experience in product development and merchandising, also coming from a family of entrepreneurs – it was a trifecta of experience, creativity, and tenacity/excitement that all came together. My lamps are made in the U.S. and I hand paint each one. I can also paint the brushstrokes any color, which is very cool – three of my stocked colors were originally custom requests; my clients have the best taste!
What has been the biggest challenge in adding a product line to your business? What was more difficult or easier than you anticipated?
Because I worked in product development at Macy's, Henri Bendel, and Caitlin Wilson Textiles, I knew a lot about the product development process and timeline: ordering samples, considering lead times, minimum order quantities, etc. One thing that continues to be difficult is understanding demand so I can order all components in sync – my lamp shades, hardware, shipping supplies, are all sourced from separate vendors and have different lead times. Another challenge is balance: designing for clients and also the work required for my home décor products. I'm stretched pretty thin (again need to hire an assistant!). Finally, the initial investment was scary – I had no idea how people would respond but I am driven by optimism and chased by fear of failure!
Tell us about the process of creating the lamps from start to finish.
We've found that firing a larger amount of lamps at once works best for us, but I hand paint each brushstroke lamp per order. The lamp bodies are stored unpainted in my office. So orders come in and I usually paint all lamp orders for the week on the weekend (I find it very relaxing). I hope to paint more to have painted stock but I'm going to wait until I have more of a sales history to assess. After I hand paint and finish the lamps, I then let them dry for five days. Then my team wires and packages them and we ship them out!
Has there been a marketing tool that you've found most effective? How were you able to get your lamps into stores?
It is unreal what social media, in particular Instagram, has done for the marketing of my brushstroke lamps. Over the past year I've created strong relationships with other interior designers from "meeting" on Instagram. I currently have a few high end boutiques and E-commerce shops carrying my lamps. Each found me either on Instagram, from a blog post of an interior design friend, or word of mouth and reached out to me – I really can't believe what the power of social media has done for my business.
What is one piece of advice you would give to women about the design/product industry?
Get experience – if you are interested in design, intern for an interior designer, even if you have to do it for free. If you are interested in launching a product, look up local makers and reach out. Also, tell everyone you know what you are dreaming and scheming but be as specific as possible. Specificity allows people to acknowledge your goal and makes them think, "Is there anyone I know who can help further your goal?" And put yourself out there – the worst anyone can ever say is no. The lovely Roxy Te of Society Social emailed me and asked if she could use a brushstroke lamp in her fall online catalogue for styling – I replied "Of course!" I also asked her if she would be interested in selling them on her site, and now they are on her site! I highly recommend putting yourself out there.
In what ways do you hope to see your business evolve in the next five years?
I hope to have a comprehensive line of furniture and unique home décor. In the short term I would love to offer my brushstroke lamps internationally; shipping is expensive so I'm looking into making them in other countries. When I have more support, I would also love to take on more traditional interior design projects.
Best moment of your career so far?
When Roxy Te of Society Social told me she wanted to carry my lamps and a now a few other boutiques have picked them up. Pinch me!
Take us through an average work day for you.
I wake up at 7 A.M. with breakfast at hand, get straight to work on designing, responding to new brushstroke lamp inquiries, and marketing until noon. Then I take a break for a quick workout (we have a treadmill and I simultaneously check emails and social media). Then I continue working until about 7 P.M. I often paint my brushstroke lamps on the weekend because it's relaxing for me. It's a continuous struggle to find a work/life balance, tricky because I love what I do and my clients!
What advice would you give to your 23-year-old self?
Breath deep. You may not love what you are doing now but you are building a toolset that will lead to amazing things; also be incredibly kind. Someone recently emailed me for an assistant role and she was overqualified – she said I sent her the nicest rejection letter she's ever received. Who knows where she'll go, and the design world is so small; kindness and integrity are invaluable.
Jana Bek is The Everygirl…
Go-to paint color?
Tough choice! Lately it's Benjamin Moore's Revere Pewter and their is Classic Gray is a close second
Tea or coffee?
Coffee
Favorite part of the design process?
When client's say "oh my goodness you totally understand what I'm after and you listened to me!" Then of course seeing photos or space and hearing their excitement with how the design came together.
If you could have lunch with any woman, who would it be and what would you order?
My previous boss at Henri Bendel, Dina Battipaglia. She was the vice president but our team was incredibly small. She is the most amazing mentor and role model and her presence will knock you out. She's in New York and we are friends, but she's constantly traveling so it's always so hard for us to get together! I'd have a club sandwich and a bellini.
Dream furniture purchase?
We need an ottoman! I haven't found one I love yet – I would get a custom round tufted ottoman in some fabulous Quadrille fabric!