Interior designer Caitlin Wilson is proof that a little hard work can go a long way. At just 28-years-old, she has managed to not only launch a successful interior design firm, but also introduce her own line of brightly-colored textiles—all while moving (several times) across the globe with her two little kids. Her hard work began when she first graduated from college—Caitlin turned to her phone book to search for local interior design companies in Utah, where interior design firms were scarce. After cold-calling virtually every design company in the book, she ended up landing a position at a small firm. Caitlin eventually moved on to other work, and eventually found herself with not one, but three jobs: working at an interior design firm in Salt Lake City, designing displays for a local boutique, and designing spaces for her own clients during her free time. After a very busy month working all three jobs, she decided to take a leap of faith and started her own interior design business, Caitlin Wilson Designs.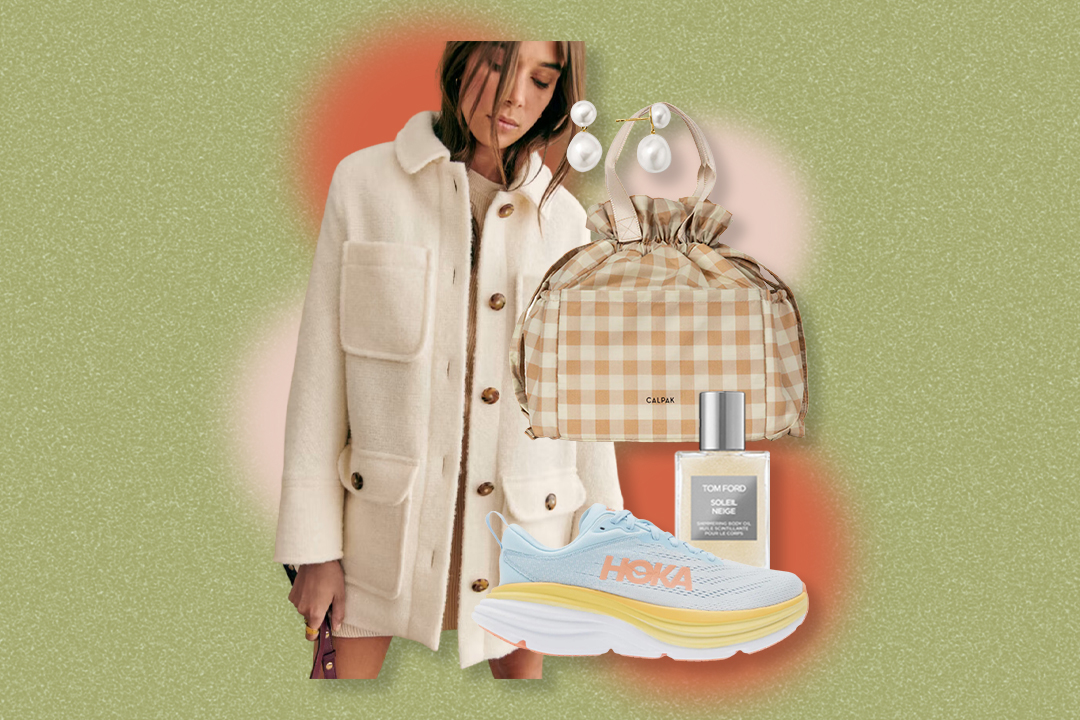 A few years after launching her design company—she felt a need for young, vibrant patterns in the textile market. During a six-month stint in Hong Kong for her husband's job, she seized the opportunity to explore fabric design. Once in Hong Kong, she walked door-to-door in the fabric district (while facing a language barrier) looking for a local manufacturer to produce her fabric designs. After six months of drawing, designing, and sampling, she launched Caitlin Wilson Textiles. Her designs, which heavily rely on her fresh use of color and bold patterns, are all over design blogs, in magazines, and taking over social media platforms like Pinterest. Everywhere we turn, Caitlin's bright designs (and amazing pillows), are infusing life into rooms all over the country.
While she is best known as an interior and textile designer, Caitlin is also quite the world traveler. Currently residing in Philadelphia with her family, this San Francisco-native has lived in a wide variety of beautiful and culturally diverse locations across the globe. Her husband's job allowed their family to experience life in London, Dubai, and Hong Kong, and Caitlin also spent time in Paris during college. While abroad, she picked up design inspirations that are clearly seen in her textile work. These internationally inspired patterns (including trellis' and chevron from Dubai, and fretworks and florals from Hong Kong), combined with Caitlin's love of bright colors, create a versatile and sophisticated design that brings a modern pop-of-color to any space.
Full Name: Caitlin Wilson
Age: 28
Current Title/Company: Owner/ Caitlin Wilson Design
Educational Background: Bachelors from Brigham Young University (Major: Home & Family Life Emphasis in Interior Design, Minor Art History) / Interior Design Intensive Courses at Parsons in New York City
Year you started your business: 2007
What was your first job out of college and how did you land it?
A small interior design firm in Utah—I literally searched the phone book for any kind of interior designer that I could find since they were few and far between in the town I was living. It was definitely a challenge since my boss' style was quite different from mine, but such a great experience—learning the ins and outs of running a project/design business, reading plans, drawing layouts, selecting materials, working with tradesmen, understanding client relationships, etc.
What were you doing before you launched Caitlin Wilson Designs? What was it like to take the leap and begin your own business?
I was working at another firm in Salt Lake City and also designing displays for a local boutique. My first two clients found me—one at the boutique I worked at and the other through my personal blog. I was so ready to work on my own that I didn't even hesitate when they asked if I could help them with their homes! I would work on the projects at night, but after just a month of juggling three jobs, I was too busy to handle my workload between the firm and my new clients. So I took the leap and started Caitlin Wilson Design. Leaving the 9 to 5 office job was liberating—I was so thrilled to be able to control my own projects and create unique, beautiful spaces for my clients.
What inspired you to take your design business to the next level by creating Caitlin Wilson Textiles? What need did you see in the textile industry that inspired you to create your own line?
Colorful, unique fabrics and pillows have always been the key to bringing my spaces to life. So after a few years of seeing the same patterns over and over again throughout my own and other designers spaces, I felt like there was a need for young, vibrant, fresh patterns in the market. I was living in Dubai at the time, so I was inspired by the patterns of the Middle East—the trellis', chevrons, and classic Arabian geometrics. I didn't have access to many showrooms when I began custom designing pillows with trim for my clients' spaces, but I was able to talk to textile manufacturers in India about the process of designing my own fabrics. Serendipitously enough, my husband's job took us to Hong Kong for six months, so it seemed like the perfect opportunity to explore this idea. There I became even more entranced with the timeless Asian patterns—fretworks, florals, and unique geometrics.
How did you go about finding manufacturers for your pillows? Are your products made in the USA or overseas? Tell us about that process and some of the difficulties that come along with working with product manufacturers.
When we found out that we would be moving to Hong Kong for six months, it seemed like the perfect opportunity to explore the idea of textile design. I went to the fabric district and physically walked from door-to-door asking if anyone could print small sample batches of patterns I had thought up. One thing led to another, and eventually I found a source who would work with me on a small scale, since typically ordering overseas means massive quantities and often poor quality. Simultaneously, I met a friend at church who had studied textile design and could help me translate my ideas into real patterns. It was an absolute kismet—we worked for six straight months drawing, designing, and sampling before we finally placed a large order of fabric by the yard that I planned to sell online once I moved back to the United States. The biggest challenge while working with the manufacturers is their lack of attention to detail and quality control. I opted to just have the fabrics made in Hong Kong, and have all the sewing done right here in Pennsylvania. That way I can ensure that every pillow and pattern match up and meet the high quality that I expect for my clients' pillows.
We love how you incorporate high-end pieces and great bargain finds into your room designs. For The Everygirl looking to design her personal space, which home accessories do you recommend splurging on, and which accessories should you save?
I say splurge on fabric and pillows that will make your space come to life with pattern and color. I often achieve that with patterns that incorporate multiple colors that tie together different elements in a room. Find bargain lamps at local stores, rugs online, and quirky accessories at inexpensive antique or vintage stores.
Your textiles are regularly featured (and highly praised) in home decor magazines and design blogs. How did you initially market your business to create the media buzz surrounding your business?
I wish I had could say that had a calculated media strategy, but I'll admit that most of the great press exposure just came to me! It was, and still is incredibly flattering every time I am featured in a magazine or blog. When I first launched Caitlin Wilson Textiles, I contacted all of the lovely blogger friends that I had made in recent years, sent out lots of swatch boxes to designers, and a few pillows here and there to magazines. Pinterest came out right before I launched my textiles, so that was huge! Sometimes I feel like I am living in a dream when I see myself in an article, but then I remember that I am one tired lady and this has taken a lot of hard work to get here.
Your designs have taken the blogging world by storm! How has social media (your blog, Pinterest, Instagram) affected your business? Do you contribute any of the amazing growth you've seen over the past few years to exposure on social media?
I absolutely consider social media to be the reason for the success we've had. The internet is such an incredible tool for creative professionals. In the past, designers could only be seen through print magazines and word of mouth. Social media has changed our field drastically—allowing us to share ideas and make connections with other creatives and businesses to help each other succeed and be seen. Considering that I am a mom to two little ones, I would not have had the ability to market myself as easily (or really at all) without my blog, Pinterest, Instagram, and Facebook. I am amazed at the success we've had in only a year and a half. I feel very blessed to have had such great support from blogs, friends, and other creatives in the industry.
What surprised you the most about owning your own business? What advice can you give to other women (in any industry) who are looking to start their own company?
I'll be honest and say that I am still in shock at how simple running an online business can be. We have a pretty smooth operation running right out of our home office, and I feel very fortunate to be able to raise my kids and run a business all under one roof. I think the most challenging part of running a business is managing people and relationships. Whether you work with clients, have employees, and/or deal with tradespeople, they are what matter most. Yes the internet does a lot of work, but when it comes down to it you still need people to have real success. People need to feel valued, understood, and appreciated. I am constantly learning by experience how to best lead my own team, serve our customers, and strengthen professional relationships.
We love how so much of your inspiration comes from other cultures and times in history. You've lived in so many culturally diverse and beautiful locations (San Francisco, Paris, Hong Kong, & Dubai to name a few). Many people dream of living abroad but aren't quite sure how or where to begin! Tell us about these experiences—what that process was like from getting a visa, how long you were there, finding somewhere to live, settling in, language barriers, etc.?
I grew up in San Francisco, studied abroad in Paris during college, and my parents have always traveled—so I think being a jet-setter is just in my blood! My husband's company did the leg work for visas which was incredibly helpful, but each place we lived brought its own unique challenges. Whether we stayed for two months or two years, we still had to set up shop to function as a family in a foreign country. Finding housing that I liked was difficult, and each country has its own quirks when it comes to comfort and standard of living. But you can make even a temporary house feel like a home with a few personal touches—like flowers, frames, and of course pillows! Luckily we didn't have too many language issues in Dubai or London, but I did have my fair share of experiences getting lost in Hong Kong. My advice is to buy a cell phone, enjoy the local cuisine and shopping, and always have a sense of humor. Give yourself a two week settling period when you move to a new place—it will feel strange, even very strange at times, but within a few weeks your new life will start to feel familiar and it will get easier. My husband and I had so many amazing and hilarious memories together as nomads—I will always cherish the time we had abroad.
Your fabrics fuse vibrant colors with some seriously bold patterns. What's your secret behind assembling those colors and patterns so that they all work within a room?
Just as I like to bring a dynamic aesthetic to a room for my clients, I wanted to create a collection that would help people combine patterns and colors in their own homes with confidence. I carefully designed each mini pillow collection juxtaposing patterns, colors, and scales to create the perfect balance—and at the same time versatile enough to work with a variety of styles.
What is your greatest accomplishment in your career thus far?
I think of every client project as a big accomplishment because I learn and grow as a designer with each opportunity, and I feel lucky to be able to do what I love. I guess I would say that my greatest accomplishment would be carrying out the textile line, while still continuing to run my design business. Having a multi-faceted business can be overwhelming at times, but I thrive under pressure and truly enjoy all aspects of running my business.
Take us through a typical day in the life of Caitlin Wilson. What does your average workday look like?
Lately, I've had design consultations almost every day of the week! But I actually prefer to be with my kids for three full days of the week, and only need a babysitter for one or two days. I am lucky enough to have a great team, Rachel and Thais, who help me immensely so I can pretty much be a mom most of the time. I come into the office for an hour or two a day to work on designs, or make important decisions during my kid's nap time! This has worked really well for the last two years, but as my kids get older, it is getting more difficult! So, we have plans to get an office space and possibly retail space later this year.
What advice would you give to your 23-year-old self?
Start blogging! Take an accounting class, learn photoshop, make friends with other creatives, and share your talents with others as much as you can. Oh and did I say, start blogging?!
Meghan Freier Jackie Saffert Courtney Apple