We love women with careers that validate the idea that it's about the journey and not necessarily the destination. They wear many hats, know their worth, and aren't afraid to ask for what they deserve. A culmination of their experiences, these gals know exactly how to transfer crucial skills from one job to another. So when we had the chance to interview Iva Pawling of Richer Poorer, there was only one thing we had to say: YES.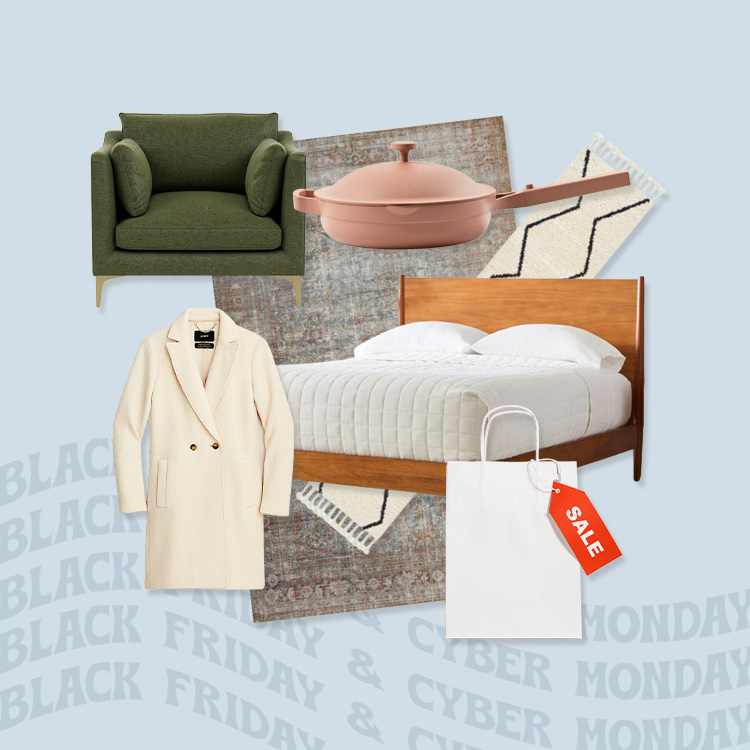 we combed the internet for the best OMG-CANNOT-MISS deals
Iva basically personifies one of her company's core values: honest hustle. From the bustle of New York City, to the sun drenched beaches of Hawaii, she has always been killing it. She is bubbly, incredibly grounded, and a certified badass. Her career extends from a Kate Spade PR expert to helping create Hawaii's first Fashion Week. Now she splits her time being a super mom and CEO of Richer Poorer, an amazing fashion company that specializes in high quality innerwear. Read on to figure out exactly how Iva started her entire career with what she calls 'good-ol'-fashioned people stalking!'
Name: Iva Pawling
Current Title/Company: Co-Founder and CEO of Richer Poorer
Age: 34
Location: Laguna Beach, CA
Education: BA Communications, Arizona State University (Harvard of the West, duh)
What was your first job, and how did you land it?
My first adult job was at Kate Spade in NYC. At the time they had a program where straight out of college you would come into the company as a part-time receptionist, part-time department assistant hopper until you settled into a particular department. I ended up in PR, which I loved. I got the job by good-ol'-fashioned people stalking. I went to high school with Kate's niece, who I hadn't spoken to in years at that point. The day I moved to NYC I decided I should give her a call and see if I could get an in there, and ended up with the job a week or so later.
What did you learn from your experiences in public relations? What did you learn working at Kate Spade?
Everything! I knew absolutely nothing about the fashion industry at the time. I just knew I liked to buy things, so working in the industry seemed logical to my 21-year-old self. It was the best place to start my career as I got to understand how each department in the company functioned, how they were interconnected, and where it was that I was most interested. The blessing and curse about starting at a brand like Kate Spade, that at the time was having a moment, is that getting press is really easy to garner with so many opportunities coming our way. It was a great way to see what all levels of publicity, from a gift guide placement to a three-page feature in Vanity Fair, looked like. The downside was that when I then moved on to working for smaller brands, the automatic sample requests no longer existed and the true grind needed to get great PR became a quick reality.
After your time in NYC, you made a total 180 in terms of location! Tell us about your time living in Hawaii.
Hawaii was a great experience, and I was lucky to find a small PR agency there that had their toe dipped in fashion by working with the Ala Moana shopping center. You will not find more luxury retailers in a single location, so it was a really fun account to work on. I was able to infuse my learnings from my time in NYC there and helped them get Hawaii Fashion Week off the ground.
Your sister is the founder of Gorjana, one of our favorite delicate jewelry brands. You both clearly have an entrepreneurial spirit — How do you help and support each other in your business endeavors, and what do you teach each other?
The best thing about having a sibling on a similar path is commiserating together at just how hard it all is. After my time in Hawaii I went to work for her and my brother-in-law on Gorjana for about four years. I really cut my teeth there and learned everything you can about getting a brand off the ground and growing. It's such a nice thing now for us both to be able to bounce ideas off each other, discuss what is and isn't currently working in our markets, and how we are looking at the future of our brands.
She's wayyyyy more creative than I am, and I am more business/nuts and bolts minded, so it's a nice balance. She does always think I am way too stressed and secretly stashes crystals in my bags, so there's that too.
You've had a lot of experience in the fashion industry. What made you want to start your own company?
When I started Richer Poorer, I had worked for three female-run businesses and was really inspired to take that challenge on myself. I loved working for my sister, but had joined the company after they were a few years in and really wanted to start a brand from scratch. My business partner Tim and I had become friends in, of all places, spin class, and talked a lot about ideas he had for starting companies. When he brought up socks and I started looking at the market, I knew there was something for us there. We jumped on it pretty quickly and went from concept to product in-store in about six months.
What made you want to create Richer Poorer specifically? What's unique about your products and brand?
I loved the idea of creating a brand focused on a really niche market that was influenced by the cruisy California lifestyle we loved. My business partner Tim had the idea of a sock brand for almost a decade before we started Richer Poorer. When we became friends and started tossing around ideas, I thought socks were such a great place to start since there were only a few brands doing it at the time. We saw an opportunity to create a high quality product made from the best materials, infuse a strong design aesthetic, and do it at a really attainable price point. We've kept on that path with all the new products we've launched since — underwear, bralettes, tees, and sweats.
What skills from your previous experiences did you find were most transferrable to the life of a business owner?
I was really lucky to have worked for the companies I did before starting Richer Poorer. All of them taught me how to be scrappy in different ways. I did my best to ask a lot of questions in all my roles to absorb as much knowledge as possible from people that had experience. I still do this today. I ask so many questions of everyone I meet. Very few people don't like to talk about their experiences or themselves and there is so much to learn from how people got to where they are, what chances they took, what mistakes they made.
I did my best to ask a lot of questions in all my roles to absorb as much knowledge as possible from people that had experience. I still do this today.
Tell us about the name Richer Poorer. Did you consider any alternatives?
We loved the juxtaposition of the terms, and how they mean different things to different people. Being rich from a monetary perspective is very different than being rich in life, and sometimes those two things have an entirely inverse relationship. We also really wanted to create a brand and goods that felt like they were really expensive, but actually really attainable. We all strive for balance and felt like Richer Poorer communicated that well. I'm sure we considered a few other names at the time, but nothing seriously enough to remember!
What would you say is the core mission statement and/or set of values present at RP? Why were you passionate about this?
We have three that drive all we do at Richer Poorer — California Born, Honest Hustle, Elevate Everyday. The cruisy-California lifestyle and casual aesthetic drives everything we do as a brand, from our product design to our brand speak. The concept of hustling hard in an honest and open way is the only way Tim and I got Richer Poorer off the ground and how we still have our entire team run today. And lastly, we have to elevate each other up on the daily. We spend so much of our time at work that we better love what we do, and you do that by liking the people you work with and treating each other well.
What's your best advice for a woman looking to go into business for herself?
Get some experience before you do anything on your own. It's certainly not impossible to start from scratch and become successful, but it makes it a whole lot harder with a whole lot more heartache if you have no baseline knowledge as a jumping off point. I had about eight years of experience in the fashion world when starting Richer Poorer, and I still have days where I feel as though there was a whole lot more I could have learned before starting the company, which would have saved me a lot sleepless nights.
Tell us about working with your business partner, Tim Morse.  What lessons have you learned through being a co-founder?
My goodness — EVERYTHING. A relationship with a co-founder is a second marriage, and we arguably spend more time together than we do with our spouses. Entrepreneurship is such a bumpy road, so trust in each other and completely open communication are the most important things to have and maintain. We work really hard at immediately addressing the things we don't see eye to eye on to nip them in the bud and pick a path that we can stick to.
While we may disagree on things between the two of us, it's important we come to a united front for the rest of the team and long term vision of the brand. It's so much like a family dynamic — just replace kids with employees and the family goals for that of a brand. You have to work hard at it in order for it to be successful.
What is the best thing that has come out of your business? What are you most looking forward to?
I get oh so much joy from seeing people fall in love with our products. It is such a great feeling to see people incorporate something you created into their everyday. But more than that, the personal growth that Richer Poorer has fostered for not just Tim and I as founders, but the whole team that works on the brand, has been my biggest accomplishment. The growth of the brand has given people such incredible experience at tackling challenges they didn't know they were capable of, ourselves included. It's hard to appreciate on the day-to-day when we're moving as quickly as we are, but when we take a step back to take a look at what we've created, it feels really great. I'm most looking forward to tackling the digital world of Richer Poorer next. We've been so deeply rooted in wholesale for the last six years and focused on what the buyers want and need from us as that's simply where the bulk of our business has been. That's now starting to shift with the growth of our direct-to-consumer business. It demands us to pay more attention to the end consumer and their experience with the brand from the first time they see us pop up on their screen to them putting on that first t-shirt or pair of socks. It's an entirely new set of steps for us to solve for, but we're so energized by it.
What do you love about living in southern California? Is it your favorite place you've lived?
I live in Laguna Beach, which is such a beautiful town. It's a tiny place of only 25,000 people so it has a small town feel to it. You run into your friends at the store and gas station, and your kids can't get away with anything, which I obviously love and I'm sure my son will hate. L.A. is close, so you can pop over whenever needed, which, being in fashion, is often. I don't think I'll ever leave here; it's pretty great.
What's next for you, your family, and your company?
I'd love to grow it all in the coming years. Richer Poorer and my family, while keeping my head on straight.
What advice would you give to your 23-year-old self?
I would tell myself to be patient — about everything. I still tell myself to be patient. I want everything to happen yesterday, and really for no good reason. The cliche of enjoying the journey and not the destination is so painfully true. This IS it, the day-to-day.

Iva Pawling is The Everygirl…
Best gift you've ever received?
My son. I call him my human Xanax. Simply coming home to him every day washes away most of the stresses from my busy days at work. It was really hard for me to get away from work before becoming a mom, and he's given me such a gift — this is what really matters.
Item of clothing you wear most often?
My grey Richer Poorer muscle tank. I wear it at least three times a week.
Best bucket list item for those visiting Hawaii?
A hike on the Kailua side of Oahu. It feels like you're in the center of Jurassic Park, it is such a breathtaking place.
If you could have lunch with any woman, who would it be and why?
RBG! Ruth Bader Ginsburg is the badass of all badasses. I so relate to her opinions on motherhood, career, women's rights, everything. To have the courage and drive to make the decisions she did for herself at a time where it wasn't even remotely supported by society or the norm, makes me want to ask her ALL my questions.