Walk into the spacious studio of ceramicist, artist, and home goods designer Jill Rosenwald, and you'll be transported into an artist's playground. Paint brushes, swatches, projects in various stages of completion, a pottery wheel and worn-in kiln, and rows of colorful hand-crafted vases litter the sun-splashed space. A thin layer of grey clay dust blankets the entirety of the white room and all of its contents. It's the epitome of organized chaos and a true testament to how far this artist has come since illegally selling her work on the streets of New York City.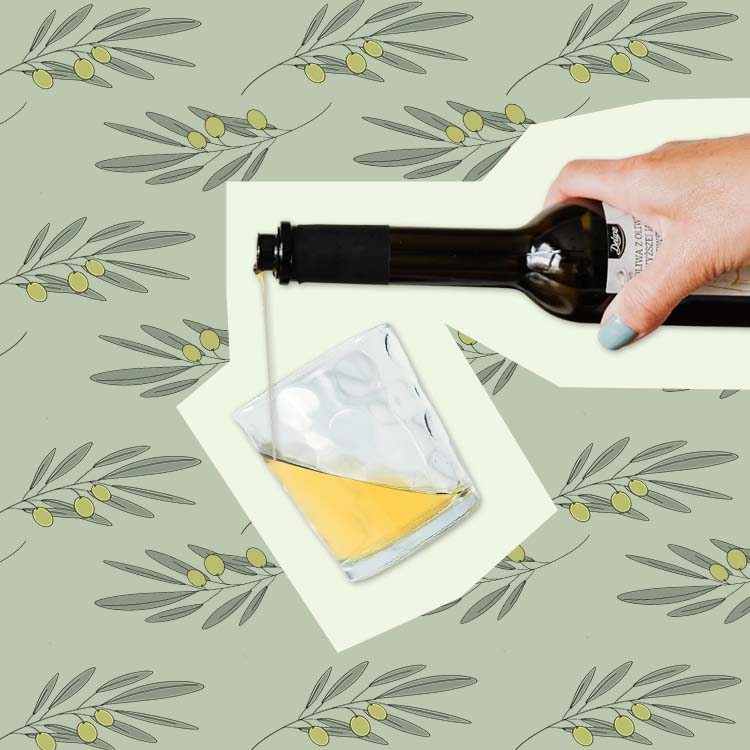 we love olive oil, but this seems a bit too far... or is it?
Jill's studio is the first that greets visitors at 369 Congress Street, home to an aged 10-story warehouse in Boston's Fort Point neighborhood. Beyond you'll find the offices of photographer Sarah Winchester, interior designer and blogger Erin Gates, and graphic designer Jessica Sutton. It was Jill and her husband—fellow ceramicist Lawrence McRae—who discovered the venue and she who recruited the other creative forces to move in. Her studiomates would all agree that Jill is the sort of ring-leader among them, lending support, encouraging collaboration, and offering advice. Advice any aspiring artist or entrepreneur would be lucky to get, considering Jill has been at work, developing and growing her brand for the past two decades.
Since landing her first large sale to luxury national department store Neiman Marcus in the early 90s, Jill's business has continued to grow and her vibrant artwork has been featured on the pages of style magazines like Glamour, InStyle, House Beautiful, Oprah Magazine, and Better Homes and Gardens. She has since expanded into designing fabrics, pillows, and our personal favorites, chic, budget-friendly area rugs. Today, this down-to-earth artist, wife, and mother of two offers readers a peek into her life and career, with a dash of humor to boot.
Full name: Jill Rosenwald
Year that you started Jill Rosenwald Studio: 1996
Educational background: Hamilton College
What was your first job out of college and how did you land that position?
I was living in Jersey and selling my stuff illegally on the streets in Soho.
What were you doing before you opened up Jill Rosenwald Studio? How has your  career path changed since you graduated from college?
I always knew I wanted to be creative… but I didn't really know what path or form that would take. Eventually, I started doing business more officially, although I was using a pay phone to make calls.
What was the first step you took after deciding that you wanted to open up your own studio?
I found amazing people to help me actualize my dream.
You started out with designing and selling your ceramics. How did that evolve into also incorporating rugs, pillows, and fabrics? How did you see out manufacturers?
I lucked out with a great relationship with Valerie Moran who was running Grange Furniture at the time. She introduced me to the world of licensing and that lead to me going to High Point Market [interior design trade show in North Carolina] and getting an agent.
How did you handle marketing your services when you were just starting out? How has it changed since then?
We have been doing trade shows since the beginning and we continue to do this in New York every August and January like clockwork.
Your first client was Neiman Marcus. How did you make that happen?
My first client was probably my parents to be honest, but I met the buyer from Neiman Marcus at my first gift show, the ACC in West Springfield, Massachusetts.
What strategy did you use to get the attention of such a huge company?
I think my work was extremely unique at the time and they loved the individuality back then. But we are going way back when "weird" was de rigeur.
At what point in the process did you decide to expand your team and hire help?
As soon as I couldn't do it myself which was pretty darn quick. The large sale from Neiman Marcus allowed me to bring on part-time staff, and as sales continued to come in, I was able to keep people on the team to help.
In what ways do you still want to see your company evolve?
I love what we do now, which we wandered away from for many years, and that is to focus on the people that love and use what we make here in Boston. We love hearing from the individual and so in that way I love the idea of continuing to grow our online presence and what we can offer people there.
What did you learn from your previous jobs that has helped you with running your own business?
I was a terrible waitress… once upon a time… Really I had no business being in that environment, but hard work is what it is.
What is your favorite part about working for yourself? What is the most challenging part?
My dad always says at his house, "it's good to be the king!" And I suppose that describes the best part pretty well. The hardest is the fear that it won't work and you will go broke trying.
Take us through an average day at work. What are your daily responsibilities?
Doing stuff like this. And anything that needs doing. I am the definition of the small business owner wearing all the hats. I mean I pack the boxes.
One of the most challenging parts of a creative career is staying inspired everyday. Where do you go or what to do you to get inspired?
I get asked this question so often, and I am tempted to say something ridunk like… my fridge. But seriously, vacation is great for inspiration but truly there is no telling when that stuff is going to happen. You just better love what you do or it is going to get pretty tough.
Best moment of your career so far?
Having kids too.
What advice would you give to your 23-year-old self?
Get a job and work for your idol first… and maybe go to business school. That would be the start.
danielle moss alaina kaczmarski mary mullen chloe list