Feeling inspired to tie on an apron but not sure where to start? Fear not. Anyone can cook! You just need the right tools to get you going. Whether you're living in a tiny apartment or have space to spare, every girl should begin by outfitting her kitchen with a few basic essentials. Follow the product guide above (or print out this illustrated list from The Everygirl Handbook), and you'll be whipping up gourmet meals in no time. Chef's hat not required!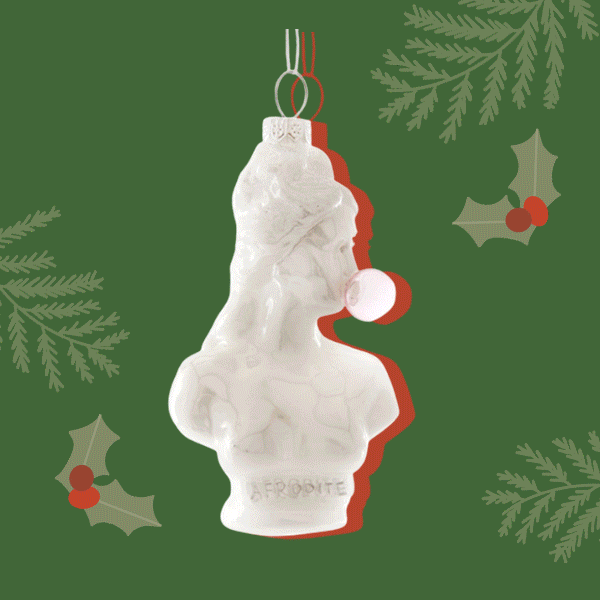 Whether you prefer your tree to be a masterpiece or a beautiful array of memories, there's something for everyone at Carlyle Avenue's ornament shop. Don't miss their expertly curated collection!
Prep
Spoons: Don't skimp on selecting tools like mixing spoons, spatulas, and tongs that match your aesthetic — you'll feel happy every time you look at (and use) them. These will be used for stirring, folding, flipping, scooping, and more. They're extensions of your hands in the kitchen!
Spring loaded tongs: Used for flipping, grabbing, and serving.
Microplane grater: A recent culinary must have that was originally used in the carpentry industry, microplane graters are perfect for grating hard cheeses, zesting citrus, and grating hard spices like nutmeg.
Measuring cups: Used for measuring dry ingredients.
Measuring spoons: Great for rationing out liquids and strong spices in small quantities.
Colander: Great for straining, draining, and rinsing. Most commonly used for pasta, fruit and vegetables.
Nested glass bowls: Great for baking, making salads, and even storing foods.
Chop
8″-10″ Chef's Knife: Your kitchen workhorse. For slicing, dicing, chopping, and mincing. Prices can vary from $30 to well over $100. But note, this is definitely a piece worth investing in.
Bread (Serrated) Knife: A must for cutting tomatoes and slicing bread. Serrated knives cut these types of items easily, without crushing the product.
Paring knife: Great for smaller cutting jobs, like slicing lemons or cheese. When entertaining, your paring knife can also be set out with a bar cutting board, for guests to cut garnishes.
A note about knives: Finding the right knife for you is a bit like finding shoes that fit perfectly—you need to try them on before you know. Stop into a specialty cookware store (like Williams Sonoma or Sur La Table) and try holding different brands and styles of knives in your hand. Don't purchase a knife just because it looks good in the case. Some people like a knife that feels heavier in their hand, while others prefer something nice and light. Invest in a good knife, hand wash it, hone it, have it sharpened regularly, and it's an investment that will last for years. Look for high carbon steel knives with a full tang. They'll stay sharper, become less stained over time, and will give you the greatest control when you're chopping.
Poly cutting board: You can run these through the dishwasher, whereas wood boards must be hand-washed and tend to harbor more bacteria.
Cook
Set of Metal Sheet Trays: Like the nested glass bowls, a set of various sized sheet trays (also called jelly roll pans) will be used all over your kitchen. Use them to roast veggies, meats, and bake cookies.
Non-stick Frying Pan: You'll use it to fry eggs, make omelets, and cook fish. Be sure to use coated utensils when cooking in these so you don't scrape the non-stick coating off.
Cast Iron (and if you can afford it, enameled) Dutch oven: Cast iron enameled Dutch ovens, which are actually just large, heavy pots, are very versatile. You can use them to make soups or stews, or even just to boil water. They can go from stove top to oven with ease.
If you're outfitting a kitchen from scratch and on a budget, selecting a few of the items in each of these categories will give you the boost you need to harness your inner Julia Child. Once you try out a few recipes and see what other tools you might need, you'll easily be able to fill in the blanks during your next shopping trip.