It's impossible not to smile when entering at Kristin Jackson's charming home. The interior designer and blogger behind the Hunted Interior resides just outside of Atlanta with her husband and daughter. Their home is mixture of vibrant, thrifted pieces and classic furnishings with a twist. Everything about the Jackson home is simply delightful, from the sunshine yellow door to the graphic patterned pillows to the super cool "Too Legit To Quit" computer background.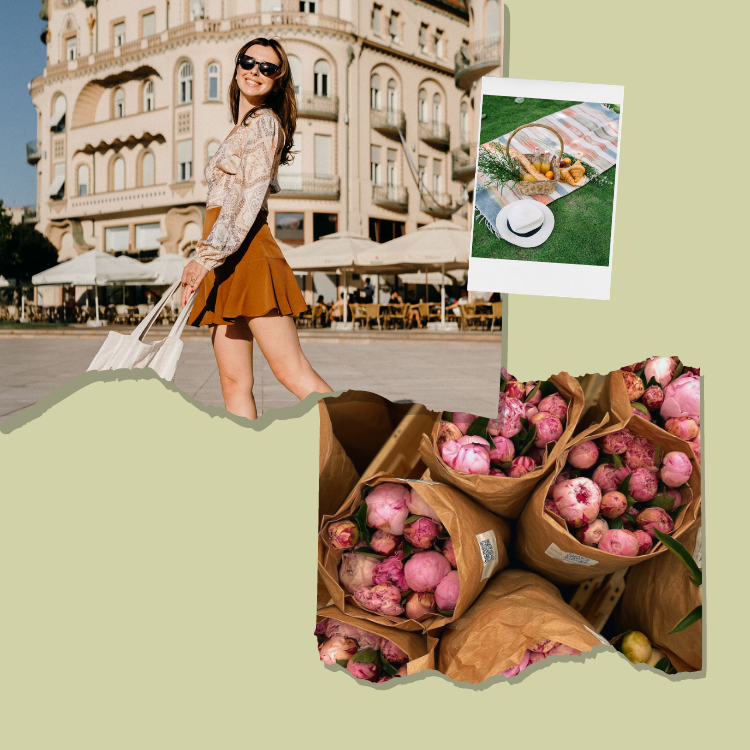 read this if you're in your saving era this summer
What we love most about Kristin is her ability to infuse her high-end taste into a budget-friendly home. She frequents local thrift stores for eye-opening pieces, peruses Etsy for vintage accessories and new talent, and doesn't mind tackling DIY projects with her husband. All of Kristin's personal efforts in making her house a home—and a very stylish one at that—have certainly paid off. Today, Kristin shares her home and design philosophy with The Everygirl, so get ready to be inspired!
Name: Kristin Jackson
Location: Atlanta, Georgia
Current title/company: Interior Designer + Blogger at the Hunted Interior
Educational background: BFA in Interior Design
Where is your home located and how did you go about finding it? What characteristics were you looking for when house-hunting?
We are right outside of Atlanta in a suburb called Smyrna. Luckily, the convenient location can get us to all of our favorite places in about 15-30 minutes, which was one of the main reasons for buying our little starter home. We knew we were looking for something that needed some love but not a major overhaul. Our home had little to no character and was basic! But the 60-year-old hardwood floors were gorgeous & the small space had potential.
Do you rent or own? If you own, how did you manage to save for the down payment, closing costs, etc.? Did you get help from someone to walk you through the process of buying? What were you most surprised to find out about the process? Any tips for new home buyers?
We bought our home in 2006. Fortunately, the downpayment & closing costs were gifted to me after graduating college, but we have certainly worked for everything else. I wish I would have done more research or had someone talk me through the entire process as there are many things I never even thought about when purchasing our home. First things first, there was not a baby in our near future when we purchased our home. After 4 years in the home, our daughter was born. While we quickly have run out of space, we can make that work. But I wish I had paid attention the school districts and for that reason, we may be on the hunt within the next few years.
Decorating a new place can be challenging. How did you approach the task? What area did you concentrate on first (bedroom, kitchen, etc.)? Or do a little bit all over?
Like a lot of people, we moved in and quickly placed items we already had wherever it would fit. The home looked nice but definitely not finished. It wasn't until two years ago, when I started the Hunted Interior, that I really began focusing on my own home. I had been busy for six years designing hotels internationally to do anything of significance in our own home. It is easy to push that on the back burner, but you will be so much happier with your space once you make it your own. I do focus my attention to one room at a time, while having plans in my head for the other spaces. When you are shopping, luck usually doesn't provide you the item you are looking for, so keeping your eyes peeled for other spaces is a big help. You might even be derailed to a new space, but that's okay—they all have to be done eventually.
How long has it taken to get your home to look how it does now?
While we have lived here the past six and a half years, the house has had a total overhaul these past two years.
You have a beautiful baby girl (and a husband!)! How has having a child and a male "roommate" affected what items and decor you have in the home?
There were definitely delicate items that have been shifted up the bookcase, and that dream of a white linen sofa may be just that—a dream. But for the most part, we haven't "baby-proofed" our home per se. I have clients and readers email me all of the time asking this question. We simply leave our decorative accessories where they are and she now knows what to play with & what not to. Also, it helps that the majority of our smaller decorative items were thrifted finds. If it breaks, it's a bummer…but I'm not heartbroken. She also helps us in all of our projects, which helps. She feels included and is proud in the end.
My husband is a saint. When we first met, I never would have thought he would live in a home with pink trays and floral pillows, but after a few magazines and books acknowledged my work, he finally said that I must know what I am doing and steps back when it comes to those decisions. I do try to incorporate his style and personality as well. The guitars on the wall are a great example. His vintage Gibson & our daughter's pink guitar are on display and decorative, but they are easily pulled down for an impromptu lesson. Design should be all about making life easier in your home, as well as making it beautiful.
Tell us about your blog. What inspired you to start The Hunted Interior? How has blogging affected your decorating?
I started the Hunted Interior two years ago; I needed a creative outlet after having our daughter. I never thought or dreamed it would become a business, but it has. It started on the premise that you should hunt your home before heading out to the store. Simply shifting items around your house can be an easy way to breathe new life into your space. I also speak on taking the expected to the unexpected. There are no rules in my book. This idea seemed to resonate and fortunately readers have visited and stayed.
I have to say that the blog has made me pay attention to the details more. After teaching myself how to take pictures with something besides my phone, I now look at everything I do as a picture. If this coffee table vignette was in a photograph, would it look good? If not, I start over.
You say on your site you have high end taste but a low end budget. What are your favorite sources for budget-friendly home goods? What's your favorite budget-friendly or DIY item in your home?
I am always at our local thrift stores. You never know what will be there and I love the hunt. The key to shopping these places is to have an open eye. Pay attention to the lines & shapes of items. Color and pattern can generally be a quick fix.
Etsy is my go to source for pillows, artwork & vintage accessories. I am constantly perusing their site for new talent. eBay is also great for designer fabric remnants. It may only be enough for a pillow, but a lot of times, that is all you need. I also love Homegoods, West Elm, and Target as of late. These are great places to snag decorative items on a budget.
I love my desk. We had modified the base to accommodate a wood top that we created, and months later, we happened upon a lone hutch top on the side of the road. We threw it the back of the truck and brought it home. The dimensions were perfect for my desk. After removing a few doors and a shelf and adding a coat of glossy black paint, no one believes this item came off the side of the road.
You are a master of DIY projects. Where did you acquire these skills? What do you recommend people with small spaces or no outdoor space do (for things like spray painting and wood work)?
My husband and I had zero DIY skills or aspirations when we moved into our home. He was handy, but I was not! After starting the blog, I began having ideas and we just dove into tutorials & YouTube videos when it came to new tools or materials. With each project, we hone our skills a little more. There is always something new to learn, but it is nice to have some experience in our back pockets now.
While I love power tools and my new paint sprayer, there are numerous projects I completed in the house. If you don't have room to spray anything, use a Latex Enamel Paint like Sherwin Williams' ProClassic. It brushes on easily and dries with no brush marks. Plus, because it is latex, it has little to no odor and cleans up with water. In terms of woodworking, your local big box hardware store will generally make a lot of your cuts for you. If you go in prepared with an idea, you can have the items pre-cut and simply assemble at home. Start with something small and gradually build up from there. Literally.
What advice would you give to your 23-year old self?
I would tell myself to trust your talent. For years I was striving to make everyone else happy, but once I started trusting in my talent, my passion and business have started to flourish. It's not about pleasing everyone. It's about pleasing yourself (and your clients)!