There's nothing more intimidating than showing up to view an apartment and there already being 30 people looking at it. But that's what happened when 27-year-old Lauren Mizrahi stepped foot in what is now her studio apartment in San Francisco. "I found it on Craigslist, and I loved how it was a corner unit with two sets of bay windows. I filled out the application right then and there." Two years later, Lauren has turned the small space into a place she's giddy to call home.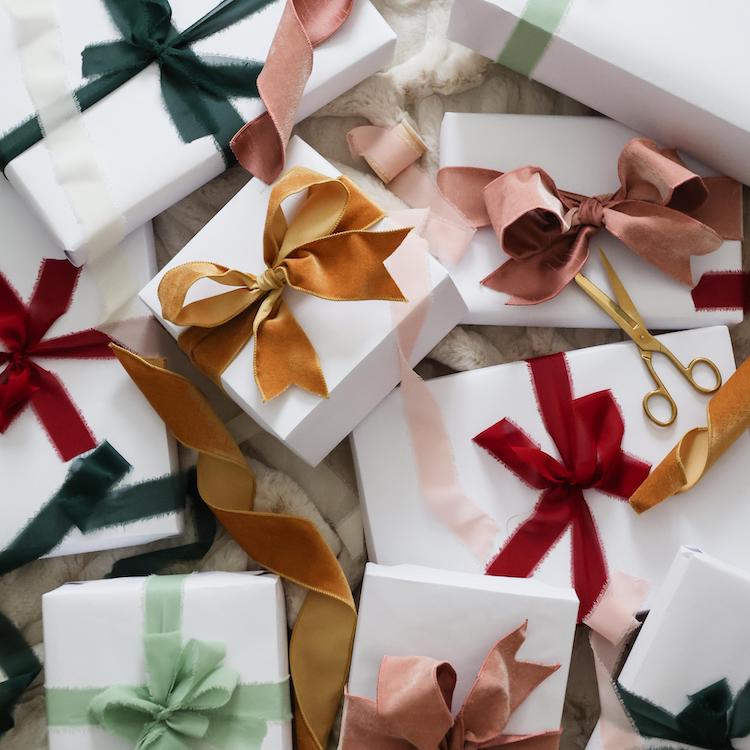 the perfect gifts for everyone—and we mean everyone—on your list
The challenges of studio living–namely a complete shortage of storage and the tendency to feel cramped–fall to the wayside once you mastered a few tricks. Lauren, for example, committed to a subdued color palette and small-scaled furniture, thereby allowing her to create three separate areas in her single-room home that flow together naturally. The room feels open due to the abundance of natural light, plant life, and soft colors; an amazing accomplishment considering there's a full-size sofa in the middle of the room.
She's combined new modern pieces like her Macy's sofa with vintage and antique finds like her chest coffee table. "I think flea markets are the key to any well-decorated home. It gives your place personality and style." She's also brought the outdoors in with a collection of plants, her favorite being the impressive fiddle leaf fig in the kitchen. (We're envious of her ability to keep them all alive.)
Today she invites readers into her home and tells us a bit about her career in retail marketing and life in the city by the Bay.
Full name: Lauren Mizrahi
Age: 27
Location: San Francisco, CA
Current title/company: Associate Marketing Manager, Levi, Strauss and Co. // blogger behind Live Happy Inspired
Educational background: Marketing and Communications, Santa Clara University
Let's talk work! You're an Associate Marketing Manager at Levi Strauss & Co. How did you land that job? What previous experiences helped you get to where you are you today?
I worked in advertising for 4 years before switching over to the "client side" and working at Levi, Strauss and Co. When I was looking to switch over I knew I wanted to work at a retail company in San Francisco. What really attracted me to Levi's was their historic connection to the city (they have been around since the gold rush days), their iconic products and their strong charitable focus as a company.
After identifying where I wanted to work I reached out to a few people who I knew from previous jobs that helped me connect with people at Levi's. I believe in paying it forward in the job world so I always give informational interviews. In San Francisco the marketing and ad community is very small and everyone is connected. It is important to always put your best self out there because you never know how you will connect with that person in the future.
What was your first job out of college?
My first job out of college was at an independent advertising agency in San Francisco working on advertising for Audi. While there were plenty of non-glamorous moments, I was soaking it all up because it was a new world. One of my proudest moments that first year was seeing an ad I worked on, on TV and in the New York Times. I really enjoyed working on Audi because, like Levi's, it was a historic brand that is focused on innovation and quality.
Walk us through your typical work day. What does it entail?
I know most people say this but there truly is no typical work day in my job and that is really what I love about it. Sometimes I am working on planning an event in one of our stores and working with the store teams to pull it off, other times I am partnering with a local non-profit. One of my favorite parts of my job is that I get to work with so many different areas of the company: merchants, store operations, planning, or ecommerce. There is very much an entrepreneurial spirit, which challenges and inspires me to keep thinking of new ways to do things.
In addition to working for Levi's, you dedicate a lot of your time to your blog, Live Happy Inspired. What encouraged you to start a blog? Is it challenging to balance a full-time day job and a creative personal site?
It is definitely a balancing act. I started my blog three years ago as an outlet for my creativity when I was knee-deep in advertising. While it is a lot of work and very time consuming, the reader comments and the support care what encourages me to continue developing content. It also gives me an excuse to get out there and try new things.
You live in a tiny but mighty classic apartment in San Francisco. Tell us the process you went through while looking for your place. Do you rent or own? How long have you been there?
San Francisco, like New York, is known for its crazy housing costs. While it has got more challenging in the last two years since I have lived here, it was still pretty hectic when I got the place. I was looking for a studio apartment (the chance to live alone, yay!) with lots of light and a separate kitchen in a decent part of town. I only went to one other showing before this one. I saw it on craigslist and it looked like the perfect place. I loved how it was a corner unit with two sets of bay windows and it was pretty roomy compared to the other 300-400 sq ft places I had seen. There were about 30 people at the showing and I knew it was the one, so I filled out the application right then and there. I have lived here for two years now. As cheesy as it sounds I sometimes look around and am so grateful that I found this place.
What do you love most about living in San Francisco?
Everything! I am originally from Seattle so I love that nature is not so far away here. You can drive to the mountains in 4 hours, you can go to the beach in 30 minutes or an hour away you can drink wine in a vineyard. Also I love that there are always new restaurants opening up. I have my favorites in my neighborhood but I love trying new places. My friends and I actually started a dinner club, where once a month we try a new restaurant that none of us has been to. It has been a great way to explore the city.
Your home has an amazing eclectic, cozy feel to it. Was it difficult finding a balance between modern pieces and vintage finds?
Thank you! I learned very quickly that if you don't add some modern pieces with Victorian architecture you could start looking old-fashioned very quickly. I think that is why I gravitated towards the black and white—it is very crisp without being too stark. I also made sure to have a lot of textures. There is faux fur, knits, and lambskin which make it feel cozy and warm. I also think plants can help a place feel more alive and welcoming. I may or may not have a plant problem. I keep collecting them. Luckily I can keep them alive. My favorite is my fiddle leaf fig in the kitchen. It adds so much to that corner.
You love going to the Alameda (West End) Flea Market, just outside of S.F., to find unique items. What tips can you share for navigating through flea markets and actually scoring finds?
I think flea markets are the key to any well-decorated home. It gives your place personality and style. I am a fan of buying key pieces like couches and beds from big box retailers but mixing them with vintage accessories so you can add character.
Flea markets can be daunting. The Alameda Flea Market is huge. Hundreds of vendors stretch as far as the eye can see. What you absolutely have to do is have a list of things you are looking for. Otherwise, you will spend your time wandering through aisles of stands without picking up anything (which isn't so bad sometimes). If you are looking for things for your home put together a checklist of what you want. Tell yourself when you enter I am looking for, let's say "a white wicker chair, a silver tray and a hobnail vase." Then, when you walk around your eyes can scan for those things. You are much more likely to come out with some great finds if you have a list.
What was the biggest challenge in decorating your home? How did you overcome that challenge?
I think that living in a studio is challenging because you have your bed in your living room and your couch in your bedroom. On a separate note it is also pretty awesome because you can watch TV from bed. Also, because I had two bay windows, there isn't much wall space, so I had to figure out the best way to lay it out. I really like the way I have it configured now because it feels like two separate areas. I think having a rug in the "living room" helps section it off so it feels like a different space.
What was on your checklist when designing your apartment? What were your must-haves, in terms of furniture and accessories?
I wanted it to be a comfortable place with lots of personality. When I was looking for furniture it had to be versatile because the space had to convert if I had people over. I just kept things very simple but very "me." I collected things slowly. In general, I would recommend buying only things you really like, despite the price. Just because something is cheap doesn't mean you should buy it, or just because something is an investment doesn't mean you should shy away. If it speaks to you and fits your décor then get it.
What items for the home would you say are most important to invest in? What items do you recommend saving on?
I think that creating a wonderful, cozy bed is an important investment. I like to invest in high quality sheets and pillows because a good sleep is essential with such a busy schedule. I also recommend when you are buying your large pieces of furniture, like couches, consoles, desks, to keep it pretty classic and neutral. Then use accessories to customize it. It is much easier to swap out pillows than recover a couch.
Tell us more about your blog! Where do you find inspiration for your content?
My blog has been so much fun to work on. I love sharing cooking, style, beauty and decorating ideas. My main focus is décor that is attainable. So many people that I talk to know what they like and could point to a million pictures on Pinterest but when it comes to executing it in their own home, they are have no idea how to actually do it. I want my blog to be a place where people go to be inspired about things that they can actually achieve.
I find inspiration all around me. San Francisco is such a creative and inspiring place. I also find inspiration from my friends because they are always asking for decorating advice. I like sharing their questions on my blog, because chances are someone else has the same question.
What advice can you give to other creative, career-driven women who are looking to live in San Francisco?
My advice would be to go out there and get what you want. It is not going to be easy but you will feel most rewarded if you are doing something that challenges you and inspires your creativity. Also, I always try to remind myself that everything happens for a reason. Even the challenging parts of my career have helped shape my career path and taught me valuable lessons. Sometimes your career isn't a direct path from point A to B but you can learn something from each step along the way.
What are your current career aspirations? Where do you see yourself in 5 years?
Ah the 5-year question. In 5 years, I would like to be managing global marketing at a large San Francisco-based retailer. I think that I have really found my place in the retail world and would be very happy to continue to stay in this field.
Aidan or Big?
I had this debate with my sister the other day. After careful consideration I would choose Aidan. He makes incredible furniture and loves dogs. He also is so sweet and thoughtful. Although, I wouldn't mind that gargantuan apartment that Big buys Carrie in the movie. Look at me, I am talking about them like they are actual people.
If you could meet any woman for lunch, who would it be and what would you order?
I admire the work that Jenna Lyons has accomplished at J.Crew. She has created such an amazing, unique lifestyle brand that has revolutionized the retail world. It would be so fun to have lunch with her and discuss her favorite places to travel and shop. I'd imagine us having lunch at a little French bistro like Pastis in New York.
Guilty pleasure?
Two super-girly things that I love are fresh flowers and getting my nails done. Fresh flowers can add so much to a room. I recently discovered Bloom That in San Francisco. They have amazing bouquets and deliver via bicycle in SF. I also love nail art. Being a creative person, it is an opportunity to express my creativity without it being permanent. I have had leopard spots, gems, Liberty London prints, glitter, pretty much everything. Mia from Sparkle SF is the best. She can do literally anything you can think of.
ENTRY
• Bicycle: Public Bikes
• Bench: Flea market
• Rug: Target
• Framed Print (words): Holstee Co.
• Framed Print (silhouette): Flea Market
LIVING ROOM
• Couch: Macy's
• Trunk, cane chair, magazine rack, bell jar, amethyst: Flea Market
• Flowers: Bloom That
• Gold bowl: Anthropologie
• Knit pillows: Serena and Lilly
• Pendleton pillow: Appetite Studio
• Lambskin: IKEA
• Rug: Joss and Main
• Yellow Blanket: Garnet Hill
• Knit Blanket: Pottery Barn
• Stripped Blanket: IKEA
• Console: West Elm
• Oversize Perfume Bottle: Z Gallerie
• Hand model: Vintage
• Seagrass Rug: Pottery Barn
DINING ROOM
• Kitchen table and chairs: IKEA
• Hobnail Vase: Vintage
• Salt and Pepper Shakers: West Elm
• Candle: Anthropologie
• Radio: Tivoli
• Console: From previous owner
• Small white vase: IKEA
• Gold frame: Flea market
• Geode: National History Museum
• Self-contained Ecosystem: Eco-Sphere
• Rug: Urban Outfitters
KITCHEN
• Vase: Anthropologie
• Cookie Jar: Williams-Sonoma
BEDROOM
• Blanket: Pottery Barn
• Duvet cover, sheets, Euro shams: West Elm
• Throw pillow: CB2
• Tray (above bed): Flea market
• Lamp: flea market
• Zebra dish: Jonathan Adler
DESK
• Desk and chair: West Elm
• Lamp: One Kings Lane
BATHROOM
• Curtain: West Elm
• Chevron rug: West Elm
• Black and white rug: Local hardware store
• Marble table: Flea market
• Antler jewelry holder: Mod Cloth
• Gold tray: vintage
• Diffuser: Antica Farmacista
• Glass canister: Anthropologie