Holiday decor doesn't have to be swathed in red and green to be festive and it certainly doesn't have to be traditional or classic to be beautiful. This Michigan home is proof that beautiful holiday decor makes things oh so magical no matter what. Brilliantly (if I do say so myself, as someone who also does this), Liv Scherer decorates her home soon after Halloween, so as to extend the season as long as possible. She decks the halls in golds, creams, lots of shades of pink. She puts up more than one tree, and strings lights all over. And the result is good, friends.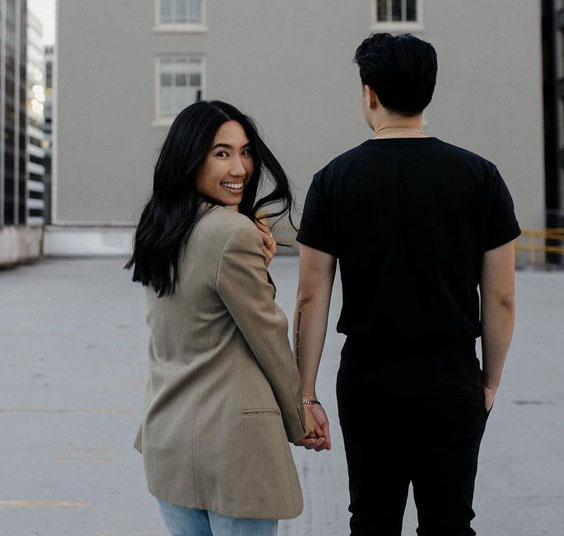 take a break from swiping and listen to our expert ❤️
From her favorite sentimental ornament to her decorating process, to what's on top of her Christmas wish list this year, Liv shared all kinds of ins and outs of her home during the holidays. Read on for more.
Name: Liv Scherer
Location: Berrien Springs, MI
Sq. Ft: 1,200
When do you start decorating for the holidays?
The day after Halloween, I love the season and want to be able to enjoy it for as long as possible!
Knowing how much I love Christmas, he arrived early to a tree farm and planted an ornament he made himself with the words, 'So… Will you marry me?'
Tell us about your holiday decorating process.
My mom and I get together and go through all of the decor—both holiday and everyday—and look for ways that we can make simple updates from the year before. Sometimes changing out ribbons or garland can add a new twist. I always mix glitz with cozy textures to create a lively, yet comfortable space.
How do you budget when it comes to decorating seasonally? (Things can get expensive for such a short time of the year!)
There are many different ways that I am able to decorate seasonally on a budget. I keep my options open by looking for decor throughout the year. That way it's not traditional decor and I can spread out the costs instead of buying a ton of stuff all at once. I'll do a DIY project if I love the look, but can't justify the cost. This year I made the garland on my chalkboard and bar cart and updated a pillow all for $20! I'll rotate decor with my mom since we have similar styles to get different looks every year without breaking the bank. If it's something I love and I know I can use for years to come, then I'm willing to splurge!
Where do you shop for holiday decor?
I am always keeping my eyes open for decor. You never know where you can find some unexpected holiday charm. I love West Elm, CB2, and Anthropologie, but have found lots of great finds at HomeGoods, Hobby Lobby, and Target.
Do you have any holiday traditions that are special to you?
My immediate family draws names and we do what we call "Family Favorites." Christmas Eve night, we give one of our favorite things to the person whose name we drew. It has evolved into such a creative and sweet tradition that we look forward to even more than receiving presents.
Do you have any tips for readers who may live in smaller apartments (and who are on a budget) who might not be able to decorate to their heart's desire?
Living in a 1,200 sq. foot home, I try to incorporate holiday into my everyday decor. It doesn't take a lot to make your space feel festive. Faux wrapped presents and string lights are an easy way to make an impact without a big budget and a lot of space.
Do you have a favorite ornament on your tree?
My husband and I got engaged in 2017. Knowing how much I love Christmas, he arrived early to a tree farm and planted an ornament he made himself with the words, "So… Will you marry me?" It's such a special memento of one of my favorite memories.
What's your favorite piece of holiday decor that you own?
I bought an 18-inch Santa wearing an ivory, faux fur coat on the day we got engaged at a local Christmas shop. I style him around the house every year. This year he's on my bar cart holding a mini bottle of prosecco.
How are you adjusting your celebrations this year?
I'm having a small get together with my immediate family. Typically, we all sit at a large table. However, this year we are sitting separately at a couple café tables so we can enjoy each other while social distancing.
Liv Scherer is The Everygirl…
Hot chocolate or hot cider? Hot chocolate with lots of whipped cream!
Favorite Christmas song? "Sugar and Booze" by Ana Gasteyer—so cheeky!
Favorite Christmas movie? National Lampoon's Christmas Vacation
Favorite holiday treat? My Grandma's sugar cookies
A small business you love: TeresaLauraCreative on Etsy, @teresalaucar @teresalauracreative on Instagram
The best gift you've ever given? We got my mom the Riki skinny mirror last year. She loves it.
What's at the top of your Christmas list this year? Riki skinny mirror! It's such a game changer!