The fourth largest city in Morocco is Marrakech, a former imperial city with a population just under 1 million, is a one-of-a-kind vacation destination. It's known for its maze-like streets, vibrant marketplaces, mosques, and gardens. Today, Ali Stone of Those White Walls is sharing her insider tips of where to stay, what to do, and how to overall make the most of a trip to Marrakech, the newest addition to our travel bucket lists.
A few quick essentials
Get cash when you can. ATMs are plentiful but often out of money. I recommend taking out the maximum allowance when you can. Generally 4000 DH or $400.
Marrakech is a maze. Expect to get lost. It's even hard to follow a GPS but it's totally ok to ask for directions! Just be aware that some people may expect money for helping you. You can give them 5 or 10DH. Many people will help you for nothing.
Save your shopping for when you're alone! We learned that guides make a commission for taking you shopping, so vendors jack up the price when you're with a guide.
Put your bargaining face on! This one is HUGE! If you're shopping in the markets, the vendors WILL try to get top dollar. DO NOT be afraid to bargain and be prepared to walk away… 95% of the time after you walk out they will say okay!
Ask the price and counter at 20-40% of their original ask. Don't feel bad! You'll have to come up and you'll find a middle ground. I recommend deciding what you want to pay FIRST and then negotiating down. For example, a vendor told us 200DH (about $20) for a piece and we walked away with it for 50DH (about $5).
Layers layers layers! If you're traveling in the wintertime, layers are key. Although most days are gorgeous, mornings and evenings are quite chilly (more so than we expected) and breakfast is usually served outside. Also, a few of our Riads were quite chilly, so I would recommend packing a heavy pair of sweatpants and a sweatshirt for nighttime.
Pack extra basics. It's dusty everywhere, so things get dirty a little quicker than normal.
Carry hand wipes! Sinks (especially ones with soap) are hard to come by.
Where to Stay
Budget
Riad Malika– Formerly a family home, this beautiful guesthouse has a rooftop terrace and views of the medina.
Mid-range
La Maison Arabe– The oldest and most charming riad in Marrakech. Boasts a world-famous cooking school and home to one of the best restaurants in the city. The service was impeccable and the accommodations were beautiful.
Le Riad Yasmine– this small, Instagram famous riad looks beyond charming. It is described as an urban jungle in the heart of the Medina of Marrakech.
Splurge
El Fenn– El Fenn defies description because it is both an art museum, charming local riad, luxury hotel, and hipster hangout all rolled into one. Each corner of this property was more breathtaking than the last.
La Mamounia– Owned by the King, this sprawling property is more amazing every step you take. La Mamounia is the ultimate in luxury accommodations.
What to Do
Visit the YSL Museum and The Gardens of Majorelle– If you even have the slightest interest in fashion I recommend visiting this museum. The history and exhibitions are fascinating, plus there's a great restaurant in the museum, so you might as well stay for lunch.
Hire a local guide to see the city. The city is extremely confusing and difficult to navigate, so hiring a guide is a total game changer. Visit sites like the 12th Century Koutoubia Mosque, with its beautiful Moorish Minaret — a symbol of the city and visible for miles — The Mellah (the Jewish quarter), and the beautiful Bahia Palace all without getting lost.
Visit Jemaa el-Fnaa, the main square. The main square in Marrakech is like a real-life circus. People running, motorcycles zooming, monkeys jumping, donkeys ambling, snakes slithering, an old man yanking teeth with no anesthetic (yes, really). There are great food and juice stands here as well, but be prepared for mass chaos.
Sahara Desert Trip– We didn't get to do this, but it's absolutely on the list for next time. We heard it's best to do the three-day camel trek through the Sahara to see the vastness of the sand dunes.
Where to Eat
Budget
Cafe De Epices– Local Moroccan food and local people in a charming little cafe right off one of the main squares. The food was delectable and the prices were very good. Dinner for four of us with about 60 rounds of mint tea was 330 dirham or about $33.
Le Jardin– An absolutely charming garden spot with amazing food! The seafood pastilla was to die for!
Mid-range
Nomad– A must in Marrakech. It's one of the few places with a rooftop view and it's right off one of the main squares. The decor is adorable, the food is amazing and the prices are extremely reasonable.
Cafe at The YSL Museum– A bright airy cafe with a great outdoor seating area, the cafe at the YSL museum was delish. Their couscous was one of the best we had the whole trip… and we had a lot.
Splurge
La Maison Arabe– Located inside the hotel (one section inside and one section outside by the pool), this restaurant had amazing food and impeccable service. We sat outside by the pool and it was absolutely lovely. This is a splurge by Moroccan standards. Expect about $30-$40/person.
Le Tobsil– The vibe and the food at Le Tobsil was undoubtedly amazing. You didn't choose what to eat, the food just came and kept coming…with the wine flowing too. The live Moroccan music was a nice touch. It was great, but we were all a little surprised when the bill came at 650 dirhams (about $65) each. It was pricey by Moroccan standards, but so lovely. If you're looking for a fine dining option in Marrakech, 100% go here!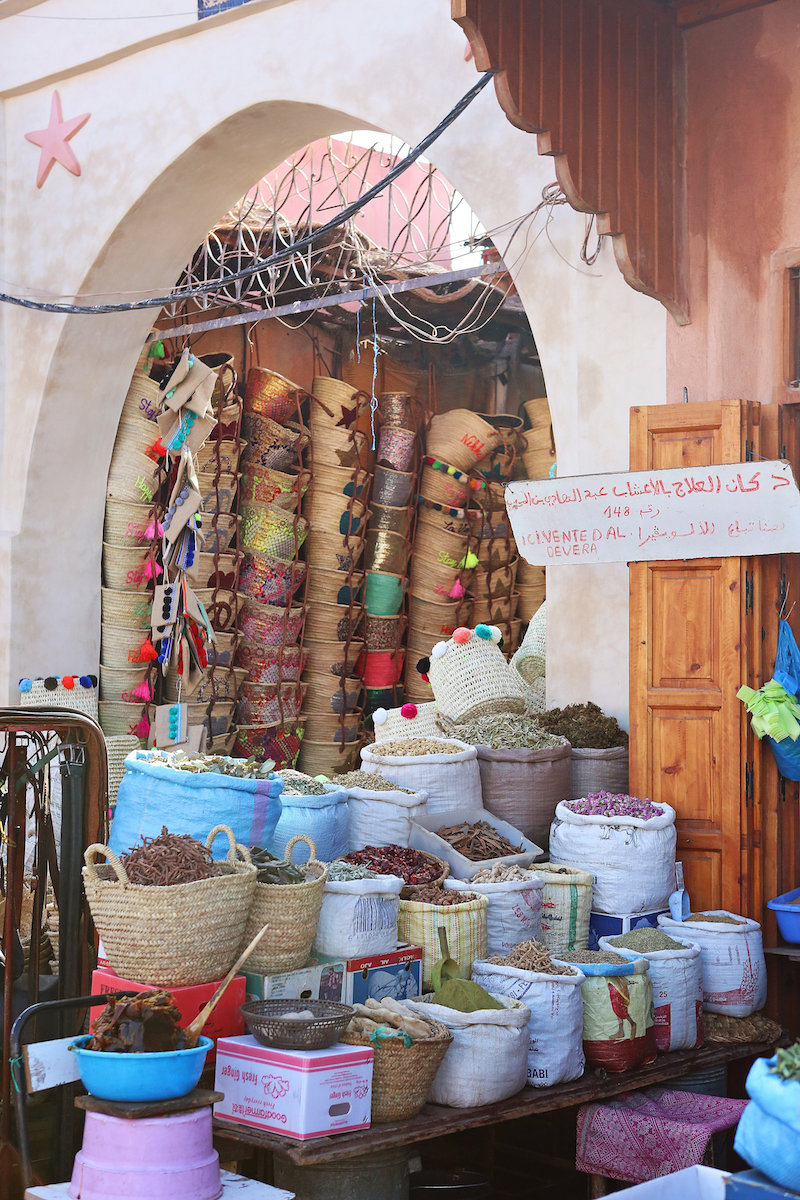 Where to Shop
The Souk– The Souk in Marrakech is like my heaven. There's a leather market, brass market, rug market, spice market, textile market, shoe market, food market, and the list goes on and on. Be prepared to spend ample amounts of time in the Souk and buy everything.
Max and Jan– If you like fashion, this is your place in Marrakech. A beautifully curated store with gorgeous art and unique, stunning clothing from designers from all over the world. Plus, very sweet owners.
Rue Majorelle– This is a very modern shopping street just down the block from the YSL museum and gardens. Beautiful stores with impeccable designs. Most of the things you'll find in these stores are from the Souk. If you're not about the craziness and the bartering in the Souk, this is a good spot to buy Moroccan goods. Keep in mind that you will pay much less if you brave the Souk and buy there.
Have you been to Marrakech? Share your travel tips in the comments below!