It's hard to find a prettier destination than New England as the leaves start changing in the fall. From the covered bridges in New Hampshire and ski slopes in Vermont to the picture-perfect Beacon Hill in Boston, the Northeast is a perfect autumn getaway.
We've rounded up our 10 favorite quintessential New England Airbnbs for you to check into this fall.
Lincoln, Vermont
Sleeps: 3
Cost: $170/night
This tiny treehouse perched in the Green Mountain National Forest of Vermont is a perfect getaway for two. The home is accessible by a small wooden bridge and a queen bed is lofted inside. Adding to the coziness of the cottage, there is a hot tub with perfect views of New England's famed foliage for cooler nights in the forest.
Newbury, New Hampshire
Sleeps: 4
Cost: $450/night
If you're looking for a fairytale treehouse with a bit more room for activities, this home in New Hampshire fits the bill. The two story house is minutes away from Lake Sunapee, and Mount Sunapee. So whether you're looking to soak up the last warm weeks of summer or heading north for a ski weekend, you can call this tree house home.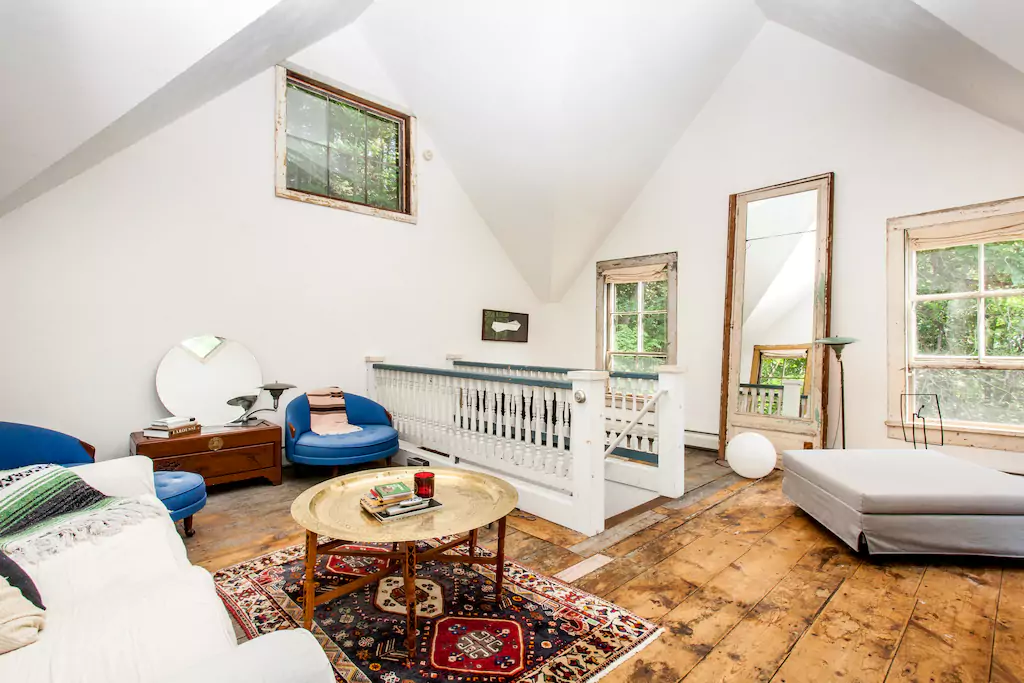 West Cornwall, Connecticut
Sleeps: 4
Cost: $180/night
This beautiful Victorian home in Connecticut's Litchfield County dates back to the 1870s, and the owners have lovingly restored it into a perfect getaway destination that boasts charm and history in every corner. Enjoy a cup of coffee on the large front porch or soak in the claw foot tub before heading into the adorable nearby town.
Portsmouth, New Hampshire
Sleeps: 2
Cost: $100/night
Have you ever seen a cuter camper? Set on the property of a 1700s farmhouse, this vintage Airstream is decked out with colorful furniture, quirky artwork, and a tiki-themed patio. Although the owners live on the same property, guests have their own private fire pit and grill to enjoy BBQ and s'mores during the cool New England nights.
Brattleboro, Vermont
Sleeps: 4
Cost: $75/night
This sunny studio is located in what was once a church built by Swedish immigrants in the 1800s. The building is now owned by a couple who once used the space as a stained glass studio, and the studio apartment is adorned with beautiful glass art. The neighborhood feels very private and is only a mile from downtown Brattleboro.
Franklin, Maine
Sleeps: 5
Cost: $90/night
Surrounded by trails to bike, a pond to canoe in, and a fully functioning organic farm, this eco-friendly loft is a unique place to watch the seasons change in New England. The artistic home houses several sculpture and print studios on site for you and your (adventurous) group of friends to explore.
Monterey, Massachusetts
Sleeps: 8
Cost: $500/night
If the eco-friendly loft in Maine is a bit too nontraditional, the Monterey Country House in Massachusetts' Berkshire County will give you the same warmth of the loft but with more modern features. In addition to the GQ Magazine-featured kitchen, the home boasts a rope swing, vintage board games, and fire pit for your group to enjoy the perfect fall weekend.
Edgartown, Massachusetts
Sleeps: 6
Cost: $350/night
During the summer months, prices skyrocket as every family, bachelorette party, and blogger makes the trip out to Cape Cod for the quintessential New England summer. After Labor Day, the prices drop, but the coastal towns are no less adorable than during the heat of summer. Bundle up in a comfortable sweatshirt and take in a few last weeks of the beach in this adorable Martha's Vineyard cottage.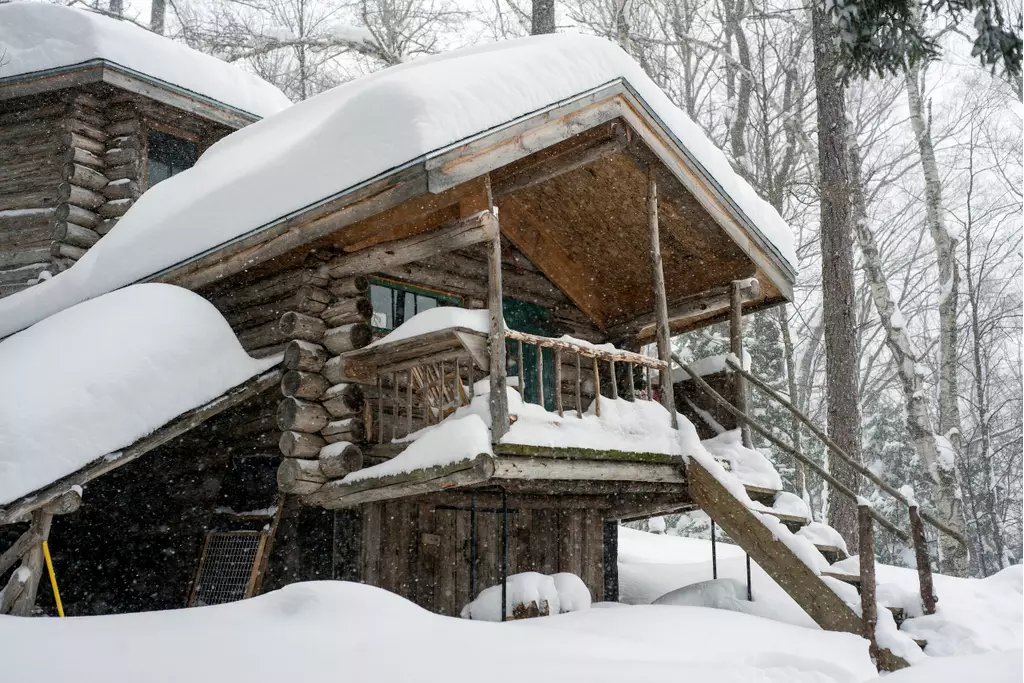 Bolton, Vermont
Sleeps: 2
Cost: $130/night
Disconnect from everyday life and get back to nature in this tiny cabin in the Green Mountains of Vermont. Leave your car at the base homestead about a half mile from the cabin and hike up to your secluded piece of the forest. The home's heat source is a single wood stove, and small LED lights provide the only source of lighting. If you can make do without Internet for a few days, there's no place more romantic for a cozy getaway.
South Kingstown, RI
Sleeps: 14
Cost: $750/night
What better way to welcome the cooler weather than by toasting s'mores by a fire and playing a little bit of backyard football with a big group of friends? The Bittersweet Farm in southern Rhode Island boasts a sprawling, private lawn perfect for enjoying a weekend with friends surrounded by the beautiful New England foliage.
What are your favorite places for an autumn getaway?