I'm willing to bet you've said (or thought) the phrase "I have nothing to wear!" at least once this week… and that's a conservative estimate. I've been in the unenviable situation of having a major party, important event, or hotly-anticipated date and running out to buy something not-quite-exactly-right-but-what-the-hell-it'll-do at the last minute. Meaning my closet is full of last-minute pieces, leaving me with two or three items I actually want to wear on a daily basis. No wonder getting dressed in the morning is such a stressful undertaking. Enter capsules — the (incredibly fun) way to ensure that you have a wardrobe full of forever pieces and can finally kick that buy-something-the-day-before habit.
Building out a capsule wardrobe is fast becoming my favorite part of a new season — the planning, the strategy, the clothes! Not only are they fun to design and implement, capsules actually help you save money by curtailing unnecessary spending and ensuring you're only buying pieces you really love and will wear the most. You'll spend less time in the morning worrying over what to wear, because you'll know whatever you reach for is something you'd want to wear again and again.
This year, we partnered with Sole Society to give you the breakdown on how to build-out your spring capsule — plus we're sharing our top picks for the season (i.e., what we'll be reaching for over and over). Scroll to the bottom to check out our giveaway, where two lucky readers can win a $250 gift card to Sole Society to start their own spring capsules. Good luck!
Step One: Assess Your Current Clothing Situation
You've heard it before, but it's SO necessary — pull out everything (yes everything) from your closet and go through piece-by-piece. Separate your clothes into piles — keep, sell, donate, trash — and be ruthless in your editing choices. Don't let yourself keep so-so garments because you think you might wear them later. I promise you, you won't.
Once you have everything separated out, take stock of all of your "keep" clothing and note what you already have and what you still need to round out your capsule. If you're still left with A LOT of clothes, try the hanger test. Hang all of your hangers "backward" (i.e., facing you) and every time you wear something, hang the hanger back the right way. It'll quickly and easily allow you to see what you're wearing regularly and what's not getting any use.
Step Two: Outline Your Ideal Spring Wardrobe
This is the fun part — pull up Pinterest and go. to. town. Create an inspiration board and start pinning your favorite spring looks with the mindset: the more, the merrier. Once you have a decent collection of images, start pulling out details that reappear. Do you have many photos of a classic white tee tucked into high-waisted jeans? Lots of images of Panama hats and oversize sunglasses? Make a note of the pieces that stand out to you — these are the pieces that will make up your ideal spring capsule.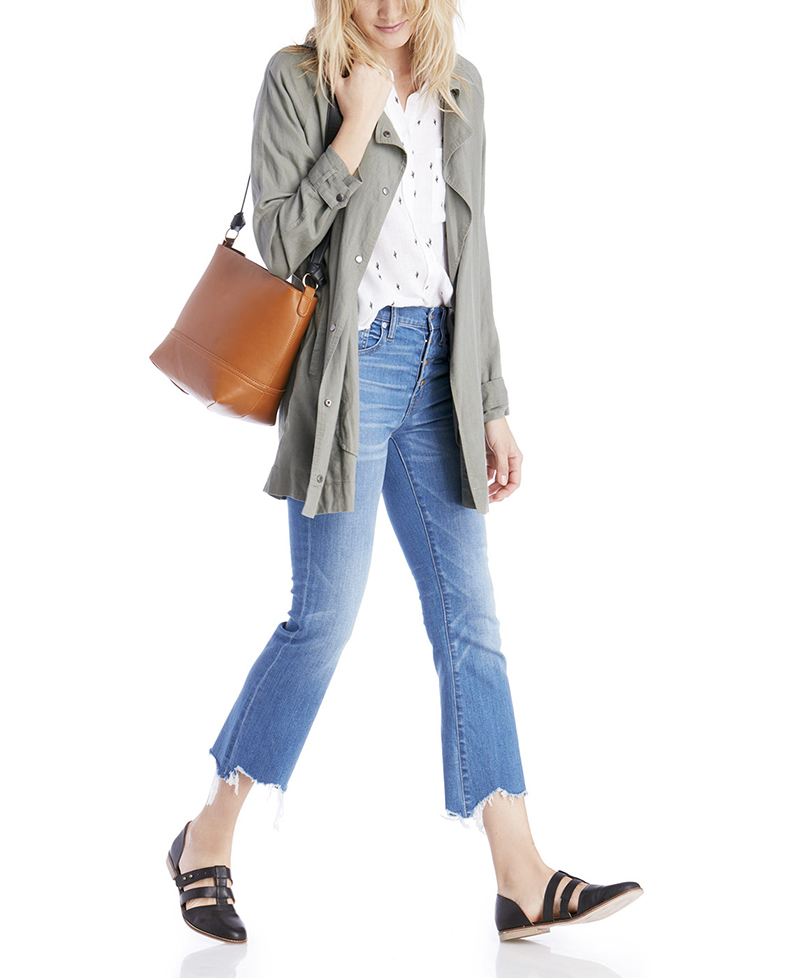 Our spring capsule is full of stand-out accessories and classic wardrobe pieces for a trendy yet balanced season:
Shoes:
Flat Sandals | Slides | Loafers | Strappy Sandals | Black Pumps | Booties | Sneakers
Accessories:
Tote | Crossbody | Satchel | Weekender | Sunglasses | Hat | Gold Earrings | Delicate Necklace
Tops:
White Tee | Button Down | Graphic Tee | Cotton Tank | Striped Tee | Blouse | Bodysuit | Cardigan
Bottoms:
Shorts | Maxi Skirt | Skinny Jeans | Wide Leg Pant
Dresses + Skirts:
Outwear:
Step Three: Edit Your Capsule to Fit Your Needs
Taking stock of your lifestyle is an important part of building a capsule that fits your personal needs and day to day life — you don't want to end up with three pencil skirts if your job is jeans-and-a-tee casual. Don't worry if your capsule doesn't include activity-specific clothing (gym clothes, gardening clothes, etc.) or knockabout clothes you wear around your house. You can keep this type of clothing separate from your base capsule, because you'll have different needs for those pieces. If you work in an environment where you need to dress in standard business attire, consider creating a work capsule and a weekend capsule with a differing number of pieces depending on your day-to-day activities. The important part to remember is that this is a capsule centered around your lifestyle, so don't worry about adhering too closely to a template and focus on creating what works best for you.
Step Four: Start Buying!
You're ready to start buying the pieces you need to finish building out your spring capsule and on the road to the wardrobe of your dreams!
This post was in partnership with Sole Society, but all of the opinions within are those of The Everygirl editorial board.