Congratulations! You're about to get married, and in a beautiful destination to boot! While a destination wedding is a way to bring everyone together (in a gorgeous place!), there are some drawbacks. You might not be able to invite as many people as you would want, and cost or availability might cut down on how many can make it. You've spent all this time finding the perfect dress, booking the best photographer, and coming up with the best wedding hashtag (which is a feat to be celebrated!), and your hard work deserves to be seen from your guests before and after the big day.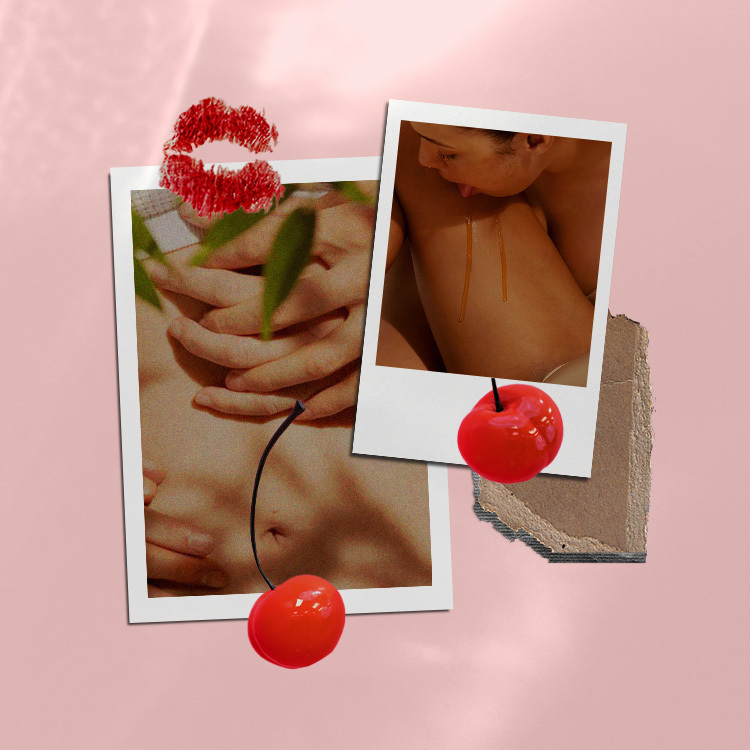 spoiler alert: it's not too good to be true
So, how exactly do you go about showing off all that hard work? The perfect wedding site. We all want to share our special day in a way that is easy, beautiful, and inexpensive (you already spent so much on everything else — this is an area you can save on!). Our editors look to Squarespace for its aesthetically pleasing (and painless) templates and its plethora of options. (Add your registry straight to the site? Share all of your engagement photos? Yes please!) Read on to find out how to make the best site for your destination wedding. One thing already marked off the checklist!
URL: meettheschmiedskis [dot] com → also our wedding hashtag!
We had an intimate three-day destination wedding in Sonoma wine country with our immediate family and closest friends. We hosted the ceremony and reception at a private estate we found on Airbnb and encouraged all of our guests to make the most of their trips and experience all wine country had to offer — so providing as much information through a wedding website was crucial to help them!
Squarespace Template Used: Alex
What was most important for you when creating the site:
I wanted a really beautiful, custom site free of logos and branding — reflective of the wedding design and location — that was easy to use since we had a lot of information we needed to share with our 50 guests. I loved the customization options Squarespace offered to make it look like a professionally designed site; the template we used allowed me to highlight the beauty of the destination and venue we chose and get our guests excited for the trip.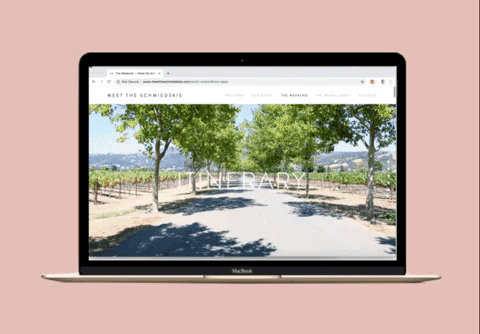 What travel details do you recommend including?
Most importantly, guests need to know the when, where, and how: when to be there, where to go and stay, and how to get there.
We included the full itinerary with times and location for all three days we had events planned (from the welcome party to the reception). We included recommendations on where to stay at different price points and direct links for them to book reservations. We offered guests tips on where to eat and what to do during their trip since so many of them made a vacation out of it. We also included our best advice on how to get to and from the airport.
What day-of details did you find most important to include?
Let guests know everything and then some… where to be and when, if there is transportation included — and if not, where is parking. What should they wear — both formality and what is weather-appropriate. If it's on a beach and you're fine with everyone going barefoot, make sure to say that! If it's on a lawn, let ladies know since heels dig into the grass. Make it easy and put it all out there so you're not fielding questions in the days leading up to the big day.
Favorite feature you implemented:
The landing page with a large photo of our venue was my favorite detail on the website; it had the wow factor I was hoping would build excitement for everyone's trip!
Did you password protect your site?
No — I just kept the unique URL a secret; guests received it on their Save the Dates.
Best piece of wedding planning advice:
If it's in your budget — hire a wedding planner. We did not and so wish we had. I didn't sleep the night before my wedding because a lengthy to-do list was still running through my head of all the things that needed to get done. Also — have a back-up plan for rain!
URL: whenharrymetally [dot] com → also our wedding hashtag!
My husband and I met in Austin, Texas, so rather than choosing one person's hometown over the other, we decided it was the perfect location to meet in the middle (quite literally — of the state). Even though most of our guest list was from Texas, every person we invited would be traveling in for the weekend. Our wedding was much larger than I initially anticipated (we invited almost 200 people) because he has an extensive family. Because of that I wanted a website that would house every detail of the day and travel so they could reference it at any time (and so I wouldn't spend six months fielding questions!).
Squarespace Template Used: Julia
What was most important for you when creating the site?
It needed to be easy to navigate and aesthetically pleasing. We have so many relatives that aren't necessarily tech savvy, so I wanted to make sure that the site easily got them the information they needed. It was great to be able to preview how the site would look on different devices since I knew so many would only access it from their phones.
I also loved being able to customize our site and use fonts that matched our wedding invitations without spending hours learning CSS. Squarespace made it incredibly easy to customize the overall design and then have it be uniform across the entire site. We got so many compliments from friends assuming I had spent weeks putting it all together! But in reality, gathering all the information was the hardest part.
What travel details do you recommend including?
The number one question I was asked during planning was where to stay. When it came time to share our site, I made sure to put our two hotel options and room rate codes at the very top. We chose one hotel that was affordable as well as close to the venue and a second option that was closer to the Austin nightlife. I also included a list of other hotels (both expensive and affordable) in the event that our guests couldn't make the options we pre-booked work. Many of our guests reached out asking which of the hotel options the wedding party was staying at, and because Squarespace makes it so easy to edit your site, I popped on and added that information to the details. In my experience: the more details you add, the better.
What day-of details did you find most important to include?
It's important to put everything you put on the invitation (and more!) on the site. We expanded on the dress code based on questions I knew my friends would want to know. For example, our ceremony was outside (in November) but the reception would be inside. We also gave information on where the group planned to head post-wedding celebration as well as specifics on transit since our location made it difficult to request an Uber.
Favorite feature you implemented:
Our RSVP page. We were actively trying to save money anywhere we could and the RSVP section made that so easy. Squarespace allows you to build a form that can instantly populate into a Google drive sheet. All I had to do was set up the fields and Squarespace did all the heavy lifting as far as putting everyone's names in yes/no columns. When we were ready to do seating charts and name cards, it was a matter of sharing the sheet with our graphic designer and that's it!
Did you password protect your site?
Yes — and I loved this feature. We made the password simple and it made me feel safe putting such private details on the internet.
Best piece of wedding planning advice:
Just know that the last 45 days leading up to the wedding will be the most stressful. Get a day-of coordinator if you can afford one (mine was a lifesaver) and start letting unimportant tasks or DIYs go before the 30 day mark. Also, don't be afraid to delegate or ask for help. The last two weeks I was asking anyone I could to help with small tasks. I wish I would have asked earlier and been able to enjoy the days leading up to my wedding more.
URL: danielleandconorinparis [dot] com
We planned a small (18 person) three-day wedding in Paris, France, one of our favorite cities in the world. The idea of spending a few days with the people we love most and making our wedding about really being together was something that was so exciting for us. The welcome party took place on the terrace of our hotel, overlooking the Arc de Triomphe, followed by an evening river cruise on the Seine, and finally, our ceremony and reception.
Squarespace Template Used: Avenue
What was most important for you when creating the site:
I wanted guests to have an idea of where each event would take place, shared some of our favorite hotels and restaurants, and offered a list of things to do in between events.
Don't get so caught up in the logistics that you forget to customize the site and have it be a reflection of you both! All our friends and family know how we met (Tinder), but I thought it would be fun to include that on our website.
What travel details do you recommend including?
A map with each event location tagged. Guests wanted to know what arrondissement to stay in, and it made things so much easier, since they could see where they would be going all weekend. A schedule of events will make it easier for guests to plan activities outside of the wedding, and as an added bonus, a list of hotels at varying price points, restaurants, and things to do for guests who might not be familiar with the destination.
What day-of details did you find most important to include?
I thought it would be helpful for our guests to have a place to go (online) before and during our wedding weekend. Considering the fact that I forgot to bring an invitation suite to our own wedding, I think it's safe to say no one will carry a few pieces of paper around all weekend. Friends asked a lot of questions about attire, so I would recommend including that as well.
Favorite feature you implemented:
I really love that Squarespace gives you the option to not only add a map, but also to geotag locations of events and hotels. It makes navigating that much easier for both you and your guests.
Did you password protect your site?
Yes.
Best piece of wedding planning advice:
Planning a destination wedding is one thing, but planning a destination wedding in another country opens up a whole other set of issues. I would highly recommend working with someone who will have access to venues and vendors that you otherwise might have trouble finding on your own. It is also very important to remember that things move a lot slower in Europe, so if that's something you're considering, note that it's likely most things will not come together until the very end.
One more tip! Think about having your wedding on an off day. We actually got married on a Monday, but we were on vacation so it didn't feel like a weekday, and it was easier to find a venue and vendors since so many were booked Saturday and closed Sunday.
This post was in partnership with Squarespace, but all of the opinions within are those of The Everygirl editorial board.