From brushing elbows with U.S. presidents to covering the Royal Wedding, CBS This Morning political producer Jenna Witt Gibson has experienced a lot of amazing things since graduating from Clemson University in 2008. But life for the 28-year-old is not and was not always so glamorous. Fresh out of college, the aspiring sports broadcaster got her foot in the door at Fox News as a Guest Greeter which meant working 70-hour weeks at $12 an hour sans benefits. But this did not deter Jenna. After a few years of working long days and taking on any assignment that came her way, a former colleague approached her about joining the launch of a new show, CBS This Morning, with seasoned anchors Charlie Rose and Gayle King. She accepted the offer.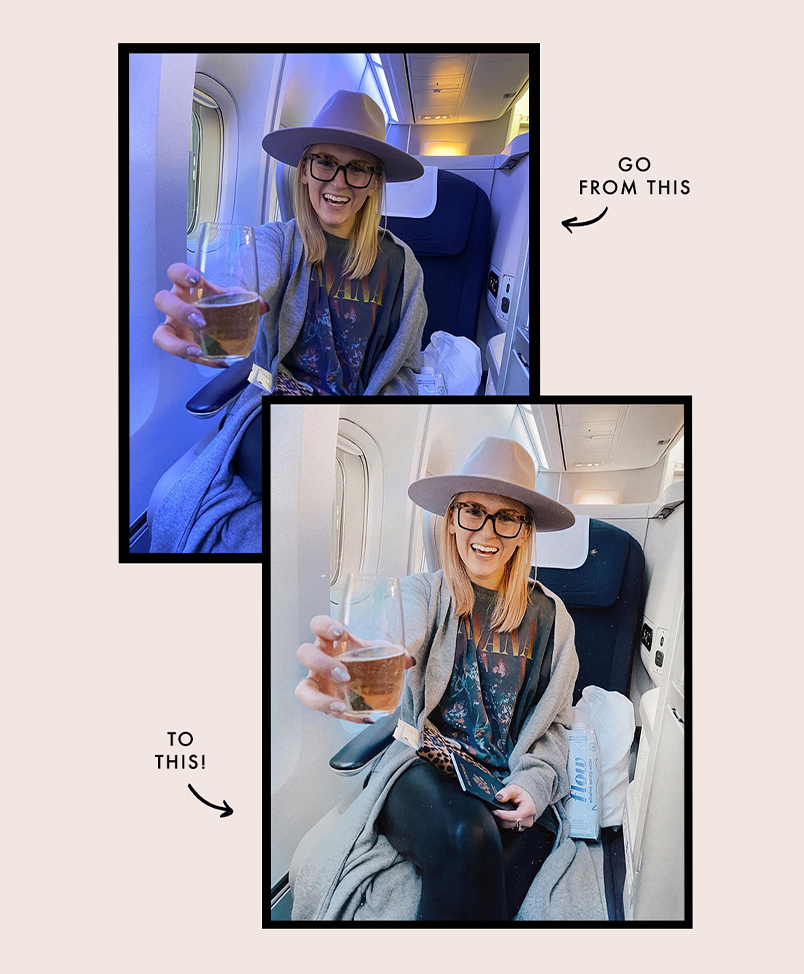 Want to style, shoot, and edit your photos perfectly every time?
We're sharing our secrets to photo editing in our all-new online course, Mastering Photo Editing On Your Phone. Enrollment closes on Thursday, so grab your spot now!
Having majored in Sports Management at Clemson University, Jenna had long dreamed of being a college football sideline announcer. She originally thought taking a job in cable news would be a stepping-stone on the path to fulfilling her dreams, but as we've come to learn, life and careers don't always go as planned. Now with more than 4000 contacts in her cell phone including numbers to dozens of Senators and Representatives, Condoleezza Rice, Colin Powell, and contacts at the White House, she ultimately realized the world of political producing was for her.
Full name: Jenna Witt Gibson
Age: 28
Current title/company: Political Producer, CBS This Morning
Educational background: Bachelor of Science in Parks, Recreation, and Tourism Management, Emphasis in Sports Management // Double Minor in Communication Studies and Business from Clemson University
What was your first job out of college and how did you land that position?
I was hired to be a Guest Greeter at Fox News Channel in DC. I began to put feelers out just before graduating to get a sense of what jobs were available and achievable for me. A sorority sister of mine worked at Fox and alerted me to the opening, so my mom drove up to DC with me for the interview. I actually thought it went horribly and there was no way I would get the position. I just knew I had wasted everyone's time, but luckily, I was wrong. I got a call soon after with the offer.
What were the most valuable things you learned as a Guest Greeter at Fox News? What advice do you have to current entry-level employees hoping to climb the ranks?
I will always be grateful for this first job because I learned a great deal quickly. I was immediately surrounded by elected officials, members of the administration, and folks of various backgrounds and expertise. I was the first and last person he/she encountered when entering or leaving the building, and a professional and hospitable environment was expected at all times. I had to be detail-oriented, able to multi-task, and up to speed on current events. Plus I was putting in about 70 hours a week in the office. Time management was key.
My advice is to be a sponge. No task is too small or too big for you. Be willing to work hard. Come in early and stay late when necessary. I'm still surprised at how many folks just starting out feel a sense of entitlement. Few people are willing to put the time and effort into succeeding, so if you're willing to work hard, you're a step ahead.
You studied sports management in school; what was it like hopping to a career in media and what caused the change of heart?
My dream growing up was to be a sideline announcer for college football, so I always had an interest in television and reporting. I minored in communications and interned for the local radio station in Clemson. I thought taking a job in cable news would merely be a stepping stone to a career in sports. But I realized that I enjoyed being part of the daily political conversation, and I loved producing. I worked with some really talented people who I respected and truly enjoyed being around and learning from. And after going through a presidential election while living in the nation's capital, I was really hooked. So here I am!
How did you land your current position?
As CBS This Morning was preparing to launch in 2012, I got a call from a former Fox coworker. He had been hired to run all of the news coming out of Washington for this great, new show and insisted that I be part of it. I wasn't exactly looking to change positions, but I had always trusted his judgment. So I met with him because I was intrigued. He kept reminding me of the great tradition of original reporting at CBS News and how this morning show was going to really be something special. Charlie Rose and Gayle King had signed on to anchor, and Chris Licht would be the executive producer. This show was going to bring the news back to morning television. I liked the idea of helping create something new and smart.
What was it like moving to a city where you knew no one?
I was as nervous about the move as I was about starting the job. I'm from Gaffney, SC, which is a small, one high school town. My teachers and doctors lived in my neighborhood, everyone knows everyone, and there's a certain level of comfort to that. I knew nothing about big city living!
But it turned out that a neighbor from my hometown was getting stationed with the Army in Alexandria, VA around the same time. He and his wife invited me to stay with them and help care for their two daughters. I was very fortunate because this allowed me to get my financial footing. Remember my first job paid $12 an hour with no benefits, so I will always be indebted to them for their kindness.
Tell us a bit about your current position. What do your day-to-day responsibilities look like?
As the political producer for CBS This Morning, my primary job is to develop and maintain relationships with political figures and elected officials/appointees.
I keep tabs on where folks are, upcoming issues or news items, and invite guests to appear on the show at opportune times. I work with current officials in the Obama administration, House and Senate members, governors, and policy wonks. I also have to stay in touch with thought-leaders like Condoleezza Rice, Colin Powell, Jeb Bush, etc. I have more than 4,000 contacts in my phone. A lot of people to keep up with!
There's really no "day-to-day" in news, which is one of the things I love most about it. We're constantly trying to break news, and we're often at the mercy of the news cycle. But I wear many hats from confirming news reports to pushing out new information we're hearing from sources to arranging interviews throughout the country.
How does your educational background and skill-set compliment the industry you're currently in? What qualities would you say are essential to do the job you do?
I grew up in a pretty gregarious environment. I was always involved in sports and activities from volleyball/softball/football to piano/little theater/student government, etc. All of this involvement shaped me to be well-rounded, team-oriented, able to talk with anyone, and it forced me to manage my time. My family always encouraged me to pursue my dreams and better myself. This job requires a lot of time, persistence, and patience. You have to maintain a balance in order to be successful.
What are the hours of a producer like? Are they really as crazy as movies make them seem?
The hours are tough. I'm never on a set schedule. There are times I start at 4am and may not leave the office until late. But that's not every day. It often depends on the news and when other folks reply to my questions or requests. I'm on call all the time, but I'm also fortunate that I can work from just about anywhere. I try to always make myself available but also keep a work-life balance.
You've dealt with a lot of big names throughout your career in D.C.–have you had any star-struck moments?
There's a certain novelty that never fades about being around a President of the United States–current or former. I met Will.I.Am during the conventions. I don't think I was as struck as I was confused. I couldn't figure out how to address him! So I was honest. Do I call you Will? Mr. I.Am? He was very cool about it and completely down to earth. We also had Robin Williams on the show recently. He's a huge name! And just as hilarious in real life as he is on the big screen.
Do you have any advice to women looking to go into production or other media-related careers?
It's a really fun industry. The best thing you can do is network. Meet everyone you can, and experience as much as you can. Take an unpaid internship or volunteer at events. Talk to everyone and ask questions. You never know how someone else may be able or willing to help you. The hardest part is getting your foot in the door. Once you're in, it's easier to relax and try to create further opportunities for yourself.
Best moment of your career so far?
Covering the Royal Wedding was a pretty amazing experience. It's an event that doesn't happen often, and the pomp and circumstance surrounding it is incredible. When I was little, I actually had a poster of Prince William on my wall. I still like following their story. What a fairytale!
How would you like to see your career grow? Where do you see yourself in 5 years?
I love covering stories and working with guests and talent. I hope to stay on a path where I can continue to do this and contribute ideas for the network. I used to envision myself in a big office with floor to ceiling windows. I certainly haven't ruled that out, but the most important thing to me is to be happy. Hopefully, I'll still be in a position where I enjoy working daily.
What advice would you give to your 23-year-old self?
I'd tell myself to stop worrying and to enjoy every day. We grow up fast. Don't be afraid to take risks. Life has a tendency to work out.