Confession: I have a secret fantasy of owning my own bed and breakfast one day. I know, it's a bit of a pipe dream, but it comes from my deep rooted love of playing hostess. In my book, everything from a Thursday night to a friend's engagement calls for a celebration, and I'm ALWAYS looking for ways to make each one a little more special or fun than the last. So it was no to surprise to anyone that when our partners at Kendall-Jackson offered to give us the lowdown on how to turn any upcoming celebration into a bonafide wine tasting, I was chomping at the bit to learn more.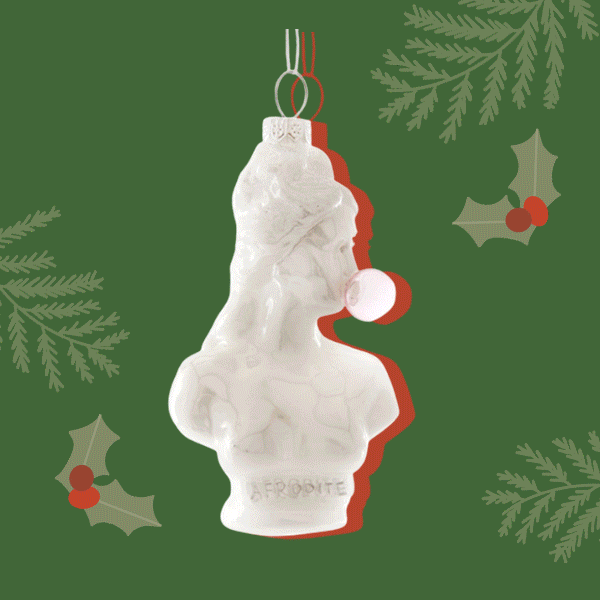 Whether you prefer your tree to be a masterpiece or a beautiful array of memories, there's something for everyone at Carlyle Avenue's ornament shop. Don't miss their expertly curated collection!
Today, we're sharing the exact blueprint for hosting a wine tasting, including exactly what to buy, how to serve it, and what to pair it with. Plus, we're giving you all the cheat sheets and printables you need along the way.
The Ground Rules
Glassware
One of the first inquiries I had for Emily Papach, a Master Sommelier with the Kendall-Jackson family winery, was what kind of glassware I would have to invest in to make this tasting legitimate. Her answer was music to my bank accounts ears: "If you are an avid wine consumer who is regularly buying and trying different types of wines, proper stemware can be a worthwhile investment. But for a casual cocktail party with friends, it's not necessary to spend money on pricey stemware. Basic glassware will work just fine!" HALLELU. $5 wine glasses for the win! Ideally, we recommend having two glasses per guest, so that they can taste two different wines side-by-side.
So what are the differences between wine glasses?
A white wine glass has more of a U shaped bowl than a red wine glass to preserve aroma and maintain a cooler temperature.
The choice of a red wine glass has a lot to do with diminishing the bitterness of tannin or the spiciness to deliver a smoother tasting wine. Because of this, red wines are best served in large wine glasses –Bordeaux and Burgundy glasses are the most common. The Bordeaux glass is taller than traditional red wine glasses, yet the bowl is not quite as large, designed perfectly for full bodied, heavier reds. Burgundy wine glasses are broad with a big bowl to build up aroma. The balloon-shaped glass is perfect for capturing the complex characteristics of a light or medium-bodied red wine.
Food Pairings
Choosing the "right" food pairings to go with my wine always feels a little overwhelming to me, and the Sommelier had a great rule of thumb: "An easy trick is to color code your food with your wine. As a general guide, lighter colored foods generally pair better with lighter white wines."
Serving Tips
Serving Order: Serve the wines in order from light and delicate, to dark and rich – similar to the way courses of a meal are served.  The general order is sparking, white, rosé, red, dessert
White wine: White wine should typically be served between 45-50 degrees Fahrenheit, which is about one hour in the refrigerator. When white wine is served too warm, it will lack acidity and structure, but if it's too cold, the aromas and flavors will be masked.
Red wine: While we typically think of red wine being served at room temperature, this rule was made when wine was still commonly served in drafty stone castles –not the norm for most of us! Emilyrecommends cooling your wine for 15-20 minutes in the refrigerator before serving to achieve the perfect temperature (50-65 degrees Fahrenheit). When red wine is served too warm, it can become overly alcoholic, but if too cold, the flavors will be dulled.
How Much Wine To Buy
A typical tasting serving is about half of a regular pour (or about 2-3 ounces). One bottle of wine will contain around 10 tasting servings, so for a group of 8-10, we recommend two bottles of each varietal.
Wine Tasting #1: GIRLS' NIGHT
The Event: Sometimes a Friday night is the only excuse you need to gather your girlfriends, pop some bottles and indulge in all of your favorite guilty snacks. Yes, I'm referring to the ever-so-classic Girls-Night-In. Gather your friends around your coffee table, and pick up some grocery store flowers and snacks (no need to slave over the stove!). Provide all of your guests with a wine tasting notes sheet to make their own comments about each wine, and make sure to have a little cheat sheet for yourself to talk them through each one.
Who to Invite: To keep the price moderate, I'd suggest keeping your crowd to 6 or less. This kind of event is perfect to break the ice with a few of your new coworkers or neighbors, since it gives just enough structure to your evening without monopolizing the conversation or not allowing you to get to know one another.
When to Plan: Easy breezy is the name of the game here, so feel free to start planning this just a week or two out. All of the snacks can be picked up from the grocery store (get your printable shopping list below!) and your coffee table is the only surface you need to entertain, so the prep is super minimal.
Girls' Night WINE LIST & TASTING NOTES
1. K-J Avant Chardonnay
Tasting Notes: "This refreshing Chardonnay erupts with captivating layers of pineapple, bright green apple and fresh Meyer lemon, juicy pear and wildflowers. It shows refreshing acidity and sleek mineral notes which are balanced by a rounded mid-palate and a long, pure fruit finish."
2. K-J Avant Red Blend
Tasting Notes: "This sultry wine is a mosaic of French varieties with a focus on Syrah, Cabernet Sauvignon and Malbec with a solid base of Merlot. Soft tannins with layers of plum, raspberry, strawberry, pomegranate and hints of vanilla and chocolate, combine to create a wine that is smooth and fruit forward."
3. Kendall-Jackson Grand Reserve Pinot Noir
Tasting Notes: "Lively berry pie notes are defined in wild strawberry and black cherry, with hints of vanilla. Earthy aromas finesse this bright wine with forest floor and dried leaf tones, leading to a velvety finish."
THE MENU:
For the menu, we kept things simple and fuss-free, and picked up white and dark chocolate covered pretzels, wasabi peas, popcorn, s'mores fixings, and a pre-made goat cheese flatbread from our local grocery store.
PAPER PRINT OUTS:
Tasting notes for guests
Tasting notes cheat sheet for the host
Girls Night In Shopping List 
Wine Tasting Party #2: MILESTONE BIRTHDAY
The Event: Remember when you were turning six and Chuck E. Cheese was the pinnacle of birthday parties? Well, that's kind of how a wine tasting is at 30. It's the perfect way to celebrate your friends big milestone with something a little more special than the traditional dinner and cake routine, while still being totally attainable.
Who to Invite: Friends and family of the birthday girl, and friends of friends of the birthday girl—the more the merrier!
When to Plan: More people = more wine = more food = more prep! Start planning a couple of months out to give guests 4-6 weeks notice. This allows you have plenty of time to get a head count and ensure you have the allotted amount of food, wine, and glassware for the whole crew.
Milestone Birthday WINE LIST & TASTING NOTES
Kendall-Jackson Vintners Reserve Chardonnay
Tasting Notes: "Beautifully integrated tropical flavors such as pineapple, mango and papaya, with citrus notes that explode in your mouth. These flavors delicately intertwine with aromas of vanilla and honey to create depth and balance throughout. A hint of toasted oak and butter rounds out the long, lingering finish."
Kendall-Jackson Vintners Reserve Sauvignon Blanc 
Tasting Notes: "Luscious honeysuckle, ripe pear and fresh lemongrass intertwine in this medium-bodied Sauvignon Blanc. Hints of fresh tropical grapefruit complement the subtle mineral quality while added layers of fig and honeysuckle round out this crisp, aromatic wine."
Kendall-Jackson Jackson Estate Anderson Valley Pinot Noir
Tasting Notes: "The wine shows its cool-climate origins in bright acidity, accenting the rich flavors of blueberries, black cherries, cola and dusty spices. Firm minerality grounds the wine. The tannins are powerful, yet with silkiness on the finish, while oak barrel aging brings a smoky, sandalwood note. Beautiful to drink now on release, this Pinot will age well over the next six-plus years easily."
Kendall-Jackson Jackson Estate Alexander Valley Cabernet Sauvignon 
Tasting Notes: "This Cabernet shows mountain intensity in its rich blackberry, black currant and cassis flavors. It's bone dry, with thick but refined long tannins, and brightened by a fine burst of fruit and acidity. Blended with a little Merlot, Malbec, Cabernet Franc and Petit Verdot for complexity, it drinks beautifully now, and will age for a decade or longer."
Kendall-Jackson Grand Reserve Cabernet Sauvignon
Tasting Notes:  "This Cabernet has distinct flavors of blackberry, blueberry, plus both red and black currants with enticing fragrances of mocha and nutmeg. Subtle notes of chocolate and toasty vanillins add to the richness and length of this bold Cab, and are accompanied by fine grained tannins on a lengthy finish."
THE MENU
When serving food to bigger groups of people, keep all of the food-related items served at room temperature to avoid running back and forth to an oven or potentially burning something (after all, this is about WINE). For the milestone birthday menu, we went with a decadent charcuterie board and a few additional hors d'oeuvre that took only a few minutes to assemble.
Charcuterie Board Fixings:
Meats: Spicy Borsellino Salami, Crespone Salami
Cheeses: Blue Cheese, Aged Pepper White Cheddar Cheese, Swiss Cheese
Fruits: Grape varieties, Dried Apricots
Other: Olive Oil Cracker Sticks, Cornichons (pickles), Marcona Almonds, Walnuts
Garnishes: Rosemary and Sage
Additional Pairings:
– Prosciutto, Date and Goat Cheese Crostini with Rosemary Garnish
– Salami, White Cheddar and PepperJack Cheeses, Cherry Tomatoes and Olive Kabobs
– Spinach-Arugula Salad with Crumbled Goat Cheese, Cranberries, Walnuts and a Sweet Honey Vinaigrette
– Red Velvet Cupcakes with Cream Cheese Icing, topped with a Vanilla Bean Macaroon (feel free to order from a local bakery!)
PAPER PRINT OUTS
Tasting Notes for Guests
Tasting Notes Cheat Sheet for the Host
Charcuterie Board Shopping List
Wine Tasting Party #3: BRIDAL SHOWER
The Event: The bridal shower is a perfect excuse to get a little girly with your best friends and indulge in some wine tasting, gifts, and mountains of desserts, without feeling the least bit gluttonous. This is a CELEBRATION, people! Depending on the guest list, you may want to consider reserving a room at a private venue or asking a friend if you can host it in their larger home for a little extra space.
Who to Invite:  As a general rule, everyone who is invited to the shower should also be invited to the wedding. Typically guests will include bridesmaids and other close friends or family.
When to Plan: It's best to start planning 2-3 months in advance, since you'll want to send out invites 6-8 weeks before the event. This allows yourself plenty of time to make sure you have enough seating, dishware, etc. and to give any out-of-town guests ample notice!
Bridal Shower WINE LIST & TASTING NOTES 
1. Kendall-Jackson Vintner's Reserve Riesling
Tasting Notes: "Deliciously crisp with vibrant fruit aromas and subtle spice notes. Layers of apricot, peach and Anjou pear intermingle with bursts of aromatic jasmine delivering a delightful finish."
2. K-J Avant Sauvignon Blanc
Tasting Notes: "This wine is light bodied with distinguished flavors of vibrant lime, tangerine and passion fruit. Pairs exceptionally well with a wide variety of dishes, great times and good friends."
3. Kendall-Jackson Vintner's Reserve Chardonnay
Tasting Notes: "Beautifully integrated tropical flavors such as pineapple, mango and papaya, with citrus notes that explode in your mouth. These flavors delicately intertwine with aromas of vanilla and honey to create depth and balance throughout. A hint of toasted oak and butter rounds out the long, lingering finish."
4. Kendall-Jackson Vintner's Reserve Rosé
Tasting Notes: A gorgeous hue of pale pink, jumps out of the glass Aromas with crisp grapefruit, strawberry, and white floral notes. Aromas of fresh cut watermelon, hibiscus, and apricot.
THE MENU:
For the bridal shower, we kept the menu all about desserts because let's face it: that's the best part. A handful of your favorite sweet treats instead of a full course meal can help keep costs down, and it's festive and fun to boot. We chose a frosted waffle tower, buttercream frosted cake, macarons and mini apple pies, but feel free to customize to the brides favorite desserts.
PAPER PRINT-OUTS:
Tasting Notes for the Guests
Tasting Notes Cheat Sheet for the Host
Placecards for Bridal Party and Guests
BRIDAL SHOWER CREDITS: food / floral design / venue / calligraphy / napkins / candlesticks / vintage ice buckets / vintage dishware
Have you ever thrown or attended a wine tasting? Tell us about it in the comments below!
This post is sponsored by Kendall-Jackson, but all of the opinions within are those of The Everygirl editorial board.