Designing the perfect drink is an art, and Revae Schneider is the artist. For this 28-year-old mixologist, a girl's cocktail of choice deserves just as much attention as her cocktail dress. That's the idea behind Femme Du Coupe, her bar-styling company known for custom drink concoctions and beautiful bars for both homeowners and professionals.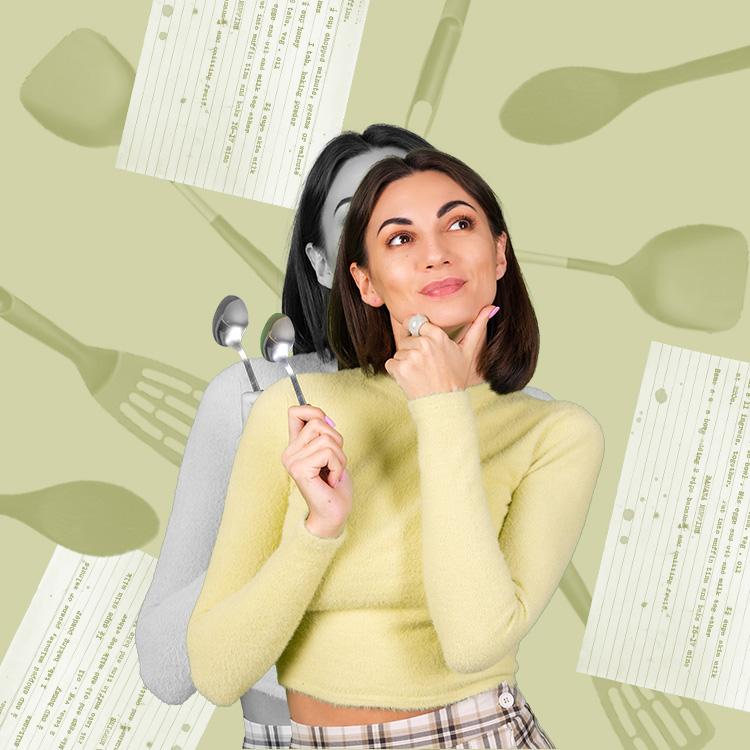 high in protein, good for gut health, and anti-inflammatory? yes, please!
Before she was mixing drinks in Chicago, Revae went from the restaurant industry to Marc Jacobs to the world of bartending. She slowly began to learn more about alcohol, enrolling in a basic class, traveling with an advanced academy, entering cocktail competitions, and finally crafting her very own business plan. In 2011, the blonde beauty created boozy and brilliant Femme Du Coupe.
Through interactive workshops, Revae's company focuses on equipping clients with bartending skills and an increased knowledge of spirits. Femme Du Coupe also provides styling, consulting, corporate team building, catering, and anything else that has to do with the business of libations. In fact, she was the genius behind the drinks at our BHLDN event!
Today, the girl with her signature ruby red lips shares how she found her place behind the bar and the keys to "unintentionally" becoming an esteemed entrepreneur. Sit down, pour yourself a drink (try out her recipe below!), and read all about Revae and her liquescent couture.
Drink Recipe: AVIATION
1.5 Bombay sapphire gin
.75 lemon
.5 simple syrup
.25 luxardo maraschino liqueur
Glass wash rothman and winter creme de violette
Full name: Revae Patricia Schneider
Age: 28
Year you started Femme Du Coupe: 2011
Educational background: School of life
What was your first job out of college and how long were you at that position?
I only went to college for a few months and found it really wasn't for me. I was a little too free spirited, and my creativity and attention span didn't care to have me in a classroom for hours at a time. My first job was as a live-in nanny, and I was with the family for about a year and a half.
Before starting Femme Du Coupe, your background was in fashion and personal styling. How did you make the transition to bar styling and cocktail crafting? How did you get the inspiration to start such a unique business?
In Miami, I worked at the Marc Jacobs Collection Boutique at Bal Harbour. We had a celebrity clientele, including Lil Wayne, Alex Rodriguez, Katie Lee-Joel, Eva Longoria and more, but I'd have to say Lil Wayne was my favorite by far, one of the most polite guys I've met. The styling I did was on my own—I typically worked with agencies while I was building my book and then started to get published for my editorial styling about a year after I started. (Now I get to style cocktails, which is just as much fun, and getting tipsy with my cocktails versus getting lip from a tipsy model has its perks.) I was living in Miami and got laid off in 2008 from my full time job when the economy started to go under, and my editorial styling wasn't quite covering the bills. After working for Marc Jacobs, not many other jobs could compare. I came to Chicago to help a family member out, and what was supposed to be two weeks is now almost three years.
Prior to moving to Miami I had worked in the restaurant industry in Indianapolis, so I sent a message on Facebook to Bridget Albert, the regional mixologist for Southern Wine and Spirits, and asked her if she could give me some information about the restaurant industry here in Chicago and where I could get my alcohol and wine knowledge up to speed. I never had the guts to say I really wanted to find a sales job, but she invited me to lunch and I ended up meeting her and her best friend, who was the mixologist for Bacardi. They got me involved with the United States Bartenders Guild, and then I took Bridget's first class, which was about the basics of spirits, while I was working at a bar in sports bar in River North.
I then took her advanced academy, where we got to travel to Mexico to see tequila distilleries, got to see Makers Mark in Kentucky, studied at Le Cordon Bleu, and visited a garden in Ohio. This trip totally changed my life—it was the first time I had to come up with a cocktail that was totally original and had that "Ah ha" moment.
After that, I started my first craft bartending job at Gilt Bar, where I really got an amazing handle on classic cocktails and won my first cocktail competition. I next had the opportunity to help set up the beverage program for Union Sushi + Barbeque Bar with two other guys, and I jumped at the chance. I mainly worked at UpBar and did the cocktails up there, but at one point, a guy I had gone on a few dates with and who had just moved into a new condo said to me, "You always make me such fantastic drinks, you should come shop for my bar and help me set it up." The light went off. I said, "That's so brilliant, why haven't I ever thought of that? I could totally turn that into a business. There are plenty of people who curate wine, but why not someone to help with the hard stuff too and show them how to make cocktails?" His response was, "Well, you probably wouldn't have them come back more than once, so I doubt you could really make it into a business." Obviously, we didn't see each other too much longer after that.
My thought behind every home bar is that it should be thought of no differently than a wardrobe. I treat it no differently than when I was working in a client's closet—I assess what the client has, what the client needs, and what I can make work in her favor. Then, I make that into my client's favorite cocktail, which should be just as essential as her favorite cocktail dress. Every girl knows when you have your favorite dress on and that sexy pair of heels that you're more confident, happier, and maybe a little bit bolder than you would be on an everyday basis. Your favorite cocktail should evoke those same emotions and that same gut feeling. You can't always share your little black dress with your girlfriends, but anyone can try on your favorite cocktail for size!
Tell us a little about the process of starting Femme Du Coupe. How did you decide how to price your services? What first steps did you take to make your dream a reality after deciding to move forward with the business? 
Femme du Coupe has a few different services, but I like to say we handle "All things boozy." It was a little harder at first to gauge what was reasonable and fair, since there aren't many people out there for me to compare myself to, but after talking to colleagues and after a few months of working it back and forth, we discovered a happy medium.
Mixology classes or mixology socials, as I like to call them, are what we do most often, it's for the Everygirl who wants to know how to make a drink at home without having to go to bartender school. They're really social, and you meet really fun people at our classes. I'd be willing to bet at some point that I'll find a couple that met at one of my classes. It's great for first dates too—you drink, it's interactive, and if the guy sucks, there are bunch of other people around to minimize that stress. Since we typically do these for large groups, it tends to be easier to charge per person for everyone involved. Classes start at $40 per person, if it's a class we hold for everyone. Private classes are just a touch more, and they are all-inclusive.
We also offer mixology catering, and we either provide a seasonal menu or the ability to have a few custom cocktails designed especially for you. I am designing a lot of signature cocktails for weddings in the upcoming months, as well as staffing the events. The cocktails are designed for a flat fee, and staffing the events is hourly.
How did you overcome the financial hurdle of starting your own business? How long did it take you to acquire steady clientele? 
My business was started on every penny of my savings, some blood, some sweat, and a lot of tears, but everything has been done in cash, which is great but stressful at times. Since I didn't start with a clientele, eight months in, it's still in a development phase. Every month is different and brings new and exciting people into our realm.
How have you handled marketing for Femme Du Coupe since transitioning careers? 
I have tried to be very strategic in the branding and marketing. Other than making a fabulous drink, it's probably what I'm best at. There is a story behind almost every detail. The name Femme du Coupe means "Ladies Cup," and the Coupe glass is traditionally styled after Marie Antoinette's breast. It's super cheeky, a bit provocative, sexy, and feminine all at the same time. Our primary color palette is made up of nude, pink, and gold, with a secondary palette of blues, copper, and gold. I try to always wear red lipstick, not only as a signature but as a throwback to those amazing women of the '20's, and you'll almost always find me in a dress at a Femme du Coupe event. So from that all of that the marketing stems, from the vintage pictures on the blog to a wonderful classic cocktail in a totally classic coupe, it all works together.
When first starting out, did you ever offer your services for free? Would you recommend that others offer their products or services for free to get their name out there in the beginning? 
Yes, I have given my services on a complementary basis, but until about six months in, I didn't have a strategy behind it. If you're going into business, yes, don't shy away from working on something for free. There are times when $100 seems like a million, especially when you're just starting out, but if it fits your brand, grab the ramen noodles and find a way to do it. Make sure you get a lead list from the event and follow up. Those leads have had a first-hand look at your business, and in contrast to pitching over the phone, these can be some of the best leads you can get. Be smart about where you place yourself, and set a budget for this when planning your initial budget.
Tell us about a work week in the life of Revae Schneider. What are your daily responsibilities as owner of Femme Du Coupe? 
Depending on the day, emails and conference calls take up a large portion of my day. If I have an event, that means anywhere from two to four hours of packing and prep work, and then an event is usually anywhere from 2 to 8 hours. Trying to keep up with social media, developing new recipes without drinking too much, and cleaning up seem to be the other major parts of my day.
What three personal qualities would you say are essential to becoming a successful entrepreneur? 
That's an interesting question, but I'd say that because I unintentionally became an entrepreneur, the qualities I see in myself that really drive me are:
Truly loving every single part about what you do, because there are days that are going to be amazing and days that are really not going to be amazing when you work for yourself. Make sure it's something you're so passionate about that you can't see yourself doing anything else.
You know you have a different approach to something if you can successfully express that in a way that reaches people's way of thinking, as opposed to just trying to express that you want to make a sale. Therein lies the difference.
Your day rarely starts when you want it to, and it never ends at 5pm. I am bound by my clients and making them happy, even if that means staying up until 2am to finish a proposal or come up with drinks. I do what I have to do to keep the lights on and myself in business, and if my personal life has to suffer, so be it.
In what ways do you still hope to see your career evolve? 
I am in the process of developing a product line which is a lot of fun but also a ton of work—more thinking and time in front of a computer screen than I care to tell. This isn't something I can do just in cash, so navigating investments and surrounding myself with quality people has been key. I hope that I can continue to inspire people to try to make cocktails at home and spend a night in with friends and family, to enjoy something they made rather than just popped open.
Is there anything you wish you had known about entrepreneurship when you first started out? 
I never started this thinking that entrepreneur would be added to my title, but it happened. I wish I had been more aware of how much the little things cost. One call to a lawyer will run you $1000. That was a tough one to swallow. I wish my business plan was really a business plan and not just goals which I thought were a business plan. I wish someone had said to me "You're going to cry, it's going to be really hard, but the reward is ten times over. I swear, it's really worth it." Last but not least, no one understands your business like you do. It's hard to find anyone that will appreciate it the same way you can, but if you find someone that does, especially in the beginning, hold on to them!
What is the single best piece of advice you have ever received? 
Getting press or a write up does not necessarily equal money. It offers a base, but it will fade. Have a smart sales and marketing strategy so they can't forget about you.
Best moment of your career so far?
Any time I hear a someone at my class say, "Man, making cocktails isn't nearly as hard as it looks. You make this really simple." It totally melts my heart. And getting to go to New York to film for Cosmo and Elle wasn't bad either.
What advice would you give your 23-year-old self?
Take a deep breath. All the things you wanted so badly that didn't happen didn't happen for a reason. Stop worrying. It will come.