Working in television, Rolake Bamgbose has learned how to keep a level head. "In news, making deadlines is imperative—if you miss a deadline, that means you're not making air, and that is never an option. Ever." Researching stories, organizing and scheduling shoots, dealing with budgets, and writing scripts (on a deadline, no less) are all in a day's work for Bamgbose, who got her start ordering food for the Nightline crew and transcribing interviews.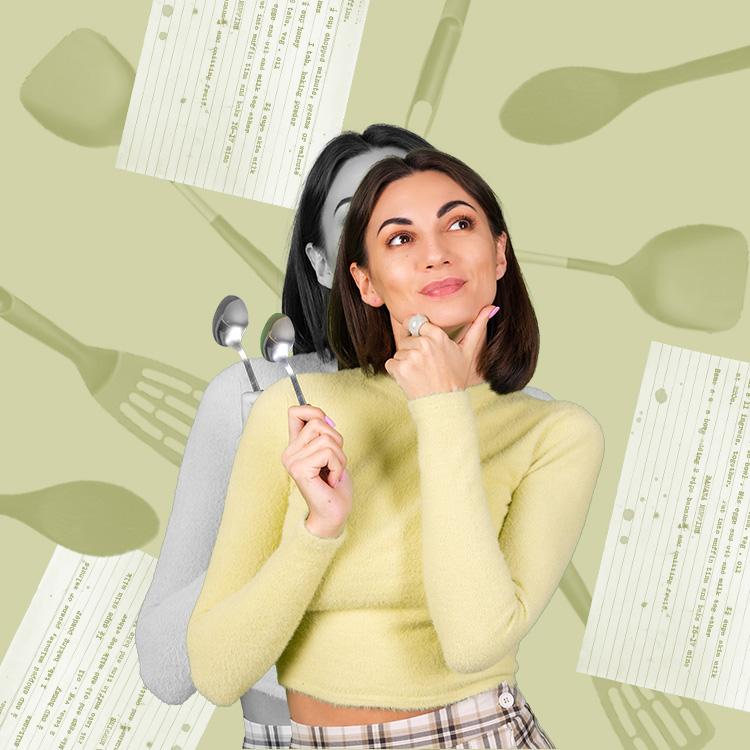 high in protein, good for gut health, and anti-inflammatory? yes, please!
She's come a long way since then; she has since gotten to work as an assignment editor on the capture of Osama bin Laden and in January 2010 got to travel to Haiti to work on post-earthquake coverage. Read on to find out if the hours of producers are really as crazy as they seem (spoiler alert: they are) and her advice for battling the journalism boys' club.
Full Name: Rolake Bamgbose
Current Title/Company: Television Producer / NBC Universal – Peacock Productions
Educational Background: Emory University, 2004 (Atlanta, GA) B.A., Sociology; Howard University, 2008 (Washington, DC) M.A., Mass Communications & Media Studies
What was your first job out of school, and how did you land it?
I was an Assistant Teacher at a very small private school in Encino, CA. At the time, I thought I wanted to be a teacher. I worked as a nanny for three years while in college and also consistently participated in community outreach programs direct towards improving education in low income communities. I knew I loved kids, so I thought the next logical step would be to go into teaching. After getting rejected from Teach for America, City Year, and several private schools in the Atlanta area, I got lucky. My little brother had just graduated from his elementary school, where I had developed a great rapport with teachers and students alike picking up my brother and at various school events. I had a meeting with the headmaster while I was home in LA for a visit and the rest was history. I remained in Atlanta for the summer after graduation, working at the National Black Arts Festival. It was here my love for creativity and the arts grew. At the end of the summer I returned to Los Angeles and began work at the school while living at home.
You first received your Bachelor's degree in Sociology before continuing on for your Masters in Mass Communication and Media Studies. How did your career goals shift through undergraduate and graduate school? What first attracted you to media and journalism?
I was one of those students who started undergrad with absolutely no clue what I wanted to do in my life. In high school I thought it would be cool to do something in entertainment, but I had never explored it. Most of my high school was dominated by my love for basketball, which I played through my freshman year at Emory. In college, most of my extracurricular activities gravitated towards event planning, but it never clicked that perhaps I should be pursuing a career in a related field. I took one journalism class in undergrad—it was challenging and kicked by butt majorly. The class was all about print media, which didn't resonate with me, so I lost interest in journalism for a while. I think that is when I started dabbling in the idea of teaching.
After one school year working with dedicated teachers and wonderful students, I knew I did not have the passion to teach. I loved the kids but hated the other aspects of the work, like dealing with curriculums and parents, and the production of school plays did not interest me at all. I decided not to continue once the year ended. That summer I landed a job as a Production Assistant/Runner with the ESPY awards, where one of my longtime friends was working. I was a glorified errand girl for two months and loved every aspect of it because I was part of a production I admired. That was the first time I realized that television was all about planning and executing and fixing things that go wrong, which is what I had done often as a part of various student run organizations in college. The ESPY stint was only two months, and after that, I accepted a position at the International Myeloma Foundation as a Development Assistant. I worked tirelessly with a talented young boss who was not only a kindred spirit, but also demonstrated one of the strongest, most disciplined work ethics I've seen. I was inspired by the love she had for what she was doing, and she supported me that fall when I decided to apply to graduate school. By that time, I knew that whatever I ended up doing, I wanted to make a difference and work in a field where I'd constantly be learning and also educating others around me. I felt that television production would be the perfect fit, and news seemed like a perfect entry and a great way to build up my research and reporting skills.
Once I arrived at Howard, everything about it felt right. For one, it was the first time I'd ever felt excited about learning and passionate about the topics we discussed in class. There were so many issues that I had experienced while growing up, especially about race and class and the role media plays in shaping the discussions around those subject matters. I pursued the senior producer at Nightline relentlessly until he had time to meet with me. I think it took almost my entire first semester to get in there, but it was well worth it. I had so many firsts at the Nightline office in Washington. I learned how to transcribe and log tape, saw the editing process from start to finish, tagged along on interviews, and hijacked strangers on the street to talk to me. I was at Nightline the day the Virginia Tech shooting happened. I remember being shocked by the intensity in the newsroom and impressed when I saw the finished piece hours later that night. I was in awe and truly amazed by the work everyone had done that day. I knew then that I definitely wanted to be a producer one day.
You interned with ABC News Nightline and NBC4 Sports before beginning your first full-time job. What were the most valuable things you learned as an intern? What advice do you have to current interns hoping to set themselves apart from the rest of the job applicants out there?
The most important thing to do as an intern is say "yes". No job is too small or too mundane. Pay attention to tiny details. I was excited about the smallest projects, like ordering and organizing food for Nightline crew and producers on Friday nights or cataloguing the numerous comments at the end of the most looked at articles or spending days on end transcribing the longest interview ever about a topic I had the slightest interest in. At NBC4, my experience was much different because I was in the sports department with the local news. They had less money and less resources, which meant more work. I never thought I'd be an expert on picking the best moments from a hockey or baseball game, but I learned really quick that I would have to be if I ever wanted to go out into the field. What would be the point in sending me if I had no clue what was going on? I am a basketball girl at heart, but I quickly became a jack of all trades at NBC4 sports. I came to see that once people saw that I was pleasant, eager, and excited about everything, they wanted to ask me to do more things. Once they saw I was efficient at every task, I started gaining more responsibility. It was this reputation that made it easy to land my first real television news job as a Desk Assistant at ABC News.
Tell us about your current position. What type of projects do you work on and what are your daily responsibilities?
In my current position, I work on a variety of television programming, ranging from documentaries to reality clip shows to news specials on breaking current events and top news stories. My daily responsibilities depend on what project I am on. They typically include researching new topics or stories, identifying appropriate individuals to interview for a program, and organizing and scheduling shoots, which includes coordinating crew booking, securing locations for interviews and shoots, dealing with budgets, writing scripts, and working with our legal and standards team to license necessary video and images to support our stories.
What kind of hours do you typically keep?
One of the greatest differences between working in breaking news and long form television is the hours are much better. Still crazy, but better. I generally am in the office during the week, on average about 9-10 hour days, but weekends are not off limits. I have the flexibility to write from home or work from home if I am not heavy into an edit and the work allows for it, but that doesn't mean shorter hours. This varies when I need to travel for a shoot or when I am on overlapping projects. When that happens you can often find me in the office until 10 or 11 at night, sometimes later. We often produce "crashes" for networks when something major happens in the news circuit, i.e. the Boston Marathon bombing or the recent floods that devastated the Colorado area. We usually receive these requests for hour long specials to be completed within a few days of the assignment. When this happens, the team working on it will typically be here until about 1am or 2am each day to get everything done in time for air. When we "crash", we are delivering to the client a finished show that would normally take several weeks to put together in a matter of days.
Prior to working at Peacock Productions, you worked in live, breaking news for ABC. Tell us how that position differed from your current one. What character traits did you find essential to being able to work in that environment?
A lot of the same skills are required in both areas. By the time I left ABC, I had worked three different positions—I began as a Desk Assistant (DA), moved into the Off-Air/Field Producer role for the national Assignment Desk, and for the last year worked as an Assignment Editor. Each of those roles required extreme attention to detail, especially editorial accuracy. Each requires the ability to stay calm and organized in high stress situations, and the wherewithal to come up with a plan B, C, or D if something is not working out, which is all the time. In news, making deadlines is imperative—if you miss a deadline, that means you're not making air, and that is never an option. Ever.
This field is bound to offer up some high stress situations. What's your advice to dealing with work chaos calmly and effectively?
I find that staying calm, and remaining respectful and polite to the people I am working with is key. Our business gets a bad rap for being riddled with egos and pushy people. This is definitely true, but personally I cannot imagine operating that way. There is a difference between being thorough and assertive and being overbearing and condescending. When I am feeling stressed, I make sure to have a list of what needs to happen that day, so that I don't forget to shoot any imperative elements or relay any information that may be incorrect. The worst possible scenario is to return from a shoot in the field and realize you didn't get everything you need to execute the vision of your piece. When I am frazzled I make mistakes, which means more fires to put out, which ultimately only causes more stress. I often find myself counting to ten or having a conversation with myself where I say, "It's just TV—I am not a brain surgeon with someone's life on the table in front of me." It helps me to put things in perspective, which allows me to move forward and do my job effectively. I also tell myself that I love the field I am in, which is a blessing. That usually helps me power through the tough times.
As the overnight assignment editor at ABC, you were the go-to person for the entire network, and provided editorial assistance to the production staff at Good Morning America. Tell us more about your time in that role. What were the biggest challenges and rewards?
My biggest challenge was my hours. I mainly worked the overnight shift, which meant leaving my apt at 11pm to get to ride the subway, making it to work by 12am, and leaving the next morning around 9:30am after the morning meeting. Of course there were also weeks where my schedule was all over the place—evening shift, daytime shift, overnight shift. It was all dependent on what the needs were for the assignment desk at the time. I could never adjust to the schedule, and I was always exhausted. I felt like I had sold my social life, and when I did see my friends, I was exhausted and probably no fun at all. Workwise, the pressure of working overnight can be overwhelming at times. You have less people to work with and less support because the number of people overnight is about ¼ of who is there during the day. The constant fear of missing a major story or not covering enough is on your mind, and there are several moving parts to keep track of—correspondent schedules, crew and satellite truck availability, coordinating incoming footage, and preparing a comprehensive editorial note of all things news that occurs overnight. I have to say, assignment editors are some of the hardest working people in journalism. Every division of the network looks to the assignment desk for information, and the job is stressful and often thankless. For me, I stayed motivated by small victories like finding stories that the morning shows loved or being the first to find about major news stories.
The most rewarding feeling occurs when a huge story breaks; you work tirelessly for hours and hours with no sleep. A few hours later, you watch a beautifully researched and produced story on the evening news where you know your role was imperative to the production, and a sense of pride is definitely ignited. When Osama bin Laden was captured, I was on the assignment desk alone—just me and my desk assistant. My shift began at 4pm that day. I first got the news about an unplanned last minute White House presser around 9p, left work the next morning at 8am, and then returned at noon after a short nap. I will never forget hearing, "the president is going to speak in 30 minutes." That is how much time I had to contact several news division executives and our key anchors/correspondents and work with our logistics to get ready for an immediate special report. It was a Sunday, so the office was scarce when the news first began to break. Working under that kind of pressure for hours on end and on a story with so much historical importance is truly a professional high. You don't think about anything else except exactly what needs to done in each moment and what your role is to help it happen. Being in the newsroom during those moments is like being part of a well-oiled engine going at 100mph, fueled by adrenaline and the desire to do great work.
In my current role, since transitioning to long form production, the biggest reward is watching a finished product you are proud of with your colleagues, after several months of hard work. Earlier this year one of my projects was screened at the Newseum in Washington, DC, as well as the Paley Center for Media here in New York. It was so wonderful to see how our work affected everyone in the audience. There was a panel afterwards so we had the opportunity to hear the questions and reactions inspired by the film, which was amazing. We rarely get the chance to do this because most of our work appears on television, and most people watch T.V. at home!
Both of your parents are Nigerian immigrants. In what way, if any, did your upbringing influence your career?
My family history is very academic—my father was a psychologist who loved African art and history and my mother holds a law degree, an MBA, is a banker, and loves literature. My extended family is full of physicians. I am the first one in my family to ever pursue something like television or a career in the arts or media. As far as career choice, I became interested in media on my own. Despite those differences, I grew up in a very supportive household. My parents strongly supported me figuring out what I wanted to do with my life, as long as I was working hard towards a goal that would allow me to support myself and become successful in my own right.
What are some important things young women should know before pursuing a career in production or journalism?
First and most important—never take no for an answer when you are pursuing something. Never feel too intimidated to go after what you want or to continue going after your interests or something you think is important just because the "right" person isn't into it. I remember one particularly scary interview I had for an entry level news program, just before getting the job at ABC. It was in a large room with about 12-15 senior and executive producers at a major news network. There came a point in the interview where I was asked, in my opinion, what the top five stories in the current news cycle were. I was prepared for this question and spoke passionately about what I believed. As I was talking I could see they were not as excited about my stories as I was. The more I realized it, the more I became nervous and shrank into myself, and everything seemed to unravel from there. It was so sad, as this was the third and final round of a process that began with over hundreds of applicants. That was the first and only interview I have ever completely bombed. I knew it was over as it was happening, which was the worst feeling in the world. Looking back, I wish I had been more confident about my ideas and worked harder to make them agree these issues were important. Second, every young woman should know the world of journalism/production can be a misogynistic place, and you'll find many instances where people are condensing and extremely rude. One of my colleagues recently told me about arriving at a shoot she was producing for a political documentary where the contact she was meeting did not believe she was the producer. This happens all the time, and I cannot stress how important it is not to be deterred by such instances. I am especially aware of this as a woman of color, as variations of this have happened to me on several occasions. It only makes me want to work harder and prove people wrong. My objective is always to let my work speak for itself and present myself with confidence.
You're originally from Los Angeles – what's it like to be a resident of NYC now? What do you wish someone had told you when you first moved to the city?
I think living in DC before I moved here help get me closer to a New York mindset. I grew accustomed to public transportation, urban city life, and east coast weather. I love being a resident of NYC. I still feel the same way about this city I did when I first visited at 14—the energy alive in this city is like no other. As soon as you step out of the door you are smacked in the face with different languages, cultures, and scenery. You are forced to interact with people. On some days this can be quite annoying, but on most days I feel part of this great place where everyone alike is working tirelessly to achieve their dreams, on every level. It definitely takes some adjustment though, and I wish someone had prepared me for how hard some days are here. I always joke about how you could have a bad day in LA and a bad day in NYC. But on a bad day in NYC you may feel like your life is over because there are so many factors out of your control that you are forced to navigate.
What is a typical day like for you?
For me, a typical day is waking up, sometimes walking to the gym before work, taking the subway from Brooklyn to midtown and working at my office. After that I'm usually working late, having dinner or drinks with friends or attending an event, whether it's an art opening, film screening or panel discussion of some sort.
Best moment of your career so far?
The best moment of my career so far was traveling to Haiti following the earthquake that hit the country in January 2010. I went there alone, and I worked with a stringer shooting elements for a follow-up piece one month later. It was an amazing experience and one of the most important stories I've worked on. As a first generation Nigerian-American, I was sensitive to the stories coming out of a third world country being told here in America; I felt proud to be there and took the assignment very seriously. As I continue my professional growth, I look forward to working on projects that are truly important to me and tell the stories of those who are often marginalized by mainstream media.
What advice would you give to your 23-year-old self?
I wish my 23-year-old-self would have taken bigger career risks. I would have started my career in production a lot sooner if I wasn't married to the idea of health insurance, getting a regular paycheck, and "being stable." Right out of college is a great time to really challenge yourself and sacrifice the luxuries you think you should have so you can focus more on what will make you happy and fulfilled.
Morning or Night? NIGHT!
Life Motto? "I've learned that people will forget what you said, people will forget what you did, but people will never forget how you made them feel." – Maya Angelou
Vacation you're dying to take?
I am dying to go to Cuba. Brazil is also very high on the list.
If you could have lunch with any woman, who would it be and what would you order?
I would love to have lunch with Soledad O'Brien. She is a trailblazer who worked her way through the ranks of the world of journalism. She brought an awareness of culture, class and race in America to the forefront of mainstream media in a way few women have been able to do. She is now the CEO of her own company, and someone I truly admire. I would be torn between a burger (my favorite guilty pleasure) or a more sophisticated, less messy choice, like a salad. I'd probably go with the burger though. She seems so down to earth; in my imagination she'd probably order one with me!
Aidan or Big?
Aidan. Although I have to admit, I've made some "Big" mistakes. But what woman in her thirties hasn't?