As a designer, photographer, and animal-loving blogger, 26-year-old Ohio native Sarah Dickerson is an incredibly skilled multi-tasker. She runs her own design and photography business and blog, Chic Sprinkles, contributes regularly to the online dog-owner's guide, Pretty Fluffy, and works full-time as a User Experience Designer for a large national bank.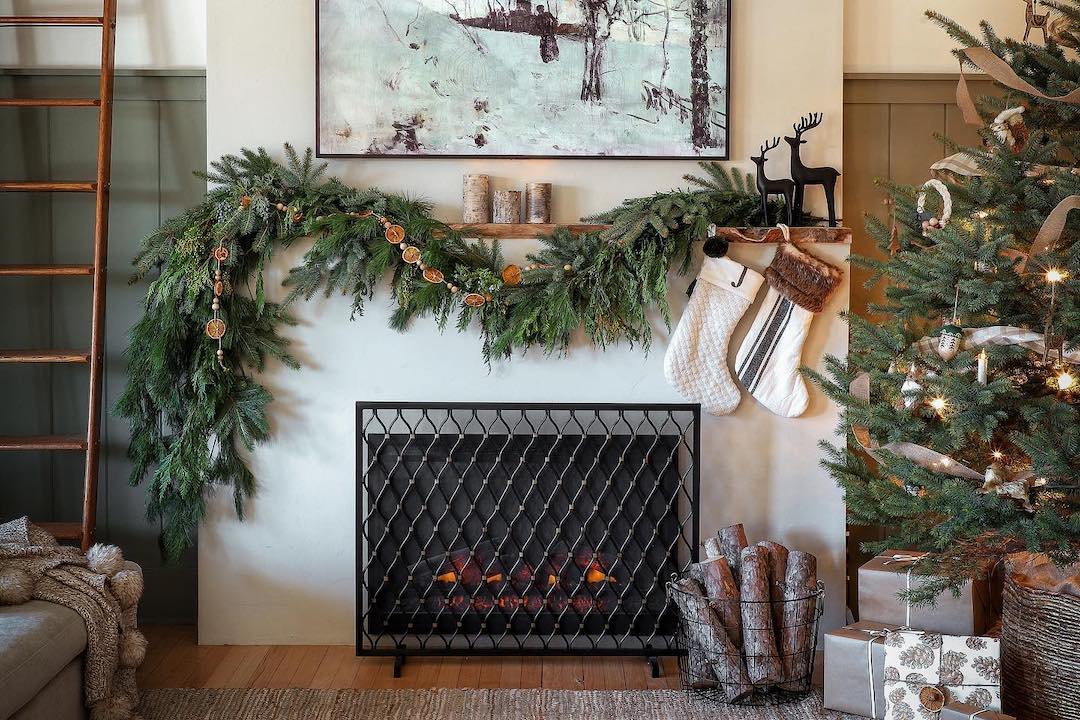 there's still time to deck your halls
In the summer of 2011, Sarah, her husband Tanner, and their beloved Shih Tzu Coco Bean moved from their home state of Ohio to sunny Florida for Tanner's graduate school program. With Sarah working from home and Tanner studying for exams, these high school sweethearts were starting to outgrow their apartment's kitchen table "office." A year after they moved in, Sarah knew it was time to create a more permanent workspace for their home.
Today, Sarah shares the story behind her beautiful home office and how she and her husband successfully designed a space that reflects both of their personalities. They've kept the room clean, simple, and mostly white, leaving room for pops of color (or glitter!) and individual inspiration on the walls above their respective desk spaces. We love how it all came together, and appreciate that it didn't cost a fortune. Sarah's favorite part? "It's us."
Full name: Sarah Dickerson
Age: 26
Current title/company:
– Freelance Designer & Photographer, Chic Sprinkles
– Features Writer, Pretty Fluffy
– Full-time User Experience Designer for a large national bank
Educational background:
B.S. in Digital Design from the University of Cincinnati's College of Design, Architecture, Art, and Planning
What was your first job out of college and how did you land it?
My first job outside of college (and current job) was working as a user experience and interface designer for a large national bank. I actually started working for them while I was in school and was offered a remote position after I graduated and relocated. My design school had a required program called Cooperative Education (Co-op) where students would rotate every quarter throughout their schooling between a paid design job and classes. The quarters that we were in school, we would work on design projects, build our portfolios, and begin interviewing for the next job. Design jobs were available all over the world, so it was fun to see where everyone was jetting off to and then gather back together three months later to hear all about their experiences before we'd start all over again. It really gave us a head start into the real world, and I'm so grateful for it.
You work as a visual designer and photographer. How did you get into this line of work?
I've been the creative-type ever since I was a little peanut, so I knew from a young age that this is what I wanted to do. I've also always had a passion for animals. I did toss around the idea of a veterinarian/zoologist early on, but that idea went out the window the first time I passed out at the sight of blood. Oops! I decided to combine my two passions, and I'm so happy I didn't give up on either one.
After living in your Florida home for about a year, you decided to add a home office. Explain how you came to the decision to take on this project.
Since both my full-time and freelance jobs require me to work from home, I really needed a grown-up place to get things done. Plus, my husband needed a better work environment to study for his grad school classes. Our tiny desk and kitchen table just weren't cutting it anymore! We wanted an open space where we would feel motivated and inspired to work. It was also important that we be able to work side by side, but with plenty of elbow room. What can I say, we like each other's company!
What was on your checklist when designing this room? What were your must-haves, in terms of furniture and accessories?
It needed to fit our personalities, have a light and cheerful vibe, and be space efficient as well as budget-friendly. Most of all, I wanted to have a floating white desk in the room, which was the first thing we did. My father-in-law and husband built it in one day, and it's even better than I imagined. I love the clean minimalist feel it gives the room.
I also wanted to include some items that I've had with me throughout the years, like my brown wicker chair. My parents bought it for me when I redesigned my bedroom in elementary school, and it has traveled with me to every new apartment.
You and your husband designed and decorated this office on a tight budget. How did you decide what to spend on and what to save on? Were there any unforeseen expenses that surprised you?
My husband is a full-time student, so right now there are lots of other "grown up" things that take the front seat when it comes to spending. We decided that whatever we could manage creating or building ourselves, we would. The rest were items we already had or we purchased. There really weren't any surprises as far as the budget goes. It just took a couple of months to get everything the way we wanted it.
Do you have any favorite budget-friendly sources that you used to furnish your office?
It can come from anywhere really, anything that strikes my eye. I love finding old and unique items that have character. Our vintage white swivel chairs we thrifted for a total of $35. I was over the moon to find those! I also buy my frames in thrift stores and flea markets. All of my frames in the office were under two dollars and were repainted or left as is. It really is possible to create a beautiful space without breaking the bank!
You have a knack for beautiful and creative DIY projects. Have you always been a DIY-er? Where do you get inspiration for your projects?
Thank you, and yes! I started DIY-ing very early on. I'm the person who sees something and says, "I can probably make that!" Not that I'm always right, though—I've had plenty of failed DIYs in my day. But when it works, it saves a lot of money, and the finished piece usually means a lot more to you. Plus, you can make it your own, which is even better. Anything can inspire me, from a color to something I see in a magazine, or something totally random that just comes to me.
Your passion for animals (and your cute pup Coco Bean!) inspired you to lead a cruelty-free lifestyle, and you also try to use natural, non-toxic products in your everyday life. Did this mindset affect your choices when designing your office?
Yes, a little bit. I used non-toxic paint for all of our DIY projects and tried to use as little plastic in the room as possible. I'm sure we'll learn more tips before our next big project!
Your office is fresh white with just a few pops of color here and there. Tell us about your color palette choice. What does it achieve in your space? What inspired you to choose these colors?
I love white, and so does my husband. It has always been my favorite go to color (if I can even call it that). Since our room is super tiny, white played a part in tricking the eye into thinking we are in a bigger space. The other pops of color on the walls help draw your eye up making the ceiling feel higher. I wanted to stick to feminine and cheerful colors for my side, while Tanner wanted strong classic colors on his side. I think it made for a nice blend!
We love how you made this into a seamless "his and hers" workspace. Tell us how you achieved a streamlined look while still incorporating both of your personalities. Do you and your husband have similar taste? How involved was he in designing the space?
Thank you! We do have a similar taste with different twists. We've been together since we were 14 and 16, so our personalities were bound to mesh at some point. Neither of us have just one particular style, we like a mixture and a balance of lots of different things, which is nice. Yes, he was very involved in the project, while still letting me do what I do. He always has such great ideas and saves me when I'm over-thinking things. We didn't exactly have a set plan after the desk went up. We sort of just sat on the floor (with a snack of course) staring up at the walls and slowly came up with how we wanted to divide the wall space. We just make a good team!
What is your favorite DIY project in the office?
It would be a tie between our inspiration corkboards and Coco Bean's framed paw print that was featured in Modern Dog Magazine. Both were fun to make since we did them as a family, which made the projects extra special.
What are you most proud of when you step back and take a look at your office space?
It's us. There are pieces that reflect each of our personalities in the space, even Coco's. You walk in and it feels like home. I just love that.
Are there any office projects you have on your wish list that you hope to complete in the future?
Since our office also serves as a guest bedroom, we have a white-framed daybed that sits in the opposite corner of the room. I would love to spruce it up with new pillows and a fun gallery wall above the bed using a mixture of white and gold frames.
You started freelancing through Chic Sprinkles, in 2011, and you also began writing a blog. What have been the greatest challenges? Greatest rewards? How has writing a blog affected freelancing?
It's has really been a lot of fun, and certainly life changing. My website started out as just an online portfolio, then I began freelancing in my spare time here and there. I needed a creative outlet to design the things that I love. Starting a blog opened up a whole other door. It was challenging at first because I had no idea what I was doing, and I'm naturally a shy person. Putting myself out there was a little weird for me, but I'm so very glad I kept going. It has connected me with so many awesome people from all over the world. I would have never started working with my creative partner, Serena Nelson, from Pretty Fluffy. She lives oceans away in Australia, but has really become one of my closest friends and such a role model for me. We just launched our very first eBook called '52 Weeks of Treats', which she wrote and I designed. It's a go-to-book for simple and healthy dog treat recipes. We've been featured in Modern Dog Magazine as well as numerous websites for our easy DIYs, eBook, and blog features. It's been amazing, and it all started with a little blog that I thought would only last a few weeks.
What are your goals for Chic Sprinkles?
I'm making some changes for 2013 with a new motto: do less, and do it better. I want to focus on my main passions, design + photography + animals, by dedicating myself to working solely with Pretty Fluffy in my spare time, as well as Spared.org and a few other animal centered projects that are close to my heart. Also, the blog has a brand new look! This year it's going to showcase more little snippets of our adventures, projects, the fun things along the way, and of course lots of Coco Bean. I hope you'll pop in and visit us!
What advice would you give to your 23-year-old self?
I would love to tell my past self and remind my future self: Always do what makes your heart happy. Every morning when you wake up, be thankful. Keep working your hardest, try not to doubt or take yourself too seriously, keep the laughter, keep fighting for what you believe, stay passionate, and most importantly, keep being YOU. Everything else will happen when it's supposed to, even if it takes a while. Sometimes that might mean taking the road less traveled to make a difference or do the right thing. It may not be easy, but that's okay. That's life. Have faith, keep going, and enjoy every bit of it.