"Don't be afraid to speak up. Be your best advocate," is part of the advice 30-year-old Chelsea MacMeekin would give to her 23-year-old self. Although this Virginia Tech grad started out in sales just out of college, she also wanted a way to give back to the community and started volunteering with Komen for the Cure. There, she met a woman who introduced her to CRO's (contract research organizations) which are organizations that work with pharmaceutical and medical device companies to help bring their drugs and products into the mainstream market. After applying to several jobs, she ended up at her current company, Quintiles, where Chelsea worked her way up to become a senior clinical project manager. Even though every day is a little bit different, Chelsea works to develop new project ideas, collaborating with current and potential clients of the company. With passion and resolve, she has fallen right into her niche.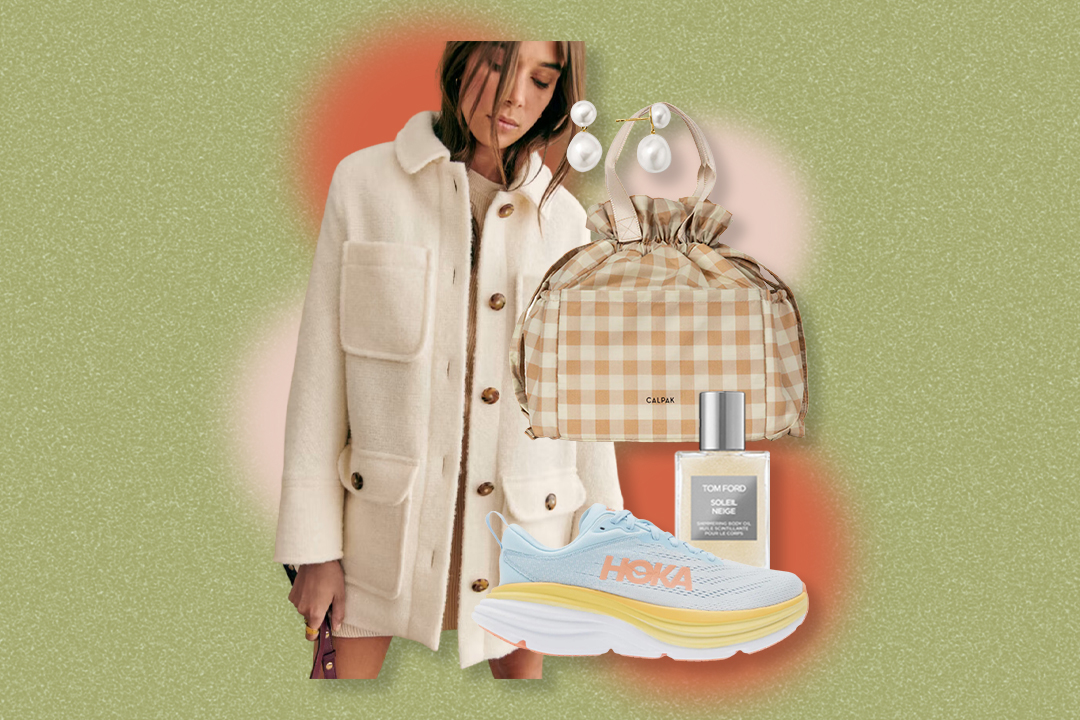 Currently residing in Raleigh, North Carolina with her husband and son, Chelsea reveals to us her secrets for keeping it together. Apart from her work and her family, she runs a personal blog, Haute Child in the City, which gives her an outlet for her more creative and fashion-loving side. Combining her skills with her passions, she shows everyone how far going above-and-beyond can take you.
Full Name: Chelsea Stahr MacMeekin
Age: 30
Location: Raleigh, NC
Current Title/ Company: Senior Clinical Project Manager, Quintiles
Educational Background: Virginia Tech, BS in Human Nutrition, Food, and Exercise
What was your first job out of college and how did you land that position? What is the greatest lesson you took away from your sales career?
My first job out of college was in sales for an online advertiser.  I spent my entire college career wanting to be a physical therapist and then after my internships the last semester of my senior year, had a change of heart.  I knew that getting some corporate experience would benefit me and I figured that a job in sales would help me acquire a skill set that could translate to a variety of industries.  I pounded the pavement in search of a job  and thanks to a recommendation from a friend of mine, got an interview for the company that I ended up working for the first few years out of college.   Sales is an extremely tough industry; it's grueling, competitive, and thankless, but it helped me fine tune my communication, organization, and time management skills, as well as my negotiation skills.  It also gave me a really thick skin.  I still believe that if you can survive sales, you can survive anything.
Tell us about the process of finding your current job. What were you doing when you decided to switch careers?
I knew that a career in sales wasn't what I ultimately wanted to do forever.  After college I was looking for a way to plug into my community so I started volunteering with Komen for the Cure.  There was a woman who sat on one of my committees who was a part of the clinical development industry.  After hearing a little more about what she did and doing some research on my own, I realized that clinical development appealed to my interest in science and the project management opportunities were a natural fit for my skill set.  I started applying to several different contract research organizations (CROs) and after several interviews ended up at a smaller, global CRO.
You currently work for a Contract Research Organization (CRO), and said that when you first graduated from college you had no idea what a CRO even was! Can you give our readers a break down of what a CRO entails?
Simply put, CROs work with pharmaceutical and device companies to help them develop their drugs and medical devices and bring them to the market, as well as work with clients after their product has been approved on post-marketing approval studies, as well as commercialization.  Quintiles is the world's largest provider of biopharmaceutical development and commercial outsourcing services with a network of more than 27,000 employees conducting business in approximately 100 countries. We have helped develop or commercialize all of the top-50, best-selling drugs on the market. What we do really encompasses every bit of the clinical development process– from early clinical development when compounds are created,  to running clinical trials, to conducting post-approval studies after the drug has been approved by the Food and Drug Association (FDA) or a similar regulatory body outside of the US.
Your office is located in Research Triangle Park (RTP), which for those who aren't as scientifically aware as yourself, is probably the major science industry headquarters in the United States (the Hollywood of the science world, so to say). Do you believe that working in this epicenter of knowledge has influenced your career in any way?
Working in RTP is definitely humbling and my contribution is nothing in comparison to the brilliant work that is being done by my fellow colleagues and neighboring companies.  Despite the global nature of my industry, it is definitely advantageous to be working in this area.  Working here has exposed me to a variety of areas and aspects of our industry than working anywhere else would have.  Additionally, there are tons of job opportunities, networking groups, and professional organizations that have roots here that are relevant to my industry.  Being located in RTP has provided the ability to be more engaged in the community and happenings in our industry, as well as provided a deeper pool of potential job opportunities.
Your current job title is senior clinical project manager—tell us about your major responsibilities while at work. Explain how you work with clients to help make drugs safer and expedite them to market.
To be a Clinical Project Manager in our industry, you really have to be a 'jane-of-all-trades', in my case.  Although at a high-level you are held accountable for milestones and deliverables associated with a project, you have to be involved or at least have a working knowledge of all aspects of a project which spans everything from regulatory procedures to medical writing to biostatistics to drug safety to the real world application of the product.  Clinical Project Managers spend a lot of their time working with the different functional groups on projects to ensure that everything is running smoothly, assessing and analyzing trends on studies, and acting as the company's representative to the clients.  There's also a good bit of putting out fires as well.
My current role within our group has evolved into a more strategic role. On any given day, I'm collaborating with our clients and internal colleagues, developing strategies for projects and the budgets behind them; as well as partnering with our business development group to look across the portfolios of our clients and identify additional potential opportunities for us to work with them. My job involves a lot of research and collaboration right now, which I thoroughly enjoy. I truly believe that you should always be learning. I remember reading somewhere that if you're the smartest person in the room, you're in the wrong room. What I love the most about what I'm doing now is the wealth of knowledge that we have at my company and the brainstorming sessions we have centered around the best and most innovative ways to run these projects that we work on, keeping the patient experience top of  mind.
Our company's vision is to bring people and knowledge together for a healthier world, and I consider it a unique privilege and opportunity to help make that vision a reality. A drug or device is no good to the public if it's not safe and efficacious.  In my corner of the industry, all of our studies are focused on real world application of these products—that is to say, we are monitoring patients using drugs that have been approved and are available for regular consumption—not just a clinical trial. We collect long term data to look at trends, focus on the patient's experience with the drug or device from a quality of life perspective, and explore other therapeutic applications for drugs and devices.  It's incredibly interesting and satisfying to see the outcomes and benefits that patients receive from these products.
How does your educational background and skill-set compliment the industry you're currently in? What qualities would you say are essential to do the job you do?
Since my major is more akin to a pre-med major at Virginia Tech, having that background in science has proved to be very helpful in that it gave me a deeper understanding of the biopharmaceutical products that we work on and how they interact with human chemistry. From a skill set perspective, communication, a sense of urgency, team building and a high degree of professionalism are all essential for doing my job. I also think it is important to know how to think outside of the box, as well as on your toes.
When you first became involved in the CRO industry 6 years ago, you started at the bottom and have worked your way up to where you are today. Tell us a little about your career journey in this industry—how long did it take you to get where you are today?
I started out as a Project Coordinator at a small, but global CRO and worked incredibly hard. I was always the first one at meetings. I volunteered to do tasks that weren't always part of my purview. I joined in on meetings that might not have pertained to me, but that I thought were interesting and sought out opportunities to lead the project teams that I worked on, as well as got involved with professional organizations. When you start learning anything and everything about the industry that you are in, it starts to set a good foundation for your career. Coupled with the small nature of the company that I worked for, I got exposure to many different areas of our industry.
After some time, I felt that I had mastered a skill set that would allow me to effectively manage projects on my own, so I sought out opportunities that would enable my career growth. That's when I started working as an Associate Clinical Project Manager in the Late Phase area of Clinical Development. I gained a lot of larger, global experience in that role and settled into Clinical Project Manager for several years.  During that time, I had the opportunity to work overseas with our European colleagues and clients for several weeks at a time during some critical time points in a project's timelines.  I also worked on global studies and lead teams in the Asia-Pacific region.  Working with global teams and overseas helped shape my perspective immensely and to this day, one of my top recommendations for my direct reports is if you have any desire to work overseas, do it. It is so beneficial to better understand the culture and the cultural drivers in the countries that you are working in, especially as it applies to health and pharmaceuticals.
After our son was born and I returned to work, I wasn't necessarily looking for a new position; it was all very serendipitous. I had had some feelers out, but didn't expect to gain a lot of momentum until I had settled a bit more back into the swing of work and my new role as a mother. But opportunities have a way of having their own time tables and I am one of those rare people who loves and thrives in a changing environment so when I received a call for the position I am currently in, I jumped in feet first. It was an amazing opportunity, arguably a few steps above the role that I was in at the time, but I knew that I could do it, that I was qualified for it, and was up for the challenge to help bridge the gaps. I also knew that Quintiles was an exceptional company and the team that I would be working with was top-notch. There's definitely been a learning curve for me, but I'm a believer that hard work will get you about anywhere you need to go. And to this day I still volunteer for tasks that aren't always a part of my purview, join meetings that might not pertain to what I'm working on, and take advantage of any and all opportunities to learn more.
Another aspect that has helped me along my career path has been developing strong advocates and mentors. I have been very lucky that these individuals have happened for me organically and most of them probably have no idea that I consider them a mentor. These individuals have served as sounding boards for me, have advocated for me when promotions and opportunities have arose, and have been very supportive in other aspects of my career and life.  These relationships have been so impactful to me and have really helped drive myself and my career path to where it is today.
How would you like to see your career grow in this industry? What are your current career aspirations—where do you see yourself in 5 years?
One of my previous managers,  a Director of my group at the time, has a funny story of our first one-on-one. He asked me what my career aspirations were and I told him I wanted his job. I was quick to clarify that didn't want to take his job from him, but I wanted to be where he was from a career perspective at this age. I've always been looking to the next step and thinking about acquiring the skills and experience to get there. For me growth has to happen naturally, I don't want to push myself into a role that's not a good fit or I'm not close to being ready for because that does both me and the group that I'm working with a disservice, but I'm also not opposed to taking a leap when need be. One day, I'd love to oversee a group similar to what I work in now and look strategically across our organization as to how we can deliver the best solutions to our clients to help get products and solutions approved for patients all over the world.  That's really what it's all about, after all.
In addition to your career and being a mom to a toddler, you also run a fashion and lifestyle blog called Haute Child in the City. What encouraged you to first start blogging?
I had followed a few major blogs for several years before I started blogging on my own. Haute Child in the City started as a way for me to share looks that were inspiring to me, brands I loved, and things that were trending. It's evolved over time as my life has to include things that I wear, as well as some baby things and about our lives in general.
You have said that you find balance in the certainty of science, but still love to daydream. Do you use your blog as your creative outlet? Where do you gain inspiration for such daydreams?
My blog was definitely born as a creative outlet for me. I've always loved fashion and design and find inspiration in a lot of places: photography, art, travel, fashion designers, and other bloggers are a few places that I look. Whether it's talking about a new brand that I've found and love, or putting together a look based on a color combination that I've seen somewhere, it's a great outlet and such a divergence from the science-driven world that I work in.
What has been the most rewarding experience that has come from starting your blog?
I think the most rewarding experience has been just the ability to connect with others. It's a very supportive network and being open and honest about who you are and what you are goes a long way. One of my favorite posts that I did was actually one where I discussed this 'one-tenth of an inch away from disaster' state that my life is perpetually in and the feedback was wonderful. Other people started sharing their own 'one-tenth' experiences on their own blogs and it was like a support group in a way. I think posts like that speak to people because it's such a relatable feeling. A lot of people get caught up in trying to have an outwardly perfect life, but life is messy. I think celebrating our imperfections are what make it great.
How do you manage to balance your day job with updating your blog as well as being a mom?
Balance is a relative term and is something that I work very hard to find; I definitely don't have it down yet. I'm lucky that I have a fantastic support system built around my husband who does his own lion-share of the work around the house and with our son and is my own personal cheerleader in life, to my family and friends, who are constantly there when I need them and are understanding of my sporadic schedule. I have three running to-do lists at any given time: a professional list, a personal list, and a volunteer organization list. It sounds maddening, but it's the only way I keep track. My husband and I also have linked Google Calendars and we live by the motto of "If it's not on the calendar, then it doesn't exist."  My goal is to be 100% present in the moment; that's at work, at home, and after our son goes down. For my blog, we take a lot of my outfit pictures either right after work or over the weekend and I typically write all of my posts over the weekend so I can spend time with our family during the day and with my husband after our son goes down at night. I can't say that it works all of the time, but the most important lesson I've learned recently is to cut myself some slack and occasionally, a glass of wine will fix about anything.
Take us through a typical day in the life of Chelsea MacMeekin. What does your average workday look like?
I'm up every morning at 5:30 to get ready for the day. After I'm done, our son is usually awake and I get him ready. I'm in the office every morning by 7:30 to try and catch up with my European colleagues before my US groups get into the office.  From there, it's a lot of meetings, emails, and conversations mixed with the appropriate amount of caffeine to get me through the day.   What I love the most is that each day is rarely the same.
On a typical day, I leave at 5:00 to grab our son from daycare. If we don't have anything going on after work, my husband and I try to be home no later than 6:00 so we can have dinner as a family. Then it's play time and reading, followed by bath and bed for our little guy.  My husband does the bedtime routine which allows me to shower, tidy up a little and take a moment and sometimes I'm guilty of sneaking a peek at my Blackberry and responding to emails. Both my husband and I are involved in professional organizations and members of several boards, so on the nights that one of us has an event, the other spends time with our son. We make every effort to be home from our events before our son goes to sleep.
After our son goes down, we catch up on the DVR, chat, sometimes clean, and talk about the logistics for the next day.  Then it's in bed, usually no later than 10:00, but I'm guilty of an 8:30 bedtime from time to time.
What advice would you give to you 23-year-old-self?
Don't be afraid to speak up. Be your best advocate. Also, drink lots of water, invest in a good skincare regimen, and wear sunscreen all of the time.