With the holidays coming up, there's no better time of year to make your home feel festive. Whether you're entertaining friends, celebrating a promotion, in charge of this year's Friendsgiving arrangements, or just spending cozy nights at home after a long day at the office, a fresh floral arrangement and fully stocked bar will get you through all your get-togethers… or the end of a long week (we've all been there).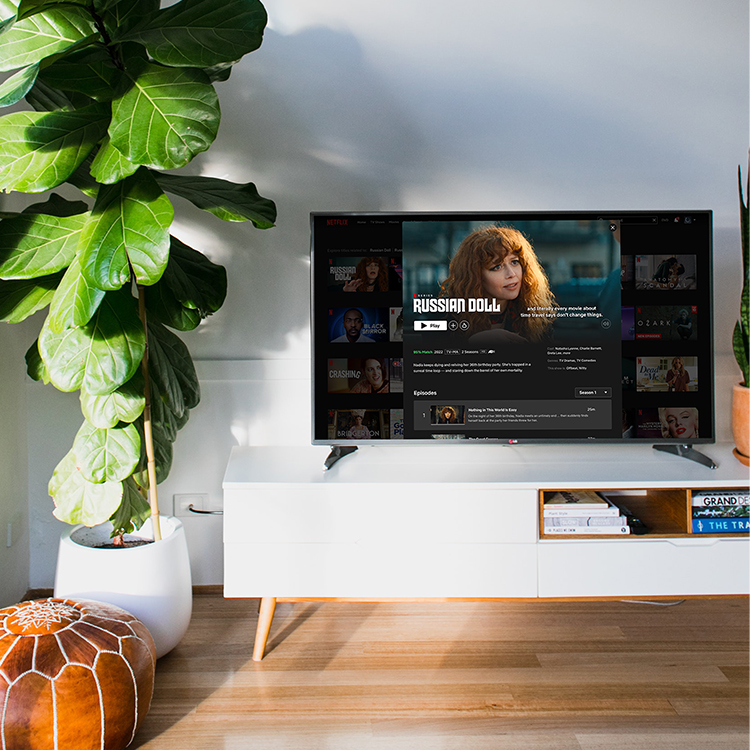 stop mindlessly scrolling on Netflix—these shows have our seal of approval
Our team's favorite way to celebrate is with La Marca Prosecco. It comes straight from the heart of Italy's Prosecco region, but is still affordable, so it makes it easy to celebrate the little things, too. Their mini bottles are also perfect for upcoming holiday parties, decorating your bar cart, or just to keep on hand for a Friday night in.
Quality entertaining doesn't need to have a crazy price tag. Making your home look beautiful and ready for guests can be as easy as knowing hacks to creating professional-looking decor on your own. Today our cofounders, Alaina and Danielle, share their seriously easy tricks to prepare your home for guests and entertain with style.
Let's get to it, shall we?
How to Arrange Your Grocery Store Flowers (So They Look Way More Expensive!)
For as long as I can remember, I've been The Everygirl's florist for photo shoots like this one. I've never taken a class but have googled a few basic rules, and I play around with flowers from time-to-time – enough that I've learned a thing or two over the years. When we hosted an event in Los Angeles with La Marca Prosecco last month, we turned to the resident florist (me, obviously) to teach our guests how to create a simple and budget-friendly grocery store flower arrangement. Today, I'm here to teach you how to elevate your arrangements at home. No fancy flower shop flowers here – everything was picked up at Trader Joe's and Whole Foods in Chicago.
Step 1: Prep your greenery



What You'll Need

Scissors or floral shears
A vase
Greenery/fillers
Flowers (I used hydrangea and roses)
Remove excess leaves from your greenery and trim the stems. It's ok to leave a few leaves, but greenery should fill those gaps, and you don't want any leaves in the water as they'll cause it to get murky (not cute).
Step 2: Trim those stems
I'm sure there's a fancier and more official way to trim greenery, but I just hold it up to the vase and figure out where it should be cut, like this. It works like a charm. Cut your stems at a 45 degree angle while running them under water. This will allow the flower to take in more water.
Step 3: Arrange greenery
Arrange your greenery and fillers in the vase. There isn't a science to this, so play around! I like to disperse them throughout the vase but it doesn't have to look perfect and even.
Step 4: Add flowers
Start adding your flowers. I like to start with the big ones that will be the star of the vase. I'm using antiqued hydrangea, but any larger flower will do.
Step 5: Fill in the gaps with additional florals and greenery
This step is pretty self explanatory and again, there's no science to this step. Fill gaps when and where you need to with greenery or smaller flowers. In this case, hypericum and roses.
Step 6: Add water

Fill the vase with room temperature water unless you're just using hydrangea. Those do really well in hot water. I know it isn't always easy to remember, but if you change the water every day, you'll get more life out of your arrangement!
Step 7: Pop the bubbly
Toast your beautiful arrangement with La Marca Prosecco!
How to Style Your Bar Cart (For That Pinterest-Perfect Look)
And now on to styling (and stocking) your bar. First thing to note – you don't need a bar cart to have a functional, festive bar this holiday season. Whether it's for entertaining guests or simply for yourself, you can use of a tray, a corner of a counter top, a shelf on a bookshelf – it all can work!
Step 1: Start with a bar
Whatever you're using for your bar area, step one is to clear everything off and start with a clean slate. Give it a good dusting so it shines. Now you can see it with fresh eyes to make it as functional as it will be beautiful.
Step 2: Gather your bar tools
If you're like me, you've never ventured passed using a bottle opener when it comes to bar tools. There are a number of tools you can add to your bartender arsenal: a strainer, a shaker, a candlestick maker. Haha I kid.
Here's a full rundown of tools you could have for a fully stocked bar:
shaker
ice bucket and tongs
strainer
jigger
paring knife
coasters
tray
bottle/wine opener
straws
stirrers
muddler
cocktail napkins
coasters
decanters
bottle stoppers
Before you panic – I am not saying you need all of this. You only need the items necessary for the drinks you'll be serving at the event. For this example, we're only serving La Marca Prosecco, that long list is seriously pared down… an ice bucket to keep the prosecco chilled, a stopper, coasters… that's pretty much it!
Step 3: Arrange thoughtfully and practically
Now it's time to bring in the alcohol. If you do one thing: you do not need to place every bottle of alcohol you own on the bar. Consider size and cleanliness of bottle before placing it on the display. No handles of liquor. No bottles that are nearly empty. No sample sizes.
Consider what you'll be serving at your party or drinking most frequently. If you have a specialty cocktail you're offering – that should be front and center, along with all of the necessary tools to make a glass. I recommend grouping those items together in a self-serve station on a tray on the bar cart.
We're working with prosecco, so having a chilled bottle open and ready for guests is the way to go. Have the corresponding glassware and tools needed to pour yourself one: so in this case, we have champagne flutes alongside the prosecco. Add in any tools, garnishes, or mixers to complete the drink. Finally, have a stack of cocktail napkins or coasters alongside for the guests to use.
Back-up drink options or mixers can be placed on the lower shelf along with a second bottle chilled in the ice bucket ready to go.
Step 4: Add in the pretty
The final step, which is not to be overlooked, is adding in the pretty. A simple flower arrangement will do – which we taught you how to create in this post! A few bunches from the grocery store and you can have a beautiful, professional looking arrangement. Adding flowers or a plant brings in softness and organic shape that is otherwise missing from all of the glassware and metals.
You can also use evergreen, pussy willow, or leafy branches for added height!
For a cheekier look, add in a light-board with a festive saying on it.
A final accessory we love adding at the holidays are dainty twinkle lights strung throughout the accessories for a sparkling glow.
Give your bar cart a final lookover. One last thing to take into account is balance. If things look off, consider the height, color, and texture – and make sure they're balanced as opposed to all lined up with one another.
For example, if you have height on the left side of the top shelf, make sure there is height on the right side of the bottom shelf. Similarly, if there is height in the center of one shelf, there should be height on the sides of the bottom shelf.
The same goes for color and material. Note the blue labels of the La Marca Prosecco on the two shelves are not aligned in the above photo. Neither is the glassware. And the hardness of the silver tools on the bottom shelf is balanced with the softness of the flowers on the top shelf.
And there you have it! Feel free to leave any questions you have in the comments and we'll be happy to answer!
@lamarcaprosecco /#MakeEverydaySparkle
This post is sponsored by La Marca Prosecco but all of the opinions within are those of The Everygirl editorial board.