Now that 80s and 90s fashion is firmly back in the zeitgeist, I find myself pausing every other second every time I watch a classic rom-com like "wait, I want to wear that." So (because I was probably going to write this up for my own personal use anyway tbh) I compiled all my favorite looks from some of the most iconic 80s and 90s lovefests.
Prepare yourself for an astounding — and at times troubling — amount of blazers. Let's do this!
Sixteen Candles, 1984 / The Breakfast Club, 1985 / Pretty in Pink, 1986
aka Molly Ringwald aka QUEEN
I honestly could not choose one from these movies because, hello, it's Molly Ringwald. So, since I'm writing this article *mwahaha* I just put all of them in like a boss.
Let's start with Sixteen Candles. The layering game in this movie is off the charts incredible and may we all learn a thing or two. Also is anyone watching The Bachelorette this season because Jake Ryan straight up is the same person as Blake can someone plz call me to discuss this in depth thank you.
Don't hate me, but I'm just not in love with Molly Ringwald's fashion in Pretty in Pink, including (hot take) that massacre of a pink dress. However, the below proves a blazer and Ray-Bans will always work, full stop.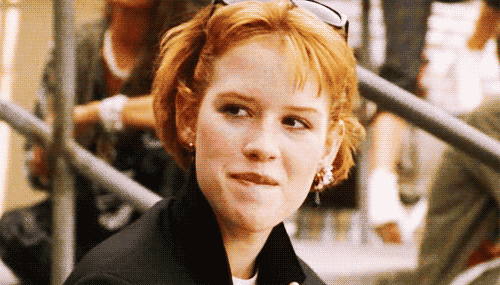 Ah, The Breakfast Club, my personal favorite Ringwald look. I mean, can't you just see Meghan Markle wearing an elevated version of this?! No? Well, I can and I clearly know what I'm talking about.
Some Kind of Wonderful, 1987
No one has ever been as cool as Mary Stuart Masterson in this tour de force piece of cinema. I mean those fringed moto gloves??? All the leather jackets??? THIS LONG ASS BUTTON UP RIGHT HERE???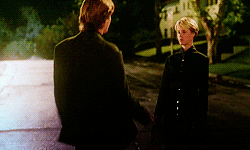 When Harry Met Sally, 1989
Meg Ryan's style is this movie is so iconic I could weep. It is everything a fall wardrobe should be — high-waisted jeans, corduroy jackets, chic glasses, big-ass hair. I aspire to this level of timeless chicness. I MEAN, JUST LOOK AT HER SLAYING THESE LOOKS.
Pretty Woman, 1990
Speaking of blazers (because I always am tbh), Julia Roberts coat/jacket/blazer game in this movie is STRONG. I have never wanted to look/act/be like anyone more than I've wanted to be like Vivian and I know this movie is v problematic and a little upsetting but just go with me on this. I mean, how can you not base all your hair decisions on THIS: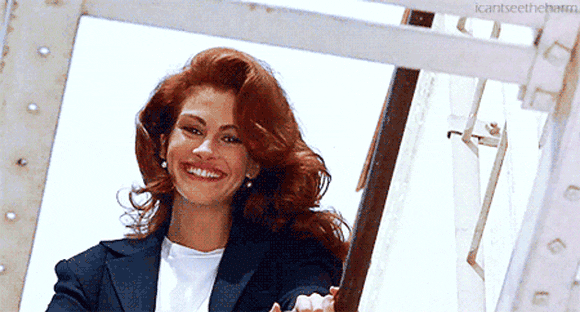 ALSO DID YOU KNOW REFORMATION MADE THE ICONIC "PRETTY WOMAN" DRESS??? ALL MY DREAMS ARE COMING TRUE. Also, they kind of made it in a bodysuit too in case you're looking to get all Pretty-Woman-but-casual-tho.
Clueless, 1995
Clueless is my favorite movie of all time (and realistically the best movie ever made probably) and Cher is officially a style icon. I have seen this movie so many times that all of Cher's lines just echo in my head at all times its fine goodbye.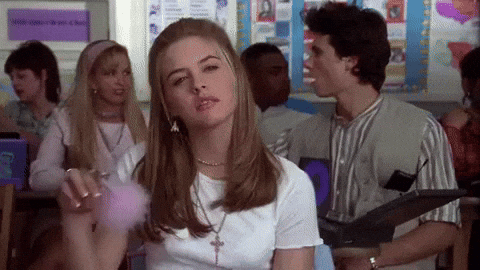 How Stella Got Her Groove Back, 1998
I just recently watched this movie (and holy sh*t it was good) and Stella's style is so perfectly vacation-ready that I needed to make a Mai Tai to even talk about it.
Also, this is now my reaction gif for everything that is all.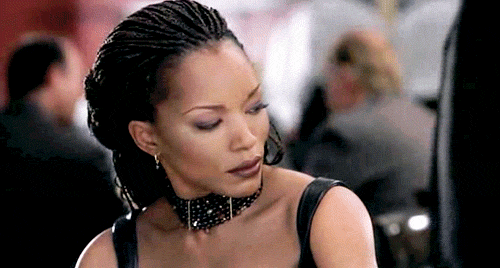 She's All That, 1999
This is my go-to I'm-sad-and-I-need-something-halp-me-universe movie and also the reason I listen to "Kiss Me" by Sixpence None the Richer at least once a week. Don't worry, I am ok I promise. Looking back, it's also PERFECT style-wise. I mean this is all being sold rn at Urban Outfitters.
The Best Man, 1999
Everyone looks HOT HOT HOT in this movie (mmm especially you, Taye Diggs), but I am partial to the following. This leather jacket (god the 90s were leather jacket heaven and I don't hate it):
And this TRULY INCREDIBLE wedding guest dress that I want to wear to every wedding ever:
Notting Hill, 1999
I've never fallen so hard or so fast for a man who is not real. William "Floppy" Thacker, I love you. Anyway, Julia Roberts looks aces in this movie which makes sense because she's playing a real-life movie star. Bury me in this jacket mmkay:
REMEMBER WHEN SHE WORE THIS BIG ASS TIE? WHAT AN ICON.
Thank you for following along on this journey with me it truly was spectacular. *Bows*