I'm not going to say summer's around the corner because you know it is. I'm not going to say "gotta get that beach bod" because (say it with me now!!) every body is a beach bod. But I am going to say that summer is the perfect time to achieve your wellness and health goals, and form habits that make big changes, year round.
Need some gifting inspiration? No matter who you're shopping for, we found a slew of exciting gifts that are bound to leave them speechless.
Warmer weather and long sunny days make you want to get out of the house rather than sit on your couch and watch TV (except for when Bachelor in Paradise is on), and you have access to organic produce so fresh that they make salads ~actually~ delicious. Getting healthy will feel as easy as lounging in a swan float by the pool (well, not as easy, but you get the point). Here are the ten essentials you need to achieve your happiest, healthiest summer, yet. Get that self-tanner out because summer is here.
1. Cannabis-infused essential oils and topicals
Whether it's yoga, meditation, deep breathing, or a glass of wine (no judgment!), everyone has a different strategy for dealing with stress. If you're still looking for ways to help soothe anxiety, stress, or insomnia (or even just need an extra pick-me-up), we've found a new, all-natural fix. "EASE for stress relief" is a CBD-heavy essential oil from the The Root of It All™, made with a magical trio of lemongrass, bergamot, and ylang ylang, as well as Ayurvedic ingredients known to calm restlessness and promote comfort, tranquility, stress relief, and a quiet mind. Each tincture bottle contains 500 mg CBD to 50 mg THC (a 10:1 ratio).
The essential oil serves to alleviate stress and promote the quiet serenity that we all need in our lives. The best sleep of your life and an immediate stress fix is good enough, but it's just a bonus that it's small enough to fit into your purse to take on the go, or into your weekender bag for getaways. Don't let stress hold you back from living your best life — and your best summer.
The Root of It All™ products are intended for responsible-dose usage and those 21 years or older and living in a legal cannabis state and/or region or country. Recommended usage and directions are located on the back of each product.
2. Mineral-based sunscreen
It's 2019 and we're all woke, which means I don't need to tell you that sunscreen should not just be a crucial part of your summer wellness routine, but a crucial part of your every day routine (if it's not — Reader, meet sunscreen. Sunscreen, meet Reader). However, I strongly prefer mineral-based sunscreen over a chemical one because it's better for skin (especially if you're prone to acne or sensitives) and actually protects from sun exposure better than chemical formulas. Say goodbye to lobster burns (you know what I'm talking about)!
3. Sustainable grocery supplies
Summer is the perfect time to help the earth at the same time you help your body. Remember all that fresh produce we talked about? Carry your lemons, leafy greens, and peaches home from your local Whole Foods or Farmers' Market with a sustainable tote, store leftovers in reusable bags instead of Ziplocs, and grow your own food — that's right, even in a tiny studio apartment, you can grow your own herbs for much cleaner, cheaper, more nutrient-dense, and flavorful meals, cooked from the comfort of your own home.
4. An updated water bottle to stay hydrated in the most refreshing way possible
While we're on the subject of fresh, clean produce, why not use them to add flavor to your water? The newest, chicest water bottles also include a filter meant to contain your favorite additions. Try adding berries and tropical fruit for extra flavor, or ginger, mint, and lemon for a detox drink. While you're at it, stock up on some reusable straws you can use with everything from your fruit-infused spa water to a DIY iced coffee (because you know everything tastes better with a straw).
5. A natural routine to boost your sexual health
Let's be honest — your vajayjay goes through the wringer come summertime (yes, I hate that nickname too, but Oprah uses it! Thought I'd try it out, and I regret it immensely). Between sweaty underwear and wet bathing suits, summer is basically a yeast infection waiting to happen. Take care of your vagina (because why can't we all just call it what it is!?) by cleansing it properly (with a  pH balancing wash), moisturizing the skin as much as possible (since razor burns along those bikini lines kill), and being prepared if yeast infections are on the horizon. Natural is always better, so be careful of what ingredients and chemicals you're coming in contact with.
6. Probiotics
Probiotics and prebiotics are crucial for gut health year-round, but you might want to take the wellness must-do a little more seriously in summer. Accidentally swallowing pool water (it happens more than you think), digesting greasy foods or dairy (like that BBQ and ice cream), and consuming alcohol (even you, skinny margarita!) immensely damages gut health, which healthy gut bacteria can reverse. Taking a daily probiotic can also significantly reduce symptoms that come with traveling like acne (that dirty airplane air!) and constipation (you know it happens to you, too).
7. Athletic shoes meant for the outdoors
Whether you're a 6am runner, a devoted yogi, a fierce boxer, or a walking-to-the-fridge-is-my-cardio kind of girl, it's time to get outside! Even if you're dedicated to your indoor classes or lifting in the weight room, add in some outdoor activity into your daily routine. Go for a walk when you have time (even if it's on your lunch break or during a conference call), or take your mat outside for some sun salutations under the sun — makes sense, doesn't it? No matter your style, a pair of shoes with a thick sole (perfect for even tough terrain) and a light fabric (so your feet won't sweat) is the only shoe you'll want to wear all summer (besides flip-flops, of course, but who can do 100 squats in those?).
APL: Athletic Propulsion Lab
8. A go-to routine for post-sun skincare
Yes, we already covered sunscreen, but your summer skincare doesn't stop when the sun goes down. If you got a liiiittle too much sun (happens to the best of us), treat it immediately with a hydrating after-sun lotion or milk that contains soothing aloe or restoring coconut oil. Not only will these treatments help soothe burns, but they'll also help preserve and intensify tans, for silkier, smoother, and glowier skin. And because we never condone laying out in the sun, a self-tanner is a must for looking like you spent hours in the sun (even if you were in the shade the whole time, preventing those wrinkles). Pick one that's clean, non-streaky, and brightening for an effortless, long-lasting, and natural glow.
9. Supplements to beat belly bloat
Who decided it was a good idea to put alcohol, salty BBQ, and skimpy swimsuits together? Hello!!! Didn't they think of bloat!? When it's warm outside and you want to wear form-fitting dresses and figure flattering bathing suits, the last thing you need to keep you from werkin' it is some uncomfortable gas and bloat from all those chips and salsa. Pop some digestive enzymes or digestive aids in your pool bag to help your digestive system break down meals and decrease the chance of bloat or discomfort. Also work on your overall digestive health with some natural tea meant for fast relief from digestive discomfort and try taking a magnesium supplement to ahem, keep things moving.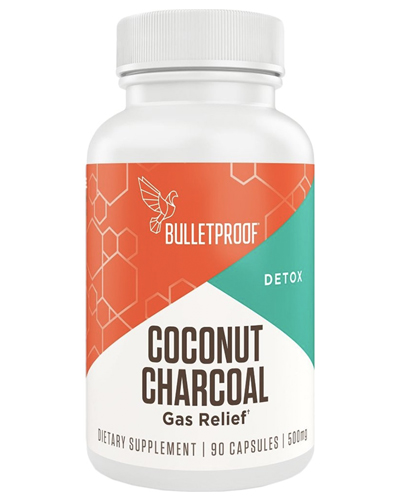 10. A dry brush
If you've already checked out how to get your legs ready for summer (an extra gold star for you!), you know that dry brushing is a crucial step. It intensely exfoliates (prepping your legs for that spray tan), as well as drains the lymphatic system which reduces cellulite. Dry brushing in circular motions not only exfoliates (your skin will never be smoother), but it also works to detox the body (perfect for the times you do have one too many skinny margaritas). And because the ultimate wellness essential is self-care, we even have an extra flirtatious dry brushing playlist for your pleasure (literally… you're welcome).
This post includes a sponsored placement of The Root of It All, but all of the opinions within are those of The Everygirl editorial board.