Not only is Katie Burke a total #boss, she's also a major advocate for inclusion and diversity in the workplace. As the first female C-level executive at HubSpot, she's not afraid to share her passions and gifts with the employees of her company — or with the rest of the world! Katie opened up to us about the life experiences that led her to where she is now, the accomplishments she's most proud of, and her love for Lululemon (same, girl, same).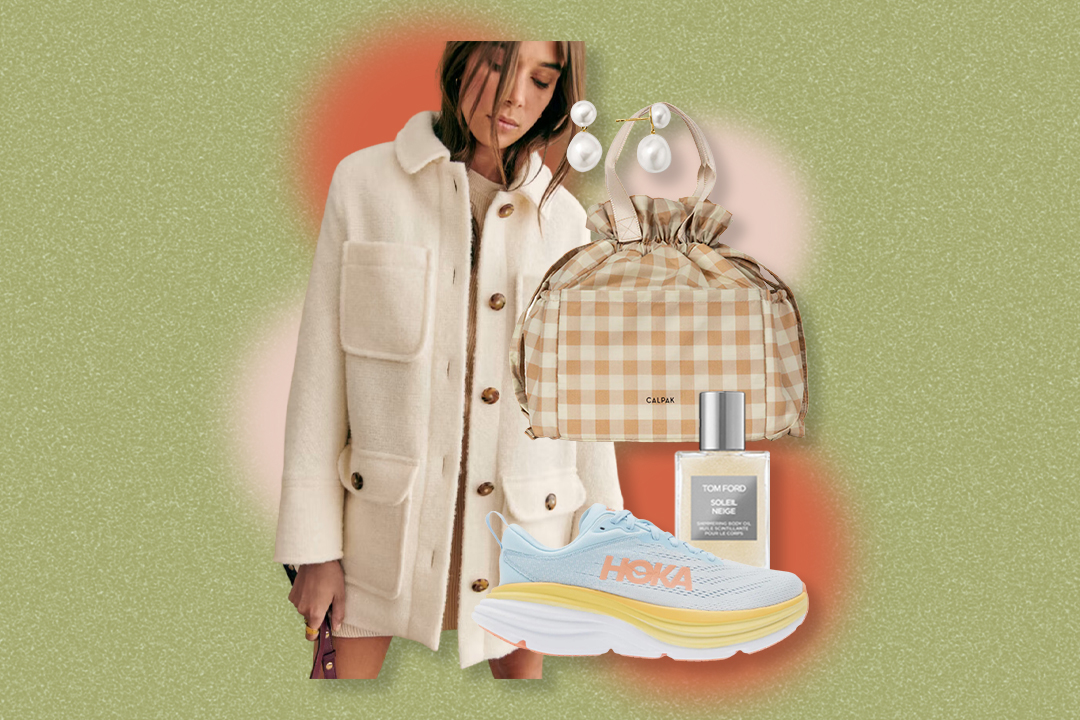 Name: Katie Burke, Chief People Officer at HubSpot
Age: 35
Location: Boston, MA
Education: BA in American Studies from Bates College, MBA from MIT
What was your first job in the industry, and how did you land it?
My first "startup" job was one year out of college. I tried consulting and didn't love it, so I joined a small political consultancy started by some Clinton-Gore alums, and we did a lot of crisis communications, research, public relations, and advertising work.
Basically, all of us wanted to be Olivia Pope, but that was long before she existed. I got that job because a friend of my mothers knew one of the partners and she called me to ask if I'd consider it. I had no idea what I was getting into, but that random connection foreshadowed two things I still live by today — be nice to your mother (and her friends), and say yes when life presents you with an opportunity, especially if it scares you a little.
Your career moved from political consulting to athletics to tech. Those are three very different industries! How did you find each opportunity? What similarities did you find between each, and what did each one teach you?
They are super different, but what all of them have in common is adrenaline — I like roles and companies with a fast pace. I think people generally overthink industry specific knowledge and traditional career paths — I've had three very different career experiences, but all of them have helped me grow in ways I never saw coming. If I had been too focused on a ladder-like path, I would have missed out on a lot.
All of my jobs to date have come from some form of networking. My advice: people think of networking as something you do actively, but the best form of networking is doing remarkable work any time you have the opportunity to do so. I got the EXOS job because I worked really hard to make the panel experience at the Sloan Sports Conference amazing for the panelists, and one of them introduced me to the CEO at Athletes' Performance. I got the HubSpot job because Brad Coffey (now our Chief Strategy Officer) was my teammate for a class. He didn't have to guess whether I would work hard at HubSpot; he knew it from experience.
There's no doubt networks are critical to your success long-term, but think of them as something you build daily by doing great work, in addition to something you do thoughtfully.
Why did you decide to get your MBA? Are you glad you took the time to do so? How did it help shape your career path?
I decided to get my MBA because everyone at Glover Park Group was signing up to join the campaign trail in 2008 and my heart just wasn't on the campaign trail. I knew I wanted to break into working in sports, and I also knew that I wanted a more well-rounded business background that would help give me more career flexibility down the line. My MIT experience delivered on both of those goals, so I'm really happy I did it.
With that said, I don't think business school is for everyone. It's a massive investment of time, energy, and money, so I think going just for the stamp on your career passport is a waste. The best case scenario for an MBA is it gives you a base of business knowledge and problem-solving abilities that when combined with the confidence and network you develop in the program, results in more and potentially higher level career opportunities down the road. I think if you have a destination in mind, an MBA can accelerate your path to get there. If you have no idea what you want to do and are getting a graduate degree just to check the box, I don't think it's worth the investment.
I think if you have a destination in mind, an MBA can accelerate your path to get there. If you have no idea what you want to do and are getting a graduate degree just to check the box, I don't think it's worth the investment.
What's the most important thing to consider when deciding if a new job would make a good fit? What's your best advice for someone looking to make a leap in their career?
Our cofounder Dharmesh has an expression I love, which is "solve for growth." In considering job opportunities, far too many people get charmed by promises or perks, and the reality is that your happiness day to day will be defined by the people you work with, the problems you get to solve, and the commitment the company makes to helping you grow personally and professionally. So rather than thinking so much about salary and title (both of which are important) ask yourself if the culture of the company aligns with your personal and professional goals for growth, and if you'll get the support, programming, and feedback you need to get meaningfully better in the time you spend there.
My best advice for someone trying to make a leap is show, don't tell. If you're trying to make a jump into blogging, don't tell people you want to do it, show them. Write personal blogs on Medium or guest blogs for sites you love, but don't go into an interview saying you've spent your whole life wanting to blog if you haven't taken the leap to actually do it. Don't expect people to take a risk on you if you're not willing to put in some work to show you're a hustler. Companies and leaders want to hire people who don't talk about doing things, they actually get them done. What better way to set that tone than before you even interview?
You were recently promoted to the Chief People Officer at HubSpot after less than four years with the company. Not only is this an exciting opportunity, but it's a momentous one as well — you're HubSpot's first female C-level executive! What does this honor mean to you, and how do you plan to tackle the job?
Thank you! I'm humbled by it and really focused on making our company, employees, and customers proud that they chose me for this role. I hope that I'm the first of many, and I hope the news sets a strong tone for both the women in our organization and potential candidates that HubSpot is a tremendous place to grow your career if you're a woman.
In terms of how I plan to tackle the job, my approach is to set a compelling vision for what's possible and hire great people to help us get there. Specifically, traditional HR is focused on telling people what they "can't" do instead of what's possible when you think about culture as a competitive advantage. My goal is to build a team rooted in performance, possibility, and innovation, and to lead by example with humility and hard work.
You recently published an inspiring piece called "Because I'm a Girl," which discusses the ways that people have tried to undermine you and your gender throughout your entire life. Why did you write this?
One of the best parts of my job is that I get to meet with a lot of young women struggling through inflection points in their career. Many of them struggle with self-doubt and imposter syndrome as they navigate their own career progression, so I thought it was important to share that those comments shouldn't hold you back with regard to your ambition of confidence. "Because I'm a Girl" is ultimately an ode to owning your self-confidence and using it to propel you through moments of self-doubt.
What do you hope people (regardless of gender) can learn from your words? What did you learn from the hurtful words you received from a stranger?
I think imposter syndrome impacts everyone at some point, so my hope is that the piece if a reminder to anyone reading it that you have to believe in yourself and that the voice in your head has to be stronger than the voice of people who will inevitably challenge your abilities, ambition, or experience. You have to learn as you grow your career to separate thoughtful, meaningful feedback that can really help you get better from comments that are rooted in someone else's insecurity or perceptions of what you should or can be. For me, the biggest lesson from the whole experience is there will always be people saying you can't, shouldn't, won't, or don't have what it takes. Instead of wasting time worrying about what other people think, invest more time in ensuring you believe in what you're doing, that you're actively growing and learning, and that you are doing work and leading a life that makes you happy. You should get to design the soundtrack of your life, don't let other people pick the songs that play in your head.
What steps can we all take to improve gender equality?
We need to make gender equality a team sport, inviting men to be an active part of the conversation and solution. We also need to make sure gender equality is viewed as an economic and business issue versus just a social issue, and ensure that gender equality is part of a broader conversation around inclusion — historically gender equality has had a tendency to ignore other elements of inclusion, such as race, age, socioeconomic status, and sexuality, so we need to make the conversation broader in nature and impact to really move the needle.
Your words had such a positive impact! Do you have plans to write more? Would you ever consider blogging or consistently contributing somewhere?
Thank you! That's such a kind compliment. I'm open to it — I just have to find the right time, platform, and topics. I am going to write more regularly for Inc moving forward.
Much of your job at HubSpot has involved company culture. Why is this such an important facet of a company to cultivate?
People think of culture as cool perks, free beer, and a ping pong table, but culture is really about how a business functions, what it values and rewards, and how people work together every day. I think we're seeing more and more people ask hard questions about culture before they select a company, including researching reviews on Glassdoor and InHerSight, and that's a wonderful trend for companies and candidates alike.
Culture is vital for companies to cultivate because it sets the tone for who you hire, who you promote, how decisions are made, and the promise you make to your customers. HubSpot's Culture Code has amassed more than 3 million views, and that's because we made it dynamic, human, and relevant for our customers, prospects, candidates, and current employees. Ask any company you're considering what they stand for with their culture and look for clarity, consistency, and commitment — if everyone you speak to has a fundamentally different view on what the company culture stands for you, you've uncovered a problem.
You clearly have an incredible work ethic and drive to succeed. What other skills do you think are necessary to have when working your way up the ladder at work? What advice do you give to women who are frustrated by a lack of recognition for their work?
Self-awareness is critical — know what you're good at and what you need to work on and ask for feedback early and often from people you admire and trust. I also think people underestimate the importance of a good sense of humor — I take my work very seriously but never take myself too seriously, and it makes work and life a whole lot more enjoyable for everyone involved.
In terms of frustration for lack of recognition, that can be really tough to navigate. I find that a lot of young women wait until that frustration reaching a boiling point to take action or speak up about it. So my first piece of advice is to set a calendar invite to track your goals and accomplishments in a given month so you have solid, quantifiable results to share with your boss or manager at regular intervals and don't have to scramble to remember them when your performance review rolls around. Second is to identify communication channels that matter at your company — do you have a team meeting you can present to on something you care about? A company email you can contribute to? Identifying ways to access communication channels that matter will help you get comfortable with new mediums and remind multiple folks in your company of your hard work and input. Finally, practice using your voice early and often. Learning how to communicate clearly and effectively about what you want will pay dividends the rest of your career, so work on written and verbal communication that is clear, concise, and direct about what you're seeking and the benefits to the business of making that happen.
Let's talk about the importance of female empowerment in the workplace. Do you have any female mentors, or anyone you looked up to who helped lead your career? Who has been your greatest motivator, and from where do you gain inspiration?
I've been lucky to learn from a lot of great leaders, both male and female. Personally, I don't have one formal mentor, but I do have a group of people I rely on regularly for feedback, advice, and input. One of those people is Alison Elworthy, HubSpot's VP of Operations. She and I worked closely together on HubSpot's IPO, and she's always the first person to offer a helping hand, a word of advice, or give me tough feedback when I need it most.
One of my earliest bosses, Howard Wolfson, was also a tremendous influence on my career. He taught me early on not to think or go with the crowd, and how to thoughtfully question the status quo and come up with creative ideas and messages that cut through the clutter. That learning has stayed with me for more than a decade, and I feel lucky to have learned that from him.
My greatest motivator is my family. I am the oldest of six kids and my youngest sister is more than twenty years younger than me (don't ask, we have a modern family!). I want her (and of course the rest of my siblings) to live bold lives and have fun doing it, so it all comes down to making them proud and leading by example. My favorite job on earth is being a proud big sister.
One source of inspiration for me is something Tracee Ellis Ross said: "I cheer for people. I was raised to believe there's enough sunlight for everyone." I try to spend time every day feeling grateful for what I have, giving positive feedback to people who earn it with their hard work — I think positivity is contagious.
What's the best part of going to work each day? What do you love about your job and about your life?
The best part of going to work every day is the people — no day is ever the same and the people I work with are constantly identifying ways to make our business and our culture better. I have to hustle to keep up, and I love that.
As for my life, I'm really grateful I get to spend most days with a workout to clear my head, that I get to live in a city I love but also travel to new places on a regular basis, and that I have family and friends who keep me grounded in the little things that matter, like a great meal, a good book, and making really good chocolate chip cookies.
What advice would you give to your 23-year-old self?
Run your own race. Don't measure your life as it relates to others, personally and professionally. And, enjoy it all — the cramped apartments, the late nights at the office, the dance parties, the long marathon training runs, the dates that don't work out, the dates that do, the trips you take, the things that don't quite go your way, and the fumbles you make along the way — they are teaching you more than you know.
Katie Burke is The Everygirl…
Favorite item of clothing you own?
Lululemon Wonder Under pants – I live in them on weekends. But when I'm not in workout gear, it's a 2 Penny Blue black blazer with leather trim – perfect for work or play.
Last movie you watched?
Love Actually. I don't have a ton of patience to sit through movies, yet somehow find time to watch Love Actually seven more times over every holiday break.
Starbucks order?
Iced coffee year round, even in New England weather.
If you could have lunch with any woman, who would it be and why?
Beyoncé for sure, but assuming she's in even higher demand than usual given her baby news, Tina Fey.