Nashville is a group getaway favorite. The Tennessee city is home to great food, great live music, and a ton of country music history. If you've never been to Music City, it's easy to envision Nashville as only a strip of honky tonk bars and bachelorette parties (which certain parts are), but the city is also home to neighborhoods outside of Lower Broadway with fantastic cocktail selections, specialty southern food, and a vibe all their own.
If you're planning a trip to Nashville this year, don't worry about only stumbling across Instagram gold. We've rounded up the 10 best locations around the city for your Insta-opportunities from famous murals to the prettiest coffee cups. Not only will you be inspired throughout your trip, but your friends will thank you too!
1. I Believe In Nashville Murals
Source: @audreyroloff
Source: @jesshereandnow
There are dozens of murals throughout downtown Nashville and the surrounding neighborhoods, but our pick is the photo favorite "I Believe in Nashville" walls on 12th Avenue South. Murals are scattered through downtown and in East Nashville so keep an eye out for hidden gems on side streets, too.
2702 12th Avenue South and 625 Main Street in East Nashville
2. Pinewood Social
Source: @pinewoodsocial
Source: @pinewoodsocial
Source: @quinnlewismusic
There's no denying how charming (and photogenic) Pinewood Social is and it's definitely a must-visit. Part coffee shop and part cocktail bar, Pinewood is home to a bowling alley, bocce courts, and two swimming pools with a pool-side Airstream trailer turned food truck. The club is walking distance to downtown, but you'll be hard pressed to find a better spot to beat the summer heat in Nashville.
33 Peabody St, Nashville
3. Honky Tonk Highway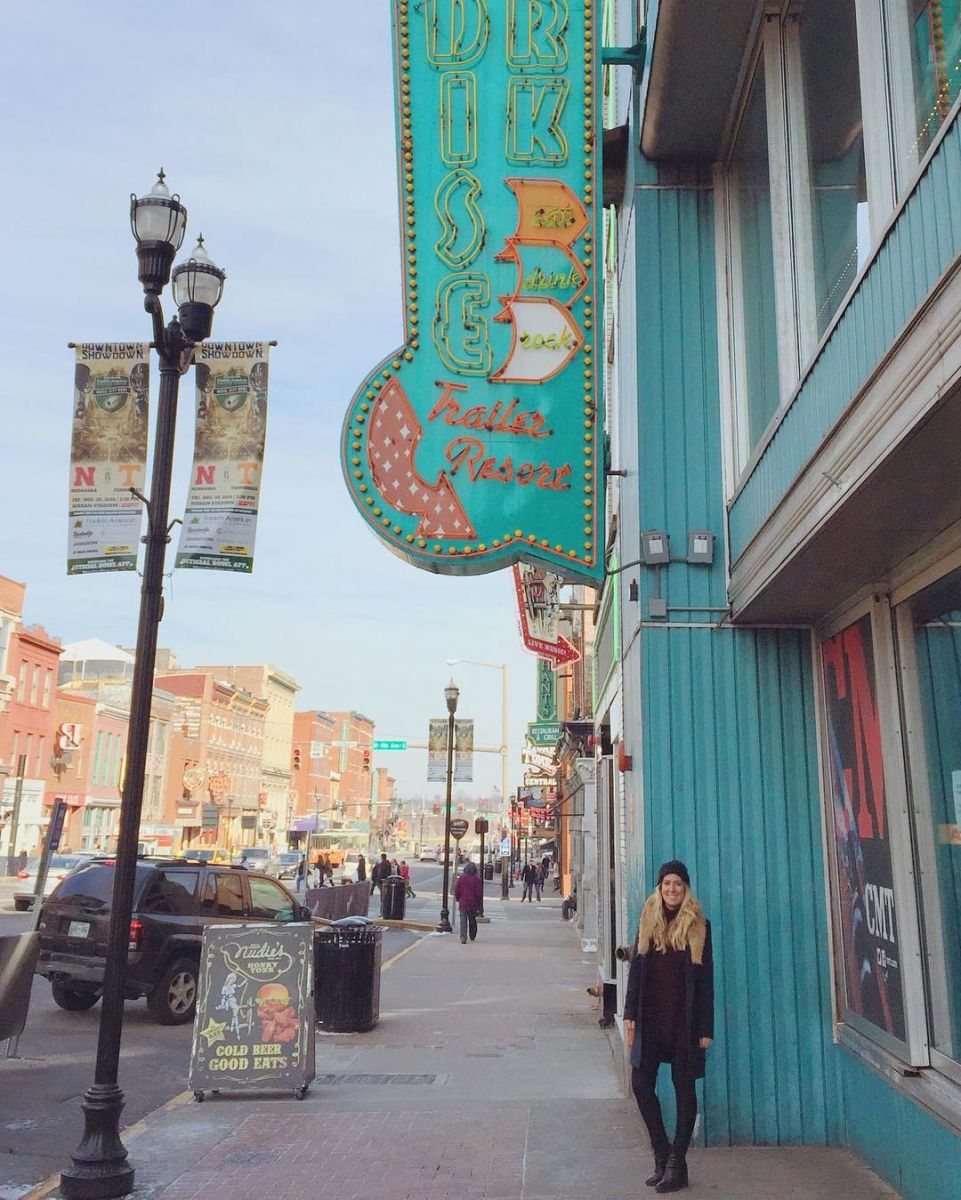 Source: @lindseybach
Source: @tootsies_orchid_lounge
Honky Tonk Highway is a stretch of Lower Broadway, the most popular spot for tourists in Nashville. Along Broadway are dozens of small live music venues that have seen soon-to-be stars pass through before they become famous. The street is colorful and vibrant, dotted with neon signs, cowboy boots, and a life-size Elvis statue.
430-330 Broadway in downtown Nashville
4. Barista Parlor
Source: @baristaparlor
Source: @baristaparlor
Source: @thiswildidea
The Barista Parlor coffee shop is in a refurbished auto repair shop in the Germantown neighborhood of Nashville. The breakfast spot serves up premium drip coffee complete with tasting notes served in coffee mugs adorned with anchors and motorcycles. In addition to the beautiful space itself, the biscuit breakfasts served on wooden trays are a food photographer's dream.
1230 4th Ave N, Nashville
5. John Seigenthaler Pedestrian Bridge
Source: @micahtoto
Source: @stefaniecasiplatt
In between biscuit breakfasts and fried chicken lunches, take a walk across the pedestrian bridge that crosses above the Cumberland River. The bridge is one of the longest in the world and offers visitors unrivaled views of the Music City skyline. On one end of the bridge you'll find the bustling corner of Lower Broadway and the Cumberland Greenway walking path, and on the other is the NFL's Nissan Stadium.
1st Avenue South and Broadway
6. Bajo Sexto Taco Lounge
Source: @thenashvilleguide
Source: @bajosextotacos
A Nashville favorite, Bajo Sexto has two outposts in Nashville and a food truck that travels throughout downtown. The Sylvan Park location is outfitted in an old muffler shop with neon signs, bright walls, and Dia de Muertos touches. Enjoy #TacoTuesday with a frozen margarita and fresh guacamole al fresco on Bajo Sexto's patio lounge for a lazy brunch or happy hour celebration.
5303 Charlotte Ave, Nashville
7. #WhatLiftsYou Wings Mural
Source: @missaphrah
Source: @owenhowellmusic
Artist Kelsey Montague has painted large wing murals in a handful of cities across the United States, but at over 20 feet tall, the Nashville installation is the largest. The wings are a perfect backdrop for portraits, and the #WhatLiftsYou messaging is evident, showing positivity and the power of friendly interaction. Bonus: There's even miniature wings beside the massive angel wings for your furry friend.
302 11th Ave South in The Gulch
8. Acme Feed & Seed
Source: @acmenashville
Source: @acmenashville
Source: @acmenashville
Located at the end of Broadway along the Cumberland River, Acme Feed & Seed is a multi-level building with two floors of drinking and dining options accompanied by live music throughout the day. Acme's roof deck is home to a third bar, lounges, and views of the river—the John Seigenthaler Pedestrian Bridge is in one direction, and straight down Broadway in the other. On a warm day, head to the roof and order a frozen Mule Kicker to cool off. The frozen concoction of moonshine and lemonade is as southern as it is refreshing.
101 Broadway, Nashville
9. Cheekwood Botanical Gardens
Source: @cheekwood
Source: @chandlerrobertsq
On the Cheekwood estate sits a 1930's Georgian mansion, over 50 acres of gardens, and an art museum. The estate is a quick drive just 10 miles outside of downtown Nashville and offers visitors a completely different experience than they'll find on Lower Broadway. After spending a few hours snapping photos of the twelve different gardens, stop into the Pineapple Room!
1200 Forrest Park Drive, Nashville
10. Biscuit Love
Source: @biscuitlovebrunch
Source: @lovegulch
Located in The Gulch, around the corner from the #WhatLiftsYou mural, is Biscuit Love. The brunch spot that opened in 2015 has quickly become a Nashville favorite thanks to their biscuit breakfasts, homemade preservatives, and a neon Nashville sign stretching the length of one wall. Plan a visit during the week or off-peak hours so you won't have to wait in line to get your hands on an order of Biscuit Love's fried biscuit doughnuts (aptly named "bonuts") that are served warm with blueberry compote.
316 11th Ave S, Nashville
Where are your favorite photo-worthy spots in Nashville? Let us know in the comments below!