What's more motivating than brand new workout gear? The answer: brand new workout gear that actually sculpts your muscles, enhances your performance, and can actually help you be healthier. Whether you need gear that will take you to boxing, barre, or brunch, these new advances in activewear technology kicks all your old leggings and sports bra's a**.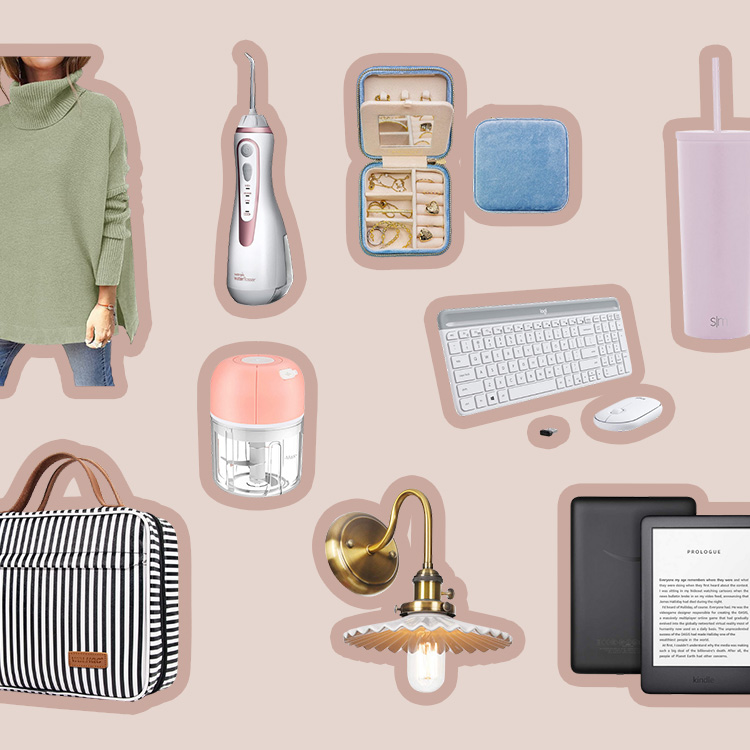 CURRENTLY TRENDING /
HOME
hit "add to cart" and thank us later 💌
Seamless Leggings
If you could wear leggings every day, wouldn't you? Thanks to the athleisure trend, that dream is becoming more of a reality. And when you're wearing leggings as much as we know you are, don't you want them to be as comfortable as possible? One detail makes all the difference when it comes to the comfort of your leggings — the seam. Seamless leggings are the latest trend in activewear technology, bringing us the tightest fit and the comfiest feel.
Sports Bras with Real Support (and Style!)
Since, well, forever, women have been at an athletic disadvantage. It's like we have two additional weights strapped to our chest at all times (ever think of that, men?), and historically, sports bras have given very little solution — they're either cute and unsupportive or bulky and uncomfortable. But we no longer have to choose between the pretty, stylish, thin sports bras that offer no support, or the thick, ugly sports bras that your great aunt might wear. Women have talked, and activewear brands have listened, bringing a new wave of sports bras that use compression fabric and shapewear (goodbye, uni-boob!) to be as supportive as they are chic.
Crop Tops that Double as Bras
With the rise of hot yoga, pilates, and gym #OOTDs, crop tops became all the rage in stylish sports wear. Of course, that usually meant tops with little bra support or doubling up a sports bra with your crop top to get decent support, resulting in compression so tight even just breathing was a workout. Nowadays, there's a variety of cute workout tops that double as supportive sports bras, meaning you don't have to worry about doubling up to get enough compression. With enough coverage to be tops, and enough support to be bras, the new crop tops are changing what we wear to workout.
New Sweat-Resistant Material
Say goodbye to traditional spandex or material that makes you feel like you're wearing a scuba suit — a new sweat-resistant fabric is being stocked on shelves! While knit is typically reserved for sweaters, it's also taking over your favorite activewear basics. Not only does it offer a tighter, more comfortable fit, but it's also sweat resistant, meaning it won't stretch out or slip around when you start to sweat. It's cool to the touch, and stays dry even in the highest intensity workouts. Take that, hot yoga!
Leggings that Sculpt
I know we're all still just trying to find leggings that don't stretch, but we should be asking for more out of our workout gear. The newest leggings are not just expected to fit well and stay put during a workout, but they also sculpt your body, doing the work of all those squats and lunges for you. Brands like Spanx or Nike are using tight paneling and seamless design to hold in the stomach (who says crunches are the only way to get a six pack!?), and Sweaty Betty uses a "bum-sculpting" technology that is said to literally tuck, lift, and support. We'll take 10 pairs.
Gear that's Good for the Environment
Technology can do anything, so why not use it to make our clothes eco-friendly? Adidas x Parley teamed up for a stylish line that uses yarn made from recycled plastic found in beach and coastal communities, Girlfriend Collective's LITE line is made from recycled ocean waste (but is just as soft and lightweight as the rest of their leggings), and classic Patagonia is always made from recycled material. When you're working out, do good for your body and the planet.
Sneakers that Can Increase Performance
Don't settle for sneakers that just get the job done — opt for the latest and greatest in sneaker technology like precise-return insoles for movement and arch support, added foam that's said to bring "record-breaking speed," or grippy-yet-flexible outsoles that will make you push harder than you ever thought you could. Put your sneakers to work and get a pair that reduce injuries and increase performance.
Water Bottles that Track How Hydrated You Are
It's 2019, our alarm clocks tell us the weather, our watches tell us how many calories we burned, and our cell phones tell us, well, just about everything. It's time we expect more from our water bottles, too. We all have goals to drink more water (another trait of 2019), so why not put technology to good use by tracking exactly how much you're drinking and keeping yourself accountable for reaching your hydration goals? It's as simple as pushing a button — your water bottle has never been more helpful.