You've read list after list of what to pack, but what about how to pack? We all dread trying to fit our entire wardrobe into a suitcase that seems to have shrunk since the last time we used it. Then, once you get to your destination, it's a puzzle to dig through your bag for tonight's outfit while keeping clothes organized and wrinkle free. We've already covered how to pack your carry-on and our favorite weekender bags, so now we're here to help with some insider tips and a few great products that will make packing your luggage a breeze. You might even be able to squeeze that last minute pair of shoes into your suitcase! Ready, set, go!
How to pick luggage:
Source: Southern Curls and Pearls (shop the luggage here)
Choosing the type of luggage to bring with you varies based on destination and travel style. If you're headed out of town for an extended vacation, it's important to consider how heavy the suitcase is when empty. Some can weigh more than 10 pounds, and if the airline only allows a maximum of 50, it takes away from precious packing pounds! Weigh your current suitcase (while empty!) on a bathroom scale to see where you start. Then you can gauge how much and how heavy to pack inside. And if you're in the market for new luggage, look for brands with the label "lightweight." Our favorites range from four to eight pounds.
For shorter weekend trips with just a carry-on, make sure the dimensions of your suitcase fit within airline regulations, especially if you have it expanded to its maximum size. Budget airlines tend to have stricter requirements, and flight attendants are known for asking to measure your luggage in their metal crate prior to boarding to ensure it will fit in the overhead compartment.
If you're traveling true backpacker style and hopping from city to city, consider investing in a pack that is easy to carry up and down stairs as you weave through subway tunnels and train stations. Osprey and Deuter both make great options designed specifically for women, and they come in various sizes (measured in liters). Head to your local REI or outdoor sporting goods store to try them on and see which fits the couture of your back and body frame comfortably. You can even load each with beanbags at the store to see how they will feel when packed to the brim.
The art of packing: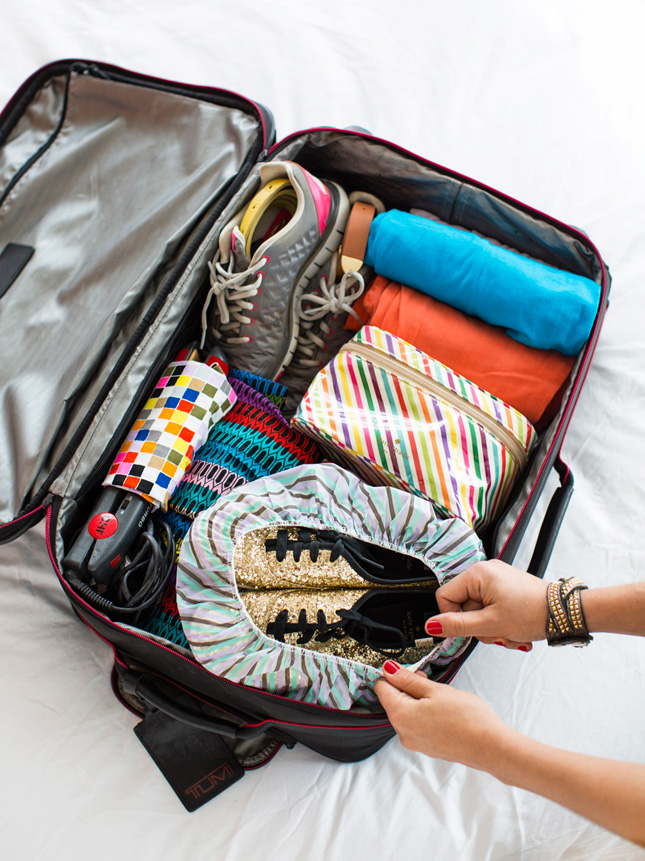 Source: Brit+Co
Now that you have your luggage, lay all clothes, accessories, and essentials out for review. And now comes the hardest part: Put half back in your closet. Expert packers say to pack in outfits—two tops for every bottom, neutrals that mix and match, and only two or three pairs of shoes. Tip: Tieks ballerina flats are our favorite travel shoe for any occasion. They come in a rainbow of colors and are designed to wear from day to night, made with comfort features, and a flexible sole that can fold up to fit in your purse!
Set aside your heaviest shoes and bulkiest outfit or outerwear (or any items that are wrinkle-prone) to wear on the plane. Next, start packing by stuffing your shoes with socks, underwear, and belts, and use a shower cap or plastic bag to cover the dirty soles before you layer in the bottom. Then, instead of folding, roll! Sweaters and pants go first, between the wheels of the bag, followed by light layers including knits, wool, and cotton. Once you're left with formal wear and more structured items, switch to folding. Plastic dry cleaner bags or tissue paper can be reused to layer between dress items to keep them from getting creased.
For a little extra folding love, we like Eagle Creek's twist on a garment bag—it helps you stay organized and winkle free on-the-go. They also make great compression bags that come in various sizes, which simply need to be squeezed down, then zip locked shut. These are a great option for longer trips because they remove excess air from bulky clothes. And they also make great storage solutions for dirty laundry during your trip.
The final touches:
Source: Style Me Pretty
So now all of your clothes made it into the luggage, but what about last minute odds and ends that you don't quite know what to do with? Toiletries are the first challenge. Start by protecting them from exploding in your bag by cutting a small square of plastic wrap, unscrewing the cap, and placing it over the bottle opening before screwing back on the lid. If you're using reusable plastic bottles for your favorite products, make sure to only fill them three-quarters full since the cargo area is not pressurized and liquids expand in-flight. Travel size is a must-have and look for combination products (sunscreen + foundation + moisturizer all in one).
For last minute Advil, your favorite stud earrings, and even iPod earbuds, REI has small plastic containers of all sizes that fit in the nooks and crannies of your bag. If you have several wires, chargers, or headphones, try putting them in an old sunglasses case to keep you organized.
Last but not least, what will you do to pass the time while you're en route? Our favorite trick is to pick up a Read and Return book at the airport, and then dropping it off at a participating bookstore once you reach your destination—and you get 50% of your money back!
What are your tips and tricks for the packing process?
This post was originally published on April 12, 2016