December 1 marks that festive time of year, and once again we're bringing you our annual holiday gift guide with over 200 gift ideas under $100! Of course we also included a few special treats over $100 (cashmere for mom, the perfect suitcase for the girl on the go). but anything priced over $100 is noted with a SPLURGE tag. We also partnered with several of our favorite online shops to bring you exclusive discount codes for 20% and 30% off, so be on the lookout for those as you scroll through!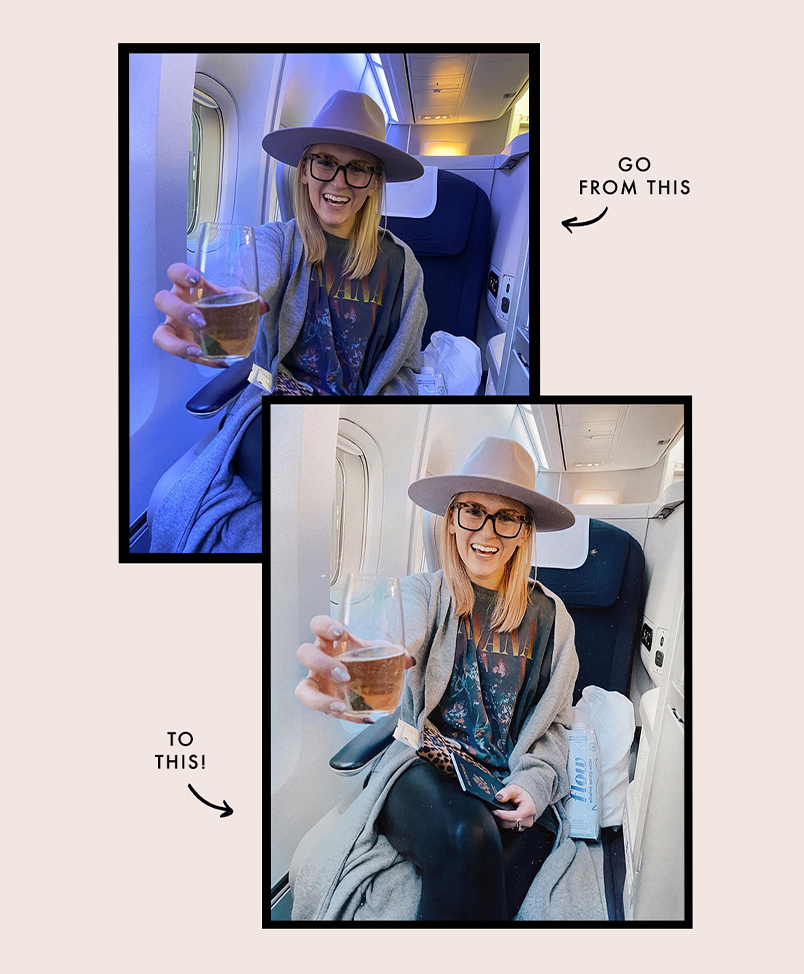 Want to style, shoot, and edit your photos perfectly every time?
We're sharing our secrets to photo editing in our all-new online course, Mastering Photo Editing On Your Phone. Enrollment closes on Thursday, so grab your spot now!
Other than that, we've covered just about everyone on your list! In addition to categorizing items based on your friends' interests and personality, we've also included lists for Moms, Guys, Little Ones, and Stocking Stuffers $10 and Less.
And remember, it's Cyber Monday and a lot of these stores are running promotions, so the prices you see listed here are even lower today! So get going, and get shopping. Happy Holidays!
For the Girly Girl
bow passport case, H&M $5.95
gold polka dot candle, Illume $26
make-up gift set, Cate McNabb $75
ruffle hem sweatshirt, J.Crew $68
sequin puff beanie, Oasis $17
bobby pin art print, Rifle Paper Co. $24
heart robe, ASOS $42
confetti dot iPhone case, Kate Spade $40
luminizer, Citrine Beauty $38
gold and crystal polka dot tray, One's Nest $59 w/ code MYONESNEST
tiny hearts pajama set, Victoria's Secret $52
ponyhair makeup bag, Topshop $28
gold bow ring, Max and Chloe $14
gem necklace, J.Crew $48
sequin chiffon top, Velvet $105 w/ code EVERYGIRL30
DISCOUNT CODE:
GET 30% OFF at VELVET BY GRAHAM & SPENCER USING CODE EVERYGIRL30 AT CHECKOUT – offer valid for 90 days
For the Trendsetter
tassel necklace, Shop Design Spark $30
black and white kimono, Show Me Your Mumu $150
fedora, Urban Outfitters $39
metallic dots crossbody tote, Danielle Nicole $98
Kismet 'Burnout' red lipstick, Hattie Sparks $16
black cape, Oasis $49
iPhone case, Rifle Paper Co. $34
arrow pinky ring, ASOS $9.48
printed slouchy trousers, Oasis $65
chain drop earrrings, Urban Outfitters $15
rubber strand wrap bee bracelet, Max & Chloe $25
weekend sweatshirt, Zara TRF $19.99
studded flats, Sole & Luster $22
100-pack gold hangers, Nathanco $145
navy vegan nail polish, Scotch $15
handmade leather foldover clutch, Maven Collection $88
Gifts for the Decorator
Elements of Style: Designing a Home and a Life, Barnes & Noble $23
gold prism planter/vase, Jayson Home $16+
wishbone, Candelabra $37
metallic ombre hurricane, West Elm $24
colorful and polka dot bud vases, Society Social $13.99 each
black ikat pillow, Pillow Fight $22+
brass alarm clock, Wayfair $39.40
green alpaca throw, Maven Collection $108
decorative retro camera, Lulu & Georgia $56 w/ code EVERYGIRL20
blue batik tray, Furbish $42
hot pink border boudoir sham, Biscuit Home $55
framed gold foil Magnifique print, Minted $43
gold jack, Candelabra $32
leopard matches, Furbish $6
silver hanging mirror, World Market $69
graphic fringe area rug, Urban Outfitters $29
woodshop letters, Anthropologie $22
black and gold accent table, Target $69.99
white and gold trim ice bucket, Society Social $40
For the Hostess
handwoven Peruvian throw, The Citizenry $155
camel embroidered cocktail napkins, Hattie Sparks $42
bottle opener, Anthropologie $32
"Fancy Another?" tray, Lulu & Georgia $31.20 w/ code EVERYGIRL20
mini ceramic planters, Strolby $35
hellos and goodbyes ledger, Izola $23
deco gold and marble bar set, West Elm $63
cheese board, Lulu & Georgia $59.20 w/ code EVERYGIRL20
gold chevron decanter, C. Wonder $58
2-piece salad serving set, Ikea $5.99
herringbone napkins, Gray Market Design $32
"Best Day Ever" favor bags, RedStamp $22
brass-footed marble board, Schoolhouse $45
porcelain pineapples, One's Nest $68 w/ code MYONESNEST
giant stone ring, Max & Chloe $28
"Sup" doormat, NastyGal $50
DISCOUNT CODE:
GET 20% OFF of LULU & GEORGIA USING CODE EVERYGIRL20 AT CHECKOUT – offer ends Friday, December 12
For the Cook
tea towels, StudioPatro $24
cheese grater, Williams Sonoma $16.95
Chemex 3-cup coffee maker, Sur la Table $34.95+
white mixing bowls, Kaufmann Mercantile $8.95-17.95
Jacobsen white truffle salt, Williams Sonoma $24.95
double griddle, Crate & Barrel $59.95
bamboo iPad stand, Wayfair $25
measuring cups, Anthropologie $28
waffle maker, Sears $49.95
personalized cutting board, Red Envelope $55
toaster, West Elm $69
ceramic knives, Kyocera $19.95+
rolling pin, West Elm $18
Emile Henry 10×14″ ceramic baking dish, Sierra Trading Post $31.95
Staub ​matte black 4 oz. cocotte, Amazon $149
olive oil and balsamic, Stonehouse $20 each
For the Worker Bee
#whistlewhileyouwork pencil set, Design Darling $8
gold task lamp, Urban Outfitters $69
fiddle leaf fig print, Lulu & Georgia $20 w/ code EVERYGIRL20
Johnathan Adler smartphone dock, Candelabra $48
personalized dalmation lucite tray, Society Social $60
triangle desk set, The Citizenry $35 each or $95 for three
flexible charger cable, Bobine $35
4″ x 6″ black and white frame, Saturday $30
fan and space heater combo, Stadler USA $119
leather business card holder, Russell and Hazel $28
small gold polka dot planner, Sugar Paper for Target $12.99
mint tape dispenser, Poppin
dachshund letter organizer, ModClock $12.99
"Success Is Not for the Lazy" tumbler, The Everygirl $18
wooden cat-ainer, One's Nest $76 w/ code MYONESNEST
acrylic letter tray, Lulu & Georgia $29.60 w/ code EVERYGIRL20
DISCOUNT CODE:
GET 20% OFF of ONE'S NEST USING CODE MYONESNEST AT CHECKOUT – offer ends Monday, December 8
For the Creative
phoenix 2, Beacon Audio $47.99
sparkle leather pouch, Peek $22
New York City print, Urban Outfitters $20
hammer and screwdrivers, Schoolhouse Electric $22
sharpie markers, Amazon $6.79
feather necklace, Blaine Bowen $40
usb cassette mixtape, Milktape, $15
blank marble notebook, StudioSarah $14.95
iron frame, Tuvalu Home $28
dipped ceramic pencil cup holder, Strolby $36
drawing charcoal, Kaufmann Mercantile $9
wireless touch pad, Wacom $57.99
"Make It Happen" embroidered mini banner, Sharp Tooth Studio $27
driftwood pencils, Storiebrooke on Etsy $14.80
Jenson turntable, Amazon $45
Beautiful Bracelets by Hand, Amazon $16.49
For the Traveler
backpack/messenger bag, Bartaile $195
gold foil 8×10″ Paris map, Minted $32
cordito cord and plug roll, This is Ground $45
striped luggage tag, Henri Bendel $28
large leather city pouch, Madewell $32
Shhh eye mask, J.Crew $15
colorblock pashmina, Kohl's $9.99
"Leave something to the imagination" travel journal, Kate Spade $28
Polaroid camera, Amazon $58
soft white long-sleeve tee, Velvet $55.30 w/ code EVERYGIRL30
ultra thin gold battery charger, Urban Outfitters $32
Fade Into Your powder w/ brush, Citrine Beauty $34
passport case, Kate Spade Saturday $50
felt and leather iPad case, FeltK on Etsy $28
"Onward and Upward" water bottle, Izola $42
DVF spinner carry-on, Macy's $149
For the Outdoorsy Gal
tiny fawn necklace, LilahV $28
Swiss Army knife, REI $25
gloves, United by Blue $48
"In the Glen" tree bark candle, We Took to the Woods $44
plaid button-down shirt, Mindy Mae's Market $39.99
supply backback, Shopbop $55
snowshoes, Mills Fleet Farm $139.99
quilted puffer vest, Mindy Mae's Market $69
SmartWool hiking socks, Sierra Trading Post $12.95
insulated rain boots, Bogs $100
MSR canister stove, Dick's Sporting Goods $39.99
outdoor tea kettle, REI $22.95
Pendleton striped camper blanket, Unamae's $119
plaid thermos, Thermos $29.99
sunglasses, United by Blue $55
fleece pullover, Patagonia $99
plaid scarf, Old Navy $18.94
For Moms
cable sweater, LOFT $59
cashmere two-tone leopard scarf, Casana $268
sherpa slippers, Old Navy $19.95
black stud and pave earrings, Amelia Rose Design $69
leather and gold bangle, Banana Republic $39.50
vertical wine rack, One's Nest $72.50 w/ code MYONESNEST
dinner bell, Kaufmann Mercantile $19.90
personalized bath caddy, Red Envelope $35
preserved boxwood wreath, Pier 1 Imports $89
leopard flats, Maven Collection $62
Bird Project soap w/ porcelain bird, Hattie Sparks $24
black tote, Francesca's $48
gold foil photo collage, Minted $48-65
Tata Harper resurfacing face mask, Citrine Beauty $55
cat mug set, High Fashion for Home $35
For the Guys
street art print, The Citizenry $55
buffalo check flannel shirt, Macy's $20
weatherproof flannel slippers, Macy's $22
leather passport holder, Men in Cities $30
shaving set, Harry's $15
Aztec pillow, Interior Define $60
You Earned It bottle opener, Owen & Fred $28
navy raglan top, Velvet $55.30 w/ code EVERYGIRL30
edison bulb lamp, Schoolhouse Electric $99
Hey Handsome shaving kit bag, Owen and Fred $68
cedar wood shoe tree, Kaufmann Mercantile $24.95
May You Never Go to Hell, But Always Be On Your Way flask, Izola $28
leather catchall, Maine Leather Co. $28
festive plaid tie, The Tie Bar $15
weekender watch, Need Supply Co. $48
striped socks, The Tie Bar $8
Moscow mule mugs, Wayfair $76
scout matches, Izola $8
Heirloom scented candle, Izola $35
For the Littles
suede brogues, Baby Gap $24.95
bear sweater hat, Gap Kids $14.95
sleepover bag, Children of the Tribe $49
fix-it wooden toolbox, Amazon $15
rainbow xylophone, J.Crew $18
spy camera, Land of Nod $9.95
moose sweater, Zara $29.90
monogrammed pom fringe stocking, One's Nest $38.40 w/ code MYONESNEST
wolly the sheep knit doll, Bla Bla $44
hairband crown, H&M $6
bakers apron, J.Crew $45
wooden doll house, High Fashion for Home $49
"Wild Ones" banner, Strolby $45
fair isle sweater, Peek $58
unicorn papier-mâché head wall decor, Wayfair $63
flamingo bloomers, Children of the Tribe $24.95
rider push-along, Serena and Lily $168
Stocking Stuffers Under $10
Easter Island ice mold, High Fashion for Home $8
disco ball ornaments, CB2 $1.95
VIP eyeshadow palette, Sephora $10
heart matches, Leif $10
rose gold votive holder, CB2 $9.95
patterned notebooks, Kate Spade $12 ($6 each)
glitter nail polish, Nordstrom $8.50
leather monogram tag, Kate Spade Saturday $10
glitter bobbi pins, Ban.do $10
gold and white tea light holders, H&M $6.95
heart socks, Oasis $5
tattly temporary tattoos, Forever 21 $4.95
leather cord tacos, This is Ground $29 for 5 ($6 each)
The Holiday on DVD, Target $3.99
leopard print reusable bag, Leif $9