Madrid might just be the perfect European capital. A hustling city by day gives way to leisurely evening dinners sitting outside, then concludes with dazzling nightlife of every stripe.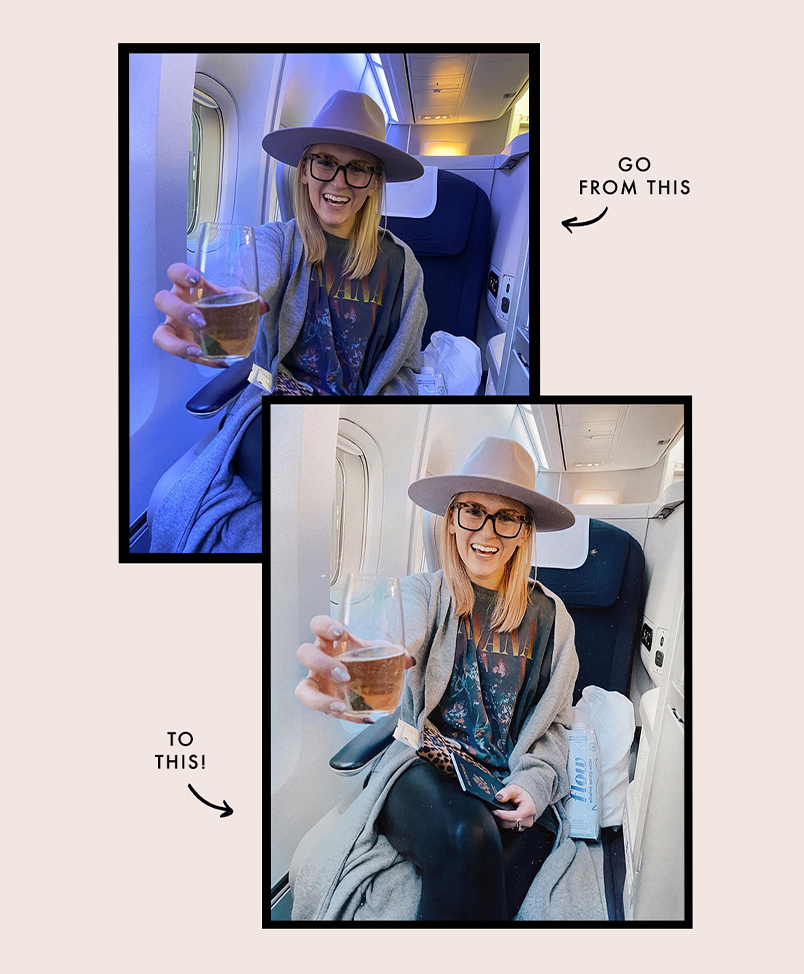 Want to style, shoot, and edit your photos perfectly every time?
We're sharing our secrets to photo editing in our all-new online course, Mastering Photo Editing On Your Phone. Enrollment closes on Thursday, so grab your spot now!
Madrid is so much more than wine and jamón (though you should definitely work those high points into your itinerary!). The city is a celebration of food, art, and architecture that makes it a top European trip you'll want to add to your travel bucket list.
A few quick essentials:
1. Taxis charge a flat fee of 30 Euro from the airport to anywhere in the city center, which gives you a lot of flexibility in lodging options!
2. As with other dream destinations in Europe, August is a month where locals scatter off on their own vacations. Fares are better, but you might find some restaurants and local attractions closed or keeping shorter hours during this time. Spring wins as the top season to visit Madrid.
3. Siesta a real thing (plan on a lot of shop closures between 2 pm and 5 pm) — so definitely consider shifting your schedule later. Sleep in and stay up late! You'll get the most fun vibe at a restaurant if your dinner reservation starts around 10 pm, which sets up a well-timed night out.
4. Oh how you'll walk. Sneakers or low-heeled booties make for a great day shoe. Pack a pair of comfortable heels for your dancing shoes if you're inclined to take on the clubs in high style.
Where to Stay
Budget: Under $120/night
Airtrip Hotel: Bright and modern, the Airtrip Hotel is in the Lavapiés district (one of Madrid's latest up and coming neighborhoods) and is a quick walk to all of the major tourist destinations. WiFi is free and the bedding is luxe. Tip: Make your coffee and walk down to loiter in the lobby where local artists are invited to show their art.
Hotel Exe Moncloa: The gourmet market on the ground floor is the true selling point here, allowing you to stock up on snacks and wine for your siestas. Exe Moncloa's rooms are clean and minimalist, and the scaled down plunge pool and roof terrace boast impressive views of the Guadarrama mountain range.
Mid-range: $150 – $300/night
Catalonia Las Cortes: Housed in an old 18th century palace, Catalonia Las Cortes blends classic Madrid architecture with modern touches. Free snacks in the lobby and a complimentary app that delivers international news tee you up for a day in the city.
Hotel Preciados: Hotel Preciados is perfectly located within walking distance of many major museums and theatre houses, with quick access to other public transport. Bonus — the free minibar is refilled daily!
Splurge: $300 – $500/night
Hotel Urban: You could spend your entire trip in this hotel, enjoying its restaurant CEBO, which was just awarded its first Michelin star, or relaxing in the outdoor pool. Book on the hotel's own website to get perks like a wine welcome gift and bottled water refreshed daily in your room.
The Principal Madrid: The views from La Terraza are the star of the Principal Hotel. Head up to the 7th floor and enjoy cocktails overlooking the city. Wellness is a hallmark of this hotel; the front desk offers maps for nearby running trails and a sauna that can be booked for private sessions.
What to Do
Entertainment
Experience Classic Madrid: For an hour of your time and an affordable ticket, Teatro Flamenco Madrid gives you a taste of this classical Spanish music, accompanied by dancers with castanets.
Dance All Night: The term "late night" can't be overstated in Madrid; most locals head to the local clubs between 1 am and 3 am. Kapital is the largest club in Madrid and has everything from Latin music to house dance spread across its seven floors.
Catch Live Music: If a quieter night is more your speed, Cafe Central is an art-deco bar listed as one of the world's best jazz clubs. Acts rotate weekly and tickets can be purchased over the phone.
Culture
Enjoy Landmark Dining: Foodies will delight in having dined at the world's oldest restaurant, Restaurante Botin, founded in 1725. Despite having become a bit of a tourist draw, the cuisine remains solid and service is attentive.
Visit a Palace: Madrid's Royal Palace is the epitome of Spain's gorgeous Baroque architecture. The Royal family no longer lives there, but it remains an important venue for ceremonies and an icon of Spain's history. (Tip: Make Isabella, The Warrior Queen your inflight reading and arrive with an appreciation for one of the most influential female leaders in history.)
Enjoy Wine Region: While not exactly in Madrid proper, you're too close to wine country to miss a day trip for tapas and the grapes. If you're set on staying in the city limits, try a tapas and wine tasting tour , some made even cooler by being set in a cave.
Take in a Masterpiece: Of course, you won't miss the museums. Spain's "Golden Triangle," the three world class museums located on The Paseo del Prado, houses classics from El Greco, Goya, and Van Dyck. If you only have time for one, the Museo del Prado is world-renowned. Spent too much on wine? Entrance there is free after 6 pm; show up at least 30 minutes before and plan on a line.
Outdoors
Cheer at a Football Game: While some travelers spend big money for Real Madrid tickets, you can save some cash and feel like a local by instead hitting up a Rayo Vallecano game, the city's second tier division team.
Wander through the Green Spaces: Casa de Campo is five times bigger than New York City's Central Park and makes for a gorgeous morning stroll. La Grania de San Ildefonso houses the beautiful gardens that used to be a summer retreat for Spanish monarchs.
Where to Eat
Best Eats Under $10
El Corte Inglés: Be sure to make a stop at one of Spain's oldest department stores. Gourmet Experience Callao sits atop one of its locations and offers up an impressive food court where a range of international eats can be found at many prices.
Tinto y Tapas: This tiny space tucked away on a quiet Madrid street is everything you want in quick, cheap eats. The empanadas are the perfect late night snack before you turn in. The thin crust pizza here also makes a reasonable side dish circa post-club.
Brunch Spots
La Musa: In the city where "late to late" is the norm, jet lagged gals will appreciate that La Musa opens for breakfast at 9 am. Pair your coffee with one of their homemade pastries. Dulce de leche mille-feuille for breakfast? We won't tell.
Carmencita: It's not super common to find eggs for breakfast in Madrid, but a late night of wine and tapas can leave a girl craving some traditional morning fare. Carmencita has delicious local takes on Eggs Benedict as well as mimosas and other brunch cocktails if you need a little hair of the dog.
The Ritz: For a splurge-worthy start to your museum day, consider kicking off at the Ritz right next door to the Museo del Prado. The impressive buffet spread includes local takes and other worldly fare — think classic French pastries and sushi nibbles to fill you up for a day of walking the Golden Triangle.
Dinner
Restaurante Membibre: Traditional Spanish cuisine is the draw at Restaurante Membibre. If you're feeling adventurous, pick one of their famous game dishes or the mollejas (sweetbreads).
Los Maniquis: Do it for the 'gram. Las Chicas, los Chicos, y los Maniquís pays homage to all things 80s in Madrid. Portions here are small tapas style, so plan on ordering a good list of dishes and splitting them with your travel companions.
Cocque: A decadent night out at two-Michelin-star Restaurante Coque does not disappoint. Choose between the half or full tasting menu and start the evening with a drink at the well-styled bar. You might be there on a night where an entire suckling pig is roasting in the oven or, if you're lucky, for the peanut ice cream with olive oil.
Drinks, Please
Macera: Wine and beer are still the drinks that take center stage in Spain, making a perfectly crafted cocktail all the more delightful to stumble upon. Macera makes their own spirits, working in herbs and fruits for unique combinations.
Salmon Guru: These bartenders are true alchemists, whipping up bespoke cocktails in a cozy space. The addition of egg whites to their margarita will make you want to master that ingredient in your own home bar.
Radio, The Roof Bar: Take in the scene (which sometimes includes the who's who of Madrid locals) while enjoying great music and luxe cocktails. Pro Tip: If you want to skip the crazy crowds, this is the perfect spot for a quick sip before your late afternoon siesta.
Where are your favorite spots in Madrid? Any must-do day trips?