Ever since Julia Roberts' character in Eat, Pray, Love ended her year in Ubud (where she fell in "Love" among the terraced rice paddies), the Balinese city has been put on the map as a tourist destination. But there's a lot more to Bali than Ubud, so we've created a guide for your explorations. Trust us, after spending time in the living postcard that is Bali, Indonesia, you'll be planning your return trip in no time.
Here's how we've broken it down for you…
WHERE TO STAY:
Budget Hotels (less than $150/night)
Mid-range Hotels ($150-300 night)
Treat Yo'self Hotels ($300-500 night)
WHAT TO DO:
Yoga, Beach, Repeat
Culture
WHERE TO EAT:
Healthy & Affordable
Local Fare
See & Be Seen
Where to Stay
Budget Hotels (less than $150/night)
Sthala, A Tribute Portfolio Hotel
No Bali trip is complete without a few days (at least) in Ubud, Bali's crafts capital known for its stunning terraced rice paddies. Sthala Ubud is a brand new hotel located twenty minutes from bustling central Ubud. Take in river views while you're lounging at the pool, enjoying a cocktail at the rooftop bar, or taking a yoga class on the terrace. The hotel is brand-new, but you wouldn't know it from the beautiful Balinese architecture and friendly staff.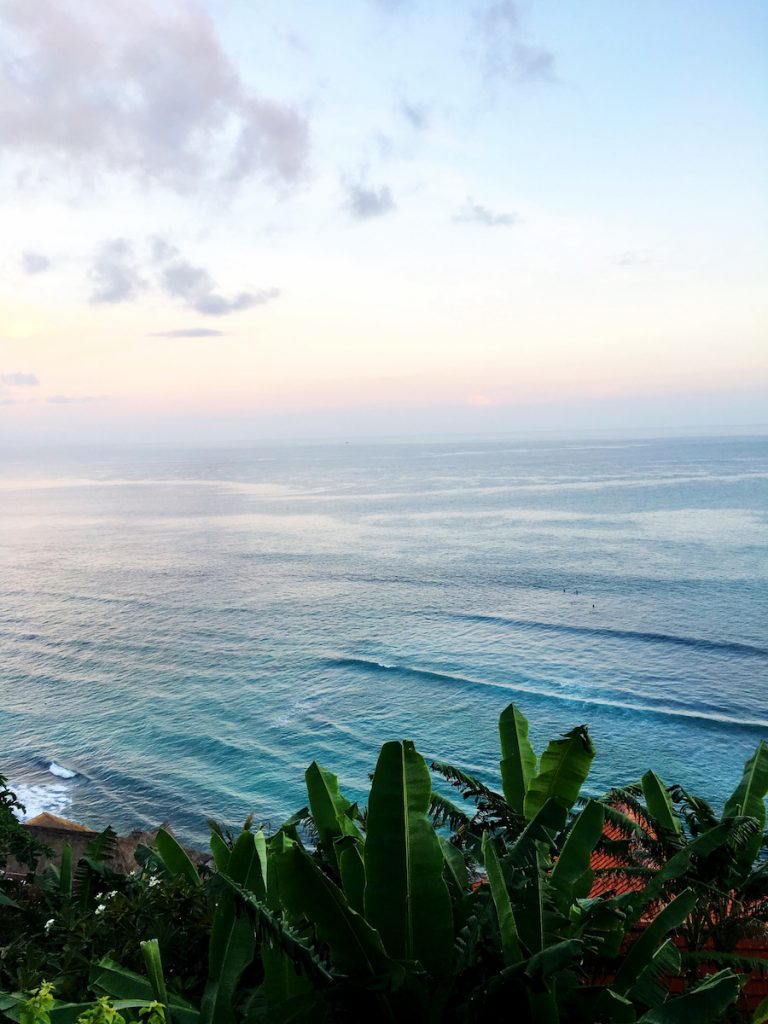 Mid-range Hotels ($150-300 night)
Mick's Place
Mick's Place claims to be the ultimate Bali getaway and lives up to that name. With unencumbered views of Indian Ocean, including famous Indonesian surf breaks, Mick's Place sits atop a cliff at Bingin Beach and is comprised of seven Polynesian-style bungalows. The bungalows are eco-friendly, with stone floors and simple amenities, but you'll be spending your time in the infinity pool taking in the oceanfront views. Mick's Place is walking distance from restaurants, but don't miss the meals cooked up by the cheerful staff.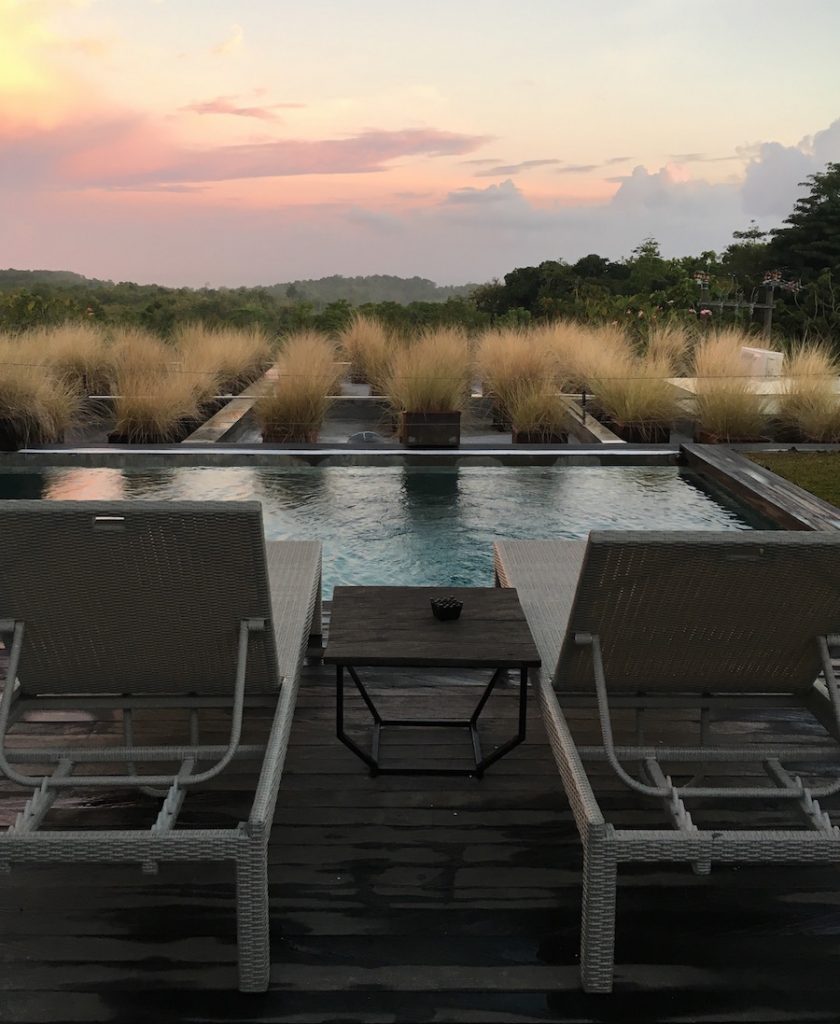 Hideaway Villas
If a private infinity pool is what you pictured for your Bali trip, look no further than Hideaway Villas in Uluwatu. Tucked away from the ocean on a hill offering views of Bali's Bukit Peninsula, the villas are modern, private, and luxurious. The hotel is just a motorbike ride away from some of Bali's best surfing beaches – just be sure you're back to enjoy the sunset from your pool while waiting for a private chef to cook you dinner.
Treat Yo'self Hotels ($300-500 night)
Komune
Set on a pristine volcanic beach just steps from the world famous Keramas surf break, Komune is a dreamy resort and beach club located on the east coast of Bali. The pool and restaurant are both beachfront, while the pool villas are set just above the main pool area for the ultimate luxury. Ideal for active vacationers, Komune also boasts its Health Hub, a tranquil wing of the hotel featuring a lap pool, yoga studio, fitness center, and restaurant featuring healthy but delicious juices and meals. And don't miss the opportunity to pamper yourself head to toe at the spa.
What to Do
Yoga, Beach, Repeat
Yoga at the Temple Lodge
Coming to Bali and not doing some yoga sessions would be like going to Italy and not indulging in pizza and pasta. Located on the southernmost tip of Bali, the Temple Lodge is a yoga-surf resort that opens its yoga space and massage hut to non-resort guests. There's a daily schedule of Hatha, Vinayasa Flow, and other classes held in a beautiful outdoor space covered with flowering vines. Be warned, the morning yoga classes fill up so be sure to arrive early to stake out a mat. After the hour-and-a-half class, unwind with a massage or enjoy a healthy meal while taking in the view.
Dreamland
While oddly located near a gated community of luxury homes and resorts, Dreamland beach is open to the public and worth visiting (whether you're a surfer or not). Dotted with faded pink umbrellas, Dreamland is also known as New Kuta Beach and was reportedly discovered by a surfer in the 1970s. Plant your feet in the white sand and enjoy the view, which is equal parts waves and people watching.
Padang Padang Beach
With golden sand and clear waters, Padang Padang is worth the walk down the crazy steep staircase to get there. Located next to surf spot Impossibles, Padang Padang is one of the most popular beaches on the Bukit Peninsula.
Culture
Tegalalang Rice Terrace
Your Instagram feed won't be complete without a visit to the Tegalalang Rice Terrace. Upon arriving at Tegalalang, just 20 minutes north of Ubud Palace, you'll instantly see why this one of the most photographed landscapes in Bali – it's stunning. Rice is the staple of the Indonesian cuisine and the local economy so rice paddies are ubiquitous in Bali, but this is the place to see them.
Uluwatu Temple
Perched on the edge of a 200+ foot cliff extending out into the Indian Ocean, Uluwatu Temple is one of Bali's sacred sea temples. At sunset, tourists flock to the temple to see the famous Kecak fire dance performance, but if crowds aren't your thing arrive in the morning to walk along the cliff path. The temple dates back to the 10th century and is a place of worship dedicated to Siva Rudra, the Balinese Hindu deity of the elements. Word to the wise: the monkeys are cute but mischievous and will steal your sunglasses, so be sure to hold on to your belongings!
Mount Batur
Hiking Mount Batur is a mission, but the sunrise views are worth it – and nearly every local hotel can set up the hike for you. You'll get to explore an active volcano and get some exercise, so it's a win win. If you're not up for the 3am wakeup call, you can still see Mount Batur without climbing it.
Where to Eat
Healthy & Affordable
Sari Organik
Smack dab in the middle of rice paddy fields in Ubud, Sari Organik is worth the winding 20-minute walk to get there. Sari Organik is an organic permaculture farm and open-air restaurant that serves nutritious, organic dishes for breakfast, lunch, and dinner. You can even pick your own vegetables. The sunsets are specifically stunning (pro tip: bring light for the walk back).
Cashew Tree
Famous for its healthy breakfast (and yoga classes), the Cashew Tree offers lunch and dinner in a garden setting. Order a cold brew coffee or fresh juice and wait for your pittaya bowl, a hot pink version of an acai bowl that's made of tangy dragon fruit and topped with granola and fruit.
Local Fare
Warung Makan Campur
Nasi goreng is the most popular and common dish in Indonesia. Literally meaning "fried rice," it's delicious and filling without being heavy. It can be found on most menus at warungs, small family-owned cafes that line the streets and beaches in Bali. Warung Makan Campur is one such warung.
Naughty Nuri's
With locations in Ubud and Seminyak, Naughty Nuri's is known for serving the best pork ribs in Bali. Need we say more?
Ubud Cooking Class*
Learn Balinese cooking from a local by taking a cooking class among the rice fields. Begin the way at the Ubud market, gathering traditional herbs, spices, and vegetables. Then sip on a coconut while you learn to make Balinese staples like chicken satay, cooked on lemongrass stalks, and dadar gulung, pretty green coconut pancakes that are commonly served as dessert.
*We used a guide referred to us by a friend; he doesn't have a website so we contacted him via Facebook Messenger.
See & Be Seen
Single Fin Bali
Single Fin is the place to see and be seen in Uluwatu. The clifftop bar boasts views of the infamous Uluwatu surf break. Be sure to make a reservation to snag a prime spot at sunset and come on a Sunday to enjoy guest DJs and local bands. The menu features Balinese dishes alongside everything from pizza to burgers – and if you're just looking for something to tide you over, head to the Nalu Bowl shack onsite.
Bridges Bali
Most Bali eateries are on the more casual side, but if you're looking for the white tablecloth treatment in Ubud, look no further than Bridges. Bridges boasts one of the most extensive wine lists in Bali and serves Eastern and Western dishes, plenty of vegetarian options, and a tasting menu.
Before You Go
Most people will speak some English, but be sure to remember how to say "Thank you" in Balinese: "suksma."
Each year the Balinese observe, Nyepi, a "Day of Silence." In 2018, it will fall on March 27. While some hotels will be open, Balinese do not work, travel, or use electricity and it is closely observed. Make travel plans accordingly!