With an endless amount of things to do, places to eat, and sights to visit, it's hard to know where to start when planning a trip to New York City. We've gathered a few of our favorite spots in the city for a weekend with the girls and though we couldn't include every single amazing thing to do in this wonderful city, it will serve as a good starting point as you plan your trip to the city that never sleeps!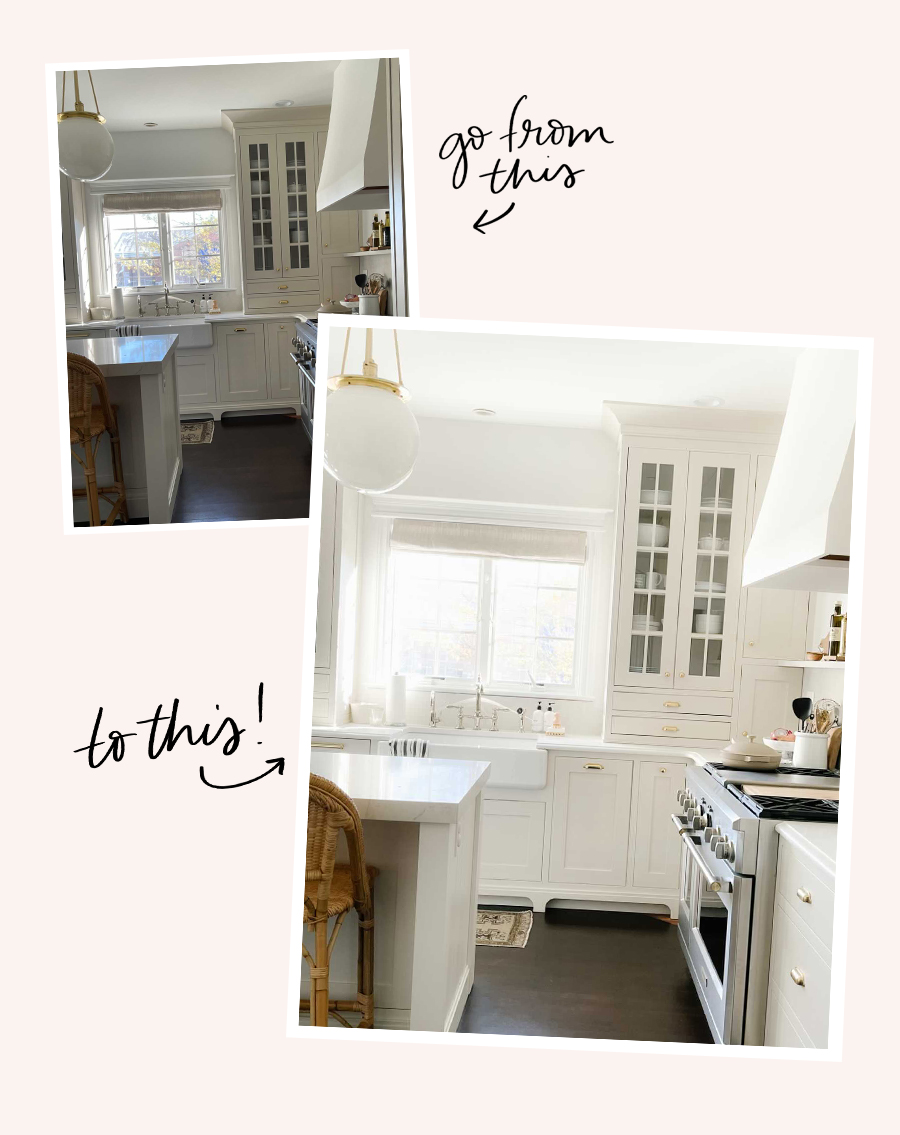 NEW! The Everygirl Presets for One-Click Editing
We just launched mobile Lightroom presets, available for download right now! A beautiful photo is literally just a tap away. And with nine different styles from moody to ultra bright, you'll have endless editing options.
GRAB THE PRESETS >
Here's how we've broken it down for you…
WHERE TO STAY:
Budget Hotels (less than $150/night)
Mid-range Hotels ($150-300 night)
Treat Yo'self Hotels ($300-500 night)
WHAT TO DO:
Entertainment
Culture
Relax and Indulge
Shop
Outdoor Fun
WHERE TO EAT:
Best Eats Under $10
Best Dinner and Brunch Spots
Drinks with the Girls
Where to Stay
Budget Stays – Under $150/night
"Affordable luxury" is the tagline of Yotel and, although that seems entirely contradictory, it's definitely a possibility here. This property has a modern, minimal design, and is close to several of the city's attractions—a great pick if you're on a budget but don't want to skimp on style or amenities. Though the hotel is considered a budget accommodation, there is a gym on site, a 24/7 concierge, and a beautiful terrace on the fourth floor.
The Jane is a great budget option in the city if you don't mind small quarters and, depending on your room type, shared bathrooms. Don't let those two aspects scare you away, however—The Jane is a beautifully designed hotel in a wonderful location. The Jane is able to keep prices low with cabin style rooms that are meant to resemble an old school ship cabin. These rooms are not spacious, but despite their tiny size, they're charming and well thought out. If you stay in a cabin room, you will have to use a shared bathroom; however these are kept very clean. For a little extra, reserve the Captain's Cabin with larger beds and private baths.
The Pod Hotel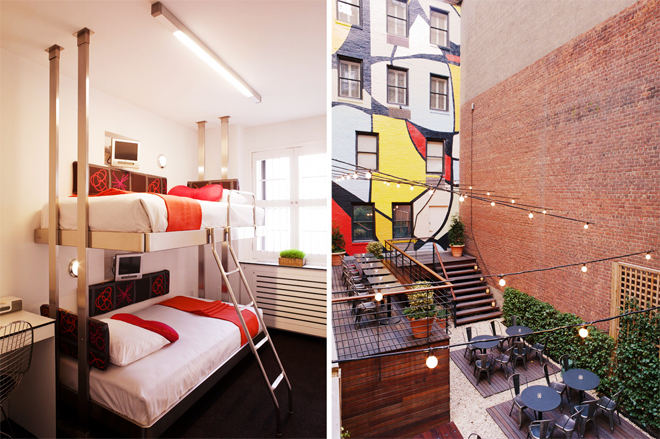 image via
There are actually two Pod Hotel locations in NYC and, lucky for us, both are easy to get to. Like just about every hotel room in the city, you won't be in the most spacious of accommodations but when you're in a city with this much going on, it hardly matters. The Pod boasts solid amenities, good food, and free wifi for all guests. There are several room types, from spacious suites to bunks mean there is something for everyone and every budget.
Mid-range Hotels ($150-300/night)
Nolitan Hotel


photo by Jennifer Kathryn Photography
Located in NoLita, the aptly named Nolitan Hotel is a beautiful mix of luxury amenities and boutique hotel charm. The rooms are plush and well designed with lots of great extras like bathrobes, slippers, and a well-appointed bath. There are also daily free wine and cheese hours, rentable bikes, and access to a nearby gym all at your disposal.
Ace Hotel


photo by Raven Ishak
Chances are, you've probably heard of this property from someone before. The Instagram photos you've seen live up to the hype: The Ace is a beautifully designed hotel with details that will have you swooning. Original art, vintage furniture, and a lobby you won't want to leave are all part of what makes this property so great. Best of all, the building houses a Stumptown Coffee means you won't have to go far for a high quality caffeine  fix.

image via
Located in Chelsea, the Eventi is a mid-range property that feels more like a luxury establishment. The rooms are modern with details like marble showers, and though NYC hotels typically aren't very large, these rooms won't have you feeling claustrophobic. In addition, there is a veranda on the 5th floor accessible to guests with wonderful city views. The hotel also houses a solid fitness center and spa—you may have to force yourself to leave!
Splurge Hotels ($300-$500/night)

photo by Danielle Moss
Located in Soho, The James is a luxury property that strives to make you feel right at home while being in the center of it all. The rooms are warm and inviting, and the linens and wood floors are stylish and chic while still comfortable. The property also boasts a rooftop pool and deck, free coffee and wine hours, bike rentals and, of course, free wifi.
The Gansevoort – Meatpacking District


image via
There are two equally lux Gansevoort properties in New York City, but we love the Meatpacking location for it's close proximity to the High Line as well as Chelsea. The rooms are comfortable and stylish with unexpected pops of color, but the property really shines with its rooftop pool. Open year round and heated, head up during your stay for a cocktail by the pool, and go for a swim as you take in the city views. A spa, gym, and on-site salon complete the experience.
The Ludlow Hotel


image via
The Ludlow is one of those "can I please move in?" hotels. Impossibly stylish, chic rooms, a swanky lounge area, a fantastic adjoining French bistro, a convenient location…need we go on? Head to the Ludlow if style is high on your list of must-haves when it comes to a hotel. Room rates include breakfast at the restaurant downstairs (Dirty French), something guests should most definitely take advantage of. The beds are comfy, the lounge is lively, and the rooms are a dream. What else could you ask for?
What to Do
Entertainment

image via 
Broadway and the theater scene in New York is an enormous part of the culture of the city and whether you're a theater buff or not, seeing a performance on Broadway is an essential New York experience. Be sure to plan ahead as you'll have tough competition for good seats for the more popular shows. Tickets for these shows don't always run cheap, but you do have a few options if you're on a budget. Rush and standing room tickets, and TKTS tickets can be obtained the day of a performance and are a great way to see a show at a lower cost.
Lincoln Center


image via
Lincoln Center is one of the most renowned performing art centers in the country. Throughout the year, the center hosts hundreds of unique performances ranging from opera to modern dance, and everything in between. Check the schedule before your visit to see if anything stands out, and if you're a student, you can take advantage of discounted rates. If you're not attending for a performance, you can still stop by to tour this historic facility.
Yankees Game


image via 
New Yorkers are all about hometown pride, and that sentiment really shines through at a Yankee's game. If you're in town during baseball season, be sure to save some time in your itinerary for a baseball game. You can often get a good last minute ticket deal on Stub Hub so not to worry if you don't have time to plan ahead.
Top of the Rock


photo by Danielle Moss
Yes it's a little touristy, but heading to the Top of the Rockefeller Center will leave you with one of the most breathtaking views of the entire city. Three floors of indoor and outdoor decks mean you'll have plenty of great photo ops, and believe us when we say the city is something to be seen from 70 floors up. If you can, head over during sunset for a truly astounding view of the city as night falls. Try to purchase a timed ticket online (you have to attend at a certain date and time) before your visit to avoid waiting in long lines.
Central Park


photo by Raven Ishak
There is a lot to love about Central Park whether you're a New Yorker or just in for a visit. For starters, it's a beautiful haven away from the city when the car horns and tall buildings get to be a bit much. The park is home to a countless number of trails, acres of green space, and several famed attractions (Strawberry Fields, a tribute to John Lennon is a major one!).
You have the option to take walking or biking tours through the park and, of course, you can roam around at leisure. If you're lucky enough to visit during the springtime, pack a picnic, and laze around for a few hours. Regardless of when you visit, take a look at a map of the park before going. It is quite large so planning ahead will ensure you see the areas of the park you're interested in.
Culture
There are many museums in the city to visit, but if you only have time for one or two, be sure that The Metropolitan Museum of Art is on your list. A world-class museum that houses some of the most important art in existence, you'll want to carve out at least a few hours for a visit (and even then, you won't be able to see it all!). After touring the galleries, head to the rooftop for sprawling views of Central Park.
Chelsea Market


photo by Raven Ishak
There is nothing quite like exploring a great food market in a new city and though New York has several, Chelsea Market reigns supreme. You can get everything from wine, spices, and popsicles here as you roam through the stalls. If you really want to experience the ins and outs of the market, you can even take a food tour to learn (and sample) more.

photo by Danielle Moss 
The 9/11 Memorial and Museum opened 10 years after the horrific attacks that changed our country forever. Most of us probably remember exactly where we were and who we were with on that date, and those memories are sure to make your visit here all the more impactful. The memorial and museum both do a beautiful job to commemorate the lives of the victims of the 9/11 attacks. We recommend heading to the sight when it opens so that you are able to have a more personal experience without dealing with crowds that form later in the day.
New York Public Library


photo by Raven Ishak
The New York Public Library (also known as the Stephen A. Schwarzman Building) is one of the largest libraries in the world and is a key historic landmark in New York City. Free tours are available each day though you may also enter and explore on your own. The architecture alone is worth the visit, but be sure to also check out exhibitions are currently showing as well.
Outdoor Adventure
The High Line


photo by Raven Ishak
You will have a pretty hard time finding a park as unique as this anywhere else in the country. The High Line is a one and a half mile long suspended green space that allows visitors and residents alike to enjoy plants and car-free space deep within the city. It was built on the raised platform of a former railroad, and the old architecture mixed with the fantastically maintained gardens makes for a memorable experience. There are several great passages and overlooks throughout the park that provide for interesting city views and, if you've worked up an appetite, there are even a few food vendors!
Bike Over the Brooklyn Bridge
If you've find yourself browsing the Internet searching for photos of NYC before your trip, you've likely stumbled across pictures of the famous Brooklyn Bridge. It's an iconic part of the New York skyline that also happens to be very accessible on two wheels. You can take a guided tour to that will take you across the bridge, as well as other places of interest. If you are feeling more adventurous, you can head over to Bike and Roll to rent a bike for the day and head out on your own. There is also the ever-popular Citibike, New York City's bike share program. If you're renting your own bike, just be sure to familiarize yourself with the city's biking laws.
Sail the Harbor


image via
As with many other major cities (we're looking at you, Chicago!), you cannot discount the beauty and sights of a city by boat. Seeing New York by boat offers a glimpse of the city that is unrivaled by any other mode of transportation. Let's be real, you also can't really beat a ride that allows you to sip on a glass of wine while you are coasting through the Hudson. If your schedule allows, we recommend you pay the extra $5 for a sunset sail.
Ever wanted to go rock climbing but are terribly afraid of heights? Bouldering might be just the thing for you. Grab your sneakers and head down to Central Park where you can take advantage of one of many different climbing rocks. The key thing to note? All the rocks are generally under 10 feet in height making it a relatively safe but fun workout. We recommend Rat Rock, where it's said that more experienced climbers will likely help you learn the ropes.
City Running Tours


image via
Who say's you can't travel and stay in shape at the same time? Running tours are a great way to see a city, especially since a guide will take you by all of the best spots. You'll see so much more on foot than you would on the subway or in a taxi, and you'll get in your daily workout at the same time. Lace up your favorite running shoes and head out with one of the groups on one of the city's running tours. Just note, the location changes daily!
Relax and Indulge
Essie Flagship Salon


image via
For a manicure while you're in the city, you can't go wrong at the Essie Flagship Salon (also known as the Samuel Shriqui Salon). Though the salon offers other services, it's hard not to be drawn in by the wall of every Essie nail polish imaginable. Essie Weingarten, the owner of Essie Cosmetics, herself went here so you know it has to be good.
Mandarin Oriental Spa


image via 
It isn't cheap and it's not the type of salon or spa you can just pop in to, but if you're heading to NYC for an indulgent weekend, consider pampering yourself at the Mandarin Oriental Spa for an unparalleled spa experience. In typical Mandarin Oriental fashion, no detail is left unaccounted for here whether it's the tea lounge or the treatment rooms. There are a range of spa services available, but all services will also grant you access to the pool and fitness center.
Though Drybar is rapidly expanding, it's still only available in a handful of cities, including New York! With multiple locations throughout the city, it's a fun place to stop at before heading out to a special evening out in the city. Head there with your girlfriends, have a glass of champagne together, and walk out feeling totally transformed. A trip includes a wash and the blow out of your choosing. If your hair is feeling a little limp and lifeless after all your running around in the city, Drybar is a must visit.
Where to Shop
ABC Carpet and Home


photo by Danielle Moss 
Interior design lovers are practically required to stop here on a trip to the city. Housing some truly amazing interior finds, you'll be sure to leave a little more inspired (and a little more broke). Even if the shop is a bit beyond your budget, you'll find yourself planning your next redecorating spree as you browse through their selection of artisan home goods.
The Strand


photo by Raven Ishak
The Strand is an NYC institution known for the 18 miles of books available at its location on Broadway. Bookworms will love browsing through the store's collection of new, used, collectible and rare books. In addition to an amazing selection of books, the Strand also frequently houses events and book signings. Some incredible big name, award winning authors have hosted events there in the past.
Artists and Fleas


photo by Raven Ishak
Artists and Fleas is a hip market in Williamsburg (and Chelsea) to head to if you're in the mood to shop for vintage or handcrafted goods made by emerging local artists and designers. The vibe here is hip, creative, and welcoming. If you're after a one-of-a-kind piece, be sure to start your search here as there are many unique stalls and vendors to go through. Though prices vary, you can definitely find a deal and you'll be supporting local artisans at the same time. A true win-win.
Sample Sales
If you're a sucker for designer goods, you're probably aware of the sample sales that take place throughout the city where you can score designer clothing and accessories at a seriously deep discount. Many of these sales can be a bit difficult to locate as they aren't advertised like your average, run-of-the-mill sale, but the extra digging is worth it. Check out Racked NY or Time Out for a listing of upcoming sales and if you're lucky, you may stumble upon a sign for one just walking around.
Where to Eat
Best Eats Under $10
Doughnut Plant


photo by Raven Ishak
We can't resist a good doughnut and lucky for you, Doughnut plant is home to some of our favorite doughnuts in the city. With lots of creative flavors and options, this isn't your average, run-of-the-mill doughnut shop. There are a few different locations throughout the city so you should be able to find one close to your hotel. After all the walking you'll do through the city each day, you definitely deserve to treat yourself to one of these.
Cafe Habana


image via
Located in NoLita, Cafe Habana is a Cuban-Mexican joint home to lots of charm and most importantly, lots of flavor. For under $10, you can grab an order of their tacos and their grilled Mexican style corn—a dish they're famed for. It's a small, casual place that tends to get pretty busy so try to go during off hours if you want to avoid the crowd.
S'MAC
An entire restaurant dedicated to macaroni and cheese sounds like it's too good to be true if you ask us, but in Greenwich Village, it's a reality. S'MAC is dedicated making everybody's favorite comfort food and serving it in a variety of different ways (Cajun style, buffalo chicken and Mediterranean to name a few). For $5-$8, you can get a "nosh" sized serving, a perfect snack as you make your way through the Village.
Egg Shop


photo by Raven Ishak
Head to Egg Shop for an easy breakfast or lunch near the Bowery subway station in the Lower East Side. As the name suggests, egg sandwiches are the name of the game. You create a custom egg sandwich for under $10 and get the toppings and ingredients you choose or order from their regular menu. The Egg Shop B.E.C. is a favorite but with their fresh, high quality ingredients, you can't go wrong with any of the menu items. The restaurant is open for dinner as well, though that will take you a bit above the $10 price point.
Mamoun Falafel
In a city that is notoriously expensive, there really is something to be said about a $3.50 falafel sandwich. Though the food is inexpensive, Mamoun's is home to some truly fantastic Middle Eastern food. In addition to falafel, there are a number of meat options including kebabs and shawarma. Best of all, they're open late making it a good option for a late night snack after the bar.
photo by Danielle Moss 
There are a few different Maison Kayser locations around the city (with a few more on the way). Originating in Paris, it's a good stop for a quick bite to eat or coffee before heading out into the city. A cold brew and a croissant is never a bad way to start your day, and because the cafe was founded in Paris, you can expect delicious, high-quality baked goods.
Best Dinners and Brunches
Located in Brooklyn, Pok Pok came to be after a trip that chef Andy Ricker took to Northern Thailand in the nineties. The cuisine has won numerous awards and accolades, and is a must visit for lovers of Thai food. On the menu, you'll find dishes unlike anything you've seen at a typical Thai restaurant so be ready to branch out!
Jane is open for lunch, dinner and drinks, but where they really shine is the Sunday brunch. It's the perfect spot to sneak in eggs benedict and a mimosa or two as you recover from your weekend. The brunch does get pretty busy so do plan to make reservations ahead of time, if possible. Conveniently located in Soho, you can walk off your leisurely brunch with a bit of shopping after you're finished.
Momofuku


photo by Danielle Moss
If you've been to New York at any point, chances are you've tried the succulent ramen at Momofuku Noodle Bar while also indulging in their famous pork buns. But chef and owner David Chang didn't stop with the success of his original noodle haven. Check out Momofuku Ssam Bar for small plates and dishes that let you explore new flavors (and yes, you can also still order aforementioned pork buns as well!). One of the most famous dishes is a roasted duck over rice that will challenge your ability to ever eat chicken again.
Pizza is a controversial and maybe even dangerous topic in New York. Everyone has a favorite spot that they consider to be far superior to the others—we had a tough time narrowing our picks down to one, but Roberta's is at the top of our list. Located in Williamsburg, there will most definitely be a wait to get in so plan accordingly. The pizza is wood-fired, reasonably priced and, most importantly, some of the best pizza you'll (probably) ever have.
Gabrielle Hamilton is the mastermind chef and owner of Prune, an eatery in the East Village offering New American fare. The interior of the restaurant gives off a cozy, friendly vibe, and the menu is varied yet approachable. Their dinner service is wonderful, but the restaurant is open for brunch as well. Just note that like many popular dining spots in NYC, Prune does tend to get crowded during peak hours.
Drinks With the Girls 
ABC Cocina


photo by Danielle Moss 
ABC Cocina is a fabulous spot for after dinner drinks (even better if you eat there first!). The restaurant is at the helm of Michelin starred Chef Jean-Georges Vongerichten, and we highly recommend ordering some snacks with your drinks while you're at the bar to sample his creations. The decor in the restaurant is as stylish as you'd imagine (it's owned by the same company behind ABC Carpet & Home). It's not often that you come by a place that does drinks, decor, and ambience so well, but ABC Cocina fits the bill.
The Press Lounge


image via
Experiencing an NYC rooftop is a must while in the city, and The Press Lounge is one of the most beautiful ones out there. The roof opens up to 360 degrees of beautiful skyline and it's open year round. Unlike many rooftop lounges in the city, the Press Lounge has no guest lists, reservations or cover charges meaning you get a relaxed, authentic experience. Drinks are good, but stay for the view!
If you're looking for an unpretentious bar with high-quality drinks, The Winslow is your spot. Though the bar is known for their gin drinks, they have a great selection of other spirits, beer, and wine as well. If you're looking to snack while you drink, not to worry here. There is a good variety of bar bites as well as a dinner menu. The decor is well designed and unfussy, and the relaxed vibe makes it a great spot for a low-key evening with some friends.
Amelie Wine Bar


image via
Wine lovers should make a beeline to Amelie Wine Bar the minute they arrive in New York. We love Amelie for it's expansive yet very affordable wine list, something many wine bars lack. Those of us who aren't wine connoisseurs can rest assured that the knowledgeable staff here will assist you in selecting a glass you'll love. It's the perfect spot for a few glasses of wine and some snacks on a Saturday night, but be sure to check out their happy hour as well for amazing wine specials.