Wine country. No two words trigger a positive biochemical reaction in my brain quite like those. (Thai takeout is a close second). And Northern California's Sonoma County wine region is one of the finest to boot. Rolling hills, endless vineyards, farm-to-table cuisine, and beautiful state parks abound.
And oh, the people. There's just an overall laid-back and friendly spirit reflective of the lifestyle and culture that is wine country. Where the value of working hard at something you love and enjoying the fruits of your labor holds true. After all, what's not to love about a life of great food and wine while being outdoors with great company… and where a chilled glass of Sauvignon Blanc is always encouraged at lunch.
That is a visit to wine country. It's the perfect place to unwind and unplug: Reconnect with nature and the food on your plate, slow down and learn about what you're eating and drinking, engage with those you're sharing a tasting or a meal. It's hard not to be happy in wine country.
It's truly the perfect getaway for couples, a girls' weekend, family reunions and heck, I'd even recommend going by yourself to relax and rejuvenate (spas a plenty in Sonoma and it's easy enough to make friends with whomever is pouring your wine in a tasting room)!
We teamed up with one of the most establish and well-loved wineries in the region–Kendall-Jackson–to take you on a little tour of the area with some of our recommendations on what to do for a long weekend in heaven–er, wine country.
1. Tour the wineries.
The first goes without saying. Touring the wineries, estates, and vineyards is, of course, number one on most people's list of priorities when visiting Sonoma County. But with hundreds of wineries to choose from, it can be overwhelming to map out an itinerary. Here are a few of our favorites:
Kendall-Jackson Wine Estate & Gardens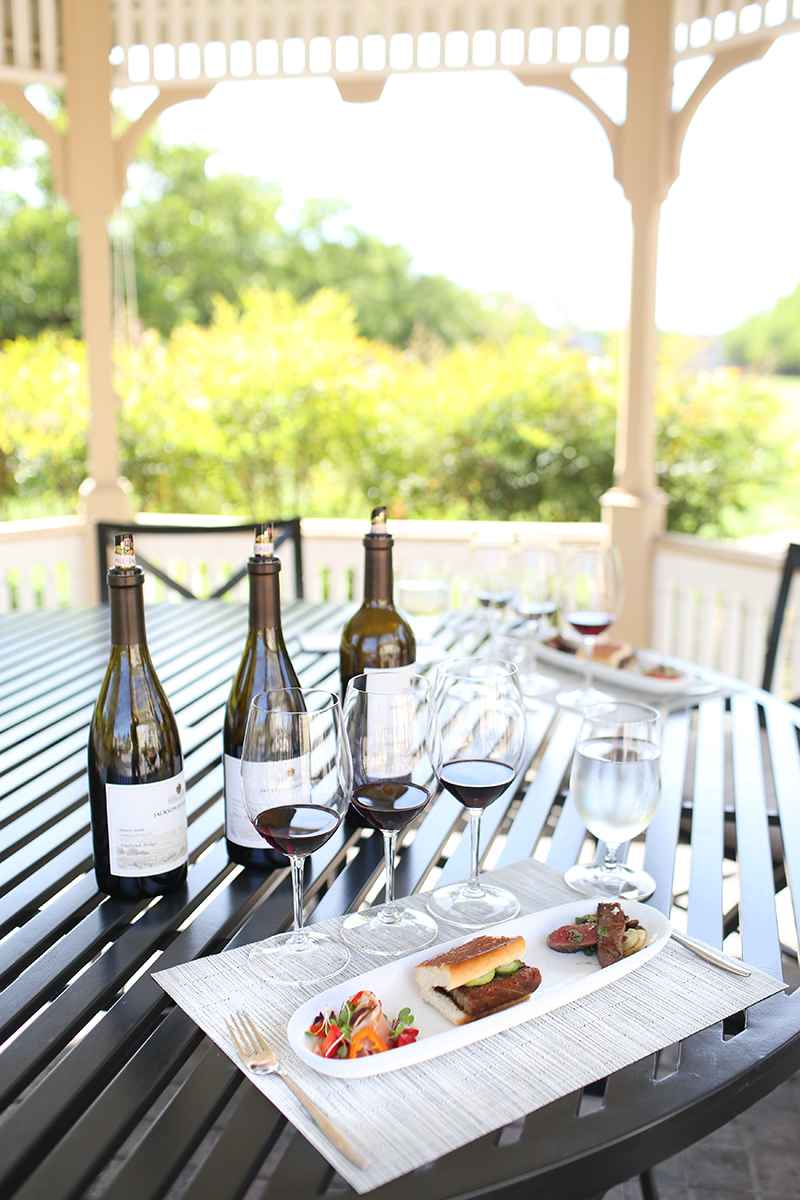 The château and grounds at the Kendall-Jackson Wine Estate & Gardens are as beautiful as you might expect from such a household name. Walking up through a manicured garden, you enter a grand tasting room with floor to ceiling windows and a large cobblestone patio out the back. We recommend indulging on a private food and wine pairing in one of the cabanas since the kitchen and gardens–run by Executive Chef Justin Wangler and Culinary Gardener Tucker Taylor, respectively–are as amazing as the extensive wine collection K-J offers. Most of the food you'll enjoy is harvested on the three-acre Culinary Garden, located right on the property, a true farm-to-table experience!
And before leaving, be sure to tour the grounds, including their Demonstration Vineyard and Wine Sensory & Culinary Gardens. In the Demonstration Vineyard, you'll find up to 28 different grape varietals, where you can see, touch and even taste the difference between a chardonnay grape, pinot noir, cabernet and more! The Wine Sensory Gardens provide visitors with a unique opportunity to see, smell and taste the often elusive aromas and flavors found in wines –including white wine and red wine gardens planted to fruits, vegetables, herbs and flowers
Booking tasting here.
Address: 5007 Fulton Rd, Santa Rosa, CA 95403
Matanzas Creek Winery

photos by Alaina Kaczmarski
The large decks and cascading trees make Matanzas Winery feel like you're in a giant tree house for adults (but with nice seating and someone serving you wine, so even better). The property also boasts lavender gardens in the summer, bocce games, and picnic tables so feel free to bring your own items for lunch when you visit!
Book tasting reservation here.
Address: 6097 Bennett Valley Rd, Santa Rosa, CA 95404
La Crema Tasting Lounge
Like Kendall-Jackson, you're probably familiar with La Crema, which is more widely available in stores and restaurants around the country. But visiting their contemporary Tasting Lounge in downtown Healdsburg allows you to taste your favorites, alongside some of their more limited-production releases, as well as learn about the sourcing and creation from the winemakers themselves.
Book tasting here.
Address: 235 Healdsburg Ave. Healdsburg, CA 95448
2. Explore downtown Healdsburg. 
Speaking of Healdsburg, you're going to want to pencil in a few hours to get lost around this idyllic town square. Really, you'll feel like you've stepped onto a movie set and wonder why all towns can't look like Healdsburg! It's perfection, even down to one-block square park in the center of town. Located 20 minutes north on the highway from Santa Rosa (about an hour north of downtown Sonoma, which in wine country, actually isn't considered far), this town offers shopping, restaurants, dessert shops, tasting rooms, and vintage shopping.
Be sure to grab coffee and a cranberry orange muffin at Flying Goat Coffee, located at 324 Center St in downtown Healdsburg.
Then pop into Noble Folk Ice Cream Parlor and/or Moustache Baked Goods (owned and operated by the same folks) for the most unique ice creams flavors, homemade pies, and macarons west of the Mississippi.

And let's not forget shopping…we recommend Rete California for clothing and accessories, Antique Harvest for…you guessed it, antiques! And the beautiful Saint Dizier, pictured above, for a solid does of beautiful interior design inspiration (all shops located around the square).
Adventure is out there!
The natural beauty of California is arguably the state's most magnificant asset, so once you've had your fill of imbibing (or just need a short break), there are a number of outdoor activities just beckoning you to explore.
1. Hike the Redwoods.
Yes, there are magnificent Redwoods to explore north of San Francisco! And boy are they a sight to see.
Armstrong Redwoods State National Reserve is incredible…with 900-year-old trees all around. The park offers everything from a flat hour-long walk with picnic grounds to more rigorous seven mile hikes all the way around. Regardless of your outdoorsy acumen, there is something for everyone. (Bathrooms included.)
2. Float in a hot air balloon.

Source: Gal Meets Glam
Taking a hot air balloon ride at sunrise over one of the country's most beautiful regions is one of those once in a lifetime opportunities you should probably take advantage of while vacationing in Sonoma County. It's not exactly a budget-friendly activity but the photo opps, adventure, and peacefulness you achieve floating high in the sky for an hour makes it well worth it.
We recommend Up & Away's balloon tour, which costs $239/person and includes a brunch in Healdsburg post-flight.
Tip: This activity is weather dependent—clear skies are required, so have a back-up plan in case your reservation is cancelled due to weather.
3. Kayak or canoe the waters.

photo by Blue Waters Kayaking
Kayaking and canoeing are two more great activities (and more gentle on the purse strings), and there are dozens of companies to book with and areas to explore. From Reyes Point and Bodega Bay on the coast to more inland routes near the state parks, you can find something near where you're staying or make a half-day trip out of it.
4. And even more options…
Ziplining canopy tours, bike tours, picnic in state parks, historical tours… there are truly endless activities to partake in in the Sonoma County area. It just depends how much time you have and what your group wants to do!
So consider all options, do a bit of research, and don't stress over it. Regardless of how your 2+ days look in Sonoma wine country, it's sure to be a trip to remember.

This post is sponsored by Jackson Family Wines, but all of the opinions within are those of The Everygirl editorial board.