While in an elevator full of excited attendees of a direct-selling convention in Dallas, Jessica Herrin realized that the solution to an unresolved question running on a loop through her mind was to launch a social-selling company for women of her own generation. It was then that the idea for Luxe Jewels was born. The concept of this new business endeavor was to allow women the unique experience of inviting their tell-it-like-it-is girlfriends into their homes where they could try on a variety of baubles without the stares of sales associates. From there Jessica held her first trunk show in Austin, Texas.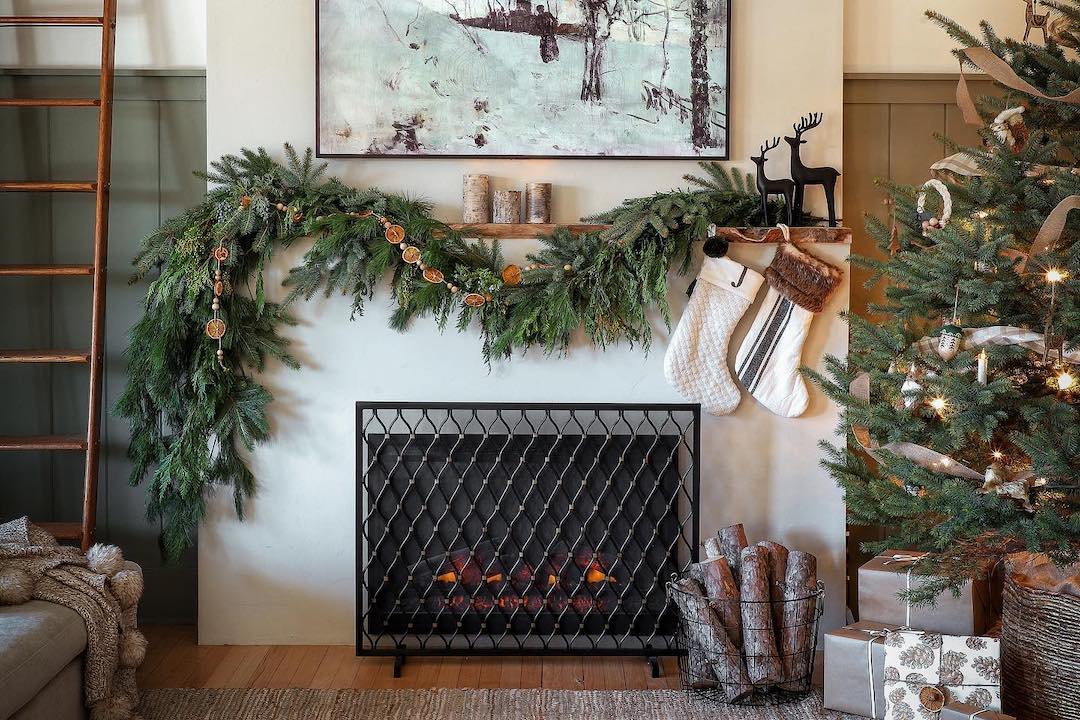 there's still time to deck your halls
But it wasn't until Jessica met fellow Stanford grad, Blythe Harris, at an alumni event that they realized with Jessica's original vision and Blythe's creativity that they could re-launch this social-selling model under a new name, Stella & Dot (named after their grandmothers). Stella & Dot has now become an international success that allows any woman to become a "stylist" and make their own success.
Full name: Jessica Herrin
Age: 40
Current title/company: CEO and Founder, Stella & Dot
Educational background: Economics Stanford University (B.A.), Stanford Graduate School of Business (M.B.A.)
Full Name: Blythe Harris
Age: 40
Current Title/ Company: Chief Creative Officer, Stella & Dot
Educational Background: Stanford University (B.A.), Columbia University (M.B.A.)
What was your first job out of college and how did you land that position?
Jessica: At the last minute, I took a job at a software start-up in Texas instead of moving to New York to become an investment banker. The paycheck lure was powerful given my mountain of student loan debt. However, I was ultimately more tempted by creating a product for one company and the entrepreneurial opportunity to have big upside, despite higher risk. The unbeaten path has always been the right choice for my personality.
Blythe: I worked for an artist who was developing a concept for a new children's building toy. I found out about the job through word of mouth. We worked together on the product development, baking models in the oven, researching injection molded plastics, and envisioning a whole universe behind the toy.
What were you doing before Stella & Dot? How has your career path changed since you graduated from college?
Jessica: My first business idea was for the online wedding content and gift registry site I co-founded out of Stanford Business School–it became WeddingChannel.com. While I am proud of what we created with my first company, I knew when I was coming up with ideas on what I wanted to do next, a key filter was to be sure I was mission driven. I focused in on modernizing the flexible business opportunity for the modern woman and iterated the details for Stella & Dot.
Blythe: My career path is not very traditional and has been heavily influenced by all my travels. I first worked to create the toy called Zoob, which is still sold in stores. I helped launch the company and worked there for almost 3 years. Then I moved to Mexico to study sculpture and metalsmithing, which is where I learned how to make jewelry. I was then accepted as a visiting artist to Parsons in Paris and moved to France. Those experiences made me realize I wanted to work on a jewelry brand and I decided to go to business school to learn about operations and finance. After business school, I took a position with LVMH in London to launch the De Beers brand name in retail. I worked there for 2+ years and then did a stint with a non-profit in Orissa, India living with a tribe and helping them modify their traditional designs to a western market, as well as creating a business plan for them. I then moved back to the States and took a position with Banana Republic to grow their jewelry business. In two years, the business grew to $50 million and I saw the huge opportunity in mid-level costume jewelry. It was shortly after that when I met Jessica and the rest is Stella & Dot history!
Jessica, in addition to being the founder of Stella & Dot, you're also the co-founder of WeddingChannel.com at just 24 years old! How did your experience launching the site translate to launching Stella & Dot?
WeddingChannel was a great experience and amazing opportunity, but I really wanted to feel soulfully connected to the mission of my next entrepreneurial endeavor. While I was at WeddingChannel, many women reached out to me for advice on how to become an entrepreneur. I realized I didn't really have a great answer for them. My path had involved raising capital, working around the clock, taking on leases and employees, getting a specialized education. It was a path not readily available to all women in all phases of their lives. I wanted to create something that I felt worked for the modern day woman, that could ebb and flow with all the other live events and prioritizes that are a part of her happiness. I started with a blank piece of paper and found a way to combine the best of product design, the best of technology and created an opportunity that was worthy of the professional level of modern women. To make it more doable for more people, I wanted to re-invent entrepreneurship in a flexible way. I experimented with product concepts for months before ultimately focusing in on jewelry. Even after focusing on jewelry, I continued to narrow in on type, style, etc. We're still evolving and expanding today, and have recently launched a fabulous handbags collection. We have also made our Stylist opportunity available in 5 countries!
Jessica, you've been honored by Ernst & Young and Inc. 500 as a Top Entrepreneur, and have also been mentioned in several business media outlets including Oprah, The Wall Street Journal, and Forbes. In your opinion, what makes you a great businesswoman? What attributes do you think are necessary to be a successful entrepreneur?
I work really hard and I never consider giving up! Effort and tenacity cannot be overrated. Most 'overnight' success stories take years. Plus, I am an optimist that does not need external approval from everyone around me to feel good about what I am doing. I don't listen to the voices saying things won't work. Making new ideas work is what innovation is all about. That's the fun part! Most important, I don't try to go it alone. I surround myself with great people inside and outside the company. It's truly their talents that have made my small initial idea real.
Jessica, in your opinion, what separates businesses that thrive apart from the rest?
Understand what value you bring customers and what is unique about you. Speak in an authentic voice. Shape that into a story you can share. Then, focus on creating repeat customers and referrals with everything you do. It's not enough to sell something once. Make someone love the entire experience so much that they can't help but tell friends and come on back themselves. If you focus obsessively on the customer experience, you'll find your brand means something.
Blythe, shortly after college you were launching Primordial Toys, makers of the award-winning Zoob. Tell us a bit about that experience? What inspired you to launch Primordial Toys? Please walk us through how you built your business from the ground up.
I was lucky enough to land a job out of college as an assistant to a renowned artist, named Michael Grey who had work in the MOMA and was represented by a major gallery. For a painting major, this was a dream job. I have always loved creative problem solving and product development so I was very lucky to work with him very closely on the product development for Zoob, as well as all of the entrepreneurial aspects such as securing angel investors and financing, incorporating, helping develop a logo and brand identity, learning about injection molded plastics, choosing a manufacturer, selling our product at trade shows like Toy Fair, and creating a marketing campaign. I oversaw our mobile marketing campaign where we had a giant truck with a huge Zoob on it traveling across the country to do events at toy stores, hospitals, etc. and it was one of the first social media campaigns as our drivers blogged about their experience every day and we tied their story to press events. I learned so much from this experience creatively, I was very lucky to have worked so closely with Michael who was a perfectionist and taught me to never accept mediocrity and to always push things to be iconic and memorable and irresistible.
Take us through the launch of Stella & Dot from the ground up.
Jessica: After an appearance on the Oprah Winfrey Show for WeddingChannel, hundreds of women reached out to ask me for advice for starting a business of their own. Most were busy moms looking to do something with flexible hours. At the time, I was in my fourth year of the 100-hour workweek launching the website. It wasn't exactly a path I could recommend for moms—or for myself much longer, because I was approaching 30 and wanted kids. As the question "How do I help these women?" played in a loop in my mind, I was on business in Dallas, staying at a hotel that was hosting an annual direct-selling convention. A gaggle of convention goers around my mom's age stepped onto the elevator with me, all bubbly about the awards and recognition they had just received. And that's when it hit me: I could launch a social-selling company for women of my own generation, something more modern and hip.
I decided to modernize, flexible entrepreneurship with high style, high tech and high touch. My vision was to create a new kind of company that would offer today's busy woman a career alternative. I wanted to help solve the modern woman's dilemma: achieving success and balance through a career you love. I created the company with the purpose of democratizing entrepreneurship.
Accessories is a very large market with a not so great shopping experience. It's hard to buy in stores where you have to wait for the clerk to take each piece out of the case and stare at you as you try it on. With social-selling, women could try on all the rings and bangles they wanted in the comfort of their own homes, surrounded by their tell-it-like-it-is girlfriends. I had a concept, a business model, and e-commerce experience. I devoted nights and weekends to testing and refining the concept while I was pregnant with my first daughter and working a full time job. I held my first Trunk Show in Austin, Texas and formed Luxe Jewels.
To improve the opportunity for the independent business owner, I had to be one. So I walked 100 miles in a sales consultant's shoes by doing trunk shows myself to launch it out of my living room. I still do them to this day and always will. I'm obsessed with thrilling our independent business owners and customers. Our business has always been about people first, not just jewelry, or technology.
During the early days, I wanted to keep the company small, so that I could be a very hands-on mom to my newborn, then toddler, and then the next one! After my second daughter, Tatum, was about 6 months old, I was personally ready to really kick it into high gear. I brought on external investors and partners that would take the business to the next level. At the same time, I still worked flexibly until my youngest was in preschool, because I made it a priority to spend as much time with my kids and partake in as many activities with them as possible.
As my family has grown, our lives have evolved per the business. I was able to build a world class team, partnering with esteemed advisor Mike Lohner, sales guru Danielle Redner, and Blythe Harris as our Chief Creative Officer. Blythe and I renamed the company after our beloved grandmothers who inspired and empowered us. I have been able to really change how I work and yet still preserve flexibility as an entrepreneur. I wanted to create this same flexible entrepreneurship opportunity for women everywhere, and that's what Stella & Dot does – it gives women the means to style their own lives. Our "Stylists" can get started for as little as $199 and their earnings potential is endless!
Blythe: Jessica and I met through a Stanford alumni event and she told me about her vision and the company she had founded then known as Luxe Jewels. I knew combining Luxe Jewels' social selling model with mid-level costume jewelry would be explosive and I agreed to partner with Jessica. Several months later we re-launched the brand as Stella & Dot named after our grandmothers and I began repositioning the product line as mid-level boutique style costume jewelry, opening a design studio in NYC, and focusing our manufacturing overseas. Since then, Stella & Dot has grown into an international brand selling jewelry, bags, and scarves and we have design studios in New York and California.
Tell us a bit about your current positions at Stella & Dot. What daily responsibilities do your jobs entail?
Jessica: A typical day involves waking up at around 5am-6am to get some work done and get in some quick exercise before my kids wake up. We have breakfast together and they go off to school. At work, tasks vary from planning our next product line launch, working on our next technology release or developing training for the field. I love the mix of what I do. I am home for dinner with my family. I sometimes work when the kids are in bed, but I do make sure my job does not take away from their quality family time.
Blythe: I oversee the creative vision for the company which starts with inspiration research a year and a half out each season, and ends with the creative concept behind the look book and fashion show. I oversee our design and merchant teams in NYC and the Bay Area so my job involves a lot of travel so that I can collaborate with my teams in person. My favorite part of my job is our weekly creative reviews when we review design concepts and push each other to take each piece to the next level. One of my design filters is that each piece should feel highly unique and special, like there could only be one in the world, and that involves an obsessive focus on every detail and making sure nothing feels predictable or average.
Blythe, one of the most challenging parts of a creative career is staying inspired every day. Where do you go or what to do you to get inspired?
I move around a lot and constantly change my surroundings so I am never bored. I try to constantly get new sources of input so I don't get in a rut. I also try to stay relaxed and open which is when creativity really flourishes for me.
Best moment of your career so far?
Jessica: There are so many but I love knowing I've had a positive impact on people's lives and that I've created a legacy for my daughters. Nothing makes me happier than hearing the thousands of life-changing stories our Stylists share from joining this business, and watching them step out of their comfort zones, succeed, and achieve happiness they never imagined possible. That, and dancing in a Vegas nightclub filled with thousands of fantastic Stella & Dot stylists!
Blythe: Standing on stage at our first fashion show in London. I loved the feeling that Stella & Dot was officially a global brand and we were going to bring this opportunity to women everywhere.
What advice would you give to your 23-year-old self?
Jessica: Be a better people leader. It's not about you succeeding. It's about helping others succeed.
Blythe: Don't spend so much time worrying about my dating life! There is so much to be soaked up when you are young and single and relish every moment and know that every experience whether good or bad is going to result in an invaluable lesson.