Catching up with girlfriends over a good meal is a pasttime no woman can deny enjoying. Unfortunately, finding time in everyone's schedule to sit down together is one hindrance; costly dinners out is another. Worry not! Expert event planner Sarah Tucker has put together an elegant yet simple solution for you Everygirls: the No Fuss Dinner Party! Use her simple tips to master your inner hostess and entertain the girls with a budget-friendly yet charming night in. And rest assured seasoned hostesses: no detail goes overlooked.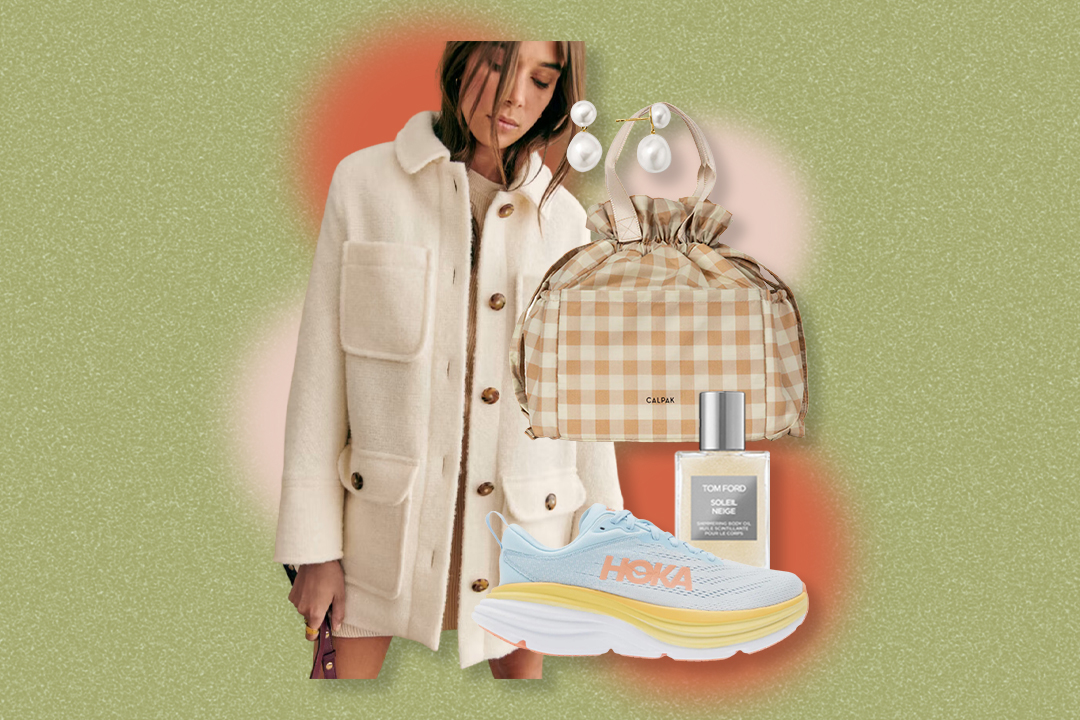 The Decor:
My inspiration behind the shoot was a simple seaside dinner. Make sure you set the table the night before as it will save you precious time the day of the dinner. That way you can focus on the important task at hand: the food! Easy ways to up the charm factor include setting the table with handwritten placecards, wrapping the flatware with ribbon, and using mason jars as vases. Flowers don't have to break the bank either—I bought a bunch of white stock for $5 at the grocery stoer.
The Drinks:
Set up a drink tray with glassware, a cocktail, and a non-alcoholic beverage so guests can help themselves as soon as they arrive. I had instructions to "snip and sip" some mint and garnish your Sarasota Sling, which is Firefly vodka sweet tea lemonade, lemons and limes, fresh mint, and rock candy for some added sweetness. Instead of plain water, I love to infuse my water with kiwis, limes, lemons, fresh mint, and blueberries. It's a great way to keep hydrated in between sips of Sarasota Slings and also to infuse some vitamins into your water.
The Appetizers:
Assume most guests will arrive hungry, especially if this is happening on a weekday after work. It's perfectly acceptable to serve an appetizer that is simple and you won't have to heat up. Vegetables, pita chips, pretzels, hummus, and dip will do the trick! But keep in mind that because the appetizer is simple, you might as well spruce up how it looks. Colorful bowls organized on a tray is a quick and easy solution!
The Entrée:
Since many of my girlfriends are vegetarians, I like to serve light and healthy meals that everyone can enjoy. I found this great recipe for creamed avocado and lime chilled pasta but made it a bit healthier by using Greek yogurt instead of mayonnaise. The other benefit of serving a pasta dish is that you don't have to fuss with serving side dishes. Sometimes trying to time when everything is ready so that it's all served hot can be a challenge. A pasta entrée allows you to add the vegetables (and meat, if you choose) all into one filling serving! This recipe was super tasty and took less than 20 minutes to make—perfect for the career girl making her hostessing debut.
The Dessert:
For desserts, it's worth ordering out some of your favorite treats from a local bakery. That will save you plenty of time and energy in the kitchen. I ordered my favorites from The Short Giraffe, and I asked Leigh to use citrus as the inspiration. The lemon cookies, citrus cake balls, her signature s'more cups, and raspberry mini cupcakes were delicious. It's best to offer after-dinner drinks to go with dessert, even if it's just milk and coffee. Some people might even prefer a latte to a sugary confection! I am not one of those people.
Download The No Fuss Dinner Party Handbook and easily recreate this soiree for your own girls night in!