Baby, it's cold outside! Winter is in full swing here at The Everygirl office in (freezing) Chicago. One of things I like most about winter (and probably the only thing I like) is being able to finish off an outfit with a cute coat. Whether I want to look sophisticated while heading to a holiday party or stay warm while ice skating at Millennium Park, there's a different coat for every event on the calendar this season. Our editors have rounded up their favorite coats to shop this winter for every occasion!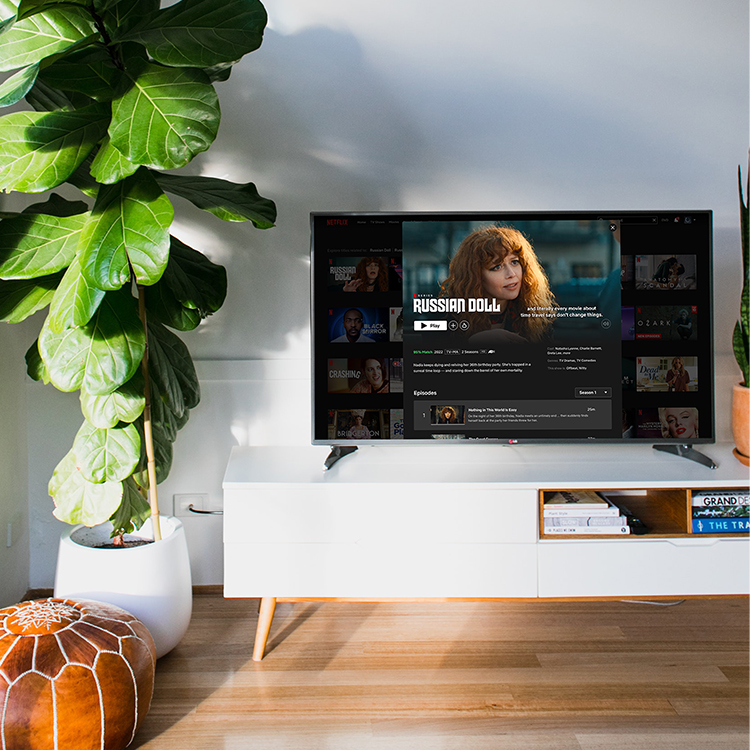 stop mindlessly scrolling on Netflix—these shows have our seal of approval
Mango
The plaid coat trend came on slowly with blazers the last couple of years – but blazers aren't great for my body type. So when plaid winter coats started popping up, I was thrilled and knew I wanted to add one to my winter wardrobe! The only thing better than plaid? Windowpane.
Vero Moda
I've owned a faux fur hooded waterproof winter coat for a few years now, but I love the unexpected colors they started coming out in this year. The mustard colors are selling out everywhere; I love it because the bright color is welcomed contrast to dreary winter days.
Madewell
Several years ago, I found a cobalt blue peacoat of my DREAMS. I've basically worn that one to death, but I still keep it in my closet as a reminder of how happy that coat used to make me. Since I have that one still as my ~ special occasion coat ~, I wanted to get one I would love JUST as much in a more neutral color — this one fit the EXACT bill! It's the perfect amount of oversized to fit over bulky sweaters without looking like I'm wearing a paper bag. It's the best!
Thread & Supply
The moment I saw the Wubby online, I literally thought about NOTHING else. I'm not kidding — I obsessed over owning it from the moment I saw it. Thankfully, it's just as (if not even MORE) cozy than it looks — it's the warmest, comfiest pullover to wear all Chicago winter long. Wear it to and from the gym, to run errands, to watch movies on your couch — anything you want to feel extra snuggly for!!
H&M
Can you believe this coat is from H&M?! I felt like Duchess Kate when I slid it on — the color is freakin' gorgeous and the fabric is heavy enough to feel expensive but not so heavy that you feel like you're walking through a lake. I love the structured collar and gold accents and how it feels at once like a workday coat and a festive occasion coat. I will probably never take it off okay goodbye.
Madewell x Penfield
This is such an easy breezy coat — it's perfect for transitional weather or if you're lucky enough to live in a place that doesn't get to temps that will literally freeze your face off. It's thin yet cozy, nondescript yet slightly ~stylish~, and perfect for layering over the chunkiest of knits. The plaid lining inside is a nice festive touch too. Definitely a wear-everywhere-except-the-opera, wardrobe workhorse kind of coat, which we all need, amiright.
I.AM.GIA
To borrow a term from the youths, Chicago gets cold AF. For my first year back after living in Florida, I NEEDED a coat that's as cozy and fuzzy as it is warm. Enter: the teddy coat. Aka Fashion's best decision, ever. You can see it on all your favorite celebrities or the Instagram feeds of your favorite bloggers because everyone wants to get their hands on a teddy coat.
Warehouse
Remember my obsession with all things cozy and fuzzy? I'm not wasting any time (or heat) with a standard wool on dressier occasions — my fancy coat this year is a faux fur leopard print jacket that stands out and is oh so warm. I like to call it Cruella de Vil meets fashion blogger.
Zara
This is my first winter since graduating college, where the only coat I wore was for utilitarian purposes only (read: puffy AF to keep the frostbite away), so I figured it was time for a real, grown-up coat that makes me feel as fashionable as it does warm. This herringbone one from Zara is perfect — it goes with everything I own and the pattern is so chic. Plus, it's so warm — no need for my giant puffer this season!
Old Navy
Confession: I have been dying for a teddy coat, but was worried it would be too bulky. This one isn't too fluffy (so no marshmallow man effect), is lined so it's warm, and my new favorite coat.
Mango
Every winter, I talk myself into getting a new coat. This year, I wanted to add one that could be dressed up or down. This classic coat is the most beautiful camel color (and looks even better in person). I put it on and instantly felt put together in my coat, jeans, and booties combo.
Tahari
Now that I'm a real person instead of a college student, my big, bulky parka that I'm used to wearing every cold day of the year just doesn't cut it. With my commute into Chicago, I want to be warm and look good, and this coat checks both of those boxes. The color is amazing, it's super flattering, and most importantly, is super warm! I can wear it to a fancy Christmas party or on a normal Tuesday, and it won't let me down.
ASOS DESIGN
I cannot stop wearing my plaid blazer, so I knew I needed to pick up a coat option for all of my fancier events this winter. This one from ASOS is the perfect length to pair with denim or dresses. The plaid also acts as a statement on its own — no need to put together a full-on outfit with this one!
Madewell
I'm so into the puffer jacket trend (for both the warmth and the style, obvs), but I've had the hardest time finding one that won't make me look like a giant marshmallow. Once I found this gorgeous Madewell option, there was no looking back. The color is the most gorgeous army green (my hazel eyes and I love a good green!), but it's still neutral enough to pair with all of my outfits. Let's talk about how amazing this will pair with a pair of Uggs and a pom hat?! I'm in total outfit planning mode!